Maestro adds Yahoo account and Gmail label support in new update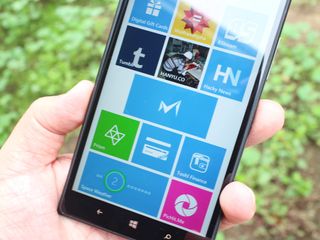 There's a new update out for the Maestro preview on Windows Phone. Maestro is an upcoming app that aims to deliver a better mail experience for Windows Phone. Today's update squashes a lot of bugs and adds a handful of new features. Look forward to Gmail label support in today's update.
Update Maestro preview and you'll see it now sitting at version 2014.1203.954.1743 in the Windows Phone Store. Here's what's new in today's update:
Loads of bug fixes
Yahoo Account Support
Contact auto fill in compose
Label Support for Gmail accounts (currently read-only)
Today's update is one of the last as the team gets ready for the initial public launch of Maestro on Windows Phone. Want in on the preview? You can just download the app using the link below. Keep in mind that Maestro is still a public beta. For more updates on Maestro from the team be sure to sign up on their website maestroapp.com.
Windows Central Newsletter
Get the best of Windows Central in in your inbox, every day!
Really nice app...has some better features than the native mail app...would really like Acompli coming to WP and having a face off with Maestro...options are never bad !!!

Native app doesn't support mail forwarding.... Which sucks... :/

I can forward mails from the native email app. What prevents you?

It does support mail forwarding...go into a mail and tap reply button..there u will see reply, reply to and forward...

Yeah, but you can't attach others files than photos when you are forwarding or replying.

Thanks! I dint knew that..

It does support famil forwarding. You should try using the app

Not sure what bugs have they squashed as it still looks the same. For eg: The Inbox for Account X will remain open even if I switch to Account Y!!

Can you send us an email? Not sure exactly what bug you're talking about. Email listed in the about screen.

The issue is, I probably can't figure out the way to switch to multiple accounts for eg: Gmail to Outlook ID. What I usually do to switch to another account (for eg: If I am currently viewing gmail account and want to switch to outlook) is: 1. select the bottom menu bar and select "Accounts" and then select configured outlook account and then select the tick mark. Once done, it should take me to the Outlook account, but it remains on the Inbox of Gmail account. Am I doing it wrong?

Ah, yes, sorry, this is something we're going to cover in a little intro/help thing on first launch when we have the final release of v1 out. All you have to do is swipe across the bar at the top left or right to switch accounts. :)

Yeahhh..it worked :-) That was something hidden and certainly need an intro :-) That also helped me to discover that there is one more screen if Swipe to the extreme left that appears to show All Inboxes. Nice that!! Thanks much.

You're welcome! There's a setting if you don't want the unified inbox to show too.

You guys rock. I just LOVE Maestro. New updates are very welcome. Can't wait for the official version. Thumbs up! :)

Thanks for sharing. We're glad to hear it! This was likely the last update before the final v1 release later this month.

Does it allows attaching documents from SD card?

Hmm but Synchronization is not as good as the native mail app. Hope it improves in future :)

What isn't as good for you exactly?

Finally I can add my Yahoo account. Thanks for the info Sam. I'm using both Metro Mail and Maestro apps for my email.

Hopefully they'll have exchange support soon. Once that happens I'll start to use it as my email client.

We plan on adding it post-v1 release.

I love this app, simple, beautful and easy to use. Yahoo, Google I am looking at you this is how you should develop an app. Just beautiful.

i uninstall app, due to its bug and i have signed for beta, i know this is public beta. I am using Lumia 720 with cyan and no dpp But now i can't download app as app is pending in downloads from past 5-10 minutes, even with working internet. any other getting same problem?

Talking about Maestro, did they fix the bugs for dpp ? Some features are blocked in Maestro for dpp. Maybe it's Microsoft of which to blame!

I guess he means developer preview.

We just tried the latest dpp today and unfortunately it still doesn't have a fix. Until it does, we can't ship our "fancy" features. :(

Still useless without POP3/IMAP support.

You just want to add your own pop3 or imap email address? Custom IMAP support would be a piece of cake at this point. Pop3 would be a lot more work. Maybe later. Suggestions here please: http://maestroapp.uservoice.com

Sure. We're not all on web mail services. I'll add the suggestion.

Yup, we understand. It takes time to get most people and we decided going with the major services first, then fill in the blanks as we go would be the best way to go. Have to prioritize as our man power is limited. Thanks for adding/voting on that suggestion! Helps us prioritize.

I voted up a similar suggestion instead. But I notice there a suggestion for POP3 support that's "under review" despite your saying it would take a lot of work.

The amount of work doesn't matter. It's just another factor (like your vote) helping us prioritize the order that we build the features. All features are fair game, but some will happen before others. Thanks for voting!

Plus loads from me. I am really keen to use a better mail app; have 4 POP3 boxes for various businesses and cannot use Maestro Have voted........

Sam has a very big ICYMI article to write this weekend :P

This app is same as gmail app found in android

Is that a good thing or a bad thing? What's funny is the recent updates to the Gmail app on Android in the last month or so have made it more styled like Maestro. ;)

Still find it syncs for ever and a day.

It likely is having a bug and just never telling you sadly so it looks like it never finishes. Have you tried completely uninstalling and installing today's up? We don't really support upgrades yet (we will after v1 releases).

yes, did a fresh install. Also, it takes far too long to render emails with images (eg amazon mailshots). Something the native app can do in seconds takes, well I gave up waiting. but switching folders takes too long syncing too. but I do like the ease of adding attachments :)

Really? hhhmm...we're doing it about the same as the native app and haven't seen that ourselves. It's basically just loading the email as a web page so unless you have a slow internet connection, I'm not sure why it would take a long time. That said, something we do differently (at least as of right now) than the native app is we don't download the HTML for the email (just the plain text initially) until you tap on the email. This makes getting new mails faster, but viewing the email slower. It's just a trade off. The total time should be about the same as the native app. Can you send us a support mail (from the about screen) with your phone model, connection speed, and what type of email account you're using (Outlook.com is unfortunately pretty slow, it seems)? Thanks! Yah, we're not sure why the native app hasn't added better attachment support. It didn't take us long to add. :|

Did another d/l and install and syncing issue seems to have sorted itself out. Thanks.

Liking the dev support here. I tried the app when it first came out for awhile, but stopped using it since it did take longer to load mails than native app and metromail. But will definitely keep giving it a try as updates come. Hopefully it will be super smooth and fully featured for final release

Thanks, yup, we keep improving it. What part of loading was slower for you?

I just uninstalled this yesterday since mails take long time to sync and again downloading attachments (files in few kbs) took a very long time... Also didn't see new updates for quite some time. Felt I could survive with the native app which didn't have much issues other than attaching files. May be will give this a shot again.

We're not doing anything special/different for downloading attachments. Are you using Outlook.com? We've noticed their IMAP server (which is what we use to connect) is very slow sometimes while Gmail's IMAP server is very fast. Nothing we can do about the speed sadly. Let us know how it goes if you try again.

I have being using is since early November on Lumia 630 and I quite like the UI. However since is still in preview there are some functionality that are missing. Notification is poor too as I have to open to all to see new mails. This app will have potential when the final build is fine.
Windows Central Newsletter
Thank you for signing up to Windows Central. You will receive a verification email shortly.
There was a problem. Please refresh the page and try again.