Magic Jigsaw Puzzle for Windows 8, a collection of picture puzzles to pass the time with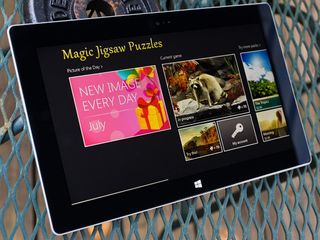 Jigsaw puzzles are a great way to pass the time or with the larger puzzles a fun project to tackle over a few days. Tackling a jigsaw puzzle can help you relax and clear your mind.
To help fill your jigsaw puzzle building needs electronically, XIMAD, who is known for their colorful Windows Phone and Windows 8 games, has released Magic Jigsaw Puzzles for Windows 8.
Magic Jigsaw Puzzles is a casual game that has four levels of difficulty, daily puzzle challenges and three packs of jigsaw puzzles.Puzzle difficulties range from 35 to 280 pieces. In-app purchase options are available to increase your puzzle library and create new jigsaw puzzles from your own puzzles.
Available for both Windows 8 and RT, Magic Jigsaw Puzzles makes a nice first impression and if you're in the market for a jigsaw puzzle game, Magic Jigsaw Puzzles is worth a try.
Game Layout
The main menu for Magic Jigsaw Puzzles has options to take on the daily challenge puzzle, return to your current game in progress, access your account, options to buy more puzzle packs, a gallery of puzzles built from your photos and a listing of all your puzzle packs.
The Magic Jigsaw Puzzles account (free) will allow you to download free and paid puzzle packs from the Magic Jigsaw Puzzle Store. Accounts are based off your Windows Live ID and basically involves allowing Magic Jigsaw Puzzles permission to access your Live Account (for purchases).
The core game is free and includes three puzzle packs that includes pets, architecture and nature. Each puzzle pack contains five jigsaw puzzles with options to play games with 35, 70, 140 and 280 pieces.
Again, additional puzzle packs are available through the Magic Jigsaw Puzzles Store as well as the ability to upgrade to the ad-free version ($9.99) that unlocks the ability to create puzzles from your own images.
The game store packs range in price from $2.50 up and include themes such as art, motorcycles, castles, retro cars and more. You also have a handful of freebies to choose from as well.
As far as settings are concerned, the main settings from the bottom pull-up menu off the main pages cover sound and music settings. Once you get to the jigsaw puzzle you will have additional settings that adds changing the background color of your puzzle board.
Game Play
Once you have selected a puzzle to tackle and chosen the difficulty level (the number of puzzle pieces) the game screen is simply laid out. You have an ad-banner that runs along the right side of the screen, your puzzle pieces lining up along the left side of the screen and your puzzle board is center screen.
Again, you can change the color of your puzzle board in the game's settings. This option lets you create a little contrast between your puzzle pieces and the background.
To button controls are on the game page (over in the lower left corner) to help you identify the corner puzzle pieces and preview the image you are building.
Solving the jigsaw is accomplished by tapping and dragging the various pieces into the right position on the puzzle board. You can take the traditional path and build the edges of the puzzle first then fill in the middle or you can build sections and move them into place to build the big picture.
The only issue I have with game mechanics is the game board is limited to your tablet/computer screen. You cannot zoom out or scroll around to give yourself a little more elbowroom.
Once solved, the screen glitters and the puzzle pieces merge into one. Swiping up at the bottom of the screen (or down from the top) will reveal the settings but also navigation buttons at the top of the screen to go back to the main menu, view more puzzles in that category, visit the store and access your account. You can use these buttons to launch a new jigsaw puzzle.
Overall Impression
It's hard to find much to complain about with Magic Jigsaw Puzzles. The core game has plenty of free puzzles to keep you busy and the mechanics are easy to pick up on. Puzzles are challenging enough to keep you interested and if you have to leave the game, your progress is automatically saved.
The game board did feel a little restrictive and maybe you could scroll around to open up more real estate for those who prefer building jigsaw puzzles in sections.
While the free version of Magical Jigsaw Puzzles has plenty of puzzles and the ads aren't that bad, you can always upgrade to remove the ads and buy additional puzzle packs. The $9.99 upgrade fee is a little steep but does open up custom puzzle features and eighty additional puzzles. The hard part about selling the ten buck upgrade is that Microsoft offers essentially the same features free in their Microsoft Jigsaw Game.
Nonetheless, XIMAD's Magic Jigsaw Puzzles isn't a bad option to consider if you are addicted to jigsaw puzzles or simply looking for a casual game for Windows 8.
Magic Jigsaw Puzzle - Windows 8 / RT - Free - Store Link

(opens in new tab)
Windows Central Newsletter
Get the best of Windows Central in your inbox, every day!
George is the Reviews Editor at Windows Central, concentrating on Windows 10 PC and Mobile apps. He's been a supporter of the platform since the days of Windows CE and uses his current Windows 10 Mobile phone daily to keep up with life and enjoy a game during down time.
The Microsoft Jigsaw game is much better than this.

It isn't available for WP either

The game mentioned in this article, like Microsoft Jigsaw, not available for WP

Furthermore, with Microsoft Jigsaw I can create puzzles from my own images without paying.
And most important is that Microsoft Jigsaw comes with Xbox achievements. :D

Really cannot see the point of digital jigsaws. This is the one pastime I prefer to do for real.