Mail and Calendar, Microsoft Solitaire Collection, and OneNote updated on Windows 10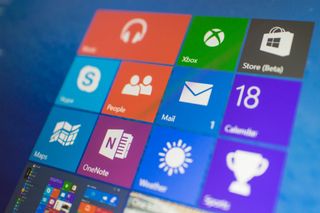 Microsoft has updated a few of its Windows 10 apps today, bringing new versions Mail and Calendar, OneNote, and Microsoft Solitaire Collection. Unfortunately, there's not much new to report with these updates. The most notable change is for OneNote, which has picked up the ability to change font size (pictured below) on both Windows 10 and Windows 10 Mobile. If nothing else, this should be a nice quality-of-life improvement.
Overall, these seem to be relatively minor updates. However, if you'd like to go ahead and grab them, you can hit up the Windows Store links below to get started. If you happen to notice anything new or notable that we missed, be sure to shout it out in the comments below.
Dan Thorp-Lancaster is the former Editor-in-Chief of Windows Central. He began working with Windows Central, Android Central, and iMore as a news writer in 2014 and is obsessed with tech of all sorts. You can follow Dan on Twitter @DthorpL and Instagram @heyitsdtl.
Its crap on Windows 10 mobile

OneNote is better then the crappy Mail App.

Can we open shared calendars?

Yes. Shared calendars can be checked on or off and you can add appts to them.

I hate one note in windows 10... Don't open if you don't have internet connection.... This week I have a meeting, and the place don't have a good connection... I can't use this terrible app... I like Much more the old one....

Lair...I'm a Windows fanboy but it sucks, 8.1 has much better version!

My store shows updates but it does not update apps. as the result of this issue my Mail and Calendar apps do not work anymore. Any solution please?

+1. And I've only had this issue since that first major post-launch update installed. I now have 11 apps that are stuck updating, and anything I try to install also gets stuck. Mail doesn't work properly anymore.

Have you tried cancelling? It worked for me when I had issues the first couple days after launch.

I cancelled, restarted my computer, even I shut it down but nothing happened! :(

I remember when I used to update my apps on win8, this used to happen from time to time... Never knew why, but what I guessed was it happened everytime the download speed went below 1mbps. Changed my network, always received 10+ mbps down speed minimum ( max reaching 35) and never happened again so I guessed download speed was the problem. ( btw it felt heavens when I changed my network. Thank god I did)

Navigate to Windows 10 store, go to settings, devices, check that you don't have loads of duplicate devices there, you can only download apps on up to so many devices in Windows 10

Had same problem. It may be your internet connection. After I went closer to my router, my apps quickly updated.

Try this http://blogs.technet.com/b/ouc1too/archive/2013/11/02/how-to-remove-wind...

Same issue here, I noticed it last night while browsing the store and saw that there were four pending updates. I've tried every trick I can think of that used to work when I had this issue in W8.1 and haven't had any luck. I have two updates in my queue stuck at 0.1MB, one stuck at 0.2MB, and five pending. It's aggravating because the Mail app hasn't worked properly since I did a fresh install of W10 and I was hoping this update would fix at least some of the app's problems.

check whether you are on the right time zone, i fixed mine and everything fixed itself

I was able to navigate to the app page and update from there. Though that isn't 100% successful...

Running WSReset.exe fixed it for me when it happened once. I also read that you should check windows update as well

My News app updates all the time but I can't open it, seems like not working even if the live tile is.

Hmm.. I'm getting updates for those apps for last four days everyday. Updated everytime and I see no changes.

Return the radial menu! Return the radial menu!

Agreed! radial menu was a nice feature to have

Agreed, maybe it can pop up automatically when using a pen?

Email has new icon to me now. Mine was showing the old icon.

Does anyone know if this is just a temporary mail app? Are we expecting a proper Outlook app at some point? This one is truly awful. Would much prefer the Windows 8.1 version back until they can ship something more useable.

Are you serious? The mail app in 8.1 was woeful !

While this app looks much nicer than the 8.1 one (which also had the issue that auto-correct would not disable), the new one still has quite a few bugs. Once it's got those fixed, it will be much better than the 8.1 app but the bugs are still quite nasty. Let's see how much this update improves things.

We can't turn off conversation view, which makes the app pretty much useless.

And you can't see at a glance all the accounts, mark an email as spam and so on.
The Windows 8.1 version still feels much better. Also I hate the monochrome icon, I prefer that each application has its own personality like the news apps which and its red theme for example.

Email needs tighter integration with the people app... And group contracts... Pronto

Mail still has no drag n drop. :/

No modern app has yet. Even Edge doesn't support drag&drop

And if this article were about Edge, I would have mentioned that.

What? I can drag and drop emails into folders perfectly.

I think he means as attachments when sending an email

exactly. with ie in the past you'd drag a photo to the desktop then drag it into an email to attach it. Now it takes a lot more time.

How about taking those adds out of Solitaire, or at least making them less-invasive? Oh, and I could sure go for a W10 update alert.

This week Avast got an alert about URL:Mal when I was playing... anyone got this too?

I don't use that crapware. I'm sure it's just an issue with not being properly updated for W10.

For folks having troubles with the Store try wsreset . Hit start,
Type Wsreset. Right click the wsreset.exe in the search results and run as administrator

I tried it, nothing hepened! :(

My Store also wasn't working first week or so - tried the WC and answers.microsoft fixes, nothing - then all of a sudden one day -before the SP1 update- it started working again. Hang in there!

Didn't work for me either. I've run wsrestart three times, signed out of the store, restarted my computer multiple times, restarted my wifi...nothing is working.

How about trying the manual restart of update services as described by MS support here. After the OS update a few days ago, regular windows updates were no longer operating, just as the OP in the linked thread describes, so I tried the recommended automated fix, which didn't work, but then did the manul fix, inputting a bunch of commands in the command prompt, and that did the trick. I think the Store updates might be tied to the same service so it could likewise fix this issue.

That did it! I had done the whole automated troubleshooting thing, and the SoftwareDistribution folder renaming, and stopping and starting the Windows Update service thing before and none of it worked. Something in the instructions at that link unclogged things, and after I completed everything the updates downloaded and installed perfectly. When I tried to stop the Windows Installer service it said it was already stopped, odly, so maybe starting it manually at the end got things working. I also hadn't stopped and started two of the other services before, but either way the link you provided worked wonders for me. Thanks a bunch Adam!

The second "Method" worked for me too.

Have you tried deleting the store cache? That worked for me after trying everything else that didn't help. The details are in the forums here somewhere. I don't have the exact location of the folder in my mind.

How I wish the Store app can notify us about updates, show what's downloading and when an app finished downloading/installing thru Action Center.

I bet when Win 10 mobile gets released, you wont see these things there either. I really like knowing what's been updated and when.

We can actually see what's downloading and their progress in the app list in Windows 10 for PC/ tablets. Can't see it in Mobile though.

Yup, it's really annoying as a user, but i bey it's really annoying for app developers too.
For example, if you add new levels to your game, the users won't notice the game update at all.

Your (and all Windows user) personal preferences doesn't matter, if they don't like it, then it won't happen.

I know right, the feedback app os such a joke.

Wow, One Note is still missing the ability to change pen thickness (though when you hover on the pen tool, it says "pen" instead of "thin" now). And still missing a delete option that doesn't require pulling up a keyboard.
For such a featured capability of the Surface, it has been severely hobbled. Fortunately the Office 2013/2016 One Note is feature rich and works great. Still, from a pen workflow standpoint, I really enjoyed the radial menus in the windows 8 app.

I figure they got rid of thickness to just allow for pressure. But that's inconsistent and would require some forceful writing to get thick lines.

For some reason my email is missing the "clutter" folder. How do I activate it?
Also, how do you select all emails in a folder? In 8.1 there used to be a check box at the top. It's not there in win 10.

Windows Camera Updated as well. On Win10 Mobile Build 10166, currently updating Windows Camera and Outlook Mail and Calendar.

There's also an update for Windows camera

Wsreset doesnt work do me...

Can Calendar be set as the default calendar app yet? I'm not able to check at the moment

Add Windows Camera to the list. This is in addition to the other apps. And I'm talking about WP apps getting updated as well.

Yep same for me. I see the updates in windows store, but they refuse to download, they are frozen at 0.0MB progress. Seems like its a widespread issue. Apparently, one fox is to switch your account to a local account,restart your system, update the apps, and then switch back to your Microsoft account.

Hey, did you have any luck with the app updates?, my mail, calendar, onenote are also broken and the store has 9 updates but all stuck.

Anyone know what that "blank" app that updated was? No name, no icon (gray square), but it showed up as having an update when I checked for updates in the store, downloaded, and installed successfully...

I had out as well, also another one called VLB12

$15 annual payment just to play bloody solitaire???? Windows 10 is free but...... Nothing is free. Next ads will populate our desktop, tiles and whats next $10 a year to view the windows clock? The norm these days is to pay people to not bombard us with ads..... I hate ads I really fucking hate them but I guess the sheep need to be told what to buy what they want, need or aspire...... Speaking of which next month is the annual sheep flock...... 6s or 7 ? So Daniel what size u getting this time? Poser

You can play for free. Don't get your panties in a knot.

Having the ability to change font size is the last missing function I need to not miss Office OneNote 2013. Yay.

The mail app has been buggy as hell, i hope this fixes it! Also would love to be able to turn off conversation view, that would really be nice!

This! Toggle conversation view please!

Yes! There are many bugs but conversation view is keeping me from using the app.

Conversation view has kept me from using my SP3 all together. I loved managing my email on the 8.1 Mail App. I haven't touched my SP3 since upgrading. I hate conversation view.

Windows camera got updated as well, and seems like the icon for switching between front/main camera is the only change.

Windows Camera got an update too.

If only updates were more freqient!!!!

It would be good if they were not so frequent and addressed multiple bug fixes and new features and came with a changelog. Personal preference.

is there a way to see what apps have been updated in the store and in the pc?

Windows 10 Camera just updated on my SP3

I just recieved an update to the Windows Camera app.

Im really starting to hate 1shot on wp8.1.1 the last 2 times the update wouldn't take so id have to uninstall

Altough mail has been updated, i still having weird error when manually syncing my mail. (Why it says something about windowsphone.com?) "Something went wrong... Wecant sync right now. But you may be able to find more information about this error code at www.windowsphone.com. Error code: 0x80070032

I have same error and same instruction to go to windowsphone.com, I assume it's a universal app and they are failing to detect the platform correctly hence the direction to wp. I can't believe they released this to public.

First time I have that "let me check those updates" feeling for my PC and not my phone, apps on 8.1 were never update or I don't even remember

I would love MS to include a change log with these updates.

Until they add universal folders to Outlook Mail this app is useless to me.

I'm hoping this fixes the issue of not being able to use the mail or calender app. So frustrating.

YUP! app now works after loading it. As frustrating as it is, it's nice to know they fix known issues within a reasonable amount of time

outlook mail all so drop its icon in action center

Hopefully this resolves the mail app crashes.

I'm also unable to update or install new apps. The MS support forums also report others with the same issue. MS has said they are aware of the issue, but haven't to my knowlegde given out any further details. Hopefully this is sorted out before long.​ Well, not a minute after I typed that, I went to the store to check and everything started to download!

I've been having issues with app download as well since yesterday (or longer but yesterday is when I noticed). Downloads are taking ages.

Mail and calendar really need to improve, i used to enjoy checking my multiple accounts with the windows 8 version that i thought needed improvements but this is, in functionality, a couple of steps backward

They need to add the ability to change color to new events in calendar. Geez!

The new Store actually sucks at resuming paused or broken downloads. It always restarts the downloads from the beginning which is a pain while updating stuff like games and other big apps. I hope Microsoft addresses this issue ASAP for those of us with slow or unreliable connections.

On my win10 store I can't see how many apps are up for update. For this update I had to manually search the apps and only when I clicked the link to get to them was I able to see there was an update available. This works on the phone, but not on laptop?

Man I wish something like the old calandar in 8.1 would be availble. I just want a full screen full month layout and see each day quickly, then tap on the day to see events or add them. This new calandar just blows imensly.......very imensly...like T-Rex imensly. It is like 3 steps backwards to me compared to the old version. rant off.............


the store says "the server stumbled"

Without a change log, these updates are just a placebo. To keep people shut. Just a waste of time & resources.

Regarding the MS Solitaire Collection update, this FB post will help.
https://www.facebook.com/microsoftsolitaire/posts/942859092402610

Can we please get the ability to open password protected notes in OneNote mobile!

Still only in English... Thanks Microsoft to give Windows 10 for free but only partly in French !

Don't know much about activation processes on windows 10, if I know my product key and install the windows 10 ISO, when I want to activate it by inputting the product key, will I require an internet connection? Will I need to make any payments, etc. Pls. Help

http://windowscentral.com/commenting-guidelines

Well thanks for the tip, haven't seen that page before

I wish to hell Outlook had a different icon for Gmail, Yahoo, etc. Like the mail for 8.1 has.

Don't like Microsoft Solitaire Collection :$

I went and played a little bit with the new Solitaire in Win 10. Why the hell they made the in-game UI so tiny? It is like they zoomed it out by 50%. Now i have to buy a pair of binoculars just to be able to play a simple game of cards. And why so much space between the card stacks? So much empty space is very annoying. Well, i guess i have to stop playing Solitaire and get back to work...


Must say that I like the fact that Microsoft spun off the mail and calendar apps. I see they have been releasing small updates from time to time since Windows 10 was released. What I'd appreciate however is that they at least give a change lot description when you open a recently updated app.

Allow Mail to switch accounts on screen like Win8 (or a linked inbox like Windows Phone) and I'll be interested in it.

You know you can switch accounts with a tap, right?

It's more like two taps, one in Accounts and another in the account you want to see. And you won't know which one has unread emails until you tap on it. Windows 8's Mail app allowed you to see all your accounts at a glance, and which had new mail, and allowed you to switch between accounts with one tap. So far I'm unimpressed.

You can not only switch between accounts, but you can also pin individual accounts. I have 4 accounts in my email app, 2 I use frequently and the other 2 occasionally. I pinned my main 2 separately and I get email counts independently on each live tile. I unpinned the main mail app and just check the other 2 accounts from one of the accounts I have pinned.

Mail sync error 0x8000ffff

Still getting sync error on mail app with MSN account even after update.

Someday, maybe, Gmail will work again... not holding my breath

In Solitaire, they changed the menu, it's now much smaller in font size here. However, I hope they are going to fix that horendous UI. It's ugly in every meaning of the word.

No update for mail and calendar. No update for OneNote. Just solitaire and camera. And vclibs 12?? Anyone know what that is?

Mail app doesn't have working live tile still

Also, can anyone tell me how to get my email notifications back for replies on here (Windows Central)... I'll probably never find out as I'd need a notification to bring me back here to find out how #catch22 #doubleedgedsword

And what about the People app?

No updates available for that app!

I love OneNote on tablet but OneNote on mobile is not good, the toolbar is to big and not handful

when i click check for updates on store nothing appear i have to manually go to each of app page and if its has an update it will start updating the app

Hope this fixes the frequent crashes for Mail on my SP3 Posted via the Windows Central App for Android on my BlackBerry Passport

Didn't fix for me, still says error and sends me to windowsphone.com

The mail app is stupid. They should have sticker to the win 8.1 version which was way better. But hey this is MS, they will throw away what works perfectly and redesign from scratch.

Yep I used the 8.1 version with 2 accounts flawlessly. Loved it. This new one sucks and it even errors when I try sync. Terrible! Making me think about ditching windows for good, so over everything changing to be broken and incomplete compared to the last version.

Guys I can't update apps.. Downloads are still blocked at 0%, every download

You'll get a faster reply from the forums!

I use OneNote 2013, any reason I would want to use this version instead?

It's about time. Solitaire self terminates if minimized and left idle between games. Not cool waiting for it to load again every time. Hope they get to Minesweeper soon. It only displays in desktop mode if pinned to an edge of the screen. Otherwise its the minimalistic vertical layout. LoL

Whaaaat!!!! Half baked!!!

I didn't get any update..

I have apps crashing problem on Windows 10 please help me

Anyone having issues with Store? The updates just hang. No downloading whatsoever. I have tried wsreset, and using App Manifest in Powershell? Any suggestions?

Microsoft needs to give us the option to easily uninstall these apps, or remove the Outlook.com account in them (namely the PIM apps). OneNote should be uninstallable, period. It's not even that that useful (or usable) offline. Do those apps work even with a Local User Account, because I'd rather go that route and then use my iCloud Account with Mail/People/Calendar and iCloud Drive/Photo Sharing/iTunes instead of dealing with the Microsoft Account Service Bloat and OneDrive (Unlinked and Removed from Startup), which I do not use... Has anyone tested if the Windows 10 PIM Apps function without a Microsoft Account? I know they still get updates with a Local User Account, but I didn't try the PIM apps when I was setting up that my Mother's Laptop with it.

Mail app still throws syncing error 0x800..... And directs me to windowsphone.com for information....

My damn mail app doesn't work anymore. What the hell!!!!

Why not use imo Windows phone?