Meet your new favorite web browser – Internet Explorer for Xbox One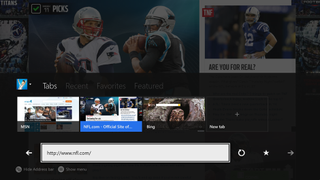 While Internet Explorer isn't the world's most well received desktop web browser, it can certainly do its job on the Xbox 360 and in Windows 8 mode on touchscreen devices. Despite IE already being a great console web browser, Microsoft is set to revamp your experience on November 22 when you grab your brand new Xbox One.
Microsoft is touting that "the sites you love on the web" will now do more than "just work". Ironically, the Trident web engine that the company has been using for its backend hasn't exactly been known to "just work" with many websites, so it is interesting to hear that Microsoft believes that have surpassed that point.
Internet Explorer for Xbox One will include support for modern web technologies including HTML5 and CSS3; these new technologies will help present day websites be presented exactly how they were intended by the developer – all on your big screen.
In addition to new web technologies on the Xbox One version of IE that Microsoft has claimed increased their previous standards by over 200%, the new software that ships will provide a goliath of new features to try out. According to Microsoft, they have added "browser features that you know and love from your Windows PC" including the ability to pin websites to the Start screen, multiple tab browsing, Cookie blocking, and Private browsing (you know… for private stuff).
If consumers are going to reach out to the Xbox One as a way to access the internet they need a comfortable, convenient, and easy way to do so; the latest console from Microsoft and its integrated software is promising just that.
You will, of course, be able to use the web browser via the controller, but who wants to do that and type in every single character of a URL with a thumb stick? The familiar way to browse the web, via Microsoft's SmartGlass technology, is back and improved for usage. Not only will you be able to use your tablet or smartphone to control the browser on the television, but you will also be able to easily jump between Internet Explorer on your Xbox One, smartphone, and tablet.
Browsing Reddit on your tablet for cute cat pictures and want to share it with your friends? Easily send that webpage to the Xbox One and everyone can enjoy on the flat screen (because seriously, who doesn't love LOLcats?).
The biggest addition to your internet browsing experience will be newly added Kinect integration. Using the Kinect's voice recognition, you can easily use commands like "Browse to" and "Click On" to get around your favorite sites. The system automatically knows what sites you visit most, so when you say "Browse to Windows Phone Central", it will know exactly where to go.
If speaking to your television set isn't exactly your thing, you can take advantage of new Kinect gestures to browse the web. Simply reach out your hand to "grab the page" and have full control of your content. A simple hand movement can help you pan around the page and pulling in and out from the screen will zoom your content respectively.
Want to click on a link? That is easy also, simply reach out and click on it! If the page has too many links grouped together (making it difficult to click), the Xbox One will automatically recognize the situation and zoom in for you – another thing to worry less about.
Xbox One is four days away – are you ready to jump in?
Source: Microsoft
Get the Windows Central Newsletter
All the latest news, reviews, and guides for Windows and Xbox diehards.