Mega now testing universal Windows 10 version of its privacy-focused cloud storage app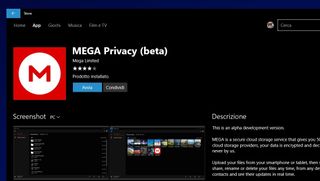 Privacy-focused cloud storage service Mega is apparently working on a Universal Windows Platform (UWP) version of its app. Spotted by Italian blog Aggiornamenti Lumia, Mega has started testing its new universal app as part of a private beta, which should be especially good news for anyone hoping to use the service on PC.
Image 1 of 3
The app's features currently look to cover the basics of what you'd expect to be present in a cloud storage app. There's a Cloud Drive section that lists all of your files, along with a Rubbish Bin that collects your deleted files. The separate Transfer Manager section is where you can manage and monitor your downloads and uploads and view those that have been completed. There's also an option to automatically upload photos as they're taken.
Mega itself is focused on providing secure cloud storage, only allowing your data to be encrypted and decrypted by client devices and not the service itself. That means only you have the ability to decrypt and access your files, making them more secure. Mega Privacy has already been available as a Windows phone app for some time, but a universal app would definitely be a welcome change for PC users.
The universal app is currently in the midst of a private beta test, but you shoot an email over to uwp.alpha@mega.nz to apply to be a part of the test. Otherwise, you can check out the current public Mega Privacy app for Windows phone on the Windows Store now.
Thanks to Philips for the tip!
Download Mega Privacy for Windows phone at the Windows Store (opens in new tab)