Unified Messaging Skype Beta for Windows 10 Mobile finally leaks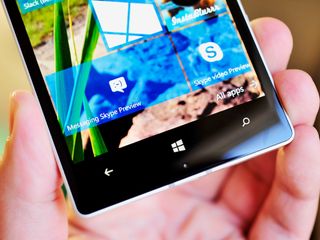 Ever since January, Microsoft has talked about how it is bringing Skype messaging into the native text messaging app on Windows 10 Mobile. This morning, that app has finally leaked through a downloadable link to the Windows Store. The app appears to be installable by anyone with a Windows 10 Mobile device hinting that the app may be released with this week's expected Mobile Preview update.
The Messaging Skype Beta app comes in at just 24.7 MB and asks if it can take over your current Messaging app. Both apps remain, however, if you accept and all new SMS messages go to the new combined App.
Additionally, the download installs a second app called Skype Video Preview. This app is a much more streamlined Skype experience that lets users direct call each other with video. Indeed, the app is reminiscent of Apple's FaceTime as its only purpose is video calls. A list of call history is presented and tapping the user name launches into a direct Skype call with that user. If you want to chat with them, you need to use the Messaging Skype Beta app. You can chat with them during a call as the app's just switch and the experience feels rather seamless.
The overall experience so far with both apps is positive. The messaging apps is very similar to the current messaging app. Users can choose a Skype or typical SMS-style when creating a new message.You can dynamically switch between Skype and SMS within a single conversation so long as the contact's information is linked together (Skype and personal number). We did experience occasionally crashes and sudden app close-outs reinforcing that this is indeed still a beta.
You can download the app below to your Windows 10 Mobile device and give it a go. Like all things, remember that you are installing a beta app for what could be considered a crucial aspect of your phone: SMS messaging. As such, plan to have a backup ready in case something breaks.
Download Messaging Skype Beta for Windows 10 Mobile
Via: Windows Phone Addict; Thanks, @NotCassim, for the tip
Daniel Rubino is the Executive Editor of Windows Central, head reviewer, podcast co-host, and analyst. He has been covering Microsoft here since 2007, back when this site was called WMExperts (and later Windows Phone Central). His interests include Windows, Microsoft Surface, laptops, next-gen computing, and arguing with people on the internet.
This is gonna be interesting

I'm assuming this is a windows version of iMessage yes? Like a competitor sort of?

Is it? I thought it wasn't :|

Skype is Microsoft's answer to iMessage/Facetime

Other way around. As skype is older

Skype may be older, but this is them changing it to be more like iMessage.

all the services microsoft uses are older yet they always seem to only be answering to competitors recently rather than leading the way

So true. Mismanagement and a culture of copying Apple and Google instead of innovating.

Yeah right and Apple and Google have never copied Microsoft?!?!? Get real everyone copies each other

And yet when they try to innovate, they get smacked down for changing things. 8.x for example.

@Michael, what if i told you that skype existence was not related to mobile? so nope, skype is older and was NOT in the same bussines like imessage. microsoft could as well to create another service to "compete" with imessage. but since skype has a name, why not diversify your own product to also be the main messaging platform on your mobile os?

Yes but Skype has been messed about a bit by MS and has lost it's status by a mile as the definative answer to communicating, especially if you have a tablet :-(

What are you talking about? Msft has made massive improvements to the way Skype works. If you've followed since the acquisition, you'd know.

Like currently only having an awful desktop program on Windows?

Exactly. They have shown zero innovation around Skype for years while others similar products have gone from zero to hero. Appalling.

Wasn't this part of WindowsPhone 7? Or am I mistaking?
I was kinda disappointed when they ditched it back then.

Correct, this is not new. They're bringing back what they took away from Windows phone 7 with a few additions.

Yeah, I see you're confused.

Such a simple answer, love it. Lol

I use to love that about iPhone, and if this is so make it that you can also receive mms texts and anyone with a Windows pc or tablet can text and video chat across all Windows devices.

That is the goal of this app. It will be on both pc and phone.

to be sure, it will also land on Apple and Andriod devices.

Yeah! In a few more days! And will be a better one for sure..... Well, change in CEO's have changed the scene and services quite around! Posted while running with the ninja cat

They can't do apple devices do to their locked down systems not allow anyone to use anything but their stock messaging app to receive normal texts

The other versions of this app will likely only work for skype chats. That's my expectation, at least.

To be honest Microsoft first implemented this with SMS + Microsoft messanger in the first iteration of Windows Phone. That got removed with 8.1, sadly. Hope this is become as seamless as it was in the past (but with Skype).

Yes, and It`s really confusing the way they change their mind about these services, it happend the same with the skype version for windows 8 that has been eliminated for a desktop version.

Microsoft seems to dislike building on their previous work. It always seems to be preferrable to them to start over from scratch.

How stable is the current windows 10 mobile build?

I'm using it as a daily driver. So, pretty stable for a beta release. Still, obviously not as stable as an 8.1, but battery wise, it is near perfect, at least on mine. Edge sometimes crashes on some websites, and lockscreen has a bit of lag, as some apps when entering (in comparison to 8.1's experience). They're probably going to release a new one soon though

Only use W10M on newer higher end devices as a daily driver. Slower and older phones are not yet usable in a practical way. Extreme lag and wait times.

depends on device*. im running it on 535.

I don't think that's completely true. I'm on 520 and the only bad waiting time I've had it's with the bug when loading up the start screen, and even then I just loaded up search, wait a few seconds then go back to start screen, which seems to fix it. I think it is very usable on Low-end phones. It isn't completely stable but is just as stable as high-end.

Not true. Smooth as glass on an $80 Lumia 640, but you probably want an SD card.

Just curious what devices you've tried it on, and did you do a hard reset after? I was using it on a 635 I picked up just for playing with the W10M preview, and with the latest build (10512, I think), I decided to pull the trigger and load it on my 925 daily driver. I initially didin't do a hard reset afterwards just to see what state the upgrade was in, and it was horrible like you describe. Extremely slow and laggy. I'd unlock the phone, and get a "Resuming....." until the screen relocked (it was a 1 minute relock time). Then unlock again and again with the same thing. Left it alone for a few minutes and it would finally get back to the app or start screen. Basically the phone was unusable. I left it like that for a few days to see if it would improve after some time, but it didn't. I bit the bullet and did a hard reset and then the 925 started working well again. I get momentary lags - maybe a little worse than 8.1 but not drastically so and the phone is completely usable under W10M.

I use my personal Lumia 920 (Only Windows Phone I ever owned) as a "daily driver". Did a hard reset - Actual several times after upgrading, it works as the others are describing - but I used to have glance. That feature is currently not there or it is not supported yet.

I have glance on my 820. Just dl its app from the Store. It will ask you to reboot and then you will have the feature back.

It is support for sure. Have it running on my wife's 920. Glance on my 830 is a bit buggy though.

using the HTC One M8 - latest build was buggy as hell but after the hard reset, much better. Still has its issues but much more useable.

While I do find lag on my 532, it's all skippable, unlike 8.1. If it decided to take a bit to load the lock screen on 8.1, I'm stuck waiting. On 10, I can still unlock it and just start using the phone for example.

Well I'm currently rocking a L735. It's a pretty decent and good phone

Fairly stable actually, some bugs, and edge is flaky, but in general, it's a good build.

It was really stable for me until this past week. Got so bad over the weekend, I went back to 8.1. The new build is coming soon, so I figured it would only be for a short stint.

That's what I am thinking, waiting for the next build to jump in

I think I will switch back to WP8.1 today. Will then fresh install W10M when the new update arrives. (Lumia 830 on AT&T, but non-AT&T version).

I'm using it too as a DD, since yesteray. It's nice. Very smooth on my 1520 with only a few cliches thus far. I hesitated for a while but honestly it's worth a try.

I hope they re-integrate facebook as well

I'm sure that was a Facebook decision and not Microsoft. They wanted to push - sorry, I meant "force" - their messenger app on all of us.

Maybe but AFAIK Microsoft removed the Facebook integration for one reason, feature updates. Rather than releasing a new build of WP each time they wanted to add a new feature they moved ALL the features to the app that plugs into the system.

it has more to do with how often facebook breaks things, the fb integration rarely worked because facebook constantly breaks it.

I really hope that Facebook somehow invest to integrate their Messanger with this Unified Messanging concept of W10M. Though realistically there could be many limitations that Facebook might not able to fully integrate it and that's a problem. We're not sure (or maybe I haven't find any information) on how 3rd-party apps will integrate to Unified Messaging app (More like Messaging Hub), this is a problem ever since WP7.5. Facebook can do anything they want with their services good or bad, this is why the 3rd-party integration should be flexible for developers to integrate their services with all the features they want to implement. Making the Messaging app more like a portal and the 3rd-party services are like an app inside the app (Messaging hub), not like an inferior extension. I hope soon, very soon Messaging Hub will be like that. It will have very flexible and quite open to integrate their services and features as if there's an app inside the app or more like an extension type. Similar to current Peoples app/hub in WP8.1.

What's in it for Facebook?

Ask anyone still on WP7. MS broke it out because they had to. FB put a kybosh on that API.

Facebook integration would be nice to have again, but I'd rather have Facebook Messenger updated to the likes of the iPhone and Android apps. The app is much better on the other two mobile platforms, and has a ton more features, both useful and some just for entertainment purposes.

Facebook wanted the messenger split we are not going to see it merge again....

All it really needs is a tie in API dependent on a third party app, I wouldn't ever want it actually merged, it was frequently broken, rediculously lacking in features, and pretty well useless in the messaging hub.

Has anyone else observed the screenshots on the App download page? Notice how at the top there is a new icon layout as well as the conversation view sporting a lighter colored start menu bar. Just found it pretty interesting. Maybe next build??

Interesting development, i would wait for new build to try it out.

What's interesting is that you can change the default messaging app... So third party ones?

That's the first thing i thought.

That's been in the OS for a while now (8.1) but no app has been allowed to use the APIs until now.

Technically you are wrong Vodafone did a horrible orange messenger + app, it was laggy and slow I installed this on 8.1

Don't care about third parties, I need first class exp on first party, and it seems Microsoft will deliver it.

True, but it means google could put hagouts on it (we know they won't) but it opens doors to things like that.

If they opened it up, I wonder if Rudy would make something? If he did, it would be a great app, I'm sure.

What happens if you fall back to 8.x? Are the messages that went to this app lost or will they show up in the 8.x mesagng app history?

My guess is they back up to the same place, but can't 100% guarantee it.

*nods* I'll just wait over here.

Your messages are still going to show up in the original sms app and your skype messages too, so you don't lose anything. Just back up your text messages like you have always done

How does this work with Skype emoticons? Like (joy) or rather (anger)? (monkey)? How about images in messages? Location sharing etc.

Will have to try out, as the emoticons crashed the app briefly. Edit: It handles emoticons the same as skype e.g. the (....) way.

Does it work with skype credits? Downloaded it but could not if skype credits works, or need to revet to using the skype app.

Please how do I download the skype beta app, av tried the link but it goes to MS site without any access to store. Must I be in the states for it to work?

When you get to the MS site. There is a button "get the app" click on that and it will open up store app. And you can download. That's what I did. I'm not in the US.

They work, but are not animated. However I don't really see this as a Skype app replacement just yet if ever. I mean Skype always had it's own specific design language and feel, which is not here. It looks like a normal messaging app with ability to switch from SMS to Skype and around. Good thing is It works faster just like sending a regular Message and SMSs and Skype messages are together so you can kind of continue to talk via Sms if you go out without internet access.

They need to make those animated and make it flat design, becuase it looks now disjoint with overall design of the W10M. I wished that they will implement stickers and have Store to download new ones, also let 3rd-party devs/designers to make Stickers to sell (More monitization for both dev/designer and Skype team) or for free. Stickers are very popular feature among the messaging apps, its became very essential to modern text messaging needs, especially in Asian market where messaging apps are daily bread. Facebook used not to have one but because of demand, now they got large collections of it right now.

Then we will complain the app is slow.

Skype in current form on WP8.1 is slow and its bit less featured than Android, but runs faster on high-ends (except for entry-level Android which should be avoided).
Viber app on Windows Phone have stickers and video call feature, its essentially a Skype competitor for smartphones and runs faster than Skype app. So there must be some underlying issue with the codebase of Skype makign its performance very slow. Indeed we need great performance and that's given, but also Skype is losing its mindshare on mobile users time by time. Most people I know didn't even install Skype on their phones but have on their PC which we only use for video calling alone. It's hard to convince them since Skype only good for VoIP and video calling but isn't great as a text messaging platform. W10M from now on promise this and looking good so far, but they really have to take look at the competition. It's hard indeed but well Skype needs more messaging features + great performance.

Thanks Dan for bringing us this news even on a Family Day. Appreciate your effort very much. I hope this messaging app shows up in windows 10 too.

Sure thing. I mean, I'm excited too. But I'm also excited to go on a bike ride :P

Go on and enjoy your day!!!

Dan seem to love his new bike very much ;)

We have so many bike trails aka 'rail trails' (former railroad tracks) up here in MA, it's a lot of fun to explore :P

2016 Specialized Crosstrail Sport Disc

Very nice. Funny thing one of my friends had an older specialized trail bike that just got stolen. Hope you have better times.

Wish I knew what that meant lol

Something leaked will be release asap #newUpdateComing :))

I think that video calling should be integrated with the Phone app. There is no need for three apps to take the place of one.

It kind of is...Skype video calls show up in history and it integrates into their contact info.

Ur right... Lot of settings are present as apps.... Microsoft is dumb...its copying iMessage but cant even copy properly

Have you tried this though? It's not so much separate apps as they are all interconnected. You just have different ways to get there.

Having them separate but behaving like one app (as long as its fast and fluid enough), means that they can update each individually, meaning quicker updates and features being added at a faster rate.

Exactly. Like the current people, phone, and messaging apps.

try it, it gets merged in a nice way... Won't hurt if it updates to let you differentiate skype calls from phone calls

I love it! It would be simply awesome to have facebook chat integrated in Messaging app too as it used to be.


This. I used to love that from the WP7 days...

I love that in WP8.0 days.

Tell Facebook that. It wasn't "benefiting them" at all which is partly who they removed support for that integrated feature. They want people "in their app".

Danial did u own iphone and did wp be ur daily driver #justWantToKnow

I do have an iPhone 6 and Galaxy Edge and I like both. I prefer WP UI though.

Hey Dan this might be a question i can answer with some searching but, what WP have you been using.

Icon, 640, 640 XL, 830 and 1520, I have a few SIMs, switch often

Mr Dan, which is actually your favorite ?

Man, I really need a new build! Haven't been able to install the last six or seven MS apps. Tried every browser and every QR reader I have, I keep getting the greyed out Get App box.

Had the same and it was Edge browser set in "desktop" mode. After setting it to mobile redirecting started to work. You may want to check your settings.

omg. .this is what I've been waiting for Posted via the Windows Central App for Android

It looks awful. Boring, ugly, dated and bland.

Give it a shot, it's actually well done and fun to use.

Could be well finished but you gotta agree the design feels a little bland compared to the colourful update that went to android and IOS

Well, yeah. But those are single Skype apps. My bet is we'll have a new universal Skype client, but this is a way you can really unify it in the OS.

Well I think some added accent colors on some area's and not being too black/white everywhere can improve and refresh its looks. I think better animations will do the job. Animations can make the UI (cannot be shown in an image) looks lively, joyful and more modern/futuristic to look at and use. I think Skype needs a feature to have custom background image and seperate accent colors for each conversation thread like most messaging apps these days. Though it won't change the UI (of course) but at least the looks can be personalized to each conversations and groups. Of course, they have to make sure the images in the background should be dimmed a bit and try to make non-distracting regardless of the image. By default, of course it will stay with your system color and no background.

Mine just keeps crashing at "just a momment".... any idea how to make it work...??

It looks like a cheap mix of the messaging app and the skype app. The calling screen has a skype design and the messaging screen has the same boring design we are used to. Once again one big inconsistent interface, like everything in Windows 10. The emoticons selector looks as if it came from the year 1995. Ugly as hell. It will be a cheap integration, not even supporting the skype emoticons.

And still no animated emoticons :(

I also wish for Stickers. Skype needs to compete with messaging apps out there and Stickers are very popular ones. Skype is losing its mindshare on mobile-space.

Geez calm down. It's a beta. They are mostly rn focusing on Win10Mobile builds anyways. Be happy u even have the choice to switch switching from Skype to SMS quickly. The UI will come later

Talking about calling screen. Windows 10 Mobile is unfortunately looks inferior (visually and design-wise) than WP8.1. Heck even iOS 9 realize this and got the more modern looking, Metro-like design. The calling screen looks like we go back to 2007. Too button-focused and less people-focused (Original Windows Phone principle). http://i.imgur.com/uzd5hpP.jpg

I think some of you are confused. It's the Messaging, just with Skype integrated. What were you expecting? WhatsApp (which IMO is ugly and old looking)?

This reminds me of current Calling screen in Windows 10 Mobile. http://i.imgur.com/uzd5hpP.jpg Its just now the wasted space with non-modern small contact photo at the corner. Reminds me of old iOS7 which I don't like either. We used to have better looking one from WP8.1 but now its been devolving. :(

Thanks for the article Daniel. I just got home from a three day errand to discover my Insider device had died so I'll have to wait for it to charge before I try this out. I appreciate you giving us this information on a Sunday, as I know you'd much rather be with your family (or outside, riding a bike away from your family as quickly as possible).

Man, Microsoft needs to stop bloating everything. I would try this, but I might not if I have to install three apps to accomplish one goal.

When you try it out, you'll get what they are going for. Honestly, this is a lot better.

So far it's slower to load skype contacts but I'm hoping it gets better and gets rid of all the loading and resuming

How is it better that if I want to use Skype for messaging, I have to take the video app as well, when I have no interest in it? I can get making folks keep the messaging app, since it's a core feature of a phone for each carrier, but the video app and messaging app shoudl be separate. This goes hand-in-hand with the excess in Windows 10 that bothers me. I don't touch podcasts or the FM radio. I shouldn't need to have those apps installed. Why must I have Cortana on my phone when I just want it out of the way? What do I need a Movies & TV app for when I don't watch TV or movies on my phone? Why do we need a Games app AND an Xbox app? It's just so darned cluttered on W10M. Honestly, it's Android-level bloatware. I count 9 system-level apps that I've never touched, but I can't remove. There are probably a few others I'd delete and switch to a third-party app for, if the OS let me delete them (looking at you, Groove Music). If Microsoft weren't so dead-set on making a mess of its OS with W10M, then they could probably have rolled it out to 4-GB phones. I mean, WP8 was 1.72 GB or something, and W10M (in beta form) is 3.77 GB. Part of that's obviously meaning feature additions and the result of having to share code across other platforms, but it's also affected by the loads of apps and such that some of us just don't want on our phones. I used to say that I don't like Android because it comes with a load of apps I can't uninstall without rooting the device. At least rooting was an option to cut the stuff out of Android (even if it was more work than I wanted to do for a phone), while W10M is just throwing apps at everything, making our app lists a giant mess, and leaving us with no solution but to take it. I'd like to hear what really makes 3 apps to do the job of one better, though. They could have totally gone the iMessage route and built the functionality of Skype and Messaging into a single app, IDK why they didn't.

How is it better that if I want to use Skype for messaging, ........but the video app and messaging app shoudl be separate. blah, blah, blah They could have totally gone the iMessage route and built the functionality of Skype and Messaging into a single app.

Um, what is it you want now?

Texting and video aren't the same thing. They should be separate apps. However, it could have made sense for Microsoft to make the W10M Messaging app like iMessage, where you could use Skype as the non-carrier messaging option. They could have been made into one app, then Skype's video stuff could have just stayed an option feature. If they want Skype messaging to coexist with the generic Messaging app, it makes sense to have them as a single app. However, having one app require the other when they're not liked (Skype's video and messaging apps) is just unnecessary.

Are you finished with your rant?
You can uninstall Skype Video.
"...gone the iMessage route and built the functionality of Skype and Messaging into a single app, IDK why they didn't."
- thing is, they did (a drop down menu on the top right of the messaging screen allows you to toggle SMS/Skype within the thread).
Maybe try it before condemning it with your assumptions.

They clearly didn't. If you want the dual-functionality of Skype messaging, you must install the Skype Messaging app, but you can't uninstall the Messaging app. As such, you must carry two apps. That's my problem.

It's a beta add on.
It's fairly obvious (if you've seen/used it) that it will replace "Messaging" when finished.
If they'd just changed the current Messaging app, they'd of forced people to use the beta, also this hasn't been officially released and judging by the internal ratings it's been around for about a month.

That's not what this site says: http://www.windowscentral.com/skype-messaging-and-video-app-windows-10 "Users can still use the standalone app, but most will want the lighter Messaging for quick communication." "Skype, Messaging and Video will be an app through the store like Mail and Calendar" They clearly state that it is pegged as its own app, not an integrated feature tied into W10M itself.

Nope, I think you got that wrong. It says users can still use the standalone Skype app (i.e. the one we had until now) but most will want the lighter one. The new app will be updatable through the store, just like Mail and Calendar is, even though you cannot uninstall it. I'm pretty sure this will replace the default messaging app when it's done.

The app is 20(odd)MB. Calm down. If 20mb I causing so much problem for you that u need to say a huge pointless rant, I think u need a new phone. Bcus it seems yours has less than half a GB of storage.

Did you googled it? you can uninstall those apps, just set your date to 2099 or something like that, then you get an error opening them and you can uninstall them. Just stop complaining if there's a solution.

You are missing the point....

That statement means not a thing here. What is there to get? I'd love some enlightenment, though many in these comments are capable of more than fanboy one-liners, so I'm not really expecting I'll get an explanation.

the redundancies your talking about are thefect of, what? the OS being in BETA! Xbox games and xbox - Obviously the xbox games app is going to be rmeoved in favor of xbox, any idiot would see that. having two messengers - again obviously development stuff, its very common to have dupes until the newer one is c0onsidered good enough get off the damn beta, you are useless

Wow, you're incredibly stupid. Go fire up WP 8.1. Go look at how there are system apps you can't uninstall for music, video, podcasts, FM radio, Office, and more. You don't know whatyou're talking about. This is OS design, not he result of the beta. Some of this stuff is even baked into the already-released Windows 10. You don't have any clue what the hell you're talking about.

You're such an idiot. The integrated apps (especially apps like music, Video, FM Radio (are u serious??)) use less storage that third party apps. The storage they use after installation is determined on how much music, videos etc u have. I can't see why it's such a huge disaster [insert sad violin music here] and has such a huge impact on your daily life that a 2mb app is in your apps list. "Bloatware" is apps that take up ALOT of memory in the internal storage, causing less usable space for the user. If you still believe that apps that have a low size like "Music, video and FM Radio" are bloatware... I extremely pity your lack of lack of ability to listen to others and admit you are wrong. Stop complaining. (Also you're so upset that MS are making THEIR apps fixed in the OS? if u don't like MS's work that much, why are u even here?)

WOOOOOOOOOOOOOW You know what the integrated apps DON'T use less storage than? The NOTHING that I would replace many of them with. How in the hell can you (and so many others) be so dense and miss what I'm saying? I dont' want to listen to the radio or podcasts on my phone. I don't want to rent overpriced movies and TV shows. I don't use those features. Talking to some of you clowns makes me feel like I've been punched in the face with brass knuckles labeled "stupid."

Keith Wallace is such a mad man, why would anyone want to get rid of the best music and TV apps there is? Xbox/grove music and movies and TV apps are the best. If these are too much for you I guest you really should get a bangers, the light weight Nokia phone Microsoft released :-o

LOL, do you have Groove Music on your phone? It's prtty awful when the primary view you use to play music (song view in a chosen artist) isn't even in the application anymore, while the new pop-out menu adds a step to each attempt to navigat the app.

Don't understand what you're talking about, however I'm on Windows phone 8.1 so I use Xbox music. It's the best music player I've ever use, don't need third party apps. On my PC though I use groove music, it's also the best. Stop complaining and go buy a memory card. You can get a 64GB SanDisk ultra on Amazon for $30. That's what I did, and all my apps are install on it. All apps run smooth on it without lag and I currently have about 30 apps plus games installed. Still have 3Gb free on my phone and I never see memory full. unlike lag Droid, who as you install 5 - 7 apps shows memory full. Not even a call one can make when this sign comes up on Android/lagdroid. :-o

He totally doesn't get it

Woohoo! Now bring on the PC app that can let me text from it! :)

Yeah as if you are ordering pizza at home stop being so lazy

You don't text for pizza, lol

yeah its what i want to! txt from pc wish Pushbullet was avaliable.

This is great, hopefully it will work great and will become available for PC too soon. You guys need to shoot hands on video.
P.S. I don't like how those banners ("Use Messaging Skype beta for texting") look like. Should be on top, like we had in 8.1. Reminds me on Android now.

WHAT IS THE DEVICE IN THE MAIN IMG ?

Screenshot icon on the notification panel are quite different.
Edit: I mean on the store's SS.

W8 version combine with Facebook messager is really good experience

I don't like how the camera view finder is open when u launch the video beta app

I think they do that since the call is by default video, so that's a good "you're going on video!" warning. I dunno, thought it was clever but yeah, different.

Gives you a chance to make sure you don't have crap in your teeth, beard, mustache, up your nose, etc... before you start a call ;)

So u can send messages (sms ) to non skype users??

Yeah, it's just SMS and Skype messaging combined.

This is encouraging me to install Windows 10 on my Lumia 1520. But I'm still afraid

Lets hold out for a new build

You might want to wait just one more build. The newer build that's probably coming next week will fix quite a few of the current annoying bugs (loading/resuming, wifi hotspot and more i guess).

Will fix loading and resuming?.. I doubt that.. They are like a feature in WP :D

If they end up getting rid of "loading/resuming" there'll be a group of people upset on how they removed their most loved and common feature in WP xD

You have nothing to fear, but fear itself.

The children still feared me, and their fear gave me the power to invade their dreams, and that's when the fun REALLY began.

can't dowload the app. Link does take me to the store, but pressing "get the app" doesn't do anything

Turn DEVELOPER MODE on...... :)

Make sure Edge os set to mobile view. The button doesn't work when set to desktop view.

It does not show in my store. (windows 10). Get the app link doesn't work. I cant download... Aaargh!

Make sure Edge os set to mobile view. The button doesn't work when set to desktop view

Shit! Now I have to re-arrange my Start screen ;P

Just replace your current Messaging tile with the Skype/Messaging beta tile!

Msft is taking too much time to release the final build of W10M

It's still slated for later in the fall so I think they are on track! It's similar to the W10 desktop time pattern. I'm guessing we are about 2 months away from RTM of the mobile OS..

Would you rather they rush out a bug-ridden OS?

Haha, nice profile pic, Cave Johnson.

Weird. There's a review from a month ago on there.

Red alert at Microsoft! Telemetry data spike! :D

Same, can't download the app..

Messaging Skype / Skype Video....I hope the get their naming sorted!

I think those will change in the future. When the most important bugs are gone, the "Messaging Skype" app will take the place of the "Messaging" app and will take his name too. I wonder what the name of "Skype Video" will be.

Did anyone notice the link to the store listing has an image that had an option called "record" on a phone call? Call recording? Or are the images just concepts? By the way, how come the reviews are dated from June? Has the app really been available for the past two months?

It will be then integrated to messaging app when official update comes out? Right? Or it will be diffrent as we have it right now?

It will likely replace the current messaging app, as it can handle traditional SMSs too.

Since its leaked, how wise is it to use? Can they block or remove it remotely?

I doubt they'd do that. Very likely coming with this week's (expected) Insider preview update. Makes sense.

The app's store description refers to a preview program, so it's unlikely to happen.

Now win10 mobile should get more builds quickly.

Video keeps crashing at "Just a moment", but messaging works fine. Tried reinstalling, soft resetting, but still doesn't work. Anyone have this problem? Solutions? Thanks.

I made a video call just fine, but the app does have some bugs here and there.

Hello Daniel, do you see animated emoticons ? Like in Skype for desktop, Android, etc. :)

hear hear!! got the same problem... did a soft rest and installed it multiple times, it just crashes... tho the texting is flawless

Same here friend. ALthough I wouldnt call falwless but really very good. But Video preview always creashed. never opens. Mine is 640. What about yours?

That's great and all, but I can't get to the store when I open this link with any browser on my phone, the "get the app" button is not clickable. Didn't the Windows Central app have a function to get directly to the store instead of just providing a link that opens Edge? Because that worked last time I checked.

dKp1977
Make sure Edge os set to mobile view. The button doesn't work when set to desktop view.

Thanks, didn't know that, but Microsoft should fix this error anyway.

It's not really a Microsoft error (it's a user error). If you have desktop mode selecting, the browser/web page thinks you're a PC. This so is not yet available on PC, so it's grayed out.

I think the reason they aren't using the "download app" on some apps might be bcus they are only available on Windows10Mobile Store. The download app button I think rn is only used on WindowsPhone8.1 apps/games

Will it end up being a universal app so that Skype actually works on tablets, or are they just trying to kill off Skype on anything that isn't a desktop or phone.

Not sure I understand the question/concern. Aren't really any tablets thay run 'Mobile' at this point. Today's tablets, HP stream, Asus Note 8, Dell Venue, run the full Win 10 OS, including Skype and Skype for Business (renamed recently). Future tablets will run the mobile OS, which is the phone OS, so will get whateve Skype/Messaging runs on the phone. Of course you won't likely get SMS on a tablet, even with a SIM for data, but you would get the SKYPE messeging, in essentially the same format.

I think he's talking about the modern Skype app, which is not available for Windows 10 (with the exception of Windows 10 Mobile).
Skype for desktop can be installed and run on a tablet with Windows 10 for Desktops, but it's not well designed for touch interactions.

As I understand, and I think this article even mentions, an RT version will be made.

Personally I'd rather have video and messaging combined into one app, like Skype is now. I get how people like FaceTime because it "just works" and maybe by having separate apps it gives more of that feeling.

Skype rules the communication in the World!

Very buggy. Messages don't send, no video call, a lot of errors. More like an alpha build

Worked over here! Lumia 830

Hmm. I've already uninstalled it, i'll wait for the "official preview", or when MS releases it to Insiders : a) Skype Preview video takes 2/3 of the screen (looks like a scaling issue), Lumia 535 b) works only with SIM1 c) Everything in English (not a problem), but then, US date format (which pisses me off). So I'll wait a little while, but it looks really great.

OK, it does support dual sim, tiles are simply linked by default. Camera feedback (video) can be extended by tapping the upper part of the screen (for instance on the skype logo)

I like it so far. Had some crashes here and there particularly in large skype Group chats. I wish you could attach images though. Great so far for a beta

Damn, tipped Windows Central on this... Was probably too late. :(

I wish it would give us an option to sign in to a different Skype account. I use a different Skype(Microsoft Account) specifically for my mobile use but not the same as my WindowsPhone account. When I opened the app it immediately logged in to WP MS account. Cant find the option to log out and use a diff account

A black themed Skype, finally

Hows the battery life on the new one. Current on 8.1 kills my battery with extended use.

I wish we will be able to put other messaging apps like this , I don't use skype at all , I stick with LINE for video calls About mentioning LINE , they have released a game today

Did anyone else notice in the app screenshots, there's a new "record" icon on the dialer. Is that skype specific or a new record function for voice calls??

I installed but it doesn't show up in my app list.

So when you enable the new app, does Cortana read Skype messages when you're on Bluetooth? "You got a Skype message from..." ​

I just tested it and it works well

Need GIF GIF GIF GIF GIF GIF GIFs

Get a grip....1000 things to sort out before GIF

Now a days, the only reason I ever go to the comment section is to see epic takedowns from Daniel Rubino. They're quite entertaining.

Is there a way to start a Skype audio call? Or do you need to start a video call and then disable video?
IMO Skype audio calls should be made in the Phone app and video calls should be made in the Video app, with the ability to turn on or off the video feed regardless of the app used to start the call.

Idk how that is handled in W(M)10, but with 8.1 I did a couple of Skype calls directly from the contact, not via Skype app (basically the redirect from normal call to Skype call)

This would be cool if my family/friends had windows phone.. Otherwise I cant use this

Any Windows 10 device is also eligible...

Family/Friends are pro apple

Tried. Apple users are very thick headed.

Couldn't they just install skype on whatever phone they have?

This is insane... Great feature...needed from the very beginning

It will be win 10 mobile isn't a final released product.

I wish I had this from WP 8 or 8.1

It was present on WP7.5 Mango... We could talk from the message app to our messenger's contacts... I don't see nothing revolutionary here

I wonder what the next excuse meme will be after November? "Windows 10 Mobile is still new! Give it time to catch up to the other OS'!"

That excuse isn't even new either. I've heard that since Windows 10 launch and even during early days of WP8. :( Microsoft really have not be just fast, but make sure next release of their products and service to be solid and feels 'complete'. Which isn't all consistent, some are indeed great and some needs help.

Hope they have message sync, including SMS into Skype like Apple does with imessage.

They really need to have one like that! iMessage became popular because of it and we cannot blame people sticking to it. iMessage does indeed work for majority. Skype needs to be a solid and true competitor for messaging apps and services. Skype service only strong on desktops but struggling to compete on mobile. We need Skype not just to be a good VoIP service, but a great messaging service that we can lure more users into it.

I'm really interested in this....can I have a phone that's not my main phone be able to send texts as tho coming from that phone? I thought Skype SMS had a per message charge....I would like to keep my iPhone as my main phone but be able to send texts from my WP as though coming from my main tn.

I need some help with the download of apps on Win 10 mobile, the QR codes always lead me to the home page of the web store...

I won't if it's not yet for uk as when I put the number in it crashes

Hmmm. All my contacts are now linked to a "Skype" contact. So in Skype (non beta), they all appear, even under "Skype", whilst they're not on Skype. Also, it lost me some contacts. Uninstalled all beta apps, uninstalled Skype and reinstalling official Skype. Will wait for the next build; i've just lost my brother's and wife's phone number, so I don't want to mess with my phonebook!

So would this mean that (eventually) on my PC/tablet I'd be able to use skype to send text messages to phones?

Not a 'leak' if it's in the Windows Store with Preview tag.

The link wasn't suppose to get out, so it is a leak.

Damn it. My Windows account is a different one than my Skype account. I probably won't be able to enjoy this feature

The QR code only takes me to the website home page of the windows store. The button to download is not active. Did I miss something here?

Make sure Edge is set to view webpage as a mobile page not a desktop page.

"Allow MMS if cellular data is off" OMFG, finally someone understands me!

Fairly certain that saying has been around.

Right? I love this feature! I've been using it since I first joined the preview in June. Absolutely amazing! Can't believe it took so long to get this feature.

Germany here: "Oops, Skype is currently unavailable. Send an error report".

That's going to be quite useful and interesting

1 question . If messaging app different from video so While video calling and switched to message.. . The video will cut and be just call ?. Posted via the Windows Central App for Android

The thing I don't get about Skype that drives me asbolutely nuts is why I have duplicate contacts. I have two contacts for each one of my family members--it has something to do with actual Skype and another to do with the merger with MSN Messenger, and Microsoft still hasn't figured it out or something, but it confuses me and everyone in my family. What is the dealio?

Just link them in the people hub app.

Didn't the original messaging hub in WP8 do this? I remember it having Messenger integrated. I mean either way it's a good thing and I'm hoping they find a way to integrate all of the messaging apps, personally I don't care if not all the features are implemented so long as text appears.

Not sure if I am behind the times a bit, but looking on the store page, the last image indicated a record button. Is that something new that is on its way? I don't have it on the latest version of insider preview.

Wait for the newer build to drop a few days from now :)

1 question. . If those 2 apps are seperate.. so whenever I am video calling . And go to messages app to type sthn.. video will be off and be only the call right ? Posted via the Windows Central App for Android

Not yet. It will come eventually.

someone knows if this app hadle animated emoticons?

Can you conduct a video call and continue to see the video window after you've left the video calling app? Microsoft needs to allow these sorts of free floating interactions to a degree as they are expected from users of a desktop OS, especially now where W10 makes it much easier for apps to open multiple windows or arbitrary sizes.

Please . It would be perfect Posted via the Windows Central App for Android

I think many users suggesting this for a very long time, but I cannot confirm if somebody does this on Feedback app (I'm not still using Insider Build unfortunately). Still this is really a legitimate feature and must be implemented. If Microsoft wants W10M to be a productivity-centric OS for phones, they really have o do this. It really needs API for free floating mini-window/app for 3rd-party apps for different purposes, one of them is being floating Video call. Facebook example can even implement their Chat Heads feature. Also another feature that is needed for phablets is the snap view, which allows to have 2 running apps for multitask, just same thing from Windows 10 on Tablet Mode. Heck, W10M also runs for small tablets so snap just make super sense to have it. Unfortunately there is no sign about this or not sure if the Insiders even suggesting this one. These two features is till missing in W10M. I really hope they will add this before launch because these are really useful. Yes, we don't necessarily need it because WP doesn't even have one, but honestly if come from Android and hey even Desktop does this, why not have it on W10M? Its legitimately useful and not just a fancy gimmicky feature. This is a must and this will give more special about W10M, more reason to switch and buy.

Well, the sms notifications finally work:)

I'm going for it. Bleeding edge baby! Backup the 'ol data and dive in head first.

*facepalm* sorry, but WHERE is the DESKTOP APP??? So you are telling me there are three skype apps for mobile and not a single one for Desktop? you have to be kidding me. (skype desktop and web beta excluded since they are old and/or shitty)

What part of the word "leaked" didnt you udnerstand?

Still can't search messages

There's only one problem that I see - I can't log into a skype account with a skype name. I have 2 accounts that I use for skype, and only one of them is connected to my Microsoft account.

Yes you can switch between SMS & Skype mid msg

Your messages are still going to show up in the original sms app and your skype messages too, so you don't lose anything

It lost most of my contact phone numbers, those who were linked to existing skype accounts. And messages don't merge : I get twice my wife icon in SIM1, the "real" texts, and the Skype one (when I send a Skype message from within the SMS conversation, I don't even see my sent message, as it's collected in the duplicated conversation). As an extra: the "skype" conversation ALSO appears in SIM2. So you could lose some phone numbers but, agreed, no messages were lost

I am guessing this is an effect of installing it on an older build. I will hold off on installing this until we get the new build in a few days.

Not sure. I think it's the new way Skype works. All your contacts are duplicated as Skype accounts. So in People hub, they'll appear as Live, Skype. Even on WP8.1 So in Skype legacy, every contact appears in the "skype list", even if you have no way to contact them without skype credit. BUT. In Skype beta, it correctly picks the few contacts which can be (video)called. Also, in messaging, the skype option, along the existing SIMs options, only appears for the "right contacts". So new skype seems to know how to make the difference, when Skype official will now see all contacts as Skype contacts. And I think I've lost numbers because i've deleted some of these duplicated skype accounts.

This is one feat I been waiting for since they removed MSN Messenger and Facebook chatt.

The apps don't seem to work for me. Lumia 920

It was present on WP7.5 Mango ! We could talk from the message app to our messenger's contacts... I don't see nothing revolutionary here

It wasn't integrated. This is now part of the whole os integration.

Sorry, but the main part, messages, were totally integrated. Waiting 3 years to have this integrated just a bit more... Does not worth the wait Posted via the Windows Central App for Android

Off topic: More people in the world us skype over facetime or any other. No Ms isn't copying apple here. Apple copied ms. On topic : This is a fantastic feature. Now me and my friends will no longer need whatsapp at all. Less junk apps is a huge bonus. Been waiting for skype integration. This makes windows phone more desirable.

Just noticed something odd. Started Skype on my desktop and a ccouple of standard contacts (Never used Skype with them) have shown up as Skype contacts, I am guessing Skype is changing in the background as well and it has scanned my contacts for Skype use and added them. Timeing is spot on for this app release.

Really! That's great. Are you saying that as long as my contacts are using Skype and place their number in there, if I have that number they will automatically become friend without me sending them a request? :)

I'm not sure you'll be friends, but the "skype" account, which is automatically created and linked to your existing contact profile, will probably allow a seamless integration. Because now, ALL my contacts are my friends in legacy Skype, as MS has created duplicate Skype profile for all contacts. But I can't tell which ones have Skype or not...

Check your people hub. You'll see that EVERY contact is now linked with a second Skype account, which is empty. But in Skype (non beta), all contacts then appear as "Skype contacts". You have to select "available" to really filter the skype-skype accounts. And don't touch these redundant skype profiles. I lost my live/outlook details for my wife, brother and brother-in-law (who were linked to their skype account), or more precisly, I've lost all their phone numbers.

Too late again MS. You've already lost the universal messaging app war to Facebook.

Really? None of my friends use personal messaging in facebook. They all use whatsapp. Although now when windows mobile 10 drops we will just use the skype intergration.

It seems most of u guys here is forgetting this is a Beta app. Please stop complaining,MS didn't ask you to go download it. It was a leak, remember??

LOL yeah right; I'm wondering how long this stays 'Beta'. My guess is that a year from now, if the the OS is still around, it'll still carry a 'Beta' tag, and folks will be making the same excuses.

Windows 10 will change alot. With 1 kernal across all devices Ms can roll out 1 fix for all windows 10 devices. And yes windows 10 will be relevant 10 years from now.

what happens to skype group messages now ????

What should happen to them?

Crashing on my 830, seems to be ok on my 635. Will try uninstalling and downloading again.

They need make this available for all devises on all platform for it to come close to WhatsApp.

Other platforms have the normal skype app which will communicate with this.

Now we just need a new and better skype app

That's what this article is about!

Not really. This article is about making skype services more integrated into the OS. This does not promise us nor talk about an actually improved skype app.

Why do we need a skype app if its integrated into windows 10? Seems pointless.

I hope this eventually works with the desktop version to allow me to send and receive calls and messages through the Skype app

What about the integration of Facebook messenger and WhatsApp just like Skype?

Ms owns skype. They don't own facebook or whatsapp. Why integrate something that's not yours. Apple and google don't.

Windows version of hangouts?

Nopes. It's integration of all messaging apps into one folder. I just hope that they integrate WhatsApp and FB charts too.

Ohhh okay! You mean all the messages from any app I wud receive in my sms folder?

You mean we can actually use it and not just have it as an app for messaging only? Grin

Wow...this is enough to make me join the Win10mobile group again. Can't wait.

This is how skype can survive. People use Viber , WhatsApp, Imo, oovoo more nowadays than skype. Though enterprise still like skype. Skype is not innovative at all in last few years. Skype has issue in all platform including wp. Totally crap. Their customer service ? Much worse than minnow rebtel or nimbuzz. Anyway I am using new messenger and I like it , lol !

It does nothing for me but crash. Won't even open in fact. Very disappointed right now as I was really looking forward to this.

This is a beta that was probably designed to work on the newer win10m build. Wait a few days and get the new build then try it again.

Daniel didn't scold anyone today? And no ask Dan this week?

Are they ever going to actually consolidate Skype and live messenger accounts? It's been 3 years and I still have duplicate contacts.

They have been consolidated along time ago as far as I know. You might just have to delete the duplicated contacts yourself.

Was excited for a minute that I could send texts with my laptop but then I saw that I'd have to pay for the privilege. Looks like you'll need to buy Skype credit in order to send text messages. :(

If your friend doesn't have skype, you will need credit. If they do, it is virtually free since it only uses your data plan.

Am I missing something? Looks like you need skype credit to use the desktop app for calls or sms? That's the message I'm getting.

Skype credit is needed to talk to normal phones, yes. If your friend has Skype, it will be just data.

Indeed still in Beta. Installed on my L930. Skype messages are being sent nicely to my contacts (verified via desktop version. Mesages show up in the list) but not recorded on my phone history list. Anyone experiencing the same thing?

My question is if I use it from messaging hub would I get charged international messaging rate or will this be part of my data plan?

If you are sending msgs as Skype, it will be just data. If you are sending sms, it will be international. Your other friend will have to have skype for it to work as data and you have to select that you are sending it as Skype message. Your friend will receive your message in the skype app (unless they have win10m).

Uninstalled, looks like it drains battery quick , already tired if poor battery in Lumia 920 !

Am I the only one who can never dl these apps??? It's always grayed out
(edit) I need to read comments better........

I touch GET THE APP button nothing happens

Ok figured it out ,turn edge to mobile view.

Your the man, that worked.

Anybody using W10m preview on a L1020??? Good for daily driver yet?

No. Slow. Wait for a new build.

I waited a long Tim for this, but Skype waited too late to get this really going. For messaging, so many apps do this and better. Skype would have a 1up on facetime if they had did this a ling time ago... I never though face time would gain market like it did... WhatsApp, telegram and other messaging apps do their job so well. Skype was once popular, but now you say Skype and people don't have it anymore or worse never had it. Just not as strong as it once was or could have been... Maybe that will change since it will be much more integrated. Even better ia that it is not platform specific... Just need to get people to use it again and its relevance to increase.

It is already not platform specific. Yes, it has ways to catch up but they are in the right direction.

Combining/merging Skype to Messaging would have been great. Combining/merging Messaging to Skype - not so sure...

Still looks like shit compared to the new iOS app. Windows Mobile OS is poorly designed.

I can't find the app in the store. I am on W10 mobile. What am I missing?

mobile view in edge, click the link

Won't download? On Lumia 1520,what gives?

Interesting, but sort of.... pointless? Who in the world uses Skype for messaging? Folks are either on WhatsApp, Facebook Messenger, SMS, iMessage or Hangouts. Facebook (and with its purchase of WhatsApp) pretty much beat Microsoft to the universal messaging punch. A day late and a Dollar short.

and AOL Messenger beat WhatsApp and Facebook. Being the first one doesn't mean that it will be that way always. Sure, they have ways to catch up and they are late to the game but it doesn't mean just to sit down and give up. Besides, skype is widely used, especially in the business world.

There are plenty of people that still use skype. It is the messaging app of choice at work for both messaging and voip calling. At home, I've advocated for skype as my communicator of choice so they always reach me there. Sometimes, WP users, we have to be ambassadors for our platform of choice. It fits in with the ecosystem.

App sizes, MS should optimize those apps for phones or devices without an expandable storage medium

Thanks that work! Mobile view on edge

I've read that it doesn't even support group text/chat yet. LOL, that should go over *real* well.

I'm using it now. It does. Troll harder please. I'm not impressed.

I updated on my SIM free 920... bricked !!

Lumia 521 is completely unusable no matter a fresh install, hard reset, etc. Everything is painstakingly slow. An 810 is usable, but a huge downgrade in performance over 8.1. A 1020 is better than the 810, but still slower than 8.1. It is comparable to old Android devices that I would no longer want to use. They're usable, but 8.1 is better in both cases, so just sticking to 8.1 as a daily driver for now. Plus, many of the built in apps have a long way to go to become comparable.

Hey Guys, When i go to the download link the "Get App" button appears to be unclickable. Anyone else having this issue? Wanna test this out on my 1520. I'm on WP10 preview. Just checked for updated and non found. Thanks. NVM, just saw someone mentined the solution above, set EDGE to view as mobile and not desktop, regards.

I love this. I just hope i could attach pictures when sending from skype and that it would show me if the message has been sent, and read.

Why is there a picture of Cave Johnson in your chat group?

This is cool, but they should reintroduce facebook messaging as well, as a third option.

I don't think Facebook would like that. But since the app is not tied to OS Updates anymore they are in a better position to do that. If facebook changes something, they could move really fast and just release a new update to the app. No need to update the whole OS to fix it which was the case for 8.1 and down.

Sign you automatically using your Microsoft account which sucks. I'd rather use my skype account

Skype Messaging App works really well. Some bugs obviously.. takes time to update timeline...But nice integration.. Very positive feedback on that. Unfortunately, Skype Video preview was never able to launch.. Kept crashing after opening it on my Lumia 640.. Curious how Daniel got it...

A little bit. I can filter people using the Messanger Skype Beta list to show contacts. Although some of my contacts use Skype, I can't connect them with Skype and their phone number. My brother's contact has them all linked but I can't type his name in to get Skype to show in the possible list. There is a huge disconnect there. Not to mention that most of my contacts in Skype only use it as a voice calling tool on their PC. The contact shows a user name they created when they started Skype. I guess I'm starting to see this function only available for users who actually use Skype more then just a video/voice calling application. For example, any contacts using an iPhone won't have any need for this. They all use iMessage or their video calling app. Anyways, I know it's in its early stage. Maybe we'll see a better use later, since Skype is pretty well known to a lot of users.

Now only if windows 10 mobile worked on the 435 like Microsoft said it would...

This is nice and all, but where is the darn Windows 10 app? Why is it not a universal app? Desktop and tablet users just get this crappy desktop version with a home page that never works.

I can't download from the link above it takes you to Microsoft site but the Get the app link is not alive even on my device and surface. Anyone with such problem?

Hmmm..... Looks good and all, but before was txt in one app and instant msging / video in another. Now its txt and instand msg in one app and video in another??? So I'm going from using two apps to using two apps? Maybe I have a different meaning in my head when I'm thinking "Unified" ?

Waiting to install it with the new build.

Does this mean I can text message from my PC using Skype? I don't see anything that says this... Will be very beneficial when at work or in class.

That's what I'm hoping for too.

Would this eventually work like pushbullet? Like if you have your phone registered on your Skype account, Skype(PC) will use my phone to send/receive sms's.
I see this as the only way for it to succeed, because it needs to be seamless, and I don't want to have to use Skype credits, if I already pay for unlimited sms's(it's included in all plans here).

It looks like the link is deactivated now. I can't download the app.

Won't let me download and yes I have win 10 mobile installed

Hi guys & gals I am not having any kind of luck finding and installing messaging skype beta neither from microsoft site nor from windows mobile store on my lumia 1520 in germany. can anyone help me with that please? Ta. michael

Does anybody know if the text messages in Skype get backed up via the normal SMS backup method on the phone? My concern is that I start using this app, all my texts are in it, I wipe the phone for a new build of Windows 10, and then all the texts I got in that time frame are gone.

they need to get rid of the facebook msger and merge skype msger, fb msger and sms msger all together they use to have fb and sms together i loved it granted if u had more then 1 number for someone it was a little more complicated to switch from fb to there # but still was nice

Just want to know how to remove skype from new messaging app. Don't want to see skype messages in messages section. Any Idea..????
Windows Central Newsletter
Get the best of Windows Central in in your inbox, every day!
Thank you for signing up to Windows Central. You will receive a verification email shortly.
There was a problem. Please refresh the page and try again.