Meteolens, a simple weather app for Windows Phone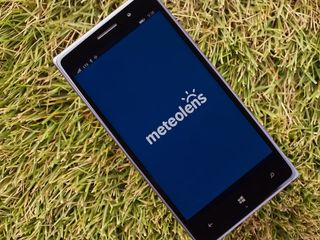 Just when you thought we reached a saturation point with weather apps in the Windows Phone Store, here comes another option to consider. Meteolens is a clean looking, easy to use weather app.
The Windows Phone app covers the basic weather conditions and offers you several extended forecast displays. Meteolens does have Live Tile support and automatic location services, but lacks lockscreen support and weather radar options.
Still, it's an attractive option to consider if you are looking for a basic weather app for your Windows Phone. What may turn many away is the cost.
When you first launch Meteolens, you will be prompted to choose between the Trial Version and the Premium Version that has an annual fee ($1.99). At this point I can see many reaching to uninstall the app and in fairness to the developer, they do lead their Store description with this information.
However, for those who dig into the Trial Version here is what you will find. Meteolens is laid out in panoramic fashions and includes the following pages:
Current Conditions: This will display your forecast city information, an icon representing your current weather, the current temperature, a Feels Like temperature and what to expect in the next hour.
Today: This page offers a little more information on what to expect during the day. Here you will find the forecast high/low temps, the chance of precipitation, precipitation rate, humidity levels and wind speed/direction.
Next 24 Hours: This page, as you might guess, offers you a forecast for the next twenty-four hours.
Next 7 Days: A seven-day forecast display.
In tapping an individual day or time period on the 24 Hour or 7 Days pages, you can expand that forecast for a little more information on what to expect from the weather.
Throughout the app, you will find a three-dot menu at the bottom of the page. This menu will expose options to refresh the weather information, view/manage your locations and access Meteolens' settings. As far as locations are concerned, Meteolens has the option to automatically update your forecast location based on your Windows Phone location services or by manually entering cities.
Settings are rather minimal with options to set the data format (Imperial or Metric), the time format, turning on/off the Live Tile and choosing the Tile background (image or transparent).
The Meteolens Store description notes support for severe weather alerts, but they are for unlisted, specific regions only. I haven't seen any alerts come across Meteolens over the past few days. Granted, I haven't had any severe weather either.
Overall Impressions
While a very basic weather app, Meteolens looks good. The background images for the app is a collection of some rather nice weather related pictures. The layout is clean and the information is straightforward. Speaking of images, they have that "living image" effect where the photo zooms in and out ever so slowly. It's an interesting change from the run of the mill animated weather images.
Now for the $1.99 question. Is Meteolens worth paying two bucks a year? While I liked the app, I'm struggling to find a reason to pay that much for a basic weather app annually. It is an interesting app but you don't have weather radar, lockscreen support or any other premium styled feature. There are several other Windows Phone weather apps available that are comparably priced (or free) and offer more features than Meteolens.
My guess the cost is associated with the weather provider for Meteolens. Regardless of the reason, I could see paying $1.99 once for this app if had a little more meat on the bone, but not on an annual basis. If I'm missing the mark on this one, feel free to toss out your recommendation for Meteolens in the comments below.
Download Meteolens from the Windows Phone Store (Trial / $1.99 annually)
George is the Reviews Editor at Windows Central, concentrating on Windows 10 PC and Mobile apps. He's been a supporter of the platform since the days of Windows CE and uses his current Windows 10 Mobile phone daily to keep up with life and enjoy a game during down time.
I love weather apps! While this one looks great, and it seems accurate for Croatia, I found it a bit expensive. Will consider buying after trial period, but I doubt I will. 0.99/per year sounds more reasonable, I understand that developer have to pay to weather provider.

Too expensive? It's the cost of a cup of coffee... You can't sacrifice a cup of coffee once a year for a good developer? Shame on you George for insinuating this as a negative... Developers work hard and not so have the same resources... I'll buy it even if I don't use it, just to support the dev on my platform of choice!

Man, you choose wrong guy for acting smart. As you can read bellow, I think I bought most of the weather apps in store. At least those worth buying, tough, some of them certainly were not worth the money. Same thing is with other apps. If I found them good, I buy it. Last purchase was Aeries client for Twitter. Altough, there is some great free clients (MeTweets).
So, please, don't call me cheap. Yeah, I know that it's price of cup of coffee. But, it's also true that at this point I don't need that cup. Dealbreaker for me is that uses Forecast.io as a provider, wich isn't accurate in my country.
And if you think that you support devs by buying and don't using their apps, well... I wouldn't like to be developer that depends on your mercy.
Cheers mate!

The text looks difficult to read against the cloud background.

Downloaded. Really like the look of it. Appy Weather is still my favorite weather app. I'll keep this as a backup, and I'll pay the $2 to support the developers.

Agree for Appy Weather. One of the best looking out there. Only problem for me is that it's pretty inacurate for my location. In fact, all forcasts that use Forecast.io provider are inacurate for Croatia. Curently using 4Castr as I found it beautiful and accurate. Weather Premium HD is also very good.

Try Weather To-Go, might be good for your location.

Bought it long time ago. It's ok, tough, design is not exactly my cup of tea. But, it's something that's different with everyone. Accuracy is great for Croatia, tough.

I use vieather for Croatia (Vinkovci) and it's really ok,accurate...tried different ones but I always go back to Vieather. Try that one

Tried it already. It's ok, but I love to change apps frequently. I got bored with that one before so I jumped to another. :) I think I bought most of weather apps out there, they are my weak point, I don't know why. :)

I know what you mean haha,there is something in weather apps ;)

Yep weather to go is the best I've used till now! Very accurate with amazing background pics! Love it!

I have 4castr as well, and love that is has the integrated radar. I have a similar problem as you. For my location, I find forecast.io is the most accurate and I favor apps that use it as a source. 4castr uses weather underground which is accurate most of the time for my location, but when it is not (and usually way off when that happens) it is very annoying.

This app is built by a friend of mine and I can confirm that the price is related to the weather service costs. Basically it is impossible to build weather app as an indie developer without a subscription model. 1 time payments mean that the developer will have to shut down the app at some point when new sales stop. Of course it is hard for me to defend the price considering that there are several free options. I guess Microsoft are just fine swallowing the cost for the weather service for their app and will not shut it down.

I'd reather pay for app then have ads in it. It's just that price seems bit high considering it's paid annually. Anyway, respect to your friend, I hope he will continue to develop aps beautiful like this one for WP.

Ads suck big time and ads on WP will hardly support this type of app anyway. He says after MS and the Weather service get their cut he is left with less than 50 cents per user.

Found myself with my app in a similar situation where the api calls reached my available ones so i think also of switching my to a subscription model like this. And about the price, its not high if you do the math the developer here has maybe 0.20$ from each payment at the end of the year per user. The cost for a good weather service are high. They vary on several factors - how much the app updates per day, what does it call in this updates and how much is it opened per day by the user. So the cost can be from 100$ to easily 1000$/month for the developer based on the user base. And your right Microsoft has several sources and they can take the expenses because its easy to write a corporate expense but for indie devs we dont have such corporations behind us. And yes there are several free apps but there but i doubt they can have each more then 5.000 users per day because this would be over their limit of available API calls.

There are still some very good Apis out there that provide great global weather data very cheaply or for free. I am using some in Weather To-Go, which most users find accurate for their locations. Certainly no need to charge a repeated fee... And I very much doubt he will be successful trying to do that.

@dinchy87 I just realised that Meteolens uses Forecast.io, just like Prognoza. And it seemed accurate for this afternoon. So I decided to give Prognoza another chance cause I really like it's design. Btw, new Metro theme looks awesome!!!

There are some free weather services like Norwegian yr.no. Data is as good as other's, maybe less detailed (no humidity). Check MySimpleWeather for example. Simple, rather basic, free and ad free. And just useful.

Sorry, comment editor went crazy.

We already have the best official weather app in the world. No need for others that are worst.

The live tile doesn't work, tho

At least there's choice? There's lots of photo apps, but it's nice to have choices.

"Weather to go" is the best

The problem for all weather apps is the battery consumption. I want my battery life longer.

I use amazing weather, its reasonably priced and fairly accurate in Australia..

So many of these weather apps fail to provide lockscreen support. I'll stick to using Amazing Weather HD!

Yet another app grrrrrrrrrrr

India has seen mobile application development companies doing great overall few years. Existing IT infrastructure and availability of top mobile developers are some of the key reasons. One can search for top companies in India and then start the due diligence process. Visiting their respective offices is always better to meet the team of developers directly.
www.mobileapptelligence.com

Actually I love this! Been wanting a new weather app but not bothered looking. Even trying the others mentioned on here, this is the one for me, thanks!
Windows Central Newsletter
Thank you for signing up to Windows Central. You will receive a verification email shortly.
There was a problem. Please refresh the page and try again.