Metrotube's latest update adds fixes for subscription and list bugs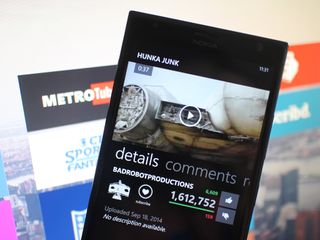 Popular YouTube client Metrotube has been updated to version 4.6.4. This update fixes a number of bugs that have cropped up, including issues with subscriptions, different lists, and more.
Check out the list below to find all of the important fixes that come in Metrotube 4.6.4:
Subscriptions fix
General playlist bug fixes
Watch later list fix
Recently played list fix
General minor bug fixes
Metrotube was recently updated with support for the YouTube v3 API, allowing it to continue to tap into the service. You can find the latest Metrotube update on the Windows Phone Store now.
Download Metrotube from the Windows Phone Store Thanks to Rahul for the tip!
Windows Central Newsletter
Get the best of Windows Central in in your inbox, every day!
By watching youtube without the darn ads! Thats why

YES ! Playlists have been fixed ! Kudos to the metrotube team for fixing this issue ! ;)

Yes it has the best only Music playback of all the youtube clients! :D even android doesnt have it! Yay!

Yes kudos to the MetroTube team. They are very responsive on email, fb and twitter and friendly too.

Yeah I agree ! They even support background music / audio without the app playing ! That's why I still loveee metrotube !

You know there are always two types of people.

Make that three kinds - Mytube is the best !!

Those who come here to comment that their choice is better/best and those who don't ;)

Only thing this needs is casting capability. Then it would be perfect!

The beta version already has that :)

@powered: Awesome, thanks!! I'll give it a try.

This is where Tubecast wins

This is where Tubecast wins

I like Tubecast, however I hate it when it starts to play already watched videos when I resume the app. I have to click the home button to go back to my subscriptions, then hold down the little video to close out. Kinda annoying. Other than that Tubecast rocks!

I can't install mytube. Says 80004005 as error

I've a solution for this: Download this app: http://www.windowsphone.com/en-in/store/app/ryken-beta-apps/627620ac-d03... Sign up for myTube! beta. Once you are in, you can enjoy the same features as the stable version. Actually its not really a beta, the developer had introduced this who are getting unnecessary errors...

Too bad the Windows 8.1 app has yet to be updated to the new Youtube API, rendering it utterly useless.

BTW wat was the playlist bug? I dnt use this one; i use myTube! Love it.

Mytube make the glance upsaide down

I dnt hv that prob now..Earlier one or two time it happened but its fixed now.

Not to take anything away from Metrotube -- it is an amazing app (I paid for it), but Tubecast has caught up and passed it. They also have a Windows 8.1 app that is updated at the same time as the mobile app and also has the casting feature jchapman01 wants.

Metrotube has the best layout imho and it's super fast as well. Tubecast is a distant second for me.

Sadly Metrotube doesn't support playing while browsing video. Tubecast and myTube does. Posted via the Windows Central App for Android

What do you mean? It supports audio playback in the background while you look for other videos. Also it allows you to read comments and check out channel/related videos while watching any video.

He means you can't continue to watch the video in a small window whole looking for your next video to watch. Tubecast has this.

Phone build comes today 10036 build number

Those crazy bugs..Been waiting for this update whole week.. Hehe.. Btw thanks Lazyworm dev...

Are they ever gonna update the PC app? Cos that still shows me the "unsupported devices" thing... now I'm using Tubecast (which feels way nicer to use but still I want MetroTube to work!)

And unlike myTube, metrotube can run from an SD card.
Windows Central Newsletter
Thank you for signing up to Windows Central. You will receive a verification email shortly.
There was a problem. Please refresh the page and try again.