Microsoft to add more Cortana features for international Windows Phone owners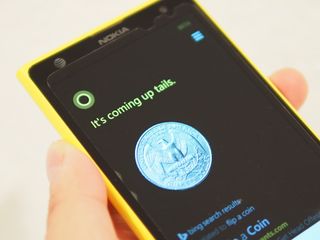 Microsoft is planning to roll out more features to Cortana on Windows Phone 8.1 to more countries, according to statements made this week by Marcus Ash, the company's Group Product Manager for the digital assistant.
Windows Phone 8.1 users in the US are used to seeing more and more server-side updates for Cortana, such as adding virtual coin tosses or dice rolls. In statements posted on his Twitter account Friday, Ash admitted that Microsoft was slow "in shipping chit chat features that don't work for other Cortana countries." In a follow up post he stated, "Expect to see this change. And we will get you an answer on when Cortana can flip a coin in the UK."
Hopefully we will see those kinds of Cortana updates in other countries sooner rather than later. Which "chit chit" feature in Cortana do you like the most?
Source: Marcus Ash (Twitter) via Neowin
None of the chit chit features. We don't even have Cortana in Indonesia region here. :p

Same here in Pakistan as well.
Guess we will have to wait at least 3-4 years. LOL.

Yes you are right. We have to wait long because Microsoft is emphasizing more on USA region. I m still waiting for urdu keyboard in Windows phone. I don't know when it will come and when cortana will speak urdu

I don't think that will happen anytime soon or even in near future. :D

I'm from the Philippines who is working in Saudi Arabia. And in both countries, no local Cortana. However, you can always choose to change your region to USA to gain access to Cortana. Having her on my 1520 is a great relief to set reminders. Stop whining. Just use what's currently available.

Feel free to call me whining if you want. I don't like switching region only to buy something from app store. Yes, I buy app using carrier billing. That means I cannot use US region when I want to buy apps. Switching region to Indonesia for buying app and back to US again for Cortana usage are complicated since it needs OS restart twice. So I chose not to use Cortana at all. Though, it doesn't mean I don't like Cortana. I'll welcome her when she coming to Indonesia. But until that, I'll just live without her. :p

i'm okay if i have to used cortana in english language. buat switching region? yep, that's not-that-convenient at all. i'd love to buy apps with carier billing as well. and changing the currency to USD is a no go for me.

Yeah, but I would like to speak my native language to Cortana. Folks will get nervous If I start speaking English to my phone, say, on a bus stop.

OP, please deliver; why do people get nervous if you speak English?

'Cause it's not the neative language where I live. :)

I would get nervous I you start citing the Koran at a bus stop....boom!

Lots n lots n LOTS of reasons why changing region is a bad idea; MS should implement Cortana everywhere with limits and English language...

Switching regions do not anymore work here in the UAE. I don't have Cortana even I switch to US. I used to have this but I lost Cortana since two months now.

Chit chit feature must be new, I'll check my update. :P

Can't wait for some love in Canada!

I know right... Must Be Quebec's fault again...* I'm from Quebec *

I am too and dont think so. Quebec is simply being treated as English Canada, which is something at least

How do you guys get Cortana in Quebec? I have tried all combinations of regions and language and I can only get if I am in US region

It's only for Canada and there's no specific region for Quebec. You have to have WP8.1 Update/Denim to get the Alpha build enabled for Canada

Same here. I have the region set to USA now, but would love to switch back to Canada without losing any feature.

I miss the animal impersonations for some reason. Hopefully this means Canada will come out of alpha stage.

I cant even get the US beta on my phone

I'd rather have them release Cortana for all countries before they focus on chit chat features.

THIS!!! Focus on making Cortana available to all, at least alpha.

Over 400 million people speak spanish in the world... Release spanish talking Cortana already MS!!

Pray tell with yee figures how many dialects of Spanish there are? The answer is too many.

Dengue, there are no more "dialects" of Spanish than there are "dialects" of English. An International Spanish- Language version would be good. With 470 million native speakers, it is the second most spoken language in the world after Chinese. Yes, it even beats English. MS shouldn't be ignoring it.

I don't care about features. I want Cortana! What about Cortana in the third most spoken language in the world: Spanish??

Wasn't English a top 3 spoken language? #1 China,#2 Portugal,#3 English.

Lots of people speak English even if it ain't their first language; Portuguese and Chinese not so much...

Yeah I know that but my point is top 3 spoken language WORLDWIDE are 1. Chinese, 2. Portugal and 3. English.

Portuguese* , Portugal is the country :)

Hardly use the word Portuguese or Portugal...

Portuguese #2 spoken language worldwide? You must be kidding...

Only tiny Portugal, brazil and Mozambique speak Portuguese...hardly 200 million people. spanish is spoken in all Latin America, half USA, Spain, Philippines, easily 700 million ppl and is spread worldwide with all Spanish speaker migrants.

You are basing it to population or native speakers. But English is spoken worldwide. Not in a few countries though.

Yup but I am kind of tired of sending text messages in English to my friends while I am in motorbike! All of then speak English quite well but...they keep on answering in Italian! Then I start laughing when Cortana reads my Italian message, so I have to stop the bike and read it. Funny but...boring. I believe Spanish must be the next one as even in USA it is wide spread...

English has become the universal language.

Nah. That would be money.

Spanish is actually the second worldwide language after Chinese, in terms of native speakers. English is third. Portuguese is sixth in the world, mostly because of Brazil.

For Albania in albanian maybe in the next 20 years

Same here in India. Only alpha version available not beta. Always set in USA region then work.

That's right, keep your expectations low.

Add Cortana to other countries first Jesus....

I'm from Indonesia too, and it's quite sad that Cortana isn't available in the region... I mean, come on, does Microsoft thinks our English is THAT bad? 9/10 Cortana gets my botched English commands. I do however switch regions all the time, like the OP I share the same carrier billing (using airtime) but Cortana is. just. that. damn. good. So switching regions is all but second nature to me.

Hahaha. At first I also do the same thing like you. Switching regions back and forth. But since I'm a lazy person, I decide to not using Cortana at all. :3

Yes, it's the same from me. I'm from Indonesia also, and I've tried Cortana by switching region, but then I decided to back to Indonesia region because the things I sacrifice to get Cortana I'd too high, such as the ability to purchase app.

Using US region and settings is easy
Enough. As for having to switch regions to buy apps, 5 minutes out of my life is a good tradeoff for the usefulness Cortana provides.

Depends on how fast is your internet connection I guess

It is incredibly slow on the Band Please wait... Thinking...

First release cortana to everyone you douchebags

Wow so he calls UK+US international? Good luck with that...

Hhhhhh, I thought I'll enjoy Cortana here in Saudi Arabia

I'm sooo curious how Cortana speaks Arabic, hahaha. Waiting here in the UAE.

To him, US = national, any other country = international, obviously.

That is technically d what international means. National includes everything inside your borders, international includes anything outside. Even flying from Canada to the US is considered international travel. Global could be considered to be more inclusive of even more countries.

Wow thanks for enlightening me.. Obviously you share the same idea of i18n with MSFT which is getting really pathetic..

If you had a business in your country, and you traded with a customer in a different country, then your customer is an "international" customer. It doesn't matter which country you're in, or they're in, or even how many countries you're doing business with. Microsoft used the word correctly. This doesn't mean any of us think Microsoft shouldn't expand Cortana to *other* international markets. Lose the attitude, it's pathetic.

That's what innernational means. It's not "pathetic"; it's accurate. I can understand if you want them to be in MORE international locations, but adding the UK is an international expansion.

MSFT makes business GLOBALLY. Most of their WP customers come from EU and Asia BUT they give all the best to US citizens. I don't really care about your definition of 'international'. I do care that as an EU citizen I'm treated as worst category customer. You get me now?

We got you from the start; you're making a futile complaint about Microsoft not bringing Cortana to your country sooner by directing your anger at the English dictionary, and at us.

The country with the most users is the US. This fact has been discussed many times. That doesn't mean that they shouldn't get stuff out to the rest of the world, but at least base your argument on facts.

Well, in Europe Wp has an average market share around 9%... In the Us is just at 2-3% Now, it's not that the Us are 3 times as big as Europe.. It is true though that Europe is not a single country, from that point of view your argument is more than valid... Still, showing Europe some love wouldn't be harmful for Microsoft...

I think they are showing Europe some love, but it takes time. Each country has it's own language and laws that have to be navigated. Getting all of the US is one easy shot, plus it's the home country/language of the developers. There's no need to translate anything as it is in the native language of the coders. I think we'll always see the US get products/features first because of that reality. I do hope they pick up the pace and do what they need to do. I also hope that they are a little behind in WP8.1 because they are focused on getting more places ready for the Win10, next year. I am pretty sure it's not just because Microsoft doesn't WANT to sell more in Europe and Asia (or anywhere else). Let's just hope that it happens sooner than later.

I wish they'd add offline compatibility to simple tasks in the UK. I can't even tell Cortana to call or text someone without her connecting to the internet.

It's because the speech recognition tasks, especially when it comes to recognising names are cloud based. This is a good thing, because Microsoft can continually improve the system without having to ship updates to users phones. This is how new features (like the coin toss etc) can be implemented and Cortana will recognise them without you needing an update to the OS.

You can call somebody; play songs, artist, playlist; open apps. But texting, reminders, appointments etc. not possible offline.

Simple commands like call, play songs can be implanted on our device. But parsing messages like texting are more resource hungry (storage for voice database and processing power, hence draining more power compared to sending & receiving small audio files over internet). That's why most voice assistants are off loading the task to the server.

I'm definitely not a fan of Google, but didn't they manage to include speech recognition in Android offline?

Yes, you will be getting that with cortana too. Passive voice is something MS is working on and may be released with Windows 10. Please remember Cortana is still in beta and we have improved so much compared to Siri and Google Now.

Prepare to have huge memory space if you want Cortana local to your phone.

Glad I'm in the US, but definitely want this to expand to our other Windows Phone brothers and sisters...

Thank u for your statement

Ty for your good words my US brother..

PLOT TWIST: it goes in batches per region.. We need to wait till end of 2015.

somehow i feel Nokia was one of the only companies that truly focussed outside the US and gave Asian countries a lot of commitment... though there are low priced Lumia devices, stuff like Xbox Video and Music do not exist here in a reasonable form.... hopefully Cortana will not get the same treatment and will be updated in India regularly

Cortana is already available in India (alpha version). Go to your phone settings and ensure that Language is English (India), Region is 'India', Regional Format is 'English (India)' but change Speech to 'English (United Kingdom)'. The phone will download and install the new language, restart and you'll have Cortana on your phone. Happy Talking!

chit-chat features in india need localization. i.e. Rupee coin instead of cent. NOT A BIG DEAL.

Get. Now give Canada Update 1.

This is good! Well I'm hoping to have if not all, most countries at least will have Cortana Beta before/during Windows 10 release. I think if we have an option to enable Cortana to unsupported yet countries without changing Regional setting.

I would love that option... At least on dev devices :-o

Well why not everybody can have, even outside Dev Preview program? As long as optional and not enable by default when your country isn't yet supported. Everybody wins! ;)

Yeah, I would not worry about the chit chat features -focus on roll out and adding actually useful features to it and improving existing ones (such as it not asking which alarm to turn off when there is only one on!!).

Still not out on most handsets in the UK....maybe sort that out first. No I don't count using a dev preview as being out.

Hmm, i would like cortana first, don't care if it's in English...

Hope a local coin will be flipped in each country.

What about Germany??? Come on Microsoft! Get your Sh!t together!

It's coming soon, read that in wmpu

Not reported by Windows Central, so not true!

I liked the impressions. There are not longer working on my British Cortana. And the image along the answers are cool.

It's about 1 month that google has enabled Greek language in google now. I think that in 2 years MSFT ll do the same.

Haven't they always said this? The problem is WHEN, with no timeline given this statement doesn't really say anything new.

I don't get why people set the region to his actual region! I live in jordan, travel to Saudi Arabia on a weekly basis, and Cortana works perfectly in both countries. Of course I have region set to United States.

Therefore you don't have Cortana. You're borrowing her from the US. People want Cortana without being forced into a different region than theirs.

This is why I think they should have option to enable Cortana on unsupported countries, just remind them that some features might not work as expected. It's like enrolling Dev Preview.

Its no different then what people did to get local scout to work in technically unsupported countries

I don't care if my region is set to US or to French Polynesia. I just want Cortana in Spanish!

Buying apps? I can't really buy apps using Indonesian carrier billing from US region's app store, right? I don't like to be hindered by two restarts just to show my good will to support developers.
As for Microsoft, setting to our current locations region will give them demographic mapping of users.
Region setting is there for a reason. Yes, you can switch to any regions, but the ideal use case is always setting region to whatever users current location.

Folks, please how do I get Cortana in UK, please!

Install the Update 1 and set everything to UK.

Not only cartana ,Xbox music service are also not available in india. At least provide mix radio service properly.

Cortana is already available in India (alpha version). Go to your phone settings and ensure that Language is English (India), Region is 'India', Regional Format is 'English (India)' but change Speech to 'English (United Kingdom)'. The phone will download and install the new language, restart and you'll have Cortana on your phone. Happy Talking!

More features for "international" customers? I wasn't aware international customers had Cortana. Unless now China+UK = international for Microsoft. Which says a lot about Microsoft's complete idiocy in what marketing strategies are concerned.

How are Chinese and British people not "international" customers to a US business?

You didn't get it. The problem is that they are two countries in over 150. And neither of them is even a relevant market for WP.
But hey... I'm sure Microsoft has their priorities straight... /s

UK is a relevant market...they do have a decent market share for WP (around 10% last I checked)...but apart from that I agree with your statement.. Then again...neither Siri nor Google Now spread at a fast pace...think we can cut MS some slack for that and give them time to figure out the kinks...

I agree that China is not a relevent market for WP, they have like no market share, but the UK does have quite a bit of market share, around about 10% or something. (Although not as much as other countries like Italy.)

I do get it. You want Cortana in your country. But there is no escaping the fact that "international" to someone in the US means any country outside of the US. That's what the word means. Instead of trying to change the English dictionary, focus on pressing Microsoft to deliver Cortana in more countries.

We have the alpha version in Australia. They haven't updated it at all since release. It is disappointing.

It still international though as the dictionary said. Unless if Microsoft saying things like "global scale" or something like that, they hardly at fault.

We're fine here thanks. We are all capable of flipping a coin.

Does Cortana work in INDIA?
Pls reply guys

Yes it does...though officially only in Alpha mode, Bing wpcentral articles for more info...switch region to US and Beta will work too...

Cortana is available in India (alpha version). Go to your phone settings and ensure that Language is English (India), Region is 'India', Regional Format is 'English (India)' but change Speech to 'English (United Kingdom)'. The phone will download and install the new language, restart and you'll have Cortana on your phone. Happy Talking!

I have done all the changes . But it doesn't show me any update. Please help

Microsoft, enable Cortana instead of polish it. There is no Cortana in the most of Europe.

There are 200 countries in the world...only 3 have cortana..at least they cared to release in three different continents..

We need more favorite soccer team in Europe like Real Madrid

Tired of all the Cortana discussions. Living in a country like Denmark you'll have to wait a year or two until such features are available. Also the Swype keyboard feature. Really sorry.

A year or two? Hah, you optimist! I very much doubt we'll ever see a localized Cortana here. I'm personally just hoping for some of the major features without Cortana, or maybe even English Cortana with localized knowledge. I doubt it, though...

French people will receive Cortana beta in a very short time, about next January...

I agree with you neighbour, I live in Sweden and I doubt any of the Scandinavian countries ever will get Cortana.

Chit chit , not even got Cortana here on my 1520 :(

Still waiting for it to come to Kenya

I just want to have Jen Taylor's voice un the UK please! That's all I care about! It's not Cortana otherwise!

I don't think Jen Taylor does the voice for uk version think they had to use a British voice actress.

I know, that's what I mean. And they didn't "have to" they chose to, because they'd thought we'd prefer a regional accent. But it isn't Cortana without Jen Taylor.

A personality would be good for UK Cortana, she's as dull as ditchwater at the moment

Oh, shut up, and be happy you even have the feature...!

Have they got more chit chat features.

Can we pin cortana to start in alpha version of cortana?

How about releasing full fledge Cortana to all WP users first? Gimmicks can come later! I can't believe we are still in Alpha "Testing" in Australia! WP is getting stomped poorly by iFads

At least you're in alpha, you ingrate! ;-) Seriously, the rest of us are years away from any sort of Cortana service, that is if we'll ever see it...!

i suppose we are in an ok stage, but the alpha version doesnt work all that well... other way we could work around was to set our devices to US region and language.

How does this work? If i put my Phone's language and the spoken language to American English, will I then get Cortana? Live in Sweden btw.

Region and language must be US (or UK...?). But since the point of Cortana is to deliver services based on knowledge about your surroundings, it won't do you much good.

Seems like am not getting Cortana at all here in Jamaica maby I should do a hard reset

Here being the UK, no Cortana.

I have Cortana in UK, have for quite a while now. Make sure you have updated phone and region, keyboard etc are set to UK.

Add german language for cortana !!

Following a sports team is not available in Canada and seems to me so simple that it cant be due to language. Why not add that in the Alpha?

Enough of adding these small features MS!your a big player!do something big which will leave android n ios users stunned

Hey, their answer to Samsung Gear and the Apple Watch was... a US-only fitness band. I think you can forget about it...

Nope. They only showcasing their health platform and how to use sensors to support it. Now it's up to 3rd party like fitbit to take the bait. :3

Microsoft has basically neglected Japan completely in regards to Windows phone... No Cortana at all

Not just you, although you haven't bought enough Xbox's so they are probably being nasty to you in return, but apart from burning down the White house what have we ever done to the Americans. Well apart from being far supierier to them of course....... But unless we pretend to be in the US even us Brits haven't got it yet unless we have the 735 or 830. Bob

Used Cortana couple of weeks ago... But Moliplayer began to show issues in U.S region .... Which came into discussion in windowsphone facebook group..... So switched back to Indian region . Waiting for denim update to user Cortana in alpha

You don't need Denim to use Cortana in alpha version in India. Go to your phone settings and ensure that Language is English (India), Region is 'India', Regional Format is 'English (India)' but change Speech to 'English (United Kingdom)'. The phone will download and install the new language, restart and you'll have Cortana on your phone. Happy Talking!

What about Cortana in México??

We are seeing Cortana TV adverts here in UK which is a confusing mixed message as still no sign of any update to bring it to us.

Probably to combat the "OK Google" ads. If they did this, it'd work: "OK Google, how many grams in a cup of sugar?". "200 grams". "Cortana, how many grams in a cup of sugar?". "Just use a cup, idiot".

I have Cortana in the UK. Update phone and ensure region, keyboard and language are set to UK.

Still Waiting For Cortana in The UK.

Cortana is available for UK!

Cortana is NOT available in the UK unless you have a 730 or 830, if the denim update is out there why can't the rest of us get it! Microsoft a complete joke . Cant wait to het as far away from this shitty company as possible, shame cause I like the OS.

I have Cortana on my 930 too.

Yeah tell me about it they should stop talking about extra features and make sure the majority of phones can even just Cortana in the first place.

En attends cortana en France

Cortana in spanish fu.. Microsoft

They should add document attachments and quote editing on the email instead of theese bulls&&ts!!

Pakistan centric Cortana update will include.......Cortana what is the weather like? Cortana will say its likely to rain today. Terrorists and jihadis should take off and play candy crush.

That's a stupid comment, Rahul. Even if you made that in jest.

Irrelevant and uncalled for. You can give your hatred some rest on a windows forum.

How bout they release it in more countries first before adding chit chat features.

I'd love to have the song lyric feature in Canada. The others don't interest me as much but they'd still be cool to have there.

Both Google, Apple and MS needs to start treating their markets the same. Or at least more the same. Waiting indefinitely and with nothing to go on in form a possible release date for apps/updates/features is unacceptable! The mobile market needs to be more like the pc market. When Windows 10 gets released, it gets released in the entire world. When WP 8.1 got released it was a pain in the big B to wait for it to get to Denmark. And when it did, it was flawed! And in Denmark we aren't dependant on carriers to make special editions, so the waiting was all in the hands of MS and Nokia in my instance.
I almost wish I could turn of news from US only releases, so I don't know what I'm missing out on...

Morten, it actually wasn't that bad here compared to other countries with much, much larger populations... True about the carriers, though, with Telenor being the one exception. Oddly enough, Telenor got the release earlier for nearly all phones; what's up with that?!?

That's their Norwegian oil money ;)

Quiet Hours and such would be nice; useless things like tossing dice they can keep...

Honestly, other languages should be supported by now

US Cortana struggled a bit with M pretty soft kiwi accent. Australian works fine, but getting beyond alpha would be good. My daughter thinks her friends Siri is so much better...

Cortana is antiquated when it finally reaches other countries.......

Why can't u guys release it to all around the world

Yeah so we are all now missing Nokia, and their global branding and marketing. This is what happens when US centric Microsoft presumes to understand global markets.

Nokia didn't do the job any bit better! Actually no one carrier/manufacturer/OS-creator does anything that could be described as a good job when it comes to releasing updates etc. across nations... I had to wait forever (it seemed) for WP 8.1 in Denmark, and was for their L1520 - one of their flagships...

Microsoft's support for consumers outside the US is appalling... They should look to Apple for inspiration...

Well, no, because they don't have their stuff here.

Cortana should be able for self interactive learning foreign languages.

How about adding more languages?

Yes! Hungary please! http://cortana.uservoice.com/forums/258148-languages/suggestions/5923844-hungarian-language-support

Waiting for Cortana to get out of alpha in Canada

Cue "When is it coming to ------- country?" whiners in 3...2...1.... People, development isn't a "now" thing; it takes lots of time, money, regulations, development, testing, and planning. Every country is different in its laws of what it wont and will allow....so PLEASE will you just be patient? I like reading comments for informative reasons; it's frustrating to read comments that serve no purpose because they wont be answered by anyone anyway except more negativity. So please.....know it's coming (albeit, slowly) and save your comments for other times and places. (I.e., inside your skull) :)

Siri was international almost from day one. Google Now was international almost from day one. What makes Cortana so special? And even then, it's not so much Cortana as all the functions (Quiet Hours etc.) that for unfathomable reasons are tied to Cortana, that we miss... What the hell is stopping them for giving us 90% of users this functionality sans Cortana, which were probably never going to get anyway?

No, they are not. Even no siri in the Netherlands.

Yeah, it is beyond idiotic to tie Quiet Hours to Cortana.

Then why advertise it as being out? It will not come. I was told in July "coming in weeks" don't think I'll ever see it on my 635 before I die. Microsoft suck, they'll never make up any grounds in sales cause the way they treat their customers, I'll probably get banned fir saying this. Microsoft dont advertise your stupid ideas in my country when there not available for everyone. Apple can make it work. Microsoft suck in every shitty thing they produce. I love Nokia but hate Microsoft with Passion.

Yeah, they're fantastic... How many countries were Siri and Google Now released in? Oh...

On a side note, that screen protector in the image looks absolutely horrible.

Every thread whine and more whine. Boring...

Still doesn't call me by name here in the US

I have heard or seen none of these features in the Netherlands with Cortana, let alone seen the light of day of Cortana on my Lumia 1520. If the word international is used in conjunction with Cortana, I think a better roadmap for Cortana should be putting forward the agenda for showing multiple languages and voice recognition for different countries. Cortana is nice and good, but the new is off and multiple language support should be on the international arena, not more Cortana features. In my country Cortana it's already of the consumer interest list. That's a sign Microsoft it's losing traction in Cortana internationally.

Microsoft seems to push it's WP platform hard in the US, but they would be better off pursuing the markets where greatest sales volumes are netted. US is stated as having smaller volumes, whereas Europe loves WP. My cousin is American, and owns everything Apple has made in the last 10 years. He is quite typical in his attitude to WP, in that he thinks its poor.

Haven't got it in the UK (properly) Microsoft suck so much. Don't think I'll ever see Cortana on my 635

Microsoft are a bloody joke.

as far as i know bing is cortana's brain. so please MS improve bing first (heavily), otherwise cortana will be pretty dumb at least here in Germany.... anyway, its a joke how long it took MS to understand the importance of non-US markets....

I don't even want Cortana anymore sick to death of waiting for something that won't arrive, yet is being advertised as here. Yet another WP user jumping ship. Look at your sales figures you Muppets slowly but surely going down, from pretty crap to start with. Maybe treat your long suffering customers, who like the OS but are sick of your bullshit, a bit better, things might change.

Para cuando Cortana en español? Que verguenza que no este el 2do idioma mas popular

I just want English version to be made available in Southeast Asia. Please make it available by Halo 5.

I want cortana in Egypt but working in U.S. accent

The roll out has been stationary not slow. Will be nice to finally have some of those advertised featuers in Cortana.

Well they could certainly turn more of these features on in Australia, we're basically Americans who use the metric system and have funny accents, apart from that were basically the same!

Remind me..... I need more sleep.

Instead of updating the 1% of ppl who have Cortana how about letting the rest of us actually get it. Read this thread Microsoft Muppets, no one has it!!!!!!!!!!!

We will get it absolutely very soon because Finland is so huge country.
Here is five million people ;p

Yeah Cortana UK if you go out and buy a 735 or 830 but for 1020/1320/620/635 etc etc NO Cortana what so ever....

Australia doesnt even have CORTANA .. so what use will the extra features serve countires that dont even have the basic function.. Microsoft delays tech or makes US exclusive yet again in their prioduct range ... At least Nokia realised this and tried to compete equally..

Chit chat with something fake? You must be obsessed. I just need jobs done. In fact, Google Now is more than enough and it is already AVAILABLE in my country.

Well I'd like yo set all my region settings to US but if I do that I can't dial phone numbers normally because of the different region settings.

I would like to have Cortana here, in Czech Republic, I understand that in Czech language it is impossible. But I would be grateful for Cortana in English just to be available.

There should be an international version of cortana made available to countries without dedicated cortana rollout. I'm enjoying cortana in Singapore with region set to USA. It is a hassle when I need to purchase apps.

Given how slowly MS work, no wonder WP market share is still so low after so many years.

Cortana should be release worldwide i stopped using cortana a longtime ago because of the region im in SA i dnt see a point of changin to US region while im in SA

Just bring out Cortana for Nigeria, Microsoft.

Does anyone actually use Cortana, Siri, Google Now, or similar? I guess they might be "handy" when driving, but don't really see the point otherwise.

Still no Lumia Denim on a UK Country Variant, Unlocked 630, so no Cortana at all! Microsoft, you're just too slow.

Still waiting for Official availibiity of Cortana in India.

Give it to me in Sweden! I had lots of fun with her when I tried it with region settings. But I don't want to change it!

There is a bug on Cortana UK,
sometimes when i receive a txt message & i say "read" to Cortana after she had asked whether to read or not, she answers me me back saying "who do i want to send the text message to" instead of reading the message. this happens a couple of times such that i am longer answer back by voice as i am now afraid to be embarrassed when i am among some friends e.t.c. Am i alone who is facing this challenge?

I don't get that problem in the UK, but I answer with "Read it" not "Read"

At malaysia also dont have cortana. Lumia1320 user

How about giving people stuck on UK Cortana the option to switch to US Cortana?!

You can by changing region.

I'm up in Canada, we are the us's largest trading partner, and no Cortana....ha! .... microsoft needs to get it's, priorities in order

To People saying "be patient" the answer is "don't create too much expectations if you are not going to fulfill them in near future"... WP has a voice recognition that work quite well in Italian and possibly in many other language. I used Cortana for a long time in English, then I switched to normal voice recog. So I see that differences between the two are relevant but not very far. Microsoft band has been a good example of new product and service launch. Cortana so far has been a bad example of how to manage a new service and honestly I feel ashamed when I talked to my ios friends that read a lot about and keep on asking about it, even though they don't use Siri. And last but not least ...i enjoyed even chitchat with Cortana, but launch something new very basic like dice tossing only once a month and not having important stuff (like reading email or new languages) is really annoying and make me think that in MSFT there are several teams running at too much different pace

I discovered that there is already full Cortana instructions on the MSFT Italian website. Which means that they are not far from launch it. Weeks maybe a couple of months but not far. hopefully by xmas...there is a page where you can check the availability of everything in any country. There you see that localization is something they keep on working. It surely depends on the availability of a string country presence. For instance Microsoft in Italy is quite a big company. I bet bigger then google (talking about staff), so there must be a team working hard on Cortana translation . Eventually it is kind of a translation table I guess...so I am waiting and meanwhile using normal voice recog

How about fixing the keyboard dictionary, fixing the keyboard cursor by bringing the option to use the old one and adding word flow to other languages before focusing on Cortana? Then, while windows phone is trully usable, they can focus on Cortana and sci-fi features.


Hope this happens soon with alpha.

I'm from Indonesia...PLEASE!!!! CORTANA REGION INDONESIA

When will cortana be available for India!!???

Well here in India we have it by changing the region and language to en-us..... But really waiting for full version and in-us language support.... A request to MS to add in-us ad early as possible....

Well here in India we have it by changing the region to US and language to EN-US.. There is a request to MS to add the EN-IN language support as soon as possible...

I travel a lot in Europe and my UK Cortana does not understand directions when I am in Germany and pronounce the destinaton in German. Same problem in Italy, with correct pronounciation of cities or places. This needs to be fixed! Other annoying misunderstandings: It does not know the correct pronounciations of many UK towns. Beaconsfield for example. I need to pronounce i incorrectly to get to the correct destination.

That would be great. I use my windows phone sometimes to chat with native speakers at http://preply.com/en/skype/english-native-speakers and these features makes me like my phone more. Aside from it's not mainstream.
Windows Central Newsletter
Get the best of Windows Central in in your inbox, every day!
Thank you for signing up to Windows Central. You will receive a verification email shortly.
There was a problem. Please refresh the page and try again.