Microsoft and Acer work together on a new Windows 10 laptop for schools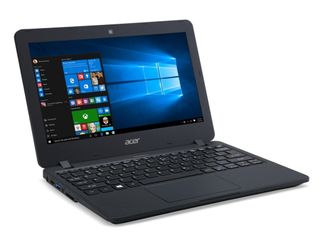 Microsoft wants to see more Windows 10 laptops in schools, so the company collaborated with Acer on an upcoming laptop made for the education market. The 11.6-inch Acer TravelMate B117 has some features that should appeal to schools.
One of the more interesting features on the TravelMate B177 is its embedded LED light on its lid. It can flash in four different colors and is designed to be used by students to indicate their current status to teachers:
The construction of the laptop is also made to deal with the school market:
Inside, the laptop will have Intel HD graphics, up to 4GB of RAM and options for both SSD and hard drive storage. A launch date and price for the Acer TravelMate B117 has yet to be revealed.
Source: Microsoft
Windows 10 updates coming soon...

Came yesterday only... For PC

Stop spamming each and every article. You want windows 10? Get a new device.

Needs adoption from schools anyway...

Yea..chromebook neeeds to go

especially some schools still use those old XP-era Dell, IBM, or Wyse laptops that are a piece of junk in todays world.

Call me old fashioned but...where's the problem in raising your hand or just interacting verbally like we've always done? Just for the record, I love computing as much as the next guy. Posted via the Windows Central App for Android

Hey, take a look on your calendar - it´s 2016. If these guys dosen´t make some progress or new thinking, we will live in the stoneage :) :)

I agree, and the LEDs sound cool, but I don't see how flashing a light would be more efficient than just raising your hand.

People are likely to become more lazy day by day.

That's why I disable autocorrect on my productivity suite and proof read before using the spell check feature. I'm am IT director, but even I know that computers are making us dumber and lazier by the day.

maybe you should have proof read the comment first , instead of "proud reading it" :) sorry , could not help it , I actually do agree with you though

I turn auto correct off on my computer productivity suite, not auto correct on my mobile phone, but point taken.

I agree and will go once further... Don't our kids already spend to much time in front of screens?

I'm glad to see Microsoft partnering with OEMs to get back into the education market. I'd love to see the pricing and how they offer group policy control in the hands of educators. This is powerful. It's a paradox that Business runs Windows, yet our kids are messing with toys like the iPad and Chromebook. This alignment will allow schools to truly prep students, students to not be dumbfounded when they enter the workplace, and hopefully draw development and engagement in the Windows Universal App world. Price is critical. (Keeping my fingers crossed)

remember back in our days, we had Win98/XP desktop PCs. Only used a Macintosh a few times and it always had issues so I never went to Apple.

This would be perfect for me.taking my laptop every day to school isn't doing it any good

Don't they know that schools have been using tablets (ipads) in schools for years and recently have been introducing hybrids(surface 3)? Even religious schools are using iPads. Acer needs a good hybrids for schools, not another netbook..... Just my opinion!

Well this is all in good. My district just switched to chrome books because the cheap price, 200.00. They refuse to use tablets as a means of productivity. I kind of agree with this notion. The only good tablets that offer a useful keyboard are crazy expensive for school districts to utilize The plus side is that one can still run Basic office with an app. I almost got into a heated discussion with one teacher as she praised google apps as the future. I then showed her how i do grading on my tablet using complex algorithms in excel. She conceeded that google docs is useless when it comes to complex algorithms

Price will be very important, but also the bundled software !!!

these are probably designed to go along with the Office 365 subscription that schools are offering to their students

I just don't know if they can compete with Chrome PC's in this respect. Many schools use them and many more are adding to the inventory. Posted via the Windows Central App for Android

Acer could have a single unit cost of $180 +/- and then a bulk order unit cost of $100 +/- They should definitely undercut the Chromebook laptops

I'm not saying it won't be able to compete with the chromebook in productivity, but I'm saying I don't think they can give schools a reason to buy these over chromebooks. Chromebooks are getting more and more prevalent in schools. While Windows laptops are getting more phased out, unfortunately. Posted via the Windows Central App for Android

I want this computer even if I am no longer a student.

In my school the IT guy says that the long battery life is the number one reason they keep buying chromebooks. I find those things to be rather useless in the education setting, but i understand the need to not hassle with charging during the school day. Give this thing a serious battery and a touch screen and I think schools would be all over it.
Windows Central Newsletter
Get the best of Windows Central in in your inbox, every day!
Thank you for signing up to Windows Central. You will receive a verification email shortly.
There was a problem. Please refresh the page and try again.