Microsoft and GoPro strike patent licensing deal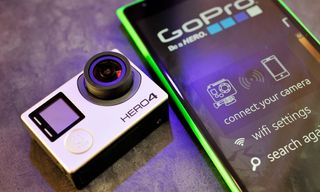 Microsoft has signed a patent licensing agreement with action camera company GoPro, the tech giant announced. According to Microsoft, the licensing agreement covers "certain file storage and other system technologies." From Microsoft:
GoPro is just the latest in a long line of companies to strike up patent licensing deals with Microsoft. As is typically the case, the terms of the deal were not disclosed, presumably for competitive reasons.
Source: Microsoft (opens in new tab)
Windows Central Newsletter
Get the best of Windows Central in your inbox, every day!
Dan Thorp-Lancaster is the former Editor-in-Chief of Windows Central. He began working with Windows Central, Android Central, and iMore as a news writer in 2014 and is obsessed with tech of all sorts. You can follow Dan on Twitter @DthorpL and Instagram @heyitsdtl.
Yumm... Posted via the Windows Central App for Android

Just as Go Pro are going down the pan. Snap crap next going to be in trouble then want to sign an agreement.

That's because GoPro shares have plunged 44.73% so far this year because of disappointing financial results, which are not expected to improve in the near term. GoPro needs to do something.

And licensing these patents makes them money how?

Microsoft is going to make a new go pro app for iOS and Android that's how. Sent from an often left out WM10 user

What kind of ignorant response is that?

Android. Probably looking at an Android powered camera.

Either that or it uses fat on their current os

Because they have to many models out now and $399 on a high end version ok but $499? Pffft. Not worth it to me. I have the hero 3 black and I haven't seen enough new things to upgrade. 4k just isn't worth the price yet. Esp when no one can agree on codecs used for 4k.

I have the Hero 4 touch screen man I love this lil shooter.. Price point is marginally ripoff. Its a great tool regardless.

That's what I purchased as well. Once it hit Hero 3 Black it did enough to get me to purchase, and the next ones gave no compelling reason to upgrade.

People are too fixated on stock shifts. They continue to make superior devices.

Hopefully the WP app gets a major update. It sucks right now!

We already got the GP app.. That's about all they can do in that department,, besides making sure it's on point with the iDroid versions.

Tell me about it... My sister has a GP and when I paired it with my phone, the experience was awful! It had like a 5s delay and ruined the whole experience!! It ran buttery smooth on her iPhone.

Yes and that's also part of the app gap. We do have a relatively nice amount of apps but when we do get apps they seem to be lesser in comparison.

and don't forget that the higher resolutions are "not compatible" with WP.... I should be able to see 2k and 4k video on my 950.

On which Lumia? No probs here. Lumia 925 and 950. And we have an iPhone 6 to compare. So, really. Well anyway, we're kind of used to comments like yours now. Makes me wonder sometimes..

Yeah I can't figure out why the delay exists. I've told go pro but they never responded.

Only time when butter is smooth is when it's whipped or melting...

Agreed! I use GoPro for quite a few different projects, and even though there IS a windows mobile app, its not great, nor is the windows 10 app all that special.

may want to elaborate a bit. say, two words? Posted via the Windows Central App for Android

By integrating HoloLens with the helmet

So I'll be able to control my GoPro through my Band?

Thats what I was wondering.

This wouldn't require this sort of agreement. This is about technology sharing, i.e. Format for storing files on disk.

Νίκος Ψυχογιός, παντού είμαστε

Γιατί ο Πάνος???Πραγματικά η Microsoft σαν εταιρεία έχει πολλούς Έλληνες...Και ένας ακόμα με φαίνεται για το band 2

This is probably about FAT or NTFS, because Microsoft own lots of patents for these technologies. It is also the sort of thing android and iPhone have to pay Microsoft for. So don't expect anything major to cone out of this. The reason they would make this public is that from a PR point of view it shows they are not like google/samsung or apple who just sue each other and others rather than making deals.

Exciting news. Posted via the Windows Central App for Android

Yeah my Ion camera works just fine.

Maybe Microsoft going to make Drones?

Hmmmm... Maybe to store video files via cloud?