Microsoft and HTC sign deal with STC for the launch of HTC 8X in Saudi Arabia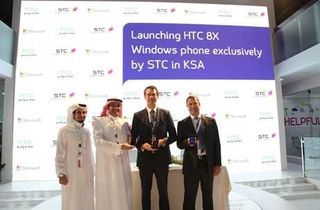 STC exclusively grabs the HTC 8X
STC (Saudi Telecoms Company) Group has signed a strategic partnership with both HTC and Microsoft to exclusively launch the 8X Windows Phone in the Kingdom of Saudi Arabia. This is a leap into offering the Apollo experience to the region, and for STC to hold exclusive rights on HTC's flagship. The announcement comes concurrently with the GITEX GulfComms exhibition, and we'll likely see STC launch the handset in November.
STC's GM of Corporate Communications, Eng. Nawaaf Al Shalani, had the following to add on the partnership:
The HTC 8X is expected to launch in a number of markets, offering consumers a colourful selection of HTC Windows Phones. Variants of the HTC 8X, alongside the HTC 8S, ensures that all bases are covered. While Nokia first injected colour into the platform last year with the Lumia 710 and Lumia 800, we'll certainly welcome HTC's new approach.
Jon French, HTC's Vice President MEA, commented on the deal:
The partnership between the three companies will bring the experience of Windows Phone 8 to the Kingdom of Saudi Arabia, though no pricing has been revealed as-of-yet. Last quote comes from a Microsoft Middle East spokesperson:
To recap on HTC 8X specifications, the Windows Phone sports a 4.3" Super LCD display, 1GB RAM, 16GB storage, 8MP rear shooter (with wide angle 2.1MP FFC), Beats Audio, 1800mAh battery and NFC. Not a bad offering should the price be right.
Windows Central Newsletter
Get the best of Windows Central in in your inbox, every day!
Rich Edmonds was formerly a Senior Editor of PC hardware at Windows Central, covering everything related to PC components and NAS. He's been involved in technology for more than a decade and knows a thing or two about the magic inside a PC chassis. You can follow him on Twitter at @RichEdmonds.
yeah, i guess it is. but i think Nokia's really the one that needs to be pushing hard in the ME. i was there a few months ago (Egypt, Jordan, Palestine/Israel, Lebanon specifically) and it was first time in a couple years, but i was pretty shocked..

i was interested to see how the device situation would be as Nokia's always been extremely dominant in the region, even with their (essentially-smartphones-of-the-day) N and E Series a few years back, and i wanted to see if they're faring any better there than in the EU / US. to my pleasant surprise, they're still extremely popular and hold great mind-share. it was like going back in time 5 years to where everywhere you go you'd hear that good old dnana-dnanna-na-na (whatever) and everyone in the area would simultaneously look to check if it was theirs.

sad thing is though, no Lumias, no Lumia marketing, nothing... and people are still purchasing their old high-end Symbian phones new, even among iPhones and Droids (though thare are an increasing number of those).. this is a large market that really should be tapped. i hope that now that Arabic (as well as Farsi, Hebrew, and Turkish i think) have been incorporated to WP8 they'll begin to push hard.. get on it nokia!

Like you said Lumias have not been there because language support wasn't there on WP7.
Nokia was pushing Microsoft really hard to get Arabic support and i'm more than sure they will push their phones hard their. They have really good connections by Nokia and Nokia Siemens Netowrk in Arabic countries.

HTC and Microsoft......hhmmmm

I am planning on getting the L920 or L820 and since i am in Egypt, i think I'll try waha store and see how will that goes.
Any idea when will it be available there? I hope they don't delay the middle east, we are still on the map you know :)

How much is a gallon of gas over there? Just curious.

Its per liter, last I saw it was like 3BD for 1 liter, 1BD = 3USD and 1 US Gallon = 3.78 Liters, or UK Gallon = 4.54 Liters.... So you do the math. US has some of the cheapest gas prices in the world.

I should mention that most the rest of the world pays around $10 USD (equivalent) per gallon. Some places much more, few places a little less. They usually use small motorbikes, or small fuel efficient cars, not big trucks and fast cars like us. They usually don't travel so far for work and play either.

And still we complain. Thanks for the info.

come to syria :P Gallon price is 3 $ :D :D


WTF? 1 BD = 3 USD means 3 BD = 9 USD so that's 9 USD / liter. 3.78 * 9 = 34 USD per US gallon. That's crazy. Here in Romania the price is 1.35 EUR / liter including taxes, that's about 1.75 USD / liter, or 6.6 USD per US gallon. Are you telling me the price of gas in Egypt is 5 (five) times higher than in Romania? That doesn't compute. How about you do the math? And WPCentral, you still didn't fix this form for IE10. I still can't use Enter. Annoying form is annoying.

When converting currency and volumes like this for different parts of the world, you also need to take into concideration the average income for the people paying those prices.

And here I am crying about $4.50 a gallon.. That doesn't change anything.. Im still using the bus and saving all that money for the surface phone and tab

I'm not sure what's going on with those other prices, but in Saudi Arabia, when I left it was 0.45 SR per liter.

Since the Saudi Riyal is pegged to the US dollar at 3.75 SR to the dollar, and 1 US gallon is about 3.79 Liters, that's an easy conversion to about; 0.45 US Dollars per US gallon.

So you guys pay about 10 times as much as the Saudis, but it still works out better than in many other parts of the world.

Glad to see that MS and partners are getting aggressive about getting the platform into as many regions as possible. Every little bit helps.

When I first glanced at the picture it looked like a wedding party. That's not a disrespect to gay people, or the way Saudi Arabians dress... It just looked like a wedding party. Im just sayin...

You could say that.
I don't actually like the way we dress
not practical.

Lol. Good on you for not taking me seriously anyway. The world needs more people who can take a joke. Truth be told... When you're the richest damn people in the world you wear whatever you like!

I don't blame you for thinking that Saudis are the richest in the world. Media isn't helping. But reality is a shocker you know. Average income in the US is higher than that in Saudi Arabia.

Hallahola , Yes Yes Yes Yes I may not be in Jeddah when it comes out, but you can make sure i'll get one when I get back !!!!!!!!!!!!!!
Now, STC please bring all the colors to Saudi Arabia Thank you Rich for making my day !!! On a side one, do you guys know what the LimeLight actually called ? I used it to think its LimeLight Yellow, but I read in other websites its called LimeLight Neon

i wonder when wp8 phones come to syria :/ i hate that we used to get the new phones before any Arab country now we will get it later :(


This is good for WP8
I am Saudi and I will definitely get the real deal (Lumia 920)
I am not gonna get a copycat

Great news for windows phone and HTC.

Great news on the 8x and HTC
I've heard rumors Mobily might be launching the Nokia Lumia 920, so that remains to be seen.
I've visited the Nokia stores in Riyadh a couple of times in the last 2 weeks. I was told next week they might receive the marketing collateral and maybe a working/dummy 920 for display. Regular sales would be sometime after Eid (first week of Nov).
They are taking signups and the store I went to had 15 people already on the list, and would be called once the phones arrive.



Well WPcentral it's nice to see you putting some news about my country. Makes me feel part of the family.
I was maybe the first to adopt the HTC HD7 as soon as it was released. The problem as others have said is the Arabic not being supported on WP7 (reading yes but writing no) although some 3rd party apps have solved this problem it's not ideal to build a marketing campaign without the language. and while I don't like to stick to provider plan as I like to buy the phone and do whatever I want with it (although I have been with STC for a good 9 years now, it's nice to see MS starting to do something with this huge market here being dominated by Samsung and Apple. Nokia is still popular among the cheap market (lower end specs I mean) and I think with the Arabic support Nokia will start to push like never before. Waiting for the Lumia920 unlocked from any source and I will be first in line (from UK probably since they don't sell unlocked ones in the states and the eBay ones are with Chinese or Japanese theme from Lumia900 experience)


Nothing like petrol in Saudi Arabia,.. You pay only 10 cent per liter,.. I believe US people must complain :p

I could be wrong, but I think I am among first people in Saudi Arabia who own Windows Phone. I follow MSFT products thoroughly. Its my primary and only hobby :-)
Those who live here must know that its hard to retain that position since January 2011 till date, because the local market is overwhelmingly flooded with Goofs and Apes... (pun intended).. and there is no sign of Windows Phone (7.x.x) till date. Most importantly I have an HTC device and HTC compared to Samsung and Nokia just does NOT exists. (there is hardly one shop in Jeddah). Also, people consider HTC = 'Yet another Android phone'.
But as usual, MSFT is always late but they do make difference. They made me switched from Fedora to Windows, Java to .NET (2.0), Terminal(bash) to PowerShell-scripting.. Playstation to XBox. They do amaze me.. and I am quite aware of the pitfalls.
I have been waiting for this moment for long time (since Steve Ballmer visited Riyadh in Dec 2010 and ensures that Windows Phone is coming!). I cannot predict the reception it will get here in Saudi Arabia and World wide. Reason being; people are so very much obsessed with Android and iOS. Its hard to make them understand why Microsoft is NOT irrelevant as they think (and as they are told by haters over and over!). In IT business, the clientele is becoming more and more impatient compared to the time when people used to believe in second chances. Like people do not consider Internet Explorer for browsing majorly because of the box model introduced in IE7 although IE9/10 are just back on tracks.. Even if they don't know what box-model is, some web-developers has told them just use IE to download good old Firefox and I don't blame them for that but it was a long time ago and time has changed..
I just don't care. I love this platform. Because its something different. One of the few non-Unix OSes. It isn't easy to build something ground up (in true sense), make it exemplary and make tons of people opportunity to consume those products and earn living.
Your opinion may differ.
I have used HTC for more than one and half year. As I mentioned HTC's presence in KSA is considerably petty. But still I would vouch for their service. I sent my Phone back to Arizona, US for repair (it felt and touch-and-drag was not working properly). I was just charged for the shipping cost and the service was snappy!
Have you considered giving Windows Phone a try in Saudi Arabia, my opinion as follow:
If you don't care about wireless charging, you are not camera savvy kind of person and "the fastest touch and highest pixel density in smartphone till date" gets your attention. You go for HTC 8x.
If you want state-of-the-art device in terms of camera, wireless charging, accessories and the fastest touch and second highest pixel density, you go for Nokia Lumia 920.
Happy gadgeting! (-:

This turned bad for HTC.All i see when drive around jeddah is Lumia 920 ads from mobily while on the other hand I didnt know that STC got 8X until I went to their site .No competetion here most people dont even know that HTC has a windows phone to begin with.And only blue and black which is not the selling point for me when i first saw the 8X.

Windows Central Newsletter
Thank you for signing up to Windows Central. You will receive a verification email shortly.
There was a problem. Please refresh the page and try again.