Microsoft announces first 'International' Store to open in Canada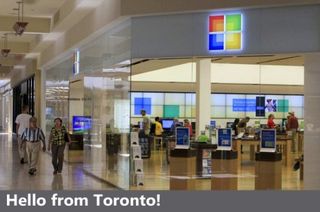 Kevin Turner today announced that Microsoft's first 'international' store would be opening in Toronto, Canada. Whilst not exactly too far from the US, this still represents the first time Microsoft have ventured from their home turf to setup shop. The first emporium will open to the public in Yorkdale Shopping Centre in Toronto later this year. The stores should be open in time to showcase Windows Phone 8, Surface & of course Office 15.
Whilst most will see this news as the right step forward, I remain a little cautious that this will lead to a rapid surge to get international Stores around the world. Why do I have my doubts? Microsoft often plays in Canada with some of its strategies. I remember the heady days of the Zune when Microsoft announced this service would go international (to Canada). From then until now, it has taken the company years to get some of its core Zune services to the rest of the world. The Zune didn't end up going international, Zune services only went that way with the arrival of Windows Phone.
On a less pessimistic note, Microsoft has been riding a wave of positivity around Windows 8 and its Surface tablet (and Surface will only initially be sold in Microsoft stores and online). Whilst our beloved Windows Phone is still small in market share numbers, it continues to receive praise from users and critics alike. Boyed by this surge in good feeling it should be the time Microsoft gets it chequebook out and starts buying up some prime locations around the globe and manning the decks for the coming product launches.
If there was a time to get these stores open its now. This year will see the biggest simultaneous launch of products the company has ever seen. Having wonderful stores in which to show them off properly would be the icing on the cake. I have wanted to see a Microsoft Store here in London for a long time. I'd like to buy a signature PC without the bloatware, see MS products demoed and supported by people that know what they are talking about.
What do you think? Where do you think Microsoft should put their next stores and why do you think it's taking them so long?
Source WPC12
Open one in Vancouver please!

YES! Vancouver!

getting the feeling it'll be in Metrotown if it does come though lol, wonder which store will get kicked out for MS to get in

The Apple store, Sony Style, or the new Samsung store? :)

they should go to pacific centre, and park RIGHT in front of the apple store there! or yes, metrotown! i would work for free

I have a feeling Vancouver is next. The guys at Redmond visit Vancouver a lot.

You also overlooked the announcement of the Microsoft Store coming to the Christiana Mall in Newark, DE. This is high-end mall popular with nearby states because it doesn't have a sales tax.

Defenetly London would be quite interesting to see a Store Opening! Maybe they should check which countries have the most Windows Phone usage and open a new store based on that informations.

Good point, I think the UK is consumed with everything iOS right now, but that shouldnt mean the store shouldnt come here. I would presume the UK/OZ/NZ are the next easiest places to open stores for due to the ole English connection?

Put one in Vancouver or Victoria

Here's hoping for some UK Locations - any by UK i also mean Scotland, Northern Ireland and Wales maybe!! There are other locations other than London!!

But either way, looks promising to seeing UK Microsoft Stores

I think one in Glasgow would be awesome! - but I'm half Scotish so I'm bound to say that! RB

I hope they open it when the Surface officially launches. Not after. Ill be getting mine on day 1 and I wouldn't want to have to get it online. I want to proudly go into the store and pick it up

Yes! Thats how it should be! Microsoft getting people lining up for a change! :)

If Surface is a big success, you should see MS accelerate their store openings. Is it October yet?

Wherever there is an Apple store there should be a Microsoft store... They have a lot of places to get to!

I really hope the UK gets a store.... Such a move would reassure me that the Surface will come to the UK!

Hoping for Vancouver or Calgary soon

I don't say this to take anything away from Canada, but I can't believe they're opening stores there before opening one in the Dallas/Fort Worth area. DFW is the largest metropolitan area in the southern U.S., and 4th largest in the entire U.S.. Microsoft, there are over 6,500,000 people here, and you want to open international stores or continue to saturate the same general areas with stores before opening one here? I don't get it.

giving u the evil stewie stare... :P

Saturate the same general areas? Its the first store in Canada. How many does the U.S have 20?

This totally rocks... However we only partially got Zune... Music (videos inlc.) , no podcasts (on marketplace)

Montreal!!! but at least Toronto is not that far

Not understanding the logic being used here by WPCentral. The Zune marketplace was slow to roll out internationally because of licensing issues, contracts have to be signed for every single country and every single music label in each country. It's the same reason why Netflix has been slow to roll out it's service internationally. Comparing the Zune marketplace to physical retail stores makes absolutely no sense.

Yet Apple managed all those licensing issues for most western countries at least 5 years ago.

Among other things, Microsoft gets a huge proportion of their talent from Canada, chiefly from the University of Waterloo which is one of 5 Universities worldwide that it considers critical to its growth and maintenance of top quality Staff.
The Canadian market is always an interesting stepping sone for US COMpanies as the culture is a blend of North American, European and increasingly, Asian, much more MultiCultural than the US. The populace is also much better educated than the US, so it often serves as a way to test how well US marketing approaches may translate to European countries, at a fraction of the expense. And lets face it, the market size is 10-15% of the US, so if something does work well what business these days doesn't want to expand its cutomer base by that much?
BTW none of the other 4 "Microsoft" Universities are located in Dallas-FW. Anyway, Texas is puny compared to Ontario, barely half the size :-)

Yes, my friend, twice the space but half the consumers...literally.

But four times as educated and economically better off. DFW strikes me as a much more fertile ground for Android ;-)

Bring one to Alberta....... Put it in west Edmonton mall then on in calgary at Chinook !!!!!!!

As we have the oil money to spend on stuff :D

This was announced a while back on a Microsoft Canada site. Either way, great news for us in Canada. Only 2 hrs away in London, so not too far to of a drive for some Microsoft happiness. :)

It was announced when the last U.S store was opening a few weeks back. In the WPCentral article about that opening I commented about the Yorkdale opening and provided a link in the comments. I guess nobody at WPCentral took notice. No matter, good news just the same as I'll have a local store to pick up my Surface.

I have a question to any recent American that has been to a grand opening Microsoft store. Do they do anything "special" for the grand opening (discounted items, special promotions, free stuff, etc?) I'm thinking about waiting over night to go to the grand opening because I don't know if people will be lining up inside or not? Anyone have any experience/knowledge they would like to share with me? I'm too excited for the first Microsoft store in Canada, let alone my home city of Toronto! I guess going to the Microsoft store will be my first time at Yorkdale mall :P

Philippines please... Us first in Asia... :)

BRING ONE TO OTTAWA!!! D:

Just open them up, anywhere I don't care. Hong Kong, Singapore... I'd love one here in Australia but if there was in Singapore or HK I'd visit in no time.



Yay, a store near my home. :-D Although, I think a real international opening would be better in China or Hong Kong. Not complaining though. ;-)
Windows Central Newsletter
Thank you for signing up to Windows Central. You will receive a verification email shortly.
There was a problem. Please refresh the page and try again.