Microsoft announces new Surface warranty program for schools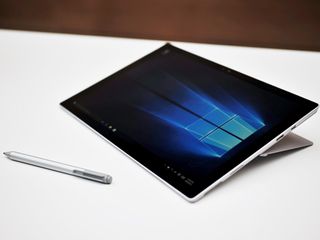 In response to the popularity of its Surface products in education, Microsoft has announced a new dedicated Surface warranty program for schools and other educational institutions. Called "Surface Complete for Education," the program is meant to be flexible and comprehensive enough to make deploying and managing Surface devices in an education environment much easier.
From Microsoft:
According to Microsoft, the new warranty program will be available in the U.S. starting tomorrow, September 15. As for other markets, the program is set to expand internationally starting on September 30.
Get the Windows Central Newsletter
All the latest news, reviews, and guides for Windows and Xbox diehards.
Dan Thorp-Lancaster is the former Editor-in-Chief of Windows Central. He began working with Windows Central, Android Central, and iMore as a news writer in 2014 and is obsessed with tech of all sorts. You can follow Dan on Twitter @DthorpL and Instagram @heyitsdtl.
So that is on top of the actual cost of the device, right? If yes, then they have to start figuring out how to bring the total cost of ownership to under $250. Right now, chromebooks are being deployed by districts across the nation because they are cheap. Not so easy to use on the back end, but they are cheap enough to justfy the extra work. In talking with an administrator about why google was chosen, he relayed to me that Google shows up at events across the nation ment for education. They demo and hand out chromebooks all over the place. Apple shows up to some of these events but everyone is growing frustrated with their lack of support post purchase and Microsoft just isn't there - they just don't compete. THAT is why Asus recieved an order for 12,000 Chromebooks from my school district this year. I really hope that the rumors I have heard are true and that MS is coming up with a way to 'flash' Chromebooks with a windows 10 varient that is maageable with MS Servers. I can't see us turning our investment around now that we've begun to teach 12K kids how to use Googles operating system.

Sounds like more of that "retrenchment" mentality MS is so fond of.....

so these kids will like to use Google's platform in future as well because they are familiar with it..

Education sector is the MOST important market.
That's exactly how Google won the mobile phone sector.
Strategy is working perfectly:
Offer the software for free so the final product (Chromebook) can be very cheap in comparison to others.
Of course Surface with W10 is far superior package. Very frustrating to watch Microsoft incompetence.

yeah..they want only the Enterprise market../s

Student of today will be the enterprise workforce tomorrow.

I have also heard some schools in the community prefer Chromebooks. It's a shame. I think AAA gaming is another area where PC's help Microsoft. It is difficult to use Steam on a Chromebook.

Chromebooks are affordable. These, not even close. Posted via the Windows Central App for Symbian

I have never heard of a school in the Florida using chrome books, everyone I am aware of is using ipad or was and have heard of some surface

Me neither. I also wonder why everyone in these comment sections seem to assume that these schools are paying full price for the Surface instead of buying in bulk. Too, there are also the companies like HP that have always provided the computers for school. It's like now that MS makes their own computers, people seem to think that HP and other partners have stopped making computers for education even though it was NEVER MS that provided the public schools with computers.

I never seen a chromebook in the wild.

I work for a private school and we have some Chromebooks and some iPad. As said by others, Chromebooks' ONLY (and significant) advantage is price.

Why not get HP Stream 11/13 for schools? Same price and FULL Windows OS including registry access, PowerShell, file system and control panel!

I work at a private school, our new superintendent used chrome books at his last school and it's pushing for them, they are cheap, but how long will they last and how hard are they to manage.

I also work as the IT Manager at a private school in Australia. I doubt there are many schools committing to the Surface line, too expensive to have in the hands of teenagers who seem to constantly break/misuse any device they are given. We mostly use Acer but also have a number of ipads for or junior grades. In Aus barely anyone has Chromebooks, they just haven't penetrated the market here, although they are pushing hard. Surface is too expensive, they almost need an education specific model, like the SurfaceBook but without the detachable screen. We've used all sorts of devices and generally speaking most kids just prefer a regular laptop over any other form factor...

There are some great affordable windows laptops like the hp stream too. Maybe you guys could look into that?

MS sitting on their hands again watching google eat up their market share without so much as a whimper. Sad.

Do you think we will se in next few years google slowly entering the desktop market with their OS ?

Honestly the fight for K-12 atleast in the US is over. It is NOT only the Chromebooks but it is the software where Google has really shinned. I have kids in elementary, secondary, high and 3 in university. All the kids but one use Google eccosystem in school. One of the kids university is using Microsoft eccosystem and everything is based on your Microsoft account. Irronically this kid uses a Chromebook for school. I do not think it is simply price. It is the Chromebook and the Google software just fits their needs much better. BTW, the kids K-12 schools have also all moved to using Chromecasts with their Smart boards.. It is hard to imagine the trend and Google dominance of K-12 in the US changing anytime soon.