Microsoft announces Creators Update, next major revision of Windows 10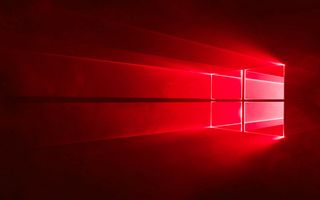 Microsoft has today announced the next major update to Windows 10 at its hardware event in New York City. Originally codenamed Redstone 2, the update will be called "Creators Update" when it launches to the public early next year. The update will feature a number of features and improvements over the Anniversary Update, with a big focus being on creating content as the name suggests.
The update will be rolling out to all Windows 10 users for free in the early part of next year. Much like the Anniversary Update, we expect this update to rollout in waves, being that it is one of the few "major" updates scheduled for 2017. The update will be available for Windows 10 PC's, tablets, HoloLens and more.
With the Creators Update, Microsoft has rebuilt the Paint app, bringing it to the Universal Windows Platform with pen support, and new features such as 3D support for devices like HoloLens. There's a lot going on for Windows 10 in the coming months, and Insiders will get first dibs trying out new features over the next few weeks.
The Creators Update will also feature other improvements, not all related to creators, that will be a natural evolution and improvement over the previous versions of Windows. We'll have more details on these features as the show up. In the meantime, let us know what you think of the name in the comments below!
Windows Central Newsletter
Get the best of Windows Central in your inbox, every day!
Zac Bowden is a Senior Editor at Windows Central. Bringing you exclusive coverage into the world of Windows on PCs, tablets, phones, and more. Also an avid collector of rare Microsoft prototype devices! Keep in touch on Twitter: @zacbowden.
This name appeared in the new Paint release. Sounds OK.

So is paint the major thing that's gonna be changed or will there be something else (i mean major, not "few tweaks")?

Well. Give em time to announce that lol

Don't they usually announce the big stuff first?

Probably so.. MS is out of the loop with consumers. Don't expect to see much today that the majority of average consumers are going to be excited about.
It's sad, and I hate to admit that, but it's true.

It'd be nice if they fixed the aberration that is OneDrive for Business. Streamline communication tools. And bring those OneDrive placeholders already.

They announced precisely that a few weeks ago at Ignite

I thought Redstone 2 would be more focused on Mobile. Not a single word about it here. I give up, If the situation remains the same, once my Lumia 950 is done (which is probably 2 years from now) I'll switch platforms.

The event just started, and 2 years is a long time for things to change. Don't give up just yet!

That's what I'm counting on, that in 2 years a lot might change. Still I don't see things getting better at all.

Think mobile in continuum. Sadly there was no mobile announcement today :(

You know I have a Lumia 950 for almost 2 months now, I don't even have a display dock. Continuum isn't such a big deal for me so I really don't care about it.

I have 950 XL and the Continuum, I use the phone, and I´m happy about the phone, but the Continuum is still in the box, and will be therte until next year, it´s enough to read about it :)

Yes, we were always told that Redstone 2 would be focused on mobile, possibly interactive live tiles, etc. This focus on 3D is great, but it looks like yet another moment of heart break for Windows Phone customers.

I don't think many people were expecting updates for Windows Phone, it's pretty obvious MS have moved on. However, I expected some stuff for mobile so that Continuum would be more useful for business users for the likes of the HP Elite X3, a potential Surface Phone and any other OEM considering a business focussed solution. Also, updates to tablet mode to make W10 better in every way than W8 (for the people who complain about removed features) and just generally to make the UI more intuitive and able to compete against Android & iOS in the tablet space. The creative stuff will certainly help there, but some UI improvements, more UWP apps (explorer for instance) would be good. Still they obviously have lots they didn't announce, we know there's new OneDrive features coming, but they weren't mentioned, so still plenty of time for them to put in other things not announced here.

The scanning demo with the Hp X3 was pretty dope.

With "and more" they probably are talking about those devices called smartphones

Looks like they're going after the Apple monopoly over design PCs, hopefully devs get on board and they don't forget their excellents for general users, gamers and business users. They could drive Apple out of the PC market, which would be massive. No mention of coming to Mobile?

"They could drive Apple out of the PC market" Nah.

Oh I don't expect them to at all, but they've resisted attacking the creative space for a long time (ironic because they always claim to be direct competitors with one another). It's good to see them trying to beat Apple at what they're good at too.

Creators update ? Mobile ??

Yes, it's coming to Android, and iOS, mobile devices!!........ And, WM devices in some form.

Creators update ?! 50% of news features are gaming.... LOL
Microsoft is out of date.

An hour in on this live stream.... yawn.

If there's nothing for mobile , its d end of windows mobile platform.

Have to agree at this point. They are missing a major chance to make big inroads.

Then the end has been known. Mobile was never going to be a part of this. They've said FOREVER that there wouldn't be anything new in 2016.

"we're fully committed to Windows Mobile"

Hope they do the famous "oh wait, one more thing" trick at the end, and announce Windows ink for mobile, or interactive tiles, or something like that :D

My friend. I recently tried 'Fast Ink!' app. It looks almost exactly like the screen sketch on PC; very responsive on my Lumia 640.
You can open images/ screen shot and write on them within the app.
That's Windows Ink app! Awesome for me! Check it out!

I want tabs in file explorer already. When they plan to release that updated explorer they were talking about earlier?

Not a word about 10 Mobile. Should have know it would be a bust for the Mobile house. Cool devices, but they are loosing ground in an area they could rule if they worked on it even just a bit.

I hope that creators update is different from time two. Because windows 10 core and basic UX still needs fixing and is far from finished. In that regard the creators update feels like a distraction from the important stuff.

im training my wrist for that dial :D

My tablet still hasn't gotten anniversary...

@n8ter#AC ... Force it by going to Settings - Update and Security - Down at the bottom "LOOKING FOR INFO ON THE LATEST UPDATES?" Click LEARN MORE. Takes you to the down load page to get version 1607