Microsoft announces Office 2019, teases new features
As part of its Ignite conference today, Microsoft officially teased the next perpetual Office update, Office 2019.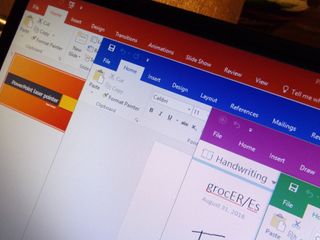 Microsoft has announced (opens in new tab) Office 2019, the next perpetual Office update and the follow-up to the most recent release, Office 2016. Due for release in the second half of 2018, Microsoft says that preview versions of the latest Office suite will start rolling out in mid-2018.
Other than an announcement, Microsoft is fairly coy with what to expect. However, the company did tease certain improvements and features we can expect, including enhanced inking, new PowerPoint animations, and more. From Microsoft:
It's definitely interesting to see another perpetual license version of Office on deck for release, particularly as Microsoft has put more and more emphasis on its Office 365 service in recent years. "Office 2019 will be a valuable upgrade for customers who feel that they need to keep some or all of their apps and servers on-premises," Microsoft says. We should learn much more about Office 2019 and what's new in the coming months as we move towards a preview release.
Dan Thorp-Lancaster is the former Editor-in-Chief of Windows Central. He began working with Windows Central, Android Central, and iMore as a news writer in 2014 and is obsessed with tech of all sorts. You can follow Dan on Twitter @DthorpL and Instagram @heyitsdtl.
If release is 2nd half of2018, and preview versions won't come out until mid 2018, isn't that not enough preview time? I think they got a typo in the year.

Office 365 has an Insider Preview option and they can get feedback that way. This Insider Preview option first started last year and they continue to make small changes (of which almost none of them are in the public release of Office 365 suite).

as an insider we get a lot of people who say they know but are really just guessing what is going on MS and the other insiders are at full agreement that the office will come with some really big breakthroughs and not a laim duck so stop speculating and wait until it is released

No typo. Microsoft says release in second half with previews mid-year.

Isn't everyone so excited!? Forget Mobile, Apps, and Games - Microsoft is going back to their business roots! I can't wait for Windows Worker Central to start covering the latest Excel macros and Word templates. What a time to be a Microsoft fan. :P

honey office is not for business / a lot of usual people use it like students microsoft forget apps and games ? whatttt ?

Honey, I am being facetious.

Honey, I shrunk the kids!

My main desire: Excel to isolate Undo/Redo to the current window. The way it works now is goofy at best, where the undo stack spans all open Excel windows. Among many other oddities this creates, if you click Undo, it can bounce you over to another window, if that's where the most recent change occurred.

I know your feel, bro. I hate it too.

Also, i noticed even zooming in and out is included in the undo/redo list... I'm really thinking of its purpose.

Can they make PowerPivot available for the non-pro version of Excel? It's ridiculous I can't use it with my Office 365 subscription.

Someone going to pirate it 😂

I got a key for the the last version of office for a £5 for my brother, it works fine, by all accounts the keys come from computers that are scrapped, how true this is I have no idea. But it works. But yes, it will be pirated, office is so expensive, saying that I saw Corel word perfect office yeasterday whgile lookng up some info on Office and that is almost £400. this is the reason why thet are pirated, myself I rather find something that is free legaly if it does the job I want it for.

$99/year for 5 users, including 1TB of One Drive for each is hardly expensive. Pirating any software hurts everyone, because some of that cost is passed along to paying customers, most of the rest comes out of the R&D budget, slowing down the developers' rate of innovation, feature additions, and new releases. By increasing costs and reducing R&D, that means it also reduces the pay rate for developers, which is one of the most global businesses, hurting people in countries around the world. Please don't do it.

Sorry-reasonable if you did not have to buy it for the rest of your life to use your own work.

Yep, that is the problem, the same with Adobe, they know that there is nothing that does what their software does and that a lot of people rely on it, so they put a subscription on it knowing that if it is your living you have little choice but to pay for that subscription. Thankfully some software is now starting to appear to give Adobe a run for their money, Serif affinity photo for instance, Video editing there is hitfilm, with effects in as well, that could almost replace premier and after effects. there is a free version that is very good, I use the free version. Vector graphics, while I do not use vector graphics, by all accounts Serif is there again with affinity designer, better than Adobe illustrator by all accounts.
A friend fo mine uses a lot of Adobe stuff, Photoshop and illustrator is two that she uses most as she does graphic design, she is trying out the Serif versions. She loves them, but there are a few things that could be better on designer. But her view is that for a one off price of £50 or so she could live with it and in later versions Serif could improve it. the problem is people in the graphic design world are a bit stuck up, and think that Adobe is the best and you must use Adobe. Office 365 is the same, once you are into that eco system, it is difficult to get away, because while you can get your files onto your computer, how can you open them without MS office? Sure there are other packages that do open MS files, but if you use publisher, then you are really stuffed.

Really? it is? Office pro is $399 standard license, Buy 5, that's basically $2500. the average person replaces their pc 5-6 years... multiply that by 100 and you're still under. If you just want one device, it's only 70 a year. Do you use the entire suite? most people are only using Word, Excel, PowerPoint.. which means you can buy a permanent for $150.

I think you are getting confused between Office 365 and the Office people can pay a one off price and install it on their machine. the probnlem is when anything comes to the UK from the startes all they do is switch the $ sign for the £ sighn, so while $99 may not sound a lot to youu, £99 is a fair bit to a lot of people. Conversions rates at the moment means tha $99 should be around £70. Now that would be a good price. i do not agree with piracy, but I think most of us have done it in the past certainly for very expesnive software like office, I have a version of office 2000 and it is certainly not a legal version, not that it is installed anymore and have not been for years. I either buy my software or find an alternative that is cheaper or free. My photo eiditng software I now use is Serif instead of photoshop, just as good and a one off fee, video editing is now mostly done via Hitfilm express, instead of Vegas as it is free and updating vegas is a fair bit of cash. Saying that even £99 a year for 5 users of office 365 and 1TB of online storage is a pretty good deal, thet is around £8 a month, whihc is less than I am paying for spotify, but I do get more use out of spotify and if you have five users, you are looking at £1.65 per user per month, if they all pair their share. so it is good. the problem is with me is that I do not like this pushing us into the cloud and I do not like the ribbon UI on office and I also think there is far too much on it that I will never use.

User can open a free Microsoft account and they can get to use free online versions of office product plus free space on OneDrive and so many other products. If students are from eligible schools, they get many Microsoft products for free through Dream Spark and like programs. I pay for my Office 365 ($69/year) and I am using office on my WIndows Phone, Surface, Laptop and on the web. I also enjoy premium Outlook with personalized email and Onedrive which works across all devices I have access to. Timeline feature is 22nd-century feature (for many competitors) what I recently started seeing in Fast ring preview builds. New Microsoft under current CEO has reengineered Microsoft to work and deliver the best things to humankind.

Onlinew is no good with no internet, my broadband went down for two weeks, if I had relied on MS oir any other online office suite I would have been stuffed. If office 365 works for you then fine, I am not saying that it is bad value for money, but just remember you will be paying that for the rest of your life if you want to keep acessing your data. As for timeline, again it depends on how you use your computer, it would be of no use to me and is just another way for MS to get us to sighn up to the their cloud eco system, something I am not going to do, lioke the new clipboard idea, I have been using a bit of software for years to allow me to have keep multiple clips avialable for use and it does what I need, but the thought of a clipboard holding clips on the cloud scares me to be honest. When i eventully update to the creaator fall edition or what ever Ms wants to call it, time line and this new clipboard will be disabled, but I have stgopped my computer from installing any large updates unill I want them to be installed. You sound like one of these Ms fanboys, I really do not understand fanboys or girls to be honest. MS is a large corparate company who are there to make money which ever way they can, sure like their products if you want to, but unless you have shares in the company, getting all lovey dovey about it is in my opinion just pathetic.

In related news, I got an email note that my Office 365 Home subscription will be increasing to AUD$129/year (an increase of AUD$10/year). The new price starts from October 12.

I paid USD$9 for full Office 2016. But it's AUD$16.50 in Oz. https://www.microsofthup.com

That is the problem with this subscription idea, Adobe is the same, a friend of mine use Adobe photoshop and she said the price keeps rising, she is going to buy Serif affinity photo like I have and see what this is like for a few weeks. The problem is she uses photoshop to make a livng, I do not use ability to make a living it is just a hobby.

Is this driven by exchange rates? I don't think the USD price is changing (but I admit I'm not sure).

Couldn't tell you off the top of my head as I can't tell if any other prices are also changing.

This time I'll only buy it AFTER I confirm Microsoft didn't remove anything that was available on the previews. 'cause they did that with Office 2016 and its black theme. Assuming Office 2019 will have a black theme in it (instead of having that only on that 365 rip-off), I'll buy it. If it doesn't, then no reason to upgrade from 2016.

I'm still using Microsoft Officer Professional 2010. I don't agree with subscription based software. Paying a monthly/yearly bill to access YOUR files is not a runner for me. So I welcome this news as I was considering upgrading my Office software so now I'll hold out till Microsoft Officer Professional 2019 is available!!

I ended up looking at it like this: $100/year gets you 1TB of OneDrive storage...for each of up to 5 separate Microsoft accounts. On top of that, each Microsoft account/user gets access (keyword there) to their own copy of the latest desktop/mobile Office suite. Seems like a bargain in that sense. Oh, and when you're traveling...Skype's 60 monthly minutes are a godsend. Cherry on top.

MS: Two things I'd surely like to see: 1. Support the optional use of regular expression matching in all search contexts
2. Provide a comprehensive form creation and use facility for use in OneNote.

Any info if they will release another desktop version at the same time? You know a one-time purchase option.

Office 2019 is the one-time purchase (aka perpetual license) version.

Not entirely. The Office 365 flavors that come with the desktop suite have it (currently) branded as "Office 2016" across each program. For example, I'm using Office 2016 via my Office 365 Home subscription.

For whatever reason, Microsoft themselves generally use Office 201x to refer to the one-time purchase SKUs and Office 365 for the subscription SKUs.
Windows Central Newsletter
Thank you for signing up to Windows Central. You will receive a verification email shortly.
There was a problem. Please refresh the page and try again.