Microsoft announces third Build conference for June 26 in San Francisco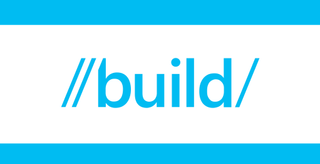 Microsoft has just announced another //BUILD/ conference for developers. The event will take place sooner than expected and will be held in a new location. We cannot wait for summer.
The first Build conference took place in Anaheim back in September 2011, it's where the company really gave the public its first in-depth look at Windows 8. Fast forward a year, late October 2012 the second Build conference took place on Microsoft's own Redmond campus. And finally, June 26-28 will be the dates of the third Build conference in San Francisco at the Moscone Center.
The Build conference is focused on helping developers realize the potential of the all of Microsoft's products and how they tie-in to create a compelling ecosystem for developers. It includes coverage for nearly all Microsoft products, like Windows, Windows Phone, Azure, Xbox, Office, and more.
Build 2013 was announced with a blog post on TechNet and via a refresh of the website (buildwindows.com). Steve Guggenheimer, Microsoft Corporate VP and Chief Evangelist, in the blog post shared a few interesting statistics. Windows 8 had more than 100 million downloads from the Windows Store in the first two months since general availability, while Windows Phone has crossed the 1 billion apps downloaded marker in its Store, and Azure compute usage has doubled in the last six months.
Typically developers get some sort of hardware goodies to help push them to developer for the platforms. The first Build conference saw devs walking away with a Samsung slate running the Developer Preview of Windows 8. Build 2012 gave developers a Lumia 920, Surface RT, and 100 GB of SkyDrive storage.
So, let's play a game – what will Microsoft give out to attendees this time? We know there will be future members in the Surface family of products, so it's totally plausible that we get an unveiling of the next wave of devices and developers could walk away with one. A Lumia 920 has already been given out, maybe a Lumia 928? Maybe, the 928 is expected to just be on Verizon, so it wouldn't make sense to give out a device tied to an American carrier when a lot of attendees come from abroad. The dreamer inside would love if it were a Lumia device packing some of those pixels from the PureView 808. Anyways, what do you guys think we'll see developers get for their $2,095 registration?
Oh, that's right. You have to pay to go to this event. Like this past Build conference, early birds (first 500) will get to attend for $1,596 and everyone else past the initial 500 will be coughing up $2,095 to attend. Registration opens up on April 2, 2013 at 09:00 PDT. Set your alarms international friends, the last event sold out in under an hour.
You should seriously check out the Build Windows website (link above and below), it's beautiful on any sized display and hints at the 'Blue' codename we've been hearing so much about. Blue is expected to bridge the gap between devices and help bring Microsoft even closer to its "three screens" vision.
We'll have boots on the ground and bring you coverage from Build 2013.
Source: TechNet, Build Windows, via: NeoWin
Get the Windows Central Newsletter
All the latest news, reviews, and guides for Windows and Xbox diehards.