Microsoft announces Windows Phone App Studio beta for new devs, loosens grip on unlocking phones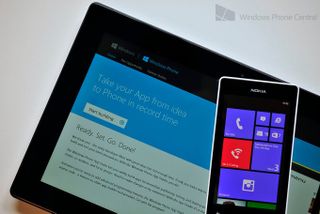 Today, Microsoft is making another effort to woo developers to Windows Phone, especially for those who are novices or who are located in emerging markets.
The latest change is two-fold and involves new online software for developers and a more lenient unlocking policy to sideload apps.The effort is to make it easier for developers to jump on board Windows Phone by lowering the cost and barrier to entry.
Windows Phone App Studio beta
App Studio is a web-based app creation tool that will allow developers to quickly write and publish an app to the Store "in just four easy steps". Developers will merely have to supply the information (or point the app towards it) and by using prefabricated templates, developers can quickly make a Modern UI app with data collection hosted for them in the clouds. Live Tile support is also enabled in this initial release and the tools are optimized for Internet Explorer 10.
In short, it's meant as an alternative to Visual Studio, which is geared towards the more seasoned developer. Another usage for the web service is for experienced developers to quickly prototype an app, then export the code to Visual Studio for more advanced work.
Revised device unlock policy
Starting today, any non-registered developer will be able to unlock one device and side load up to two applications without the need to register or pay a fee (e.g. the typical $99 Dev Center registration). Once again, the change is to help facilitate new developers or for those who cannot afford the advanced tools.
In addition, we suppose this could also assist in the creation of more homebrew apps since in theory, any one of you can now unlock one phone and load up to two non-approved apps. That could be an interesting advancement for Windows Phone, one that we'll be watching closely.
More information can be found at the Windows Phone Developer Blog or by heading to the Windows Phone App Studio beta page: http://apps.windowsstore.com/default.htm
Reminder: If you're already not part of the Dev Center, you can register now for just $19 USD instead of the usual $99. That offer will expire by August 27th, so don't forget!
Daniel Rubino is the Editor-in-chief of Windows Central, head reviewer, podcast co-host, and analyst. He has been here covering Microsoft since 2007 when this site was called WMExperts (and later Windows Phone Central). His interests include Windows, Microsoft Surface, laptops, next-gen computing, and for some reason, watches. Before all this tech stuff, he worked on a Ph.D. in linguistics and ran the projectors at movie theaters, which has done absolutely nothing for his career.
Does this mean cross OEM apps can be installed on unlocked devices?

Well what i meant was after a device has been registered and dev unlocked, can cross oem apps be side loaded on it?

you mean like, pirate an app?

No, download the trial .xap through windowsphone.com then unlock (pay) for the app on your phone.

You won't be able to load xaps from windowsphone.com as they are encrypted there unlikewise xaps produced by Visual Studio.

From what I know, downloaded apps (.xap) from marketplace are encripted and you can't simply sideload the app in your unlocked phone.

Yep, exactly! Just like the article says :D

Nice...if that works then I want that HTC Hub (or whatever its called) app on my 920 (if it works). On top might actually start playing w/ the SDK to develop something for fun :)

Its actually possible but it requires interop unlock which is yet not available for wp8

This looks very cool. I have a few simple apps that I'd like to do for distributing video content and maybe this will be able to do it. I'll have to look later and see if it will hook into YouTube and/or Vimeo.

Reminder: Dev Center registration is only $19 until August 27th.

BTW, has anyone encountered an error when trying to register their device - something like ipoverusb service. It shows that the service is running in task manager, but I keep getting the error...

Mine went smoothly (Lumia 920) although the developer registration was a nightmare: Can you belive they still haven't fixed the Dev Centre problemsfrom last year?

I hope this doesn't mean there will be an influx of cheesy fart apps or virtual lighters lol. But hey, anything to up the app count, right! =)

Nevermind, it looks to be only a "personal" app maker. Not published to the store.

Yup, you still need to pay to publish to the app store. Still, I'm very interested in this: it means that I (and everyone else) can get two (or three, the article is inconsistent in this regard) side-loaded apps without paying the developer fee. I'm also excited about this because I want to learn how to develop software and apps, but my schedule is too busy, and my parents don't really care about the endeavor (and at 15, I kinda need them to care). Well, with the free online tools, I can start to learn the basics, so one day down the road, I can start to pick right up on more intermediate skills.

You can also get a lot of information in the free training site http://microsoftvirtualacademy.com


YESYESYESYESYESYESYESYESYESYESYESYESYESYESYES

Now thats a lot of enthusaism there.

Haha, yes. I'm just really happy I can sideload without paying. :D

Isn't that the same that students get through Dreamspark? Maybe it would make sense to raise the number of unsigned apps for students to 5 or something now?

Also, you correctly say two at first, and then the last paragraph says three apps.

My student dreamspark allows 3 apps

This won't deliver us great apps, but can be handy for small companies or something. From what I have seen, it's only usable for static content...

Not sure if this will help homebrew much, because these sideloaded apps are still limited to the APIs provided by Microsoft. The true homebrew community that has apps that give features such as live tile folders still requires the boot loader to be flashed, and only works on some devices.

This is pretty nice. I have a app already designed up in Photoshop. I'm going to see how complex this system is when I get home. Microsoft should have done something with Adobe to enable designers to use Dreamweaver or illustrator to design and export directly to visual studio. The latest version of Illustrator cc and Photoshop cc now export your css with your layout intact directly to Dreamweaver.

It's really simple to use. I already created a fake app just to try it out. Made a "product catalog" app in less than 10 minutes.

Yes it is. I'm woking on a app for my uncles restaurant.
Screen shot

I'm scratching my head. Well, that means I'm not so much knowledgeable about this developers stuff. LOL

Apps generated by this tool are signed using a corporate certificat, you can't install an app not generated with this tool ;)

Thats good, makes it 100% piracy proof :)

Sideloading without bullshit please.

Yes, now i can get the timeme app....
yohoo..

I apologize in advance for the super-noob question, but is it possible to include/add a map in one of these apps? I thought the "My Trip" template looked pretty neat but thought it would really benefit from being able to have a pivot that shows a map with little dots showing the places you visited. I suppose you could create an image of this online with Google or Here maps then save it as a static image, but I'd love to have the app actually tap into here maps and show a scrollable map with little dots that link to the locations or something.

Hopefully they will add this soon

Let the spamming begin!! :D

This is great, i can now make a 4chan and ars technica app for myself!

I didn't realize this was web based, very interesting, I like where Microsoft is heading with this idea.

I am a registered dev. Right now I'm to lazy to actually look for... Is this just for new devs?

Yep. Noob like me. :)
Here is a link to check out. You can modify the generated code and change the look and feel of the XAP file in Blend or Visual Studio.
http://dotnetbyexample.blogspot.nl/2013/08/modifying-look-and-feel-of-your.html

Here is a link to check out. You can modify the generated code and change the look and feel of the XAP file in Blend or Visual Studio.
http://dotnetbyexample.blogspot.nl/2013/08/modifying-look-and-feel-of-your.html

Pretty cool, this is exactly what I was looking for, thankyou Microsoft...

Thank you Microsoft! I've been using Channel 9 to learn C# and Windows Phone dev and this is an awesome way for a broke weekend developer like myself a chance to tinker on a device without having to fork out so much money.

Hey, Daniel (this is way of topic), just in case you and the rest of the WPC crew didn't know, Toy Story: smash it is available on Windows 8. I don't have a twitter so idk where to let you guys know. I'd love a shout out in an article. :)

Send this in as a Tip, the team won't read every comment.

Thanks so much for the tip. :D

Is anyone else having problems generating the application? I made the app okay then I click on generating the application and it just hangs there. Probably cuz its in beta and optimized for ie10 (using opera)

Mine looked like it was hung up, too, but eventually it finished.
My problem is I can't install the certificate to then install my app! It keeps going through the dialog "tap to open", then "Add company account?". I hit add and it takes me back to the "Tap to open" screen. Grrrrrrr....

How do you even attempt to install the certificate?!?! I can't open the .aetx file! What can open it?

On my phone, I opened the email I received congratulating me on my new app. A couple paragraphs into it, it tells me to "click here" to install the certificate. When I do that, it downloads the certificate and prompts me to "Tap to open". Then I click "add" to add the company account.
That's where I kept getting stuck. Turns out (after much searching), you just exit out of all that and your app will now be in your Apps list! Pretty cool!

Wasn't Microsoft saying somthing in the past about users being able to make their own apps?.. Is this what we're seeing now❔.. And, there was some app from MS Research that did something like making commands for you phone.. What happens with that?

This could mean big things for the homebrew community and curious developers on existing platform. Very exciting news

Time for you to go out and go from Novice to Expert! Go Devs!!

I only get an error 500 when I select a template or an empty app. :(

Are you using IE10 or 11?

The site says that it is "optimized for IE 10", and I had lots of trouble using IE 11 on 8.1. Sometimes it simply will get stuck and you have to start all over.

On IE 10, however, everything works fine. It sucks because everything I need for my apps (pictures & such) are on my 8.1 desktop and for some reason it constantly has trouble with my home network (I believe it's a problem with my wireless adapter), so it makes it a bit more inconvenient.

Do we need an invitation code?

Where is the damn invitation code?

What is this invitation code everyone is talking about now?

Anyone receive their invite code yet?

I'm surprised what this "invitation code" is.
Here's what I did, I took one of the templates and went through the short instructions on what each element is all about and how they're getting data (static or dynamic) which is important to know. A static data source requires the app to be published again for new data to reflect, while dynamic allows dynamic (sic) data and does not require a re-publish. Pick your poison.
After going through all the steps, I generated the code and got an email about the app and the certificate.
I downloaded the source code (src directory is where they all are), open the Solution in Visual Studio 2012, build it target to my HTC 8S (developer) and it's installed and running.
Of course, many won't have that environment and has to go thru the pain of using the QR code to install their apps. I sympathize with you all.
The entire system is in beta so when you go back to your application and Edit it, I found some portions to be back to the default template when I was pretty sure I saved it and the generated code reflects those changes.
The other thing you have to look out for is time out. For some reasons, it will time out even when there was activity, so make sure you save, save, save.


Ok, I have to admit...I SUCK at designing an app. Holy crap! EVERYONE should attempt to make a basic app with this program just so you can appreciate all the effort and talent that goes into the apps we know and love.
Major props and kudos to all you developers out there. It's one thing to come up with an original idea, but actually bringing it to life and making it look good is a whole 'nother thing. Wow.
I will be a lot kinder and constructive in my app reviews in the future.

when developing you have to click on next for it to actually save your work and start from where you left the next time. click next or if on 1 click 2 then you can go back to one and continue editing.

Really wish I could make use of this... Still no invite code.

My apps keep failing to generate.

Its worked for me. I have made one app successfully so far and gotten it installed on my phone. What I haven't been able to do yet is register as a dev. I really like this tool. Seems very helpful for people who just want to make apps that are informative. I just did one for my company just to show them what we could easily do with Windows Phone.