Microsoft announces Xbox Live Gold Rush program in select Asian countries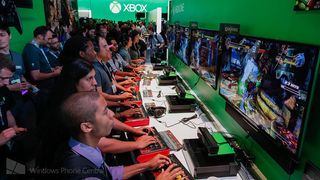 Microsoft India has kicked off a new Gold Rush promotion for Xbox LIVE Gold subscribers. The promotion is open for all gamers with a Gamertag profile registered under India, Singapore, Taiwan, and Korea and continues till June 30, 2014.
Xbox LIVE Gold is a premium multiplayer gaming network that offers free games, exclusive member discounts, and entertainment for your Xbox 360 and Xbox One.
If you are an active Xbox Live Gold subscriber during the promotion period, you're already in the draw. For a limited time only, just walk into any participating retailer and score yourself 36 free games when purchasing a 12 month Xbox Live Gold subscription. Free games include two fan favorite game titles to keep every month and a selection of free-to-play blockbuster titles including World of Tanks, Warface, and Happy Wars. Gamers can also redeem nine Xbox Arcade Games absolutely free.
Microsoft is also giving away an epic Gold Rush suitcase full of gaming goodies worth INR 300,000 (US $5000) approximately. The prize includes a 100g Gold Bar, a Titanfall Collector's Edition for Xbox 360, an Xbox 360 Special Edition Chrome series controller (Gold), and an Xbox Live 12-Month Gold Subscription Card. In addition, eight lucky members will also be picked at random to win an Xbox Live 12-Month Gold Subscription Card worth SGD 60/ INR 2,500/ HKD 400/ TWD 1,500.
Source: Xbox Gold Rush (opens in new tab)
Windows Central Newsletter
Get the best of Windows Central in your inbox, every day!
We have had it its called games for gold Posted via the WPC App for Android!

Thanks for your wonderful insight!

Wow, once of those rare times that the US group can complain that it isn't available here. Lol. That's is an interesting promo.

ASIA ONLY... Thanks a lot M$. ;)

You know it is bad when even India gets stuff that Europe doesn't. (I don't care about the US)

The number of economies that have collapsed within the EU says a lot about where the business money is!

Korea! Although there is no Xbox one yet...

That's why everything is 360 edition and they aren't giving away an Xbox one with that top prize.

No Xbox Live Gold for me unless Microsoft launches Xbox Music & Xbox Video in India. No promotions are going to tempt me, not even the golden bar. Nice try Microsoft, but no thanks...

yeah, and Microsoft and xbox will die without you...
ehmm do you have xbox360 or xbox one? I wonder if this is even relevant to someone like you, but I'm sure it's just you want to complain...

"Maybe a nano second nap will help. Okay, much better now." Thanks, but I don't need anyone telling me how and where to spend my money.

What about Arlington, Texas@_@
We never gets nutannn..

This would be great for Latin American countries. It would sell alot

I got a message back in November that my loyalty had been rewarded with an Xbox One I don't like it

A gold bar, holy crap! WPC App for Android- Lenovo IdeaTab A3000

urgh why does it have to be selected Asian country... Hello Microsoft, Philippines is also your market....

Asia keeps getting smaller and smaller! Another clear sign Microsoft Japan has thrown in the towel and is content upgrading everyone from XP to Windows 7. Innovations! No Xbox One, no Windows Phone. And while Japan recieved the 256gb Surface first, you dare not buy anything here. Japanese OEM are dying a slow death, but keep pumping out last year's hardware with Windows 8.1 slapped on at next year's prices. Every carrier now has the iPhone. And Japanese phone manufacturers are content throwing whatever flavor of Android onto cheap, plastic phones as fast as they can. "Oooooh. Look! Shiny!"

So...what kinds of games are available, and more importantly how does a chap with a spare Live sub go about to exploit this?

12 month gold subscription card worth SGD 60 ...?!!! Where can we get it so cheap in Singapore ?

I dont think there are more than 500 Xbox One in India and more inportantly not more than 50 people with an actual Gold subscription .. its a poor third world country and people (99% of it) dont buy Xbox ones in India.. I am Indian.

I would disagree with you on that... Been rocking a Halo 4 Edition Xbox 360 since 2012 and you can bet your house i will be buying the XB One when it launches. Oh and yes, not all Indians are poor... As a matter of fact most of them are willing to spend on quality stuff... I have a Live Gold account since the day i got my 360 and most of my school buddies too... so please keep your 'cornered' third world country to yourself... The world is changing by the minute out there... So is 'our' India...

You are the india's one percent.. Look I am not here to debate how great India is.. It's a pretty dirty country with people defecating themselves on public parks.. You can build the subways but people will still defecate on the stairs of the subway starting our on its walls.

Really? Wow... Just shows how disconnected you are with reality... I wouldnt bother disturbing you, living in your borewell prism... Enjoy your day buddy...

Good luck with your shit.

My shit is definitely lucky buddy... Thats why we have a PM like Modi... Unlike you... who i presume ran away to New York never to return... Good riddance !!