Dell and 10 other Android manufacturers to pre-install Microsoft apps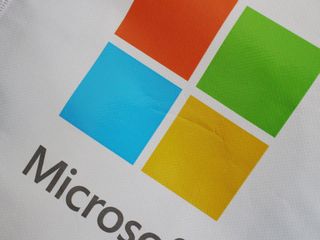 Following up on Microsoft and Samsung's announcement of Office apps, along with OneDrive and Skype to be pre-installed on some Android tablets, Microsoft has also revealed that Dell and 10 more OEMs will install those apps on their own Android products later in 2015.
While Dell has released PCs, laptops and tablets with Microsoft's Windows OS ever since it started, it has been offering more Android-based products recently, including the Dell Venue 8 7840 Android tablet. Peggy Johnson, Executive Vice President, Business Development for Microsoft, is quoted in a blog post as saying:
The specific financial terms of each of these new partnerships was not disclosed. There's also no word on what specific devices from these OEMs will feature Microsoft's apps.
Source: Microsoft (opens in new tab)
Windows Central Newsletter
Get the best of Windows Central in in your inbox, every day!
This is much better than just pre installing. Please vote for flyout tiles for folders.
https://windowsphone.uservoice.com/forums/101801-feature-suggestions/sug...

People do NOT use an OS based on just a few apps because there are alternatives. Companies need people using their apps. MS has ALWAYS been a software company trying to sell their software and get people to use it. If their software is preloaded on android phones then people will tend to use it. Plus they are good apps. MS office has been on Macs for a very long time. Do people switch to mac because of it? NO, and they don't always even use it cuz there are also other nice programs that can replace office on mac. NS needs users. That's it.

Ωχρή νοητά γυναίκα μπορεί

What? Τι λες ρε πουτάνας γιε;

Ποιόν λέει πουτάνας γιο.....eee mo caro. Posted via the Windows Central App for Android

Pale virtual woman can is the translation, but can what is the real question...

Δεν ξέρω....μόλις τώρα ήρθα.... Posted via the Windows Central App for Android

പച്ചമലയാളത്തിൽ തെറി പറയണോ ??? :P

Malayalikal illatha oru kunthrandum illa!

:D iniyum undo malayali sahodaranmaar ???

Chandranil poyalum malayalikal kanum ennu parayunnathu sathyam anennu ennu anikku manasilayi.. :)

Hahaha oli oi ellines mazeftikame Posted via the Windows Central App for Android

Google translate, right ? Posted via the Windows Central App for Android

Eh! Why Scroogle..Use Bing Translation.
UPDATE: Didn't notice at the footer of your comment. Sorry. But you are welcomed to use bing translation. :)

καλή φάση! αντε να γινομαστε πολλοι :P

This is a pretty smart move

This is what Nadella visioned year ago! Turning ideas into reality!

Very very very very very very good move

Great for OEMs and MSFT. Not so much for WP users.

I think this might help WP users =). Everything MS has to offer will be integrated into WP so the experience is going to be better by its nature on WP. So if more people on Android and iOS are using Microsoft apps they are more likely to consider WP the next time they buy a device because everything they use is there and has better integration. Also, Microsoft is commiting a lot to bringing Windows 10 for all devices. WP doesnt look to be going anywhere anytime soon. =)

You'd think. Current iterations of some Microsoft services on Windows Phone are to say the least lacking when compared to their iOS or Android counterparts.

Current versions yes. Grab me you heard of Windows 10? It's coming along with updated versions.

If Win10 doesn't tightly integrated MS services then it will be best to stay using those services on the other platforms. We WP fans are always waiting for the next version of the OS that promises better things. I have an iOS device and it's insane the amount of updates and maintenance MSFT provides to the office apps, I expect nothing less for WP. Lets see

iOS and Android users getting all of Microsoft apps on their platforms is more likely to make them stay on their platforms. Before, they had to switch to WP if they wanted those apps, now they get them without having to switch.

More to the point, the MSFT office apps will be FULLY compatible with their desktop counterparts, which makes the likes of Google Docs far less attractive. To me, this looks like MSFT poking Google in the eye with a very sharp stick. Words I never thought I'd hear myself say: Go Microsoft!

Which will cause Google to tighten their ship. Then you will see the war start. People will be forced to choose between MS services on WP or only using Google's services on Android. With Android being pushed out of enterprise watched the market share fall when Google makes that move. MS is poisoning Google from the inside.

Microsoft is trying to attract users to Microsoft in general, not Windows Phone.

That's exactly it, but it also means that some of those users might be tempted to try WP as well so having their services on rival platform is basically a trojan hourse.

You may be right but how do you suppose Google feels about this? There are android users right now claiming that Onedrive, Office, Outlook, are in many ways better or superior than Googles own. That's coming from ANDROID users... If others start to like Microsoft services on competing platforms, what's to stop them from considering Windows devices that will presumably do all that on a tightly nit OS across phones, PCs, tablets, even Xbox? Not even Google or Apple will have such integration which puts Microsoft on a whole new level.

Actualy that is true, mostly for future Wp users, but partialy.
On other side, why would they switch to WP when they have it on their phones already?
Same as with in app purchases in games, while they are present, big majority of people doesn't buy them.

For the tight integration Windows 10 will have across tablets, PCs, phones and Xbox. Android may enjoy the services but they won't enjoy the integration W10 will have.

I'd like to know how many people actually will swap to a Windows (phone) device from Android

I did. WP works for me; I had to work for Android.

I would Posted via the Windows Central App for Android

Just this week 2 persons switched from Android to Windows phone. Both knew about Windows phone because other people around use Windows phone. It really is easy to convert Android users.

Probably depends on the experience one has with Android. Sure its a powerful OS but it is also least pardoning if things go south. I've known a few of my friends who have had nightmares with close-to-flagship Android phones and have since opted for Lumias. Guess it all boils down to the end user experience.

We shall see how this strategy will pan out. Maybe it propel Microsoft or maybe not, nobody knows haha.

Is Microsoft paying them or they are paying Microsoft?

None. I think royalties play a key factor here :D

As they have to pay Microsoft for some Android patents, it's likely that instead of paying for patents, Microsoft gets their services installed instead.
The OEMs spare money on patent licensing and Microsoft gets users on their services Posted via the Windows Central App for Android

I would say reduced fee, not $0. So, Android with no Windows Phone: $15/handset. Android with a Windows Phone offering: $10/handset. Android with MS Apps AND a Windows Phone offering: $5/handset. probably something like that.

I highly doubt there's any WP being thrown in there. Besides, OEMs would probably prefer to pay those "extra $5" and not waste their time on WP. And I honestly highly doubt Microsoft is even trying to push WP forward. As I see it, Microsoft is ready to kill WP. They're just giving it one last breath of fresh air with Windows Phone 10. Once that also fails, they'll finally kill off Windows Phone and in the meantime they've put a lot of Android users on their services.

Man, can you get a good comment without trolling? What are you even doing here?

The thing is, he's not wrong. Best guess I've heard thus far is 24 months after Elop is replaced as head of devices. Source: Tomi T Ahonen.
http://communities-dominate.blogs.com/brands/2015/03/samsung-gives-away-...

This deal most likely ends with Microsoft reducing the patent protection licensing fee they currently charge Android OEMs.

Well that's what they are supposed to do, you can't close yourself off to just one OS. Plus Microsoft makes billions off Android license and services app without even advertising...nothing but more profits. They even make more off Apple with their services, cause unlike Android users...Apple users are not cheap.

Some iphone users I know, just want to pay 5 euro's for a cover. LOL. After paying to much, they have to be cheap afterwards. Anyway, in general no one can call a whole group of users cheap or not cheap.

That's true, after all when they buy the new Macbook (aka netbook) which has only one port, they pay $79 for an adapter. That's not cheap❗

I actually do research for a living - avg. Apple user in the US makes more $$ than an average android user, spends more on apps, refreshes to a newer model faster...

May day, may day ,may day Microsoft has been hit evac immediately

Can someone please install Windows 10 with Office in a Leapster Leap Pad.

Brilliant idea! Hook them as children so that they grow up using MS services. Cortana will learn everything about them like their favorite colors and what they want to be when they grow up.

The Kids Corner tablet series by Microsoft.

Makes it easier to switch to Android

It also makes it easier to switch to WP. I feel it gonna be user preference. No I don't believe for a second people are gonna drop their brand new android flagships to jump to WP but when their contracts are up they might look at WP more closely... My opinion only of course, I think its a good move.

Sell your 520 and go right now. Who is going to miss you?


I light a candle everytime I read a WP user has abandoned the platform. Lookin like a catholic church up in this place.

And the other way around.

Lets face it, people already is tied up in their ecosystems and really don't want buy into another one, so if Microsoft do tho then they may not have an issue with coming to WP. And that's what Microsoft needs to and is banking on. I'm not mad at them, but if Live Tiles go to other OS's then I'm done with WP, that's what I love about WP. I'll never go to Android, but will do IOS.

I wonder if Google finds a way to load Android on Lumias.

Why would they even bother to do that? Our tiny 4% marketshare is laughable against 80% of droids.

They cant Microsoft can sue them. Windows is a licensed product.

No not possible never ever for google
...MS is best software provider in the world and no one can beat...it's a universal fact.. (:

Google might not do it but its not technically impossible given that Lumias use the same Qualcomm reference design that Android OEMs use. I think it depends on how secure the boot loader is. Nokias (now Microsoft) can be pretty tough to hack into but the Ativ S or the Huawei could be amenable to some nerd at XDA.

I like this news. Thanks for the heads up John C.

It will be grand if they don't turn out to be trial versions!

This is good news. As time goes on its getting more and more possible to choose your device based on the hardware itself. I like that I have the freedom to switch to an Android device should the upcoming Microsoft flagship fail to impress.

If Microsoft is going to remain relevant, they have to keep people using their software, i.e. Office. Getting these preloaded on android devices keeps those who are new to the ecosystem with MS since titles like Word are more familiar than google docs. As far as if this will pull users to WP or other windows devices, it will be more effective than their absence. Though I don't see a mass exodus happening ever.

*more effective than their absence* is true from a business point of view. Also, should current WP users move to Apple/Android, they can remain Microsoft customers. For the preference of the OS, security, Cortana integration, live tiles etc, those staying with WP are also Microsoft customers. For the end users, us good folk, it does really give us the freedom to choose any OS and by extension any device.

Yeah, it's only Google services you lose if you chose a platform other than Android.

This move makes sense. The OEM couldn't care less whose apps the customer uses. The upside is that the OEM is probably getting a break from the royalty fees to Microsoft. It's a win-win. The only possible loser is Google, provided the users end up using Microsoft's services rather than Google's.

Yes if they use them. Office apps I think are good to be cross platform. But google docs has 1 feature I would like to see and that's the multiple users editing a document.

How is Google loosing, I would think this could be true if Microsoft kept earning money from Android patents, but since last year this is not the case, and Android has 85% of global marketshare on smartphones, the only way to make Google loose is to make a real competitor for Google's Android, and this could be with Microsoft's Android (Plan B) it could be a clone/fork of Android just like Amazon did with FireOS, and look how popular Amazon tablets have become, Amazon has also become very popular in the living room with FireStick.

Amazon did fail pretty bad with their Amazon phone. At@T probably had more displays of the Amazon phone in many stores than other phones and it still didn't do so hot. Their advertising of the device was not the best either. It's a lesson learned for Amazon that's for sure...

I believe they bought one of the rising stars in the Android market. While not pre-installed, it was rebranded outlook. There's probably some licensing issues around Google Play and what G apps are required to be pre-installed?

This kind of stuff is why your glad Elop did not become CEO Posted via the Windows Phone Central App for Android

I'm not impress, people will treat it like bloatware. Android users are already using google services, this isn't going to attract a lot of new people. Just think about it, if IE is pre bundled on windows why are more people downloading chrome and Firefox? MS services need to offer something substantially better than google for people to switch. Microsoft should be putting their resources there PERIOD

Everyone know's what Microsoft Office is --- it's not some random unecessary software wasting away space. Only those who do not need access to Word, Excel & PowerPoint documents will opt to uninstall these apps. I really can't think of many who will honestly NEVER come across a time that this will happen or would opt to install Goolge Doc's instead --- unless they're just an anti-Microsoft user. Microsoft Office is better than Google Doc's, no one is pretending that IE is great and liked by consumers. Even Microsoft loyalist user other browsers. I personally use Firefox on my laptop & desktop. The only time I use IE is on my Surface RT & at work.

"Even Microsoft loyalist user other browsers." Who are those people? I'm a Microsoft loyalist and I use IE as my main browser and I use Firefox as well. Why? Because they are the only two that adhere to web standards instead of adding propreitary BS!!!!

You use FireFox as well? You just proved what he was saying. No? That would make you those people... Posted via the Windows Phone Central App for Android

Ughh...That was exactly my point guy. People use Firefox and Chrome because they are faster and better than IE. There is no productivity suite better than Microsoft Office, so it's rather silly to say that people will ignore and uninstall Office like they do IE.

It's called options. I use alot of MS on my Note 4. Yes I have Gmail but I feed it through Outlook to streamline my emails. One Drive is my #1 goto cloud. In facts is the only one I use Posted via the Windows Phone Central App for Android

Well, as long as it leads to more Windows development and support

Well, I'll give you a number of reasons I switched to Windows Phone, and I don't regret it for a second......
1. Windows Phone OS's vastly superior UI. Live tiles, Live folders are better than static icons and buggy, battery killing widgets.
2. Stability.....Android phones crash, lag, and generally run like complete $hit, even on Flagship level devices. Windows Phone 8.1 update is silky smooth, and doesn't lag and /or crash.
3. Superior Cameras on high end Lumia phones - the camera on mt over 1yr old Lumia Icon wipes the floor with anything Android, and even beats the Iphone 6S in side by side (my wife has the iPhone, its no contest).
4. Durability of Lumia phones - I've dropped my Icon well over a dozen times, on pavement, rocks, tile, wood.....couple dinged up corners, but the thing is a tank.....which is more than people can say about an iPhone
5. Google is bad lately....... They are the new bad boy in tech........ Stealing peoples private data for their own benefit.....blackmailing web sites with diminished search engine optimization, and don't think for a second that they haven't blatantly been doing everything in their power to hurt Microsoft's inroads towards a mobile OS, which is anti competitive in nature.
6. Microsoft services are the only that are completely cross platform, and I find that on MS operating systems, they work better.

I think you are spot on with these reasons. Thumbs up!

Cha d'dhùin doras nach d'fhosgail doras

I switched from Android to WP and would not switch back. When you need to work daily with several Android and iOS devices, you'll start to appreciate the fluid experience on your own device.

Same here. Android is just a whole lotta cluster fuck of grid windows 98 style icons.

Then you should feel really bad for me.... My Android work set (GS4) went bad, charging port shorted. now they're replacing with our new corporate standard phone, iPhone 5. Glad I personally use Lumia.

And the Trojan horse has begun

Embrace Extend Extinguish

This is a sad day for Windows Phone, looks like everybody can now use Microsoft's services on Android and iOS, so this will probably mean Microsoft will have to think in Plan B to rescue Microsoft services on mobile platforms. Nokia X was a good idea, use an Android fork with Microsoft's services instead of Google's to give users chance to use official Android apps on Nokia phones. Unfortunately, someone didn't like it and now Redmond is pushing OneDrive, Skype and Outlook through multi-million deals with Samsung. Perhaps is time to think again in Plan B, make Android fork with Microsoft services and kill Windows Phone once and for all. But I'm not sure if this will ever happen, only time will tell.

Um thats one 'sad' way to look at it. Clearly you must have missed the plans that Microsoft has for Windows 10. I doubt WP will be axed any time soon as even Microsoft has mentioned they have a flagship phone in the works. And the many OEM partners they have recently acquired worldwide targeting the budget sector and emerging markets ( which is where Google mostly dominates) is a very promising outlook for WP in general. Who else can compete with Google at that level? Then they are offering Windows 10 upgrade for free to Windows 7, 8 users even if it's a blatant pirated copy. Not to mention the recent talks they had with Xaomi about having a custom ROM for their phones and apparently the news was VERY well received.Could they make a future WP? Possibility... I say quit your crying lol EDIT in case you weren't aware Samsung has been experimenting on another possible rival OS to android known as Tizen. Samsung has mentioned that they want to reduce their dependence on Android/Google for some time. Tizen has a WebOS feel/look to it and they have deployed their new 2015 SUHD televisions running Tizen, where as other television manufacturers announced they will be using Android TV(basically android but for televisions). Who knows how long before they start to use it on their tablets/phones, etc. Intel is also another major partner behind Tizen development.

For this reason, I now see no point waiting for the 'flagship' WP anymore. My next phone is a Galaxy S6 unless something dramatic happens between now and August. There has been no reason to upgrade my L920 and so far, there isn't a reason to stick with the OS now that my primary bank, Chase, is no longer on the phone. Sucks, because I truly love the OS, just the lack of support and marketing by MS is killing the experience. Burned thrice now, with WP7, Windows RT and MS Office touch not coming out on my tablet as well as countless other apps that really should be exclusives, being shared with other platforms.

I will never use microsoft products when i have all on my android. Better convinced samsung producing S6 with WP. I have android tablet and lumia phone, now i am thinking to buy android phone.

This is simply a way for MS to make more money and get more people using the mobile Office suite. This will have little benefit on MS Mobile device sales (Lumias). Android is gaining the software, yet some people think that will bring users to Windows. I think it gives them more reason to stick with what they have, unless the Windows versions of these apps are significantly better. Honestly, I can't imagine Office being better on a Windows Phone compared to say a Galaxy Note 4 (right now). I hate to admit it, but Office apps combined with the Google Play Store will make Windows devices less appealing to consumers, unless developers jump all over Windows 10 and start making outstanding mobile apps for Windows 10. Right now I probably couldn't convince but maybe 1 or 2 people in my class of 120 students to try a Lumia just because of issues like no Snapchat, and people will always compare to what their iPhone or Android can do.

This has to really be pissing Google off. I'm sure that one of their future OS security updates will stop all of Microsoft's services from synching properly.
Windows Central Newsletter
Thank you for signing up to Windows Central. You will receive a verification email shortly.
There was a problem. Please refresh the page and try again.