Microsoft Office apps to be pre-installed on select Samsung Android tablets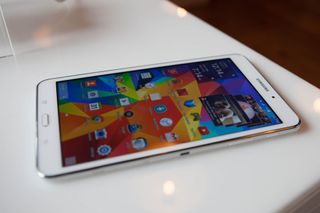 Samsung has announced an expansion of its partnership with Microsoft that will include pre-installing Office apps on some of Samsung's tablets in the first half of 2015. The company had already announced that the upcoming Galaxy S6 and Galaxy S6 edge would have Microsoft's OneNote, Skype and OneDrive apps pre-installed, along with offering those owners 115GB of free storage on OneDrive for two years.
Now Samsung is extending that pre-installation partnership to include Microsoft Word, Excel, PowerPoint, OneNote, OneDrive, and Skype on "select Samsung Android tablets". Specific tablet models were not announced.
Those pre-installation deals are for consumers, but businesses can also benefit from the new Samsung-Microsoft agreements. Samsung said:
The new partnerships were announced after Microsoft and Samsung settled an ongoing legal dispute in early February over patent royalty payments.
Source: Samsung (opens in new tab)
S6 with WP8.1.2 Or W10 please

With that W10 ROM, all you would have to do is unlock the boot loader and you could have that.

Microsoft is first and foremost a software company. I'm not at all surprised about this.

Yep! Very much agree on that.

True, but ppl will complain about it anyway.

They themselves claim to be a devices and services company, so this is helping the services divisions.

Surely, this out of court settlement is win win for both.

Still trying to see some of the Win. Although customers getting a bunch of pre-loaded Microsoft Office apps is a win for consumers. Still trying to see where Microsoft is making its money...

Get people in your ecosystem and then upsell.

Well the more people using Microsoft's products and services for productivity = less people using other solutions for productivity. That's a win in Microsoft's book

Exactly. They're trying to hold on to existing customers and maybe rope in some more by creating an "Office Platform". I still don't think it'll have the staying power of an OS platform like Windows (or Android/iOS).

Exactly. Microsoft software on every desk. That's what their motive is, I suppose.

This is simply part of Microsoft' & Nadella's plan to get people to "love Microsoft again". As it is now, people (mainly Google loyaliat) intentionally avoid Microsoft products at all costs. This all being done to win/pesuade/trick/force those users back into a Microsoft serviced ecosysem. Additionally, aside from lacking apps, another issue with WP is pleasing those who are doing they're day to day tasks within Google services --- some decide to try Windows Phone and the first question is, where is GMail, Google Drive, Google Calendar, etc. Great apps like Outlook for Android, Sunrise Calendar & OneDrive will help with such.

Hopefully this means Samsung is going to start making windows phones again.

Heck, it might even save them some money if they do.

Im actually happy about the out of court settlement. Samaung Droid devices are really popular and the deal will encourage people to join OneDrive and Office 365

Good for them, since their Microsoft app is way better than what we got here.

Yay, more bloats on Samsung devices. They got enough per se tbh, having more doesn't hurt.

How on earth Office, Skype and OneDrive become a bloatware? SMH..

To users who have no interest in any apps they are not going to use, and can't remove them, they are considered as bloat wares.

http://www.digitalspy.com/tech/news/a637173/samsung-galaxy-s6-could-allo... Samsung is cooking something nasty... Or just beginning to be nice.

Hmm, interesting. The only connection is the location.."A new South Korean law has been introduced stating that all apps preloaded on a smartphone must be removable, according to PhoneArena". So Samsung has no choice but to comply with it. However the article is pointing at ambiguity - Does the global release of the S6 fall under the legislation or not? Or does this only apply to handsets sold in South Korea. I imagine it is the latter.

Whatever region the legislation applies to, it's a bonus for MS haters none the less.

Wow, why do you hate this? This is a huge win for all.

How about Samsung make an upgrade for my Ativ S Neo?

Why do Microsoft bought Nokia? Do they really want to do smartphone business or else want to build other smartphone running droid?? And Microsoft Office is far better in iOS than in windows phone 8.1, feeling frustrated

Microsoft is a software & services company first. So like any other company they are going where the money is. Sure if your a Windows Phone fan, it sucks but there isn't much to be done about it.

They better be updating office for WP soon - its embarrassing now that iOS and Android have a better version of it.

Have you heard of Windows 10?

I am so sick of hearing the "windows 10" argument. It isn't valid at all. No one buys something on the basis is what it WILL have, only what it DOES have and currently office on WP is appalling. Plain and simple, and in two years it has barely changed.

So standalone office apps are coming to Intel tablets

https://wpdev.uservoice.com/forums/110705-dev-platform/suggestions/66981.... Remove background downloading bug that stop downloading under locked screw. Plz vote guys.

Stop, just stop. You're spamming this on every new story. Goto the forum if you want to post this crap.

This is not crap. But yes, he should use the forums.

The tricky part is that Samsung said that pre installed apps can be easily deleted now, I don't know how are they going to do that though

This is a big win for me. I have the best of both worlds! Samsung also announced that they will allow you to remove any pre-installed software from their phones, inclduing their own. I can now remove all the bloatware, have all the Microsoft productivity apps; the Android games, banking, health and fitness apps! I already have an Office 365 personal subscription - I puchased it when Microsoft added unlimited OneDrive storage to the subscription. I love this!!!

As long as the W10 app has full functionality while the Android version is akin to todays limited Mobile Office version...

Why? Why would it make business sense to sell bad quality apps to a large(massive) part of the market? To kill there reputation completely?

No point to buy Windows phone if Windows 10 Microsoft Office mobile implement on Android.

A custom ROM is not an OS.

1st of all android really sucks. I much rather have windows than android. Also, Win10 for phone is NOT done or released yet(except for the limited built for previewing). I believe there will be lots more than the preview, that MS is holding back till actual release date. All MS is doing, is trying to get more ppl to use their prods. IMO there is nothing wrong with that. 2nd, Maybe, just maybe, once ppl start to use MS prods, they get tired of Android and switch to Windows. You never know. we just have to wait and see, how everything plays out, specially when MS releases some flagship phns.

Would love to see S6/S6 Edge running Windows.

Me too!....I'll have my S6 Edge in a few weeks and it would be great if I could dual boot into Windows 8 and/or 10 :-) ...I'm sure that's unlikely though.

Ugh, why ? Microsoft is killing off Windows Phone....Office, Cortana, all the exclusive features of Windows Phone will be on all phones. So besides some cool tiles and a lack of apps (there is still a problem), what advanage are you getting from Windows Phone ? No exclusives that is for sure... I know MS is into makeing money, sure but, in the long term keeping these exclusive will sell more WP devices and in the long run they will make more money. I just dont understand the busness logic behind this.

Um Microsoft how about a downloadable way of putting windows on android devices. Hell even a live preview like what some linux distros do

And Windows phone users still waiting for Office....
Windows Central Newsletter
Get the best of Windows Central in in your inbox, every day!
Thank you for signing up to Windows Central. You will receive a verification email shortly.
There was a problem. Please refresh the page and try again.