Microsoft Band apps and Health Dashboard getting the ax on May 31
One last blow for the Microsoft Band.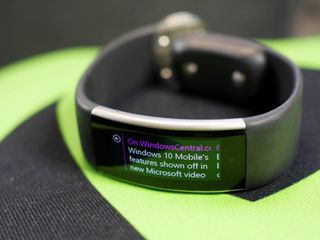 It was clear in 2016 that the Microsoft Band was no longer a focus for Microsoft, and now some of the last vestiges of its legacy are on the chopping block. In an email sent to Band users today, Microsoft says that it will cease support for the Microsoft Health Dashboard and applications and services on May 31. Microsoft Band apps will be removed from the Microsoft, Google Play, and Apple App stores on that date as well.
From the email:
The original Microsoft Band and its successor had something of a cult following after the original debuted as Microsoft's fitness wearable play in 2014. However, the line was ended without much fanfare, even as a third iteration was pretty far in development. Microsoft Band was also part of larger group of older Microsoft products that had their technical support on community forums last year.
Without a fitness wearable of its own, Microsoft has bowed out of the space as other players like Fitbit, with popular watches like the Versa (opens in new tab) and Charge 3 (opens in new tab), have continued to grow. If you're looking for a replacement for you Microsoft Band, be sure to check out our sister site iMore's roundup of the best fitness trackers.
Get Fit in Style
Fitbit's best-looking fitness tracker

The Fitbit Versa strikes a solid balance between form and function. Not only does it look sleek and stylish, but it packs Fitbit's vast array of activity tracking features while borrowing a little bit from more traditional smart watches.
Thanks, Matt, for the tip!
Windows Central Newsletter
Get the best of Windows Central in your inbox, every day!
Dan Thorp-Lancaster is the former Editor-in-Chief of Windows Central. He began working with Windows Central, Android Central, and iMore as a news writer in 2014 and is obsessed with tech of all sorts. You can follow Dan on Twitter @DthorpL and Instagram @heyitsdtl.
It's not all bad news, as long as you are still using it, though:-
Eligibility for a refund
Certain Band users will be eligible to receive a refund according to the below terms. Eligible users are users that either:
Have a Band that is covered under its Limited Warranty; OR
Are Active Users. An Active User is defined as a user who has worn the Band on their wrist and completed a data sync from the Band to the Health Dashboard between 12/1/2018 and 3/1/2019.
All eligible users will receive an email with refund instructions. Refunds will be processed for the following amounts:
Band 1: $79.99
Band 2: $175
Refunds must be claimed by 8/30/2019.
Fortunately for me, after a lengthy recovery from a sporting injury, I picked mine back up just last month.

That isn't a bad deal at all. Nobody in their right mine does this. Google I am looking at you and your apps services.

Which Google devices were cancelled along with services?

If my band was not dead oneuear ago...

I would like to know if Microsoft will give refunds to Windows Phone users when they end support in December. Let's hope so.

I would rather see Microsoft create a Sunset version of the Band App so we can continue using our Bands. I don't really need to Dashboard, but I like the Band2's data and display on my Windows Phone 950XL, which I plan to continue to use as long as possible. I have three back up Band2s and another 950 XL waiting to be used in case they die. A Sunset Band 2 App without the HealthVault would be just fine. Microsoft did this with Money, which many of us continue to use.
An alternative is to have Microsoft farm out the code to have a third party re-deploy it. I'd be willing to do that.

I would rather see Microsoft create a Sunset version of the Band App so we can continue using our Bands. I don't really need to Dashboard, but I like the Band2's data and display on my Windows Phone 950XL, which I plan to continue to use as long as possible. I have three back up Band2s and another 950 XL waiting to be used in case they die. A Sunset Band 2 App without the HealthVault would be just fine. Microsoft did this with Money, which many of us continue to use.
An alternative is to have Microsoft farm out the code to have a third party re-deploy it. I'd be willing to do that.

And let's say once more: shame on you microsoft. Many other developers and I invested a lot of hours in apps that had a good success till they decided to kill a very good product!

It was a meh product. I will take my own word as I owned both. One original, which was not comfortable and two of the second due to cracks in the band. Second one cracked too, but none left to replace it. Garbage hardware due to very poor durability. Killing it was the only human thing to do

Poor waterproofing killed my band after one session on a turbo trainer, and when then romours of MS not making the next gen band have up and went Garmin. Poor show MS

Not sure what you're talking about as it was never waterproof.

it should have been able to hold up to users perspiration....

If I haven't used my Band until today (March 1st 2019) would I still be eligible for a refund according to their terms?

Best tracker. Gone. Users duped. Best phone OS. Gone. Users duped. Where's the refund for my 950XL boat anchor?

They should refund all the lumiabricks as well.

This does make me sad, because I still do use my Band 2. I'll be happy to accept their refund if they ever do send me that email about the refund. I also still have the Band 1, and wouldn't mind the refund for that one, too. It sucks because when they came out, they WERE the best that was available at the time. The competition was WAY behind in what the Microsoft Band could do.

Even if that was true, the Band was insanely ugly. Not sure how they ever expected to sell that monstrosity.

Beauty is in the eye of the beholder. I thought it looked quite classy. ;-)

This is yet another bad decision in a long string of terrible management choices MS has been making recent years, right after its top management changed.
It would take just a an extra bit of support and persuasion to put the Mobile and wearables on the right track. These were best-in-class products, some features remain unbeaten by now. The only flaw was lack of commitment to support and no releases on the development roadmap, changing horses included. This is the primary reason of the bespoke 'app gap', it's not customers, it's not developers, it's not 'fate' of any other form.
Before a top tech company, now Microsoft is famous for its 'Launcher' for Android. Azure and cloud services you ask? What about Sun and DEC we answer? Sure, Microsoft's current top management is quite good and experienced in bringing it to this point. Step up, take some risk and commit to a user-oriented platform? No - it's too risky short-term, needs investment, does not bring quick dividends and affects top management reporting. So let's just shy away from it!
We hope it does not need to mention how biggest and brightest tech companies ended in the longer-term when they had disconnected from the end-point users. So eat your dividends now while we still know a company called Microsoft.
A bunch of thus-far life-long Microsoft customers.

It's expected but I wonder how they set Refund eligibility criteria. Nearly no Band 2 is under warranty right now as it was discontinued in October 2016 and it's rare to see customers buying discontinued products. "Active Users"...? Zune, Lumia, Band etc. speak for themselves.

I bought my band 2 second hand on ebay and use it almost daily. Seeing how it will become useless, I'm thinking of asking a refund.

How is it still under warranty

2 years on (and over a year since my Band 2 died) and there is still nothing on the market that comes close in my opinion. The majority of fitness bands are very poor, with small, low res screens and lacking the same range of features. The slick design and clever, smooth UI with focus on just the right features (not trying to be a smart watch) was something really special about the band and remains unmatched.

I agree, My second band 2 is still in great shape but I switched to the Fitbit Charge 3 in December since the Band app won't work on Android Pie. I still wear mechanical watches along with my fitness band so didn't want a full fledged smart watch. The Band 2 was perfect for that. While the Band is better in almost every way than the Fitbit, the Fitbit is far more comfortable and I forget I even have it on. It is especially noticeable when sitting at a desk and typing or using mouse. With the super thick clasp on the Band 2 there was no way to wear it and be comfortable when working. I still miss it though. The Fitbit batter life is far better as well. I was synching with MS health until Christmas so I should be eligible for the refund but haven't received the email yet.

The Band might be the ugliest and worst designed wearable yet. How they could put that up against the Moto, Apple Watch, and Fitbit with a straight face I will never understand.

Dude... we know how you feel about all things Microsoft.... but you are almost repeating yourself in the same comment section. I bailed out of the MS eco system last year (held on too long)…. I gave away all of my paper weights. Never invested in the Band...

its funny that the **** tard is still posting the Microsoft hate here. just go play with your apple toys and such. You are pathetic.

Microsoft, I'm leaving you. And yes, it's you.

Just another thing that moves Microsoft away from the consumer space. They have been closing down their presence in the consumer market since Satya Nadella became CEO. There has been no good news for consumers since then. Unfortunate but both predicted and predictable.

Band has been dead for some time. I also blame Balmer for consumer failure. Nadella was smart enough to see it and Balmer wasn't. Also Xbox and Surface Go, laptop and pro are consumer products that are doing well. And yes Nadella killed unprofitable products as companies are apt to do.

Eh my band broke and I stopped using it 3 years ago

So, is Microsoft Health Vault shutting down as well?

Got my Apple Watch, iPhone, ipad and Mac Book Pro... Was all in on MS but never ever again... Thanks for driving me away I am so much happier... Once they remove the live tiles from Windows 10 the tragic failure of MS Windows on all devices will be complete... A mismanaged joke...

I think I'm going to the same route as you. I updated my Note 9 yesterday to one UI, and I hate it... Next phone is going to be an iPhone and I may get an iPad before then to try out Apple software as I've never had an apple product before... I loved windows phone ect., but I prefer to have everything work together...

Never owned a Band so am not openly weeping about this. But I do fear that Nadella's killing everything consumer will come back to haunt tomorrow's Microsoft. Many people want to use the same tech brands they know and trust at home, in their office. It's why we're seeing more iPads, iPhones, Android phones, Chromebooks, and Alexa in the enterprise. In fact in my office, I cant' think of a single reason why we couldn't give 85-90% of our workers Chromebooks as their primary work device. The ONLY reason we don't is that we have an old set-in-his-way CIO. I'm convinced that once this old geezer generation of CIOs retire we will see more iPads, iPhones, Android phones, Chromebooks, and Alexa in the office, as well as more openness to Google's CLOUD offering and AWS. And we can finally rid ourselves of the curse of Azure and Office 365 subscription slavery for good.

So what's a good replacement for Health Vault? I took the time to put lots of information in there...where to move to now?

Well that's extremely annoying. How much did it really cost to keep that minimal level of support going?? Microsoft is a trillion dollar company that acts like it doesn't have a penny to spare to keep loyal customers happy/mollified. So now what remains the best fitness tracker on the market (or rather off the market) will become useless, just like the best phones on the market and the best mp3 players on the market before that. And probably soon, just like the best digital assistant on the market.
What's annoying isn't the fact that they're ending support for a device that was discontinued three years ago, but rather the fact that they're doing it in a way that makes the devices unusable. Will we not be able to download third-party apps on the Band (the ones that have separate Windows Phone applications)? Or what about the ability to rearrange tiles and customize the appearance--will that all go away too, just because the app can't sync online anymore? I don't see why 90% of that functionality should be in any way dependent the Microsoft Health dashboard.

Wish I could get my money back on my 950xl! Will definitely not invest in any mobile efforts again from MS. Clearly they should stick to what they do best, MS Office and to a lesser extent Windows.

I was really pissed when the Band 2 replacement died in a shorter time than it took the first Band to die. I went to the MS brick-n-mortar to get it replaced again and they said MS no longer made it. I agree that the Band was better than anything else out there. It synced to work seamlessly and was the only wearable that worked with my Windows phone. I still use a Lumina 735 phone and wish it would be supported forever. I'm glad I didn't get the 950 XL that I was drooling over and now have to look forward to it being abandoned.