Microsoft Band, Health updated, Developer SDK Preview released
Microsoft today announced huge updates for the Microsoft Band and Microsoft Health apps along with the first release of an SDK for third-party developers and a web dashboard, too.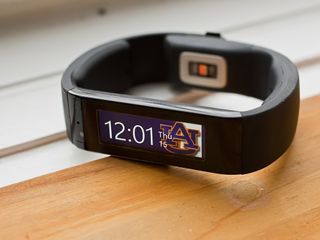 The updates announced today are in response to user feedback and besides the web interface includes support for biking, new ways to scan and respond to notifications and integration with Microsoft HealthVault and MapMyFitness. There are also 5 new guided workouts to choose from.
The update was released today and will roll out in the coming days to Windows Phone, iOS and Android users. We'll be back with more as and when our own Bands get the updates.
For more check out the full press release below.
Today, Microsoft introduces a comprehensive update to Microsoft Health and Microsoft Band that will further empower users to live healthier and be more productive. Today's updates are in response to user feedback on the types of features they want, and include a web dashboard, biking functionality, new ways to scan and respond to incoming notifications, and integration with Microsoft HealthVault and MapMyFitness. Also launching today is the Microsoft Band SDK Developer Preview for third party developers.
When Microsoft Health and Microsoft Band launched in 2014, we promised to build the experience jointly with customers and partners. We also said we would continuously improve the experience based on their feedback. Today we are demonstrating that commitment by releasing the first in a series of updates that will directly address what users have asked for: offering deeper insights, more features and greater integration.
Insights: Users want the ability to view their data in new and unique ways, to develop insights that help them achieve their goals. Today, we are launching the Microsoft Health web dashboard—allowing users to slice and dice their data in new ways, including new observations, extended data views and more detailed charts that complement what is already available via the mobile app.
Features: A popular area of feedback was the request for additional features or functionality. Today's update includes a whole suite of fitness and productivity features and functionality, including a robust biking offering. New ways to view and respond to notifications more efficiently are also being launched.
Integration: Consumers want to find ways of marrying data from their favorite applications, services and devices to develop insights based on a holistic view of their fitness and work habits. Today's update includes integration with MapMyFitness and Microsoft HealthVault.
"For the last three months, we've monitored feedback carefully from customers, partners and media. While the response has been overwhelmingly positive, we are continuing to listen to our customers and make improvements based on their feedback," said Matt Barlow, General Manager of New Devices Marketing. "This feedback is at the heart of the decisions we make, and today we're pleased to take our first steps in launching new features and functionality for Microsoft Band and Microsoft Health that address what we're hearing."
Along with these new features, the Microsoft Band SDK Developer Preview is being introduced today. This will allow third party developers to start building innovative new apps and creative new experiences for Microsoft Band. Developers can learn more at http://developer.microsoftband.com.
A complete list of today's new features is outlined below. The update was released today and will roll out over the next few days to all Windows Phone, Android and iOS users.
Insights
Microsoft Health Web Dashboard: The Microsoft Health web dashboard provides users insights, unique to them. The more users use their Microsoft Band, the more valuable these insights will become. The web dashboard is accessible via any web browser, providing a powerful complement to the Microsoft Health mobile app, which helps users track progress to their fitness goals. Users can access their personal Microsoft Health web dashboard at: https://dashboard.microsofthealth.com.
Features
Bike Tile: The Bike Tile on users' Microsoft Band lets them track their rides both indoors and outdoors, on the road or trail. Features include:
Heart Rate Monitor: When the Bike tile is active, the heart rate monitor is optimized specifically for biking activities.
Elevation Tracking: Track elevation and elevation gain, distance and duration and calorie burn– viewable in the Microsoft Health app.
GPS: Users can activate GPS on their Band to map their ride in the mobile app and share it with their friends via email.
Speed Analysis: Track your current and average speeds both on the band and in the mobile app, and review your custom splits to relive those longer bike rides.
Recovery: From the mobile app, users can see an estimate for how long it will take their body to recover from the ride.
Web Dashboard: Biking functionality is supported by the Microsoft Health mobile app at launch. Integration with the Microsoft Health web dashboard is coming soon.
Guided Workouts: Five new indoor biking workouts have been added to the Guided Workouts portfolio, including: Indoor Bike Tabata Sprints, Indoor Bike Hour of Sweat, Indoor Bike Total Body, Indoor Bike Pyramid, and Indoor Bike Intervals.
Quick Read: Quick Read provides another option to scan incoming texts, emails and other notifications. When enabled, notifications are displayed in a large font size and in rapid succession of words enabling users to read messages while in motion and without the need to scroll.
Virtual Keyboard & Voice Replies for Windows Phone 8.1 Users: Windows Phone 8.1 users can craft replies to text messages in two ways. Users can reply to text messages using the virtual keyboard with minimal errors with the help of Microsoft's World Flow technology, which predicts commonly used words and phrases. They can also dictate responses with voice, powered by Cortana.
Integration
Microsoft HealthVault: Users can create a complete picture of their health, with them at the center. Microsoft HealthVault lets users organize their health information in one place, and helps them gather, store, use, and share information and records with their healthcare providers. Now with Microsoft HealthVault integration, a user's Microsoft Health data is automatically uploaded to their HealthVault account, including their workout and sleep data. To link a Microsoft HealthVault account to Microsoft Health data, simply go to "Connected Apps" in the menu of the Microsoft Health app.
MapMyFitness: Starting today, users can sync to their MapMyFitness account. To link a MapMyFitness account to Microsoft Health data, simply go to "Connected Apps" in the menu of the Microsoft Health app.
The Microsoft Band is available now in Microsoft stores across the U.S. For more information, visit Microsoft Band and Microsoft Health online.
Windows Central Newsletter
Get the best of Windows Central in your inbox, every day!
Managing Editor - Tech, Reviews
Richard Devine is a Managing Editor at Windows Central with over a decade of experience. A former Project Manager and long-term tech addict, he joined Mobile Nations in 2011 and has been found on Android Central and iMore as well as Windows Central. Currently, you'll find him steering the site's coverage of all manner of PC hardware and reviews. Find him on Mastodon at mstdn.social/@richdevine
Quick! Someone (not me) make Flappy Bird!

I don't find it relevant, even there is irony behind this. :O

Awesome? Not really getting that feeling so far. The website appears to just display data the app does. Not seeing any analytics or anything. Edit: Actually, the Observations look slightly interesting. Auto-sleep mode would be awesome. Bike mode sounds a great addition though as does the SDK. When the update is live I'll check it out.

I cant wait for bike mode and the autosleep would be a great idea. I mean... It should beable to make an "educated" guess when we are sleep based on daily monitoring of high and low activity. Sometimes I nap, so I would like for it to track that as I do not get anywhere close to a full nights rest... Need all I can get, lol!

They release what they've completed but never done. Means we get stuff quicker and earlier while they keep finishing. I like this new age we are getting into. It's on the web now so computers can access it, any computer, and that was crucial to have available. Now we wait as we get more added right before our eyes! Great thing about it is that our bands got an update too! I love updating this thing! Only been the second time I think but I still love it. But we actually got a keyboard and an app polish with a few extra things for the band. Love it! Just hope we get something every month. They'll be working on the entire ecosystem anyway, I just hope they don't plan on stopping with this band anytime soon and release an updated device every few months.

So they can mine your personal health data :p Even barbie dolls are doing it! http://www.inquisitr.com/1865670/new-hello-barbie-wi-fi-enabled-barbie-t...

Very awesome. Supposedly this is the first of three major updates for the year.

Virtual keyboard is awesome

I'll give you that. The keyboard is actually pretty awesome.

Its "jumped off my couch" awesome. Are you kidding me! That's a world of opportunity. I reacted like that when I saw touchscreen phone for the first time. My brain went into imagining the opportunities that it would bring.

Good job Richard putting our school colors on the Band. War Eagle, Hey!!!

FINALLY Still now support out of U.S for Microsoft Health

Why add support for MapMyFitness which hasnt been updated since 2013 and has a rating of 2.4 in the store as opposed to their own Health & Fitness app which at least is being updated? How does Microsoft keep missing the obvious ways to improve their products?

You mean HealthVault? Which is also supported?

Nope, MSN Health & Fitness, part of the former Bing suite of apps. Tracks your food intake, has health articles, workouts and counts your steps on sensorcore phones. And it no longer connects to health vault so cant use that as a workaround.

Yeah, had my hopes up that I would be able to use the Health & Fitness app... then I remembered they removed the health vault integration a little while ago

Maybe people want their Band data to go to the mapmyfitness website? It seems to still be an active community.

Judging by the reviews in the WP store, those people arent using WP devices so while its good for ios and android users WP users only have an abandoned, half working app when they could have a full featured app in MSN Health & Fitness.

Maybe a better question would be why doesn't Health & Fitness use HealthVault as it's backend? Then we could have a single MS source of truth for our health data. The official RunKeeper app never made the leap from WP7 to WP8 yet it was the first service the band supported. I still used a great third party app to log runkeeper workouts until I got my band. Just remember the WP community is one of Microsofts smallest sets of users and they need their products to work with all popular services even if those services don't choose to support us WP users.

The amount of support That an android and iOS device are exponentially greater than those on Windows phone. I.e. Facebook gets updated nearly every week, just one example. You do not get a windows phone to depend on apps, this is a niche market for masochist's.

Reading the display vertically makes no sense.

Did someone change the website look in the three minutes I was away?

lol...it went back to check other articles to see if i missed something...i like it...

how we get the new features?

Great - can't wait for it to roll out. Need to allow greater calibrations for non-GPS running adjustments - like when running on a treadmill. Consistently .25 miles slow per mile run.

good point about the dreadmill, thanks!

Mine is regularly 0.01miles out and speed reports same as treadmill. I have never needed to calibrate as of yet.

Thank...Gracias....Bravo.... Aleluya....Finally.......

Any chance of some news as to availability in UK ? The more updates that come out the more I want one,...... Sorry ...... Need one !!

Right now its not even available in the US so dont hold your breath waiting for one

Really ?? There is plenty on eBay UK !! Beginning to wonder if they are working on Band II and this is reason for lack of this product

Can't wait for 3rd party apps to roll out. I love this band!

Wonder if the update breaks Pimp, hopefully not. I love my backgrounds.

nope still have my background after the update

Same here. Pimp works fine.

Awesome! I'm glad they took the time to add some great features to this update.

Now, the only update I need is for Band to actually be available for purchase. Been looking since December.

yup! I ended getting the vivofit - so much for trying to stay in the House of MS.

Wait for Microsoft band in Europe

Bring your Band to Canada, please.

They barely brought it to the US

They had some at the MS Store in Vegas, so I say look or call around. Also on Ebay for a premium.

Health vault integration was all i was looking for......

So this is saying there will be a wordflow keyboard on the band for answering texts? That would be awesome. But, I may be mistaken I reading it...

Need to actually be able to purchase!!!! Waiting impatiently for months now.

So many features, but we don't have the band yet, when is ms planing to expand the band to other markets

That sounds great! I was sort of afraid they would say "cool, people bought a lot of these things....I guess it is all it ever needs to be."

Yay.... great news! Too bad they are not available in stores or online. And no one knows when they will be available.

where? I contacted MS last nught and they told me they are sold out in all stores and online. They also said they have no idea when they will be back in stock.

I called the St. Louis Missouri store last week and the rep checked and said that the Band should be back in stock in stores by the 2nd week of March.

Are there really actual Android or iOS users that use the MS band? Lol...

I know more people that are IOS users than WP that own a Band. If you scour the Band forums, you will see quite a few non-WP users that post

It is one of the best parts about the Band is that I can use it with my Android devices when not on my 1520.

Yes. I'm on iOS currently and I use the band. lol I guess?

"For the last three months" you wrote this paragraph twice.

How about a link with SportsTracker? I have a boat load of runs stored on that before the Band came around. SportsTracker also offered many things that could be tracked, like biking and running but also other features like treadmill or as runners call it, the dreadmill.

I think with this features as third party apps and voice reply....its like android wear competitor.....i think microsoft should do it like what apple does with ios...only microsoft produced quality bands with a bit larger display of different shapes---circle,square....new styles and fickling fun

Still US only for some obscure reason.. Another huge missed opportunity with MWC around the corner..

Great for bikers, now imagine if they were to introduce native support for the Strava Community website, which I understand from my friends is a really big thing in the speed biking community.

let the flashlight apps begin!

Excellent news that cycling has been added. Now if they would melt the snow that would help.

Get a fat bike!! Unfortunatly that only goes so far as this winter has been shit for riding even with a fat bike (at least in WI). My riding is down probably 90% from last winter. :-/ Fat bikes are great fun though!

It's a good device but still not where it should be for widespread consumer use. IMHO having a low-key soft launch wasn't a bad idea, though it would have been a good idea to make it globally available. In any case, Microsoft needs to hurry-up on a lighter, thinner and nicer-looking version of the Band.

Now, if I could only get one somewhere

Wait.. It is again available?

Wow, this makes me want to develop apps for Band. I bought Garmin 220 last year though and spending money is something I don't want to do now but this is just so tempting.

Lack of biking was the main reason I didnt order at launch. Now to see if you can find one...

I felt my Band always calculated wrong calories. In the morning after I wear the same and get in car I barely took 100 steps and it says I have burned 500 calories.

If I'm understanding you correctly you're seeing the daily burn to that point in the day. It's counting the calories you should burn for being a certain age, weight, height, gender, etc... and showing you that. If you do something extra that gets added to the base burn. Now if it's going up 500 calories from the 100 steps then something it probably wrong, but I generally have to work on the elliptical for about 20-30 minutes to burn 200-300 calories.

it assumes some basic calorie burning based on your height and weight and age.

Getting calories burned must be complicated. Garmin bike computers are notorious for way over reporting calories burned too.

What people don't realize is that most calories burned in a day are from being warm blooded. Regulating body temperature takes a LOT of energy. The amount added from sitting versus lying down or standing or walking or running are still smaller than what's used to keep the body operating.

The Microsoft Band is available now in stores across the US??? Better recheck that manufacturer provided copy before publishing. The Band is available nowhere at the retail level. EBay is about all you can hope for.

Picked one up at the Microsoft Store this weekend. So it really depends on the location. When you call you will get the general service center who will tell you it is sold out (but they are looking at online stock) tell them which store you want to check stock on and they should be able to tell you. It may differ, because their system also shows broken returned units as in-stock.

They fixed the font and size of the app on the Lumia 1520!

Download Microsoft Health and firmware updates...did not break Pimp My Band or Band Monitor on my L1520.2 Win 8.1.1

Wow digging the ability to respond to texts now via virtual keyboard and Cortana

Don't forget it now allows u to have a virtual keyboard to respond to messages, spell check, word replacement, and Cortana voice replys

Keyboard is pretty good. It connects to your phone to understand the words you write. Only problem I had while trying was capital letters in the sentece for example if you want to write Apple the company it will write as apple.

Yeah. Pretty impressed. Works really well.

One person laughed when he saw the tiny keyboard but after typing a long sentence and showing that the tiny keyboard got it 100% correct, he was amazed! The sentence was: This is the best tiny keyboard ever! ;) Yes, I included the winky face for maximum effect.

So guess I'll have to try the bike mode on the elliptical and see if it is closer to accurate than the run mode is.

Hmmmmm, downloaded/updated the app on my 1520, but not seeing any option to update firmware. Possibly because my band battery is low?

I updated thru desktop app

Damn! Im at work and don't have my cable. I finally got the notification to update firmware after restarting my phone and band, but my battery is too low. :/

Same here. Oh wait....firmware update is available :)

With the elevation tracking, GPS mapping, and speed analysis - I wonder if the bike function will also work for skiiing. The only problem I see is having to pause between runs, as it would probably track your time on the lift as a run uphill. But if there were a specific ski run you wanted to track, it seems like it would work

The Burton app already does this but yes, it does track the lift ride up. I wish they would automate removal of lift rides but the app works well other than that.

Does anyone have any info about how accurate the HR sensor is vs a strap? I keep hearing that these types of wrist based sensors can be way off. Most people I talk to say it is pretty accurate. Does anyone have any references they can point me to? Thanks!

http://www.theverge.com/2014/11/12/7193493/7-minutes-in-hell-workout-mic...

No update here yet. Lumia Icon (VZW) in NC. App updated, Band hasn't updated yet.

Amazing update!!! I spent atleast 20 minutes of an hour and a half meeting doing responding to tech support text messages from my Microsoft Band. Awesome!

Okay, I'm going to need that Auburn wallpaper for the band! War Eagle! Posted via the Windows Central App for Android

Never mind....got the update! Amazing stuff here! Love the text replies, the large font speed reading, and the biking tile.

I can't seem to figure out how to reply via virtual keyboard. I don't see an option for it

Got my Band update here in the UK. the keyboard is a nice touch but no way to calibrate the touch screen, sometimes you hit the wrong keys and cant work out how to change a word once you typed everything.

just got the update... still wish it had live tile an would cycle thru your stats... but I'm gonna get cycling when the ice is clear lol glad to see them updating an supporting it... keyboard is definitely a nice needed touch, wish they would enable shape writing too :-)

does anyone see the recovery tile or info cause I sure don't

I have to see and feel the MS band. I might give one a try. The only major gripe I heard about the MS band is that it's design is a bit chunky. I expect Microsoft will shrink it down to be thinner and have a larger screen. I wonder if this device will get windows 10 I guess that's too much to hope for but if it has the CPU power and main memory for it wow what a great device it would be a Computer on your wrist WOW. Do not get shocked if microsoft takes the MS band that far !

Very buggy on windows 10. Can't open activities on main app page. Can open in activity history.

I gotta honestly say that I feel great about this update. I feel like you all heard all my complaints about this band but u all went above and beyond!

The Band isn't clunky at all...looking at photos of the iWatch it will weigh as much, the watch band will be as wide as well. I've found the Band quite comfortable, only con is to use the display comfortably you need to wear it on the instead of your wrist, but then your display is kept more private...but it is nice to be able to show it off.

Does anyone know what the "Reading Speed" setting on the band under Settings" if for?
UPDATE..I figured it out.

I just noticed that if you hit the action button on an email will display the message in bigger letters.

I'm really confused... does "Microsoft Health" exist in the UK or is that only a US thing? We have the "MSN Health and Fitness" app in the UK, which as far as I'm aware is different? And then there's HealthVault... something else apparently too? Is this all because we don't have the Band yet? The Health and Fitness app is broken at the moment anyway since an update a week or so ago, you can't add any food into to food tracker... is this because they're updating to Microsoft Health? I'm so confused Microsoft!

Has anyone else noticed changed battery usage after the update? I charged my band to 100% before sleeping, then in the morning plugged it in again and it still registered 100%. Not sure if battery usage was improved or the percentage display just changed.

Grrr....The Health app won't install on my 1520. All other apps updating and installing correctly.