The Microsoft Band steps data on Windows Phone has some quirky bugs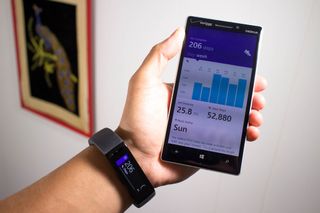 There are some weird bugs on the Microsoft Band. Yesterday, I remember doing 10,820 steps. When I checked my steps history today, the data shows a very different number. It says 8,344 steps. What happened to the other 2,476 steps? After some digging, it turns out the steps data seems to be recording fine. It's the Microsoft Health app for Windows Phone that's messing up the dates.
It looks like Microsoft Health for Windows Phone is displaying the steps data from the day before. So, instead of showing 10,820 steps for November 5th, it's showing my steps data from November 4th. The steps data on the Microsoft Health app for iOS is not affected. You can see a clearer picture below. The numbers basically shift by one day.
Some people in our Microsoft Band forums are experiencing other issues with the steps data. Daniel Rubino, our Editor-in-Chief, shares this issue:
For Daniel, it seems the Microsoft Band DOES count steps even in run mode for day of, but changes it the next day.
Let's hope Microsoft knows about these problems already and have an update coming soon. Have you noticed any other bugs with your Microsoft Band? Let us know in the comments or join the discussions in the forums.
Windows Central Newsletter
Get the best of Windows Central in your inbox, every day!
The ios version works better than the WP version, shocker!

Meh I had a similar issue on my iPhone, it's not just Windows Phones

So Microsoft can't get it right anywhere? Not a confidence builder.

But the google and apple-hardware for Windows Phone are so much better!!

Maybe some people have been walking backwards...

everything microsoft builds for rival platforms is better than the apps they throw together for thier own products....office 365 is another example of this. It looks awesome on every phone and tablet in the market.....unless the phone or tablet you happen to be holding is built by microsoft. It really doesn't pay to show brand loyalty and buy MS hardware

theefman is owned xD xD xD

Shame...I m sure they will fix asap, and I hope wp version in the future will offer something MORE compared to competitors (no more bugs) !!!!

Lol! We always tend to have problem on ms devices, and as we know android and google just seem to be working fine all the time..whether it be apps, band,etc, etc.

Did you just say android doesn't have bugs? Lol least stable OS out there

Lollipop just got rescheduled due to some major bugs. iOS recently gets attacked by malware, which is very normal on Android devices. WP... haven't seen any yet.

You are like the YouTube users posting on videos, always trying to bash everything.

That's completely FALSE!!!!
Nothing compare to android intrinsic flaws and instabilities, and IOS has really high security bugs too.

Looks like a case of irony deficit :)

I wish I had a band to help tweak out bugs!! Come to UK :)

MS store near me says they have a 100 person plus waiting list... So doubtful on that soon...

Bought it of eBay for $300. Getting it delivered to India. That looks to be the only way fir people outside US, at least for version 1.

"The steps data on the Microsoft Health app for iOS is not affected." *facepalm*

Read the comments... facepalm...

All microsoft app work better for ios and android but for wp every thing work bad.MS support beter other OS

May be related to the time change issue.

That's when it went off a day for me.

On my Lumia 920 I never had a chance to see sleep numbers, always crash the app. Hope those bugs get fixed soon! I suggest make Music controls for Xbox Music, using Cortana takes so much time!

Same here. Everything works but sleeping data. Every time I try to open it, app crash.

I'm wearing a Fitbit One and a Band, and the Fitbit pedometer seems far more accurate. I can take 70 steps and watch the Fitbit increment, while the Band shows no change.

Are you watching the screen on your names when testing and not moving your arms? I was for awhile and thought the same.

I spoke with Microsoft Band Support this morning on my issue and they said there were sending details on a few issues up the chain, so I'm sure people are aware of these issues. Hopefully app updates won't take forever to arrive.

I agree. I think they'll avoid getting too beat up on it if they start rolling more fixes and enhancements before everyone's fascination with the newness wears off.

I have noticed extensive gesturing (when talking all day in meetings but while seated) artificially has increased the step count but I assume this is an issue with all wrist mounted step counters. And I'm seeing similar issues in the app on Windows phone. In historical page, such as yesterday's step count, it shows percentage of goal from the day before that even if the number of steps it shows is accurate.

Yeah there's no way around this really for wrist-based counters. Since moving your arms though does actually exert yourself/burn calories I really just think of steps as points. I think Misfit does this too, it just awards points for movement instead of counting steps. I mean think about it, do we really need to know with perfect accuracty how many steps we've taken? The point is to move more often and be active, not find exact step measurement. When I hit 10k steps ever day on my fitbit flex I know I've done about the same amount of average movement consistently, etc.

Quirky bugs in two Microsoft products..you dont say!!! LOL.

I suggest getting in touch with Microsoft directly about this.

Surely the app had a "beta" tag on it! Squint harder...! JK!

I posted in the forums about this earlier this morning. I called Microsoft band support this afternoon and was given a case number, they said they are aware of the issue and are working on implementing a fix.

Kinda similar error exist on Photos app on WP. When we take screenshots and check it on photos > all, it gets saved under the day before!

Where is the user voice!!! We are basically beta testers... You want our feedback????????????

Anyone know if there is going to be any kind of black Friday deal on one of these?

Last night I turned on sleep tracking and woke up around 4am. I turned off sleep mode and saw the stats on the Band and in Health. I went back to sleep at 5am and when I woke up a few hours later, I saw the stats on the band, but when it was synced to Health, it appears it overwrote the previous sleep session, instead of showing them both, as my FitBit does.

Go to the hamburger and look under activity history

The home only shows the most recent activity of each kind. Go to the activity history.

It makes you wonder if it is bad app making for Windows Phone (even when it comes straight from Microsoft) out something inherently in the software of windows phone that keeps things from running smoothly... Come on Microsoft, it's like being a toy maker and making great toys for everyone but your kids. I really hope the Windows 10 for mobile (not sure how to refer to it since the phone from Windows Phone is being dropped) exceeds expectations and at least allows stops that don't break especially when made by their own company...

Too much exaggeration... LOL.

And the WP app has not even the 'Beta' suffix on it :| (at least could be an honest excuse)

I still want one.... Stock up Microsoft!

I haven't experienced this, but I've only had my Band for two days. On the other hand, I had my annual physical today and the pulse count taken by the nurse was just two beats off from what my Band was recording at the same time, which is confidence building. And I was the hit of Starbucks this morning as I was the first in the store to use the Band to pay and they had all just read a notice from corporate that customers would be using this new device. I had 8 Starbucks employees all gawking at once at my Band for a few moments.

There are rarely any products without its share of issues shortly after launch. It's the harsh reality of early adoption. That's not a Windows phone exclusive!

Microsoft it's pursuing all platforms, all services (look at the Skype, one drive and office news these week , they are delivering a lot, also the band now)
we see too much bashing here unnecessarily, if you only read comments here looks like we are in a dead platform and company, quite the contrary

The app needs a update. Just can't open sleeping data. Crashed every time.

We have similar issues on fitbit too

I'm not. I have tried several apps by Microsoft that don't work. Like that Skype Qik to this day I've only ever been able to send one otherwise it crashes and won't so anything

I reported this to Microsoft yesterday, around 1:00PM, it took about 45 minutes on the phone with them to explain it, and finally they looked at their own and said, I see what your talking about. At that time they weren't aware of the issue, but gave me a case number and said they would call me back with a status update on Saturday.

Mine shows the bars in weekly view correct, but the corresponding values a day later.

I can't get Bluetooth to stay connected between my AT&T Lumia 1520 and my band. Connects for 1 or 2 seconds then drops. So, obviously, with no stable Bluetooth connection, I can't get any notifications or check the weather on the band. Tried resetting the band a few times to no avail. So frustrated. Time to call Microsoft Band Support.

Why is Microsoft always being an ass and make these products available in the US only?. Sure, I can order it from the store in the US ans have it sent to the Netherlands, but the app is simply not available for the EU region. Sucks!

I don't have a device as I am watching to see the viability. Personally I think they hit it out of the park but I don't want my desire to get into wearables skew a logical review of my spending so I'm living vicariously through these reports so thanks... Not throwing stones but this IMO is Microsoft being Microsoft. They can be lauded for such a lofty accomplishment with this device but problems with a Gen 1 device are not uncommon. There are so many examples where it takes 3x for them to get to a mature product that has the kinks worked out. If one is a MS technology user early adopter, this is a pattern we've lived over and over again.

My daily calorie goal is set to 2800. I had over 3000 yesterday and it says 85% complete...lol.