Microsoft Band Sync app for Windows desktop finally removes 'Pro' OS limitation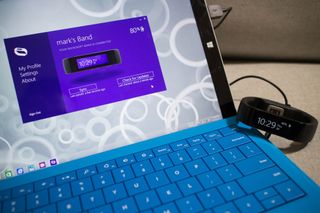 Last week, Microsoft not only released the Microsoft Band but some software for it as well. Besides the phone apps, Microsoft also has a desktop app for Mac and Windows. The software lets you sync your Band to the cloud in addition to updating the firmware, if, for whatever reason, you do not have your phone nearby.
Version 1.3.1106.2 is now sitting on Microsoft's site, and there is at least one fix we are aware of the arbitrary limitation of only installing the app to Windows 8 or 8.1 Pro computers. Now, you can install it to any PC.
If you had previously run into this error message when attempting to install…
…things should be fixed with this release. We were finally able to install it to our work PC with no such errors. It never made any sense why you needed the 'Pro' version of Windows 8 or 8.1 for such an app, so we are glad that limitation is gone.
No word if there are any other fixes or optimizations, but this was a big one for many users, and we are glad to see it addressed.
Note: Microsoft Band Sync app for Windows is still a full desktop application, meaning this will not work on RT devices.
Thanks, B1zzle, for the tip!
Windows Central Newsletter
Get the best of Windows Central in your inbox, every day!
Daniel Rubino is the Editor-in-chief of Windows Central, head reviewer, podcast co-host, and analyst. He has been covering Microsoft since 2007 when this site was called WMExperts (and later Windows Phone Central). His interests include Windows, laptops, next-gen computing, and for some reason, watches. Before all this tech stuff, he worked on a Ph.D. in linguistics, watched people sleep (for medical purposes!), and ran the projectors at movie theaters because it was fun.
My guess is it was a mistake.

The app or the RT OS? lol

Hope this indicates MS is about to drop some stock..been looking for it in Orlando.

The SDK emulator requires Pro for Hyper-V support. Perhaps that's why? God knows why they'd need it for this though.

It won't be Hyper-V, that's for sure.

I never understood why they started that whole "pro" garbage anyways. Aside from the obvious $

My guess is the lawyers cause that mess

Like connecting to a work place domain. Ya who needs that.

Pro and Enterprise are business-oriented. Home users generally don't need to join a domain, use Remote Desktop, use Bitlocker, and other higher end features. Why not make the home version cheaper?

Actually Windows Home is cheaper then Windows Pro, just not by much. Personally, I always get the pro version. I hate getting a gimped OS.

i miss the ultimate versions :/

Yes, especially pirated copies. Always felt such a sense of accomplishment after loading it up.

Yeah, I got a gimped peg leg. Had to assemble it myself.

Microsoft is not a charity so they actually are allowed to try and make money.

So can I download on my surface rt?

Download? Sure. Install? No, this is still an x86/x64 application.

That's what I thought Dan, thanks! And no bueno

Yeah, just double checked in case they used some MS magic, lol. Hopefully an RT solution won't be far behind (I updated the article to avoid further confusion).

That's wierd that there's no RT app seeing as Microsoft could make the WP app into a universal one.

Even Microsoft doesn't make universal apps, why should anyone else?

Agree this should be a universal app but in reality this desktop app is basically unnecessary anyway. I'm a Band owner, and unless I'm missing something I can't figure out what to use the desktop app for other than it looks pretty.

Please get these bands back in stock you jerks

Wait... Your work PC is not pro??

Dell XPS 27 has Windows 8.1; didn't come with a Pro license. There are no advantages for Pro for myself.

Danny Boy, where does your true love with MS lie? With the phone or desktop /laptop /tablet?

Really? I was wondering why I couldn't find this in the Store on my Surface 2. It's pretty demoralizing when even Microsoft releases new apps for their own products as legacy Win32 apps instead of WinRT.

Bring the band to Canada when it hits beta and the alpha is over...

Why not RT? Available for iOS/Android...MSFT has to really fix ignoring it's own ecosystem!

Yeah its a shame. Its cool that make windows apps for android and ios. But why not windows rt and phone also.

Seems pointless since rt is dead and will be replaced with win 10 by next year.

RT isn't dead and will be merged with WP...they will just rename it. There will always be a place for ARM devices until there is some revolutionary advance in battery tech...

Ms already announced that win 10 will be on all devices, including arm.

Yes Win10 will be on all devices but don't expect the interface to be the same on a mobile phone, tablet or desktop even though the software has the same kernels underneath...Win10 is more for developers...write one Pgm that can run on all types of devices with minimal recoding...that's the beauty of Win10...

I hadn't noticed. I'm using it on W10 preview

Why "finally"? It has been out there for a few days.

That's can be an eternity in tech.

I'm kinda sick of all the band updates at least one everyday

Yeah, shame on Microsoft!!

It was because the Republicans took control of the senate but Obama said: wait a minute so He told Microsoft to fix that issue.

Off topic question - Why does Windows Central no longer support RSS feeds properly? When viewing full articles in any RSS reader, the images do not show up. I asked the NextGen developer and they said it's because WindowsCentral and all Mobility Nations sites don't support Readability anymore. Was there a reason behind this move given that almost every other blog and news site renders images fine (in full article mode, not preview mode)?

You're not going to get an answer here -- the forums are the best place for this. http://windowscentral.com/commenting-guidelines/

Its like that with many websites. Forces you to view website and see advertising. They don't make money if you don't view advertising. I'm sure that I part of it. I'm use to clicking open in ie when there is an article I want to read.

Pls don't encourage the off-topic questions...

Good job Microsoft glad you thought to put that restriction in the first place and how well you support your own platforms. Maybe instead of spending billions on games you can do some of your own products right?

I cannot get it to start on my Win 7 laptop...anyone else?

MS telling developers not to worry about developing universal or modern apps again, sigh...

One more sign that this thing was rushed to market. Also, it forces you to sign into your Microsoft account every time the app is closed, which is a real pain if you have two-step verification turned on.

Yes Win10 will be on all devices but don't expect the interface to be the same on a mobile phone, tablet or desktop even though the software has the same kernels underneath...Win10 is more for developers...write one Pgm that can run on all types of devices with minimal recoding...that's the beauty of Win10, convergence...