Microsoft to bring high-speed and affordable internet to South Africa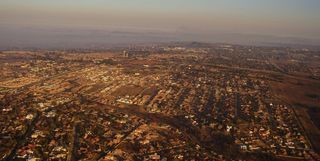 While Google is focusing on brining high speed fiber internet to Americans, Microsoft has its eye on South Africa. The company has teamed up with the Council for Scientific and Industrial Research, the University of Limpopo, and network builder Multisource to bring high-speed broadband to the region.
The South African government set a goal to bring low-cost internet access to a majority of South Africans by the year 2020.
Microsoft will be using a combination of TV white spaces and solar-powered base stations to show that it can deliver a low-cost wireless solution. The project is first aimed at five secondary schools in the Limpopo province.
In addition, the project will help provide the five schools with Windows tablets, projectors, education-related content, technical support, and solar panels for device charging.
Mteto Nyati, managing director of Microsoft South Africa, announced that the project is part of the company's 4Afrika Initiative to bring innovative opportunities to young people and entrepreneurs across the continent.
What do you think – Good Guy Microsoft?
Source: TelecomTiger
Windows Central Newsletter
Get the best of Windows Central in your inbox, every day!
*you're
Yeah, this is sad in fact.

So can we all conclude #RIP BAILEY199719 #hateithadtobehim. Thanks for the support.

Tweet much? Hashtags outside twitter are uncool.
Anyways, getting back to the article, I think Microsoft is doing a neat job and taking all the right steps to win people over. Giving Europe special versions of 1020 for their beautiful faces. Giving Americans operator exclusive phones to cap the costs and reach out to the people to tickle their individualistic itch. Catering to china with more customized features to get it released in their country soon. And Nokia's romance with India is epic, so MS needs nothing done there. Now they're showing sweet loving to south Africa with fast internet. What next? Special edition phone to commemorate the royal baby in England? :D

So south Africa can get high speed fibre internet but my street in Wales cannot.

We have pretty terrible internet here in SA. Up until recently our max speed was 4Mb/s, and is now 10Mb/s (only available to some areas).
The main two problems are speed and price. Even though it is sold as 10Mb/s, it is still hard to stream an SD Netflix video. And that 10Mb/s shaped uncapped costs around 140USD with usage restrictions.

That is pretty terrible, what have your telecoms been doing all this time?

Our fixed line access is pretty much a monopoly that is government owned. The 2nd fixed line operator hasn't done much in terms of providing an alternative to home users, only enterprise

Raping our bank accounts!

Fucking around... They split the country in to three groups: Gold, silver and bronze. If you live in a gold area you get good service, if you live in a silver area you get decent service and if you live in a bronze area you get terrible service (about 98% of the country is bronze). If I want to upgrade my internet to 4 Mb/s(which is the highest I can get) it is going to be extremely unstable. My 1Mb/s cable is already very unstable. It's good to hear that someone is finally doing something about the internet but I really hope that they don't just stop at Limpopo but really focus on the entire country (especially Pretoria :P )

The staff turnover at our industry regulator is worse than at Mcdonalds.
And I'm pretty sure they were all ex-employees of McD's as well...

We're better of betting on the Mobile operators

Ha ha ha! It's the truth!

I can't get higher then 4MBps in the US. My provider said I could pay for the higher service, but I'll never get anything above 4 Mbps.

We are really behind on the speeds here though. The fastest DSL offering in SA is now 20 - 40 MB, BUT that is only after the entire fibre infrastructure gets replaced in that area. (Priced at ± R3400 - R5 600 per month I might add)
We are currently on a 4MB line, but can now upgrade to 10MB which will cost R2000 per month. (US$1 / R10.22 as of 29/07/2013 if you want to compare prices)
Rural areas have no coverage except for 3G and satellite, which is still quite expensive, and speeds are not reliable on 3G.



Yeah.... I moved back to Zambia from SA last year; now I have the max adsl bandwidth on offer of an astounding 512KB for the cheap cheap price of 400 kwacha / R686 / US$79 per month
Wish I was you right now.

I've been curious if Microsoft would do this in emerging markets. It helps to establish s footing and is a benefit to the public.

Its great. But anything companies do is for money and publicity. Africans just happened to get the better end of it in the end. Then they'll be a little poorer because there paying for web. Sigh. W.e MS. Blood...stone...?

so u'd rather no corporation ever even try to help out on anything?

It's about time! I can't wait to play with someone from South Africa. It's good to play with people around the world, but my only wish is that I were fluent in every language or there would be a auto-translating device to remove the language barriers for online gaming. Sadly, no cornucopia technology exists.

Heard of the babble fish? Now only if that was a possibility :/
I Appreciate your openness and keenness to explore more :)

Okay, okay, I will finish working on my universal translator. Geez, you don't have to get pushy...

Twitter is now using the Bing service to translate on the fly. I hope MMORPGs would also use this service so we can gather intel on enemy logistics. One of the many methods used to relay battle tactics to your members is to use vernacular so others can't counter quick enough, this will remove that advantage. ;)
Windows phones can also translate signposts or text in different languages using the camera so you can read those pesky nutrition labels on foreign canned goods. Nice precaution since you never know if what looked like a tasty beef noodle bowl is actually something else entirely nasty.

Ha ha ha, ons waardeer die feit dat jy belangstel in ons land en taal. See if you can translate that. ;)

There are South African online gamers around, not too many of us though. Internet access isn't the only issue here. Electricity is another major issue in rural areas here and then there is the cost. 1USD = 9.8ZAR and our average daily income is something like $20, putting three meals a day on the table is an issue here for a lot of people, internet access is the last thing on their minds. But this is a great initiative by MS and at the prices they've been throwing around (R20-R50/$2-$5 for a 1-2Mbps connection) it will help a lot of South Africans gain access to the internet.

This has long been a Bill Gates idea. I'm glad its finally coming to fruition.

Hey, I forgot all about those 4Afrika phones.. I wonder how they are doing..❔❔

Bill Gates will be proud of them.

If only they were doing this in Malawi.