Microsoft can automatically disable pirated games on Windows 10 [Update: Maybe not]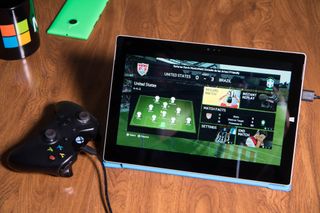 Update: Microsoft's Services EULA is different from the one governing Windows (Microsoft Software License Terms), which means that the amendments Microsoft added recently were to protect against counterfeiting of Xbox Live and Windows Store content, and not monitoring (or disabling) illicit content on Windows 10.
Original story follows: Microsoft updated its End User License Agreement (EULA) for Windows 10, with a section stating that the manufacturer has access to disable any counterfeit software or hardware running on your system. The details pertaining to pirated software can be seen in section 7b or "Updates to the Services or Software, and Changes to These Terms", which states:
Such updates are subject to these Terms unless other terms accompany the updates, in which case, those other terms apply. Microsoft isn't obligated to make any updates available and we don't guarantee that we will support the version of the system for which you licensed the software.
While Microsoft's stance against counterfeit games is understandable given the rampant video game piracy, the definition of what constitutes as "unauthorized hardware" is unclear. Also, the wording does not reflect whether the ability to automatically disable counterfeit software will be limited to games, or whether it'll be extended to other software such as Microsoft's own Office platform and Adobe's Creative Cloud suite, both of which are prone to piracy.
We'll have more details to share in the coming days. While the ability to detect and disable counterfeit software and games will be alluring to developers — especially considering earlier versions of Windows made it easy to obtain pirated software illegally — it remains to be seen how this move will affect consumers, who will undoubtedly feel Microsoft's actions to be invasive. The Redmond giant came under fire for the amount of data it collects with Windows 10, and this recent revelation will raise more concerns.
Source: Microsoft (EULA) (opens in new tab); Via: PC Authority
Windows Central Newsletter
Get the best of Windows Central in in your inbox, every day!
Harish Jonnalagadda is a Senior Editor overseeing Asia for Android Central, Windows Central's sister site. When not reviewing phones, he's testing PC hardware, including video cards, motherboards, gaming accessories, and keyboards.
Interesting... I assume this is to further ensure pirated software does not tinker with the stability of the OS.

Microsoft has been giving Free Upgrade of Windows 10 to Pirated Windows 8.1 (Pro)

As I understood it. That statement was pulled back and replaced with something along the lines of users with pirated copies of previous Windows can buy genuine copy of Windows 10 for a favourable price. :)

Yes they did but you CAN upgrade pirated copies sadly, though I get it free from work myself.

It will remain pirated though, you won't get a legal version suddenly.

They said non-genuine copies of Windows will remain non-genuine while upgrading to Windows 10. The thing is there are pirated copies that are shown as genuine.

All it might take is a windows update to make you non genuine in the future however.

False. Or in case it's true, it easy to work-around. I installed W10 preview on my PC from scratch 2-3 months ago. On launch day it automatically updated to full windows 10, and now it says windows is activated. So the 100% foolproof way to get legal windows 10 for free is to download and install the preview, then let it upgrade to full windows 10.

I read someguys on reddit claim that some crack/thingamabob tricks the win7/8.1 to think it's genuine and then when they upgraded to Win10 it was a genuine copy..

Sadly? whats sad is that your expected to pay for OS software in the first place...and that its so damned expensive. I choose to build a PC so I can have a better system than the store bought crap, and now I suddenly have to pay another $50-100+? thats bullshit.

Yeah how dare those developers and testers spend all day long writing operating systems for you to use then they have the cheek to ask to be paid for it. Ridiculous! You stole the hardware too right and work for nothing on principle?

Please share with me where you got your top tier free hardware from so I too can be upset that I have this super nice free PC that I have to actually spend money on to run an OS becase I don't want to use one of the many free ones out there on it. I too can be upset right along with you because I don't think that the fact I want to use this one over others means anything like they have worked to provide value that the others don't have for me like the ability to play the games I want to play or run the software I want to run or work on my super-spiffy new free PC while working with the manufacturers to ensure that the drivers for the shiny free components I got allow them to actually function well together. I'm really excited and waiting for the info so I can get me a few of those PCs for myself and my family and we can all complain how the people at MS are sooo unfair trying to provide for thier families even though we work for companies that charge for products so that we can do the same thing....The gall of those MS people though!

No need to pay for an operating system. Feel free to write your own for free.

Plz share a link how to upgrade to Windows 10. I have a "pirated" windows 8.1 !!

Do you have the small windows icon on the right side of your task bar? If not, you probably cannot updgrade to genuine Windows 10. One way is to download the install manually from Microsoft(google windows 10 download) and let it update, but you probably won't get a genuine install. One thing you could've done earlier, but might still work(I don't know if it does) is to download the windows 10 preview, install it on your PC from scratch or upgrade your windows 8.1 install, then your preview will automatically upgrade to full, activated windows 10. The reason this happens is because MS promised full windows 10 to everyone who participates in the preview, because they helped make windows 10 better.

Make Windows better? Are joking? Still feeling the rtm, as an beta OS unfinished

All software by its nature is unfinished. There's always another feature that the dev or the user would love to have in it to make it better.

Main reason is to spy you and try to enter smart phone business. It is too late. Win10 is spy tool nothing more. Or you can call it statistic tool.

I love all these but why is Microsoft trying to take over my pc?

You own the computer... NOT the software

Not entirely true if you live in the EU. There is case precedent that you actually do have a bigger stake in the software then simply licensing it, i.e, you can resell it, and treat it in many ways as any other consumer product.

So, you're saying that in Europe, I can legally re-sell my Windows Phone apps? How?

You would then have the right to transfer the license. This in no way implies you "OWN" the software. The difference is that Microsoft OWNs the software itself, you own the media but the information on it is 100% owned by them. You purchased the right to use it as long as you comply with the terms. To sell you the software transfers the rights for you to do things like make copies of it and then sell those which you do not have... unless you ARE Microsoft :)

DAMN - you write like you LOVE IT THAT WAY... so much VENOM... so young, so angry...

Yeah, you can upgrade to Windows 10 from a non-genuine version. But you'll still not have a genuine version after. They said, like the chap above said, you'll be prompted to buy it for a discount later on.

Or join the insider program in perpetuity as they also indicated that as long as your an insider your version will be legit, but if you leave the insider program you then need a proper key. It seems to me that was leaving the door open for people with previously pirated versions to move to insider program. Which I can see being worth the price of a licence to them as everyone who does is another tester they get.

Smart move. Pirates will pirate no matter what. At least they can get some pirates to test the OS through the insider program.

Oh That was thinking about since Microsoft said that would still with the insider program and everyone who has an pirated Windows would go to insider , which I'm not agree because is not fair for who paid by have it not an original software, still the Americans being naive

Not true...saying from personal usage experience ;)

I think there referring to this http://www.engadget.com/2015/08/17/windows-10-rejects-old-game-drm/

Uh no...entirely fake news...i have the arkham knight pirated version on my desktop...since it runs smoother than original on steam. Windows did nothing lol.

Don't pirate kids! I wonder if it will recon music that was pirated in the early 2000's?

Sometimes I pirated music and some software. But I never pirated any kid!


LOL now thats funny....!!!

Just use iTunes to manage your music...and then strip your mp3's en masse of all the obscure pirate tags that make them identifiable as being pirated.

Mmmm I guess they won't be enforcing this policy if they really want to have people upgrade to 10. I for one do not want windows to mess up with my programs automatically, many people buy games then get rid of stupid DRM too and anyway forcing users against their will should not be in MS best interests.

You ALWAYS have a choice.

Not really it will help Microsoft attract more developers cuz developers don't want the apps and software pirated its how they make there money the more secure Microsoft can make it for people that don't wanna pay and steal same as a common thief the better developers feel about developing for that platform I know what your going to say android is the os that has the most pirated content but developers still develope for them that's because it's so big that the developer feels they have to. Microsoft is that way on pc but not mobile where there trying to win more developers.

Don't think this theory applies to Windows Phone, cuz its the phone that's hard to pirate, while Android is the easiest. And Android is very popular in regions with low App buying morale.

But already is a hole if want be popular Windows phone why not add more ways of get apps and meanings of pay

That's the thing now, you can't pirate from the Windows store so, jdholland79, your argument has no grounds

Android is a pirate's haven, and it has done nothing to dissuade developers. So...

Wtf all my games are pirated
Was planning to buy win 10 now not buying I will stick with my win 7 pirated version

Lol dumbest thing I've read in a long time.

Pretty dumb, considering it was probably people like that guy which caused these kind of unwanted actions from Microsoft. You shouldn't be loud and proud of your questionable activities.

It may seem dumb to you. But I am a gamer & I can't afford to buy games

Well, I can understand not being able to afford games. At least you're not one of those who start bashing MS full of rage because of something like this. Although, I truly hope they won't enforce this. It would be bad for them, bad for the market and bad for users. You could however consider bundle sites and sites like Nuuvem.

In that case, you're not a gamer.

If you can't afford to buy, then you shouldn't play. There are plenty of free titles out there. And countless sales. It's never been a better time to be a budget gamer. Stealing is stealing.

Everyone has the right to game and you are not in the position to tell him what he should or shouldn't do.

Everyone has the right to get paid for their hard work on a game they've created

Everyone has the right to the money in the bank, so go rob it, I wonder if you have the right to kill whoever tries to stop you. /s

IT WAS IN SELF DEFENSE !!!!

True. Everyone that creates something and charges a price has a right to be PAID for that work. You do NOT have a right to steal

Everyone has the right to break the law and steal? You're so self-entitled it's pathetic.

Everyone has the right to food and shelter..

Uh no, you DO NOT have the right to game. It is a privilige that you earn and pay for with hard earned money. Unless the game is legitimately free, you are stealing. It's no different than walking into a store and stealing merchandise. What you do have the right to is to work, earn money, and buy whatever makes you happy.

maybe you should actually read the law. you are not entitled to free entertainment. Stealing cable, games, music, sneaking into mivie theaters, etc are all illegal. Taking a position that you shouldn't steal is a pretty safe position to take.

Piracy isn't stealing, completely different crime.

Exactly.. Piracy is like, If I cloned your car and returned it to you before you even knew it.. You still have your car.. And now I have it too.. for free/small fee.. The person at loss is the Manufacturer.. While both piracy and stealing are illegal, they are not the same..

Laws in pretty much every country are clear. Software piracy is a crime. You can be fined and potentially jailed.

Aww, a poor gamer. If you were a proper gamer you would appreciate the games and the ones that make them possible by paying for the software you use, and not steal what you can't afford. Think of it this way: Why would they make a sequel to your favourite game, if you don't intend to buy it.

Save the irony. While his comment is not the best representation of what we'd like to see, it has nothing to do with how good or bad of a gamer he is. If he can't afford games, then he can't afford them and that's the end of the story. Mind you, there are developers out there who are fine with piracy.. Like CD Projekt Red. Witcher devs.

Nice justification, I guess since I can't afford a mansion, it's ok if I take someone elses? That makes sense, right? No dev is "fine" with piracy. I'll assume for a moment that your have a job (That is not intended to be a rude comment), would it be ok for your job to just decide not to pay you? Kinda a similar deal. Also, may I note that your use of the word irony is wrong.

They were fine with piracy because they lived in a state that was oppressive and they embrassed word of mouth knowing at some point they would buy it. They were being pirated not for free but actually being bought on the black market. So are you tell me he bought them on the black market? highly doubt it, he is poor as stated. So nice try at turning a devs reason to embrace piracy into something more known as stealing. Do you honestly think Projekt Red would be in business if they made 0? Do you think number 2 would come out?

@Wael - You're right, it doesn't dictate how good or a bad of a gamer he is. It does, however, dictate how moral of a person he is. Which is way more important to most people than what kind of gamer they are. If you think because you don't have money for something you want then it's okay to steal then you have a very poor morale compass. I'm not exactly sure how you would argue against that.

They are NOT "fine with piracy" they just don't like punishing people that pay for their games with draconian DRM policies that just lead to resentment and less sales from people that actually want to give them money for the great games they make. No developer wants to see their work stolen, but some good ones equally don't like to screw their customers with DRM like Ubisoft and others like to do.

Wait, you think CD Projekt Red is fine with piracy? No, they're not. Not any developer who creates software for a living is. They're just smart enough to know that DRM won't stop people from pirating.

If you can't afford to do something or buy something, then forget about it. Don't resort to stealing.

It may seem dumb to you. But I am driver, and I can't afford a Tesla. So I just steal them instead, its not like it costs anyone anything, especially not the workers./s

That is so true well said.

Actually, that would cost the insurance company money. Not Tesla or the owner. So in all actuallity it's probably less of an impact to your average worker at Tesla if you steal them than it is to a developer when you pirate games. Although, from a dev standpoint, the used game market hurts their bottom line just as much.

How does a developer/publisher file a claim with an insurance company? If they tried to claim lost sales, they'd be laughed out the door. The inurance company wouldn't care either. They would just raise their rates a percent or two for the rest of their customers to make up the cost. DRM doesn't stop piracy. It's up to people to decide that their integrity is worth more to them than $60

You like to eat too, maybe you should be able to get your food for free. You also like clothes, maybe they should be free. Car should also be free, why should you have to pay.

I'm actually more okay with someone stealing food than games. If you can't afford food you still NEED to eat. If you can't afford video games, well, it's not exactly a need. But I do agree with your point.

Technically if you're poor enough, you'd qualify for social welfare in the form of unemployment benefits and food stamps. But of course there's no such thing as video game welfare lol.

You are a gamer and you cannot afford to buy games....that is the most ridiculous thing I read so far. Me too i am a driver of ferrari that i cannot afford so I steal it. You for sure deserve some kind of help from your local charity. Let's collect some money for the poor gamer who doesn't have enough money to be what he really is and feel....

I'm a collector of racing cars & I can't afford to buy cars. What should I do?

I am a racer and I cant afford to buy race cars. I feel you, bro. Edit: Only after I posted thia I saw that Boris beat me to it.. :)

Main reason I was planning to buy win 10 was due to direct x12 & new upcoming games will start utilizing it

Dude really? I had like 50 pirated games/software but been buying everything I had pirate versions of...visit gamingdragon.com greenmangaming.com and kinguin.com and I can guarantee you can "legalize" your entire gaming library for less than US$100.
Not forgetting to mention origin and steam specials...
I'm just waiting for Adobe to support my region and I'm set.

"and I can guarantee you can "legalize" your entire gaming library for less than US$100" Are you serious????

Last game I attempted to pirate was Batman Arkham Asylum. They had a great anti-piracy mechanism where the grapple wouldn't work on vents. As for $100 for 50 games, likely not. But it's still not nearly as expensive as people think. I have well over 300 games in my Steam library at this point because of all the sales, Humble Bundles, etc, etc. I very rarely spend more than $20 on a game and usually far less.

Fable will be free for Windows 10. There are also a lot of good games for free, like LoL, Warframe, Swtor, etc. If you want to buy games like a REAL game and can't afford it then enrolle in Bing Awards program and you will make 11-12$ a month. There are tons of discounted games for 5 to 10 dollars.

Shhh, if Bing gets too popular and too many people enroll in Bing Rewards, they'll probably end the program eventually.

true, but right now the program is available and people still are dumb enough to use a search that gives you nothing. the search result are pretty much equivelent for most things.

Technical searches are the only time I prefer Google anymore. And since Cortana on both phone and desktop contribute to Bing rewards then going out of my way to get to Google makes less sense.

So long as you live in the US, anyway...

you and I are on the same page

Talk about pirate make me remember spongebob :3

Exactly I'm in a position were it's extremely tough to get a job legally because of health problems bit I bust my arse mowing lawns and doing odd jobs to get buy and can still afford games... He'll yesterday I bought star citizen.If I can manage then theirs no reason others can't.

Start your own lawncare business. My uncle was in the same boat. He did exactly the same thing you were doing. Started out making about 200 a week doing odd jobs. By the time his health failed he had 10 employees and was making 150k a year.

Would you like it if i stole food off your kids plate? That's what you doing when you steal software and apps from a hardworking developer. And then you bitch cuz they wanna make sure there had work don't get stole by thieves.

That's not the same thing. I'm not defending the practice, but someone who pirates software who had no intention of buying it in the first place is not affecting the developer at all. They're not stealing a physical item, so the developer isn't actually losing any money.

If he actually had no intention of buying the software then he wouldn't have pirated it. Considering that he/she now has the software he/she intended to have it. It is stealing. Posted via the Windows Central App for Android

Many don't intend to buy it because they can pirate it. The easier it become to pirate, the more people do it. we saw that with napster. when you had to find locations of seedy sites to get music for free, most people didn't do it. when it became easy to copy, many people started doing it. It's really hard to argue most of those people wouldn't have bought the music. the developer is losing sales. they still have to pay their employees. bottom line, the game is their property and you don't have a right to use it without compensation unless they decide to offer it for free.

I've been downloading torrents for years, so shut the **** up. If you pay for something u can get for free, your a damn idiot.

So you're not upgrading because of a problem that doesn't exist?


If your "pirating skills" are that weak you should have never pirated in the first place, lol...

Microsoft going overboard now!
Let us play/Enjoy our pirated games!
One cannot enjoy freedom on Earth even online too. Time to visit Earth 2.0

Sure people have freedom. You are free to do a lot of things, but there are also a lot of things you're not free to do such as murder or stealing. In this case, you are stealing and you are most certainly not free to do that.

Wanted free Windows, there is, please don't ask for more, nothing in life is for free, besides why not instead of pirate the games get one legal and stick with it, also is some good games for free

Where does the Service Agreement say it applies to Windows? There is a long list of affected services in the end, including e.g. the Windows Store and Xbox games, but not Windows itself so really this shouldn't affect games you get elsewhere.

Thank you! Because this EULA doesn't affect windows at all.The one that affects Windows 10 is the "Microsoft Software License Terms" that is specifically for W10. This is the Microsoft Service Agreement. You'll see this is extremely relevant because it covers Xbox Live and Xbox/Windows Games it publishes. Of course it will include 7.b to protect those IP. Journalism fail much.

Indeed. I've seen several sites make this mistake already and honestly I wouldn't have expected Windows Central to join them. Well, I guess that can happen.

My mistake. Should've seen that that section was there in the Xbox Live EULA. Updated the article with the same.

No mistake, the "Microsoft Software License Terms" just links the Microsoft Service Agreement.

http://www.microsoft.com/en-us/Useterms/Retail/Windows/10/UseTerms_Retai...

+ Service Agreement "applies to Bing, Cortana, MSN, Office, OneDrive, Outlook.com, Skype, Windows, Xbox and other Microsoft services", i.e., to Windows as well (Activation, Input, etc. etc.). Anyway, Win10 is a Gift for me but I'm sure that we should work on Internet Privacy worldwide.

That passage you have quoted is not anywhere in the Service Agreement. The list at the end of the Service Agreement containing all affected services does not mention Windows so it does not apply to Windows, period. It does mention "Xbox and Windows Games published by Microsoft", though, so that should explain the bit about counterfeit games - it does not refer to games you may get outside the Windows Store or Xbox Live.

Sorry, my mistake, that passage is from Privacy Statement (not from Service Agreement). So, the Microsoft Software License Terms links both the Microsoft Privacy Statement (3. Privacy) and the Microsoft Service Agreement (1.b. Additional Terms).

I did some research to clarify these Privacy/Piracy issues. According my opinion Microsoft always owned the legal tools to stop e.g. the piracy: Windows 7 Privacy Statement - "Microsoft may access or disclose information about you, including the content of your communications, in order to: (a) comply with the law ..." Windows 10 Privacy Statement - "Finally, we will access, disclose and preserve personal data, including your content (such as the content of your emails, other private communications or files in private folders), when we have a good faith belief that doing so is necessary to: 1. comply with applicable law ..." But, of course, Microsoft won't to supply the police and to judge the customers. That's all.

Oh ok this is another publish-first-fact-check-later article from WC then! Thanks :)

Getting used to it lately

Actually I do think it refers to Windows 10, but only to the Microsoft Store. Where there are *a lot* of counterfeit games and apps. You'd think that people would want Microsoft to check and remove any of those phony games and apps from their systems, you know, like Apple and Google do. But hey, they we'd miss an opportunity to spread even more FUD so let's not let the facts get in the way.

Yep guess the simplification of their tos included a merger of all products/services eula-wise as well

So if someone were to get hold of a game with a cracked exe w10 will have the ability to disable it... Personally can't see this system working very well, or indeed a lot of people are going to be downgrading fast - I think Kat just quivered lol

There are alot of thieves on this site.

Any anti-pirating shceme Microsoft comes up with will be circumvented so quick it's a waste to even put resources into it. The pirates probably already have it figured out and cracks are flowing as we speak.

English is not my first language. But there does it say that Microsoft will diable the game? It seems to me that it sais that THE USER has to do something?

I wonder how can they force it with games and services like gog.com. It's a DRM free goodness, and I can always choose to not install the latest updates, or not even one for that matter.

They aren't going to check your GoG games....

I can't believe how this misinterpration blew out of proportion. If you read the Microsoft Service EULA, you'll notice that it only applies to Xbox Live, Windows Store apps, and Phone apps, but not Windows 10 itself. They're not going to actually scan your desktop apps, only apps acquired through the app store.

That will be fun outside the US. No matter I agreed, that wont work for long in The EU

not every people have money for buy games :/ maybe in a future if I get a good job I would buy everything original , but Microsoft should understand that , for some people pay $50 for a game is too much :c I have 17 yrs old if ask.

It costs a lot of money to develop a game so developers need people to buy the game to make a profit and then to continue updating that game or creating a new one. There are thousands of free to play games, if you can't afford to buy a game then look for a free game to keep you entertained rather than stealing one. Piracy is stealing, even if you don't have to go to a physical store and run out the door with a box.

Well, I am disapointed a dev (that's what I understand from your nickname) considers piracy to be plain theft, giving the fact that theft means you take something from someone without paying and, leaving one without its goods. Not the case with digital products though. It's something I would expect from publishers and in some cases, indie devs, not from developers.

Why? He's the one with a job to lose(if he's a dev), if enough is pirated....

Well, because I don't believe everything is black n white in this case. And I am not saying it as a user but as a dev. Also because I know how a plublishers think. In most of the cases, those money publishers report they lost due to piracy are not lost. They just assume every pirate is a customer that, if not for the piracy, tey would have bought the game. And this is wrong. We've all seen Ubisoft claiming piracy ruins them yet they keep on releasing games and if the games are good people buy it, with or without UPlay. Same for EA and so on. If the games are bad, people are not going to get them. Of course, there are indie devs that make a living out of this but usually if they do a good job, they will get their money. I myself don't mind if someone cracks my software but that doesn't mean I'll agree with anybody that does it. I can understand if people don't have money for it or if they don't have, for whatever reason, acces to buy it. I do however have a problem with those who can afford to buy it but don't and I have a problem with those making money out of it (by using it to make money or selling it). Now, as I said, I don't see the piracy issue in black n white. I'm not saying it's bad or good but that it has it's ups and downs and I don't like to generalize. Of course, I'm not the one tell others what to do or how to think, I only expressed my opinion.

When it comes down to it, its black and white. Whether you see it as black and white doesnt change the fact that its black and white to begin with. Put it this way. Lets take your grey theory. Yes EA has complained, and yes they continue to make money. Because people buy it. See that last sentence...because people buy it. But EA has also made it harder to pirate over the years, its not as simple as copy and play anymore. However the most important sentence in mine or yours is......because people buy it. It is because of that, that EA can complain, that htey have jobs and that those jobs produce the games that people want to pirate. So there is no grey area, it is very much black/white.

In THEORY that's a nice sentiment towards a developer - but as long as there are people in software making bilions of dollars - who is REALLY ripping off the poor programmers who are making the software? The company heads who aren't distributing wealth - or the 13 year old playing a game for free? Who is the REAL theif? Any time someone, like say Bill gates, can walk away from a company with 40 billion dollars, I cannot agree that piracy is crippling the software industry. No matter what people say, the largest concentration of wealth is in the software industry - so cry me a f*****g river about a software developer not getting paid because of pirates (which is a lie in the first place - research studies revealed piracy is an old wives tale, and not as prevelent as these wallet killers would have you believe). They just want to keep crying piracy because it gives them an excuse to keep the prices riduculously high.

Well, patience is a virtue. I was like you once but now I just wait for the game to get fixed and for publishers to release a complete edition. Meanwhile the price goes down. And it's not like I cannot afford it. It's just I like to enjoy the game, not to find bug fixes for a newly released game. And if it's of any importance, I'm saying this as a dev and as a user.

I agree with you on that. PATIENCE is something that will keep you out of trouble. I find that with games, if you wait they all come down to what they should really be selling for in the first place - if you wait. Other types of software doesn't drop as quickly (some not at all). The game with them is to hold out on the high price until the OS is updated - at that time it becomes throw away. Maybe we should all drop down an os version or two? I bet I can get every one of the XP version apps that were selling for thousands of dollars for less that $15.00 a piece... Photoshop 7, 3D Studio Max, Maya, Office XP... (not all thousands of dollars but you know what I mean)... I bet all of them are virtually free now.

Yes. indeed, also BMW should understand that I can't afford a 5er so I must have one for free, I will pay it later, when I will have the money.

Would you also go into a store and steal clothing?

The whole "I'm too poor to afford games" argument is no justification to steal games. I can't afford a fancy car like a Bugatti Veyron, but I'm not going to go out and steal one just because I can't afford it.

Most people will just think that Windows 10 sucks in that part because exe's don't work

They probably mean things from the Windows store.

Hmm... They released an update to this article, let's see... CALLED IT!

Dont discuss if it's okay to pirate games or not. Discuss of its okay for a company to decide for you. What's next? Computer shuts down when smoking a cigarette?

Only apple would sink so low(they have invalidated warranties over this) when they're target audience are chain smokers

Microsoft is aware how their products are pirated... Giving windows 10 free.. Was a strategy.. People at the end .. Will have no option left but to buy apps and games,,, which some users won't like it

This was in Xbox Live EULA for years. They just merged EULAs for Windows, Xbox Live, Skype and other services to one universal Microsoft Services Agreement.

I think it could cause problem for some genuine legacy software as people don't always want to (or can afford to) purchase the updated software even though they bought the previous years version (example it can cost a few thousand for Autodesk software, and I can't afford to buy a new version every year, and sometimes peoples hardware will only run older software).

How is that piracy? Running illegal copies of the updated program would be the issue

Good. Piracy sucks. Perhaps this will encourage lazy gamers to get off their sorry butts and get a job.

Uhm... Ever seen the prices of games? Gaming is an extremely expensive hobby dude. I don't really do pirated games anymore, but it is really an expensive hobby to have. Also, I have a job, a very taxing one, but I can not afford to get all the games I want just like that even with all the money I make.
If you haven't figured it out yet: Stop judging gamers as a whole as it's just a minority that falls under the category 'lazy'

If i can upvote your comment a million times, i would.

And that gives you the right to steal stuff from other hard working people?

This is false there are so many ordinary hobbies that cumulatively cost more than gaming. As a working man, I can only realistically play one game every 3 months. So worst case $50 per month on games is decent IMo, try smoking lol!

Haha, "I can not afford to get all the games I want", pff. How people got to feel this entitled, is beyond me. Are you also just taking the groceries you don't feel like paying for? Pro tip: Wait for steam sales, or just don't buy games right when they come out. I know it's hard, but I'm sure you can do it ;)

Yea I usually wait for prices to come down. My steam library has quite a few titles I've barely touched so there's plenty to keep me busy. On occasion I've used a pirated version as a "demo version" if I wanted it right after release. Like Skyrim and the first Borderlands. After being convinced they provide enough gameplay to justify the hefty price I was more than happy to cough it up.

Stop comparing piracy to actual theft, it weakens your argument.

Piracy is actual theft...how do people not understand that?

Just because games are expensive doesn't give you the right to steal them. Either get a higher paying job, save up more money, or forget about getting as many games as you'd like.

Couldn't agree more but it will never happen!

They are not going to block anything guys. This is just merging a few EULA's and nothing else.

Adobe will already disable your Creative Cloud apps if you don't have a valid subscription. Where does it say Microsoft will now be able to do this?

I'll never understand why pofessional people and organizations accepted this cloud crap - last thing I want or need as a business is another business looking over my shoulder 24/7, controlling and taking ownership of my companies documents and creative works. Just shows that even in business, its filled with stupid people making stupid decisions....

This probably relates to games from the MS store from AAA publishers going forward. I can't see them going after someone who pirated older games.

Looks like an interesting challenge for hackers...

Or an interesting challenge for crackers...

Pirated games very often bring viruses so this is a good thing

WC late as always. I don't know what will happen to this, but I think this is mainly for Xbox games / hardware and live services. Nowhere it says windows 10. If this is going to be like this then they will see a lot of people going back to windows 7. Still I don't think they have the tools to sniff out and recognize pirated version etc. Maybe this is for windows store only but I bet those games will be cracked too. So chill out people.

What's worse is the author of this post must be asleep at the wheel since they have yet to moderate anything. This post is a sign this part of mn has gone down hill

Somehow i think this applies to windows 10 on xbox and not Pc. Exactly how is microsoft suppose to know that the games i bought from steam are legal or pirated without steam telling them?

Funny that some say it doesn't affect windows, just wait for it.

I'd say this is windows store only, as Microsoft wouldn't have control over updating anything else.

When I see "Unauthorized Hardware" the first thing that springs to mind are modchips. Then I remember Xbox One will get Windows 10 and then it all clicks.

Proof that Microsoft is spying on users, this is just the beginning of they're spine chilling privacy invasion

Sorry to burst your bubble, but nope. I suggest you read the story again. Nice try, though.

I'm proud to be pirate and I find this offensive

And I find your morals to be offensive. Why would you be proud to steal other people's work?

Piracy isn't stealing, it's a completely different crime. Also selling second hand is against the licensing agreement that you agree to when buying a game from a store also (but I'm sure you've never sold a game second hand so you are of the hook). So the vast majority of people are shafting developers in some way.

It might be different according to the law, but the crime is the same. Getting/using something you didn't pay for. And no, I don't sell my games. I keep them so I can re-play whenever I want. As one of the many who can't afford to buy every single game the day it releases, I buy a game every now and then, usually on sale, and get as much out of it as I can. My game library is small, but I'm not about to steal from developers who have put a lot of work into their games and complain that they're "too expensive"

Since your trying to do everything they want you to do, you shouldn't buy discounted games either. I don't know if you are aware but they consider that "stealing from developers" too. So, your just as dirty as any pirate and that soapbox your standing on is about to crack. And "I don't sell games" doesn't satisfy the point. YOU may not sell them, but they do get sold and what is your defense of that... not that it matters because you BUY THEM on discount.

That is the dumbest thing I've ever heard. Buying a game on discount is definitely not stealing from the developers. In 99% of cases, the retailer sets the discounted price, and the retailer is the one making less money. Not the developer. And yes, "I don't sell games" satisfies the argument because it was pointed at me

If your going to do something - be proud of it!

And the Games from the Second hand soon.

Users are losing control over the PC inch by inch with windows 10. I'm going to stick to windows 7

All pirate software enthusiast might have to go back to the Windows 8

I guess they mean software and games from the store, otherwise I see no way for them to enforce it, even from the store seems dubious

Yup. Its illegal to do that from outside. They can geather that data but that's it.
With pirated store stuff ( upcoming games like tomb rider or that halo online thing ) its different tho. Guess that's what the changes are for

Microsoft should think about this again if they want Windows 10 on 1 billion devices... Android is such popular than WP because of piracy... The users may get paid games, apps for free... For desktop this also applied with Windows to Mac OS...

Yeah and android gets all your private data and pictures and gps data anyway when youre online and sells it :) without telling you what they do nor giving you option to disable it ( unlike like windows ).

Actually you can disable all of that in android.
Even facebook mines your internet usage if you don't opt out, if you don't want people tracking you, don't connect to the Internet.

No!!!! Now i can't play my pc games...

Sure why not - stealing is stealing.... digital or not.

I doubt it will have any impact on traditional win32 software. Windows store content and software, as it is, is pretty hard to pirate anyway.

Yeah how do they want to do that ? Its illegal to control your pc from outside. They can monitor but they can't really do Sth with it. Ppl should stop freaking out about stuff which is a thing for years already. And seriously, its getting ridicules how ppl still prove themselves idiots by making sth like monitoring a big thing. Its not. It may was 10 years ago, but its not anymore. Period

Hope not! I love Windows but damn! Please Microsoft stop watching me thru my Windows!

I need some curtains soon...

This is misunderstood of license agreement: https://www.reddit.com/r/Windows10/comments/3h5wwg/windows_10_disabling_...

I can't believe all the people here feeling entitled that they can play all the pirated stuff they have. Devs has to eat too you know so stop being cheap. Don't buy a PC if you can't support your gaming addiction. Burn in hell lazy pirates.

Pretty big update to the article lol

Geez , windows 10 is turning into xbox one saga , great product but poor direction


Alright since most people are bashing pirating without giving it any thought; here are some reasons why in some cases it's needed. 1: I have a physical copy of GTA lV which I cannot play because I lost the manual (with the productkey) while I was moving to another place. Instead of buying another copy, I pirated the game I already own. 2: The same goes for Fallout 3 which I also have a physical copy of. I actually ended up buying a digital copy too, which frequently crashed to the desktop. I got the pirated version of it and it ran perfectly. The same goes for GTA IV which ran like shit the first few years. 3: I want to play old games that aren't supported by their studio anymore. Diablo ll is an example, I just want to play it but can't find a place to buy it. Other old games I own often won't install. Often discs are also damaged, making it unplayable. Pirating is a solution in this case. I actually believe that pirates are preserving old games from fading into obscurity. Although I must say that GOG is doing a pretty good job too (buying the same game twice still feels a little sketchy). 4: Sometimes I just want to try something past the tutorial before I buy it. I'm sure there are more reasons then the ones I listed. Point is, pirating isn't always bad and gives a solution in some situations. Pirates that are distributing games often say that you should buy the game if you like it, to support the company. Not your usual thief right? Please give it some thought before you shout dumb things like fatfingur and mildmanneredjanitor on the internet.

I moved from Canada to Australia. I had a wall of movies, stacks of music albums and oodles of games. Moving across the planet tends to limit what you can take. None of my NTSC movies would play on Australian PAL devices. Pretty much all the albums I had of Canadian Artists are not easy to come by here either. I did pack several game Discs like UT2004, SWAT4, Civilization IV+Expansions, and a few others. Civ4 got lost somehow along my travels, my SWAT4 discs got damaged and only my UT2004 survived the trip. Luckily my Steam Account didn't give me issues with moving and have all those games.... But with all of the above I no longer have, I don't feel I should pay twice for things I already owned that I either couldn't take with me, got lost or damaged while moving, especially since I still have all the keys for them..... Or they're albums I can't get here (Seriously try looking for The Tea Party, The Trews, Matt Mays, I Mother Earth, Our Lady Peace, etc.) there are alternatives like shopping online, but the places that have them charge an arm & leg to ship them.
And what I do pirate are things I have owned, which I don't share around. I have close to 200 games on my Steam account that are Paid for and I have been collecting since 2004 (technically 1998 with Half-Life & TFC) so I pay my Devs.

See the problem is you could have taken it with you, you just didn't want to pay for it.
l like how you don't want to pay to replace it.
So did you move into a vacant house because you couldn't bring yours? Or walk into the gap and grab some jeans off the wall because you left yours in Canada and shouldn't have to pay to replace them?
You owned CD's left them in an old country, and want to steal the replacements, I get it. Go to a CD ship and try that argument Posted via the Windows Central App for Android

Your argument is sad because you are comparing things that are physical with things that are digital. Digital items have no physical loss. It is replicated at the expense of the so-called pirate. It is the pirate paying for the bandwidth, the services required to get their download, the media if they burn data. Actually a lot of people are getting paid out of that whole process - only one left out is the developer and the retailer... Two of the most ludicrously rich people in the whole retail chain. To frame the comparison correctly - if someone didn't have something they wanted - or couldn't afford - and had this magic 3D printer that could create anything from nothing. Would they use the 3D printer to make a house? To make a pair of jeans? To replicate their CD collection? I bet the first thing YOU would do is start printing out money and jewels - oh, no... that would be "stealing" - you would NEVER do that! Yeah... riiiight. Piracy may not be "right" - but it isn't as "wrong" as sheeple... people... like you try to make it out to be. Its like giving a shoplifter the death penatly. Its a PETTY CRIME. And as long as software developers are having billion dollar bank accounts, I could care less about what they say about piracy - they just say that to keep charging the hell out of you for software that should be selling for $5.00 a pop (and people like you pay for it with a brown-lipped smile... and the brown isn't skin color...)... especially with digital downloading - why aren't people outraged about the GOUGING we are geting while they rake in the fortunes? Because people are STUPID - and they LOVE that fact.

So let's breakdown your defence of pirating.
So you lost a pair of jeans/left them at the gym, your going to walk into the Levi store and take a pair from the wall.. You did but then once.
Same scenario if you wore them out..
Now your going to sneak into a movie theater to watch more than the trailer just to be sure you want to actually watch the movie..
Call a spade a spade, if you are stealing a copy for any reason you are a thief. Posted via the Windows Central App for Android

Poor argument buddy. When you buy a game, you purchase a license to use that game. Your serial key and/or activation key are your proof & verification that you paid for the legal right to use it. If I lost the physical copy of that software but still have the key, I can download another copy of the software and still legally use my key. Proof of this is with numerous games and programs that call out online to the developers when activating or registering and the activation is approved.
Another example is Adobe Photoshop / Illustrator. The copy I have at work allows me to legally install them onto two devices at once. If you try a third one, the key isn't valid. You need to deactivate it off of one of the other systems first.
When you purchase an Album or Movie on Disc/VHS, you don't own the music or movie, you only have a legal right to listen to it. When you buy jeans or a car, you purchase to Own those things. They are your property and you can do what you want with them. When you pay an artist, developer or movie company, you pay them to use their entertainment as much as you want and as often as you want. They got their money from you. If this was not the case then iTunes, Grove and other online music shops should take away the music you purchased after X amount of plays & then ask you to pay more. There is a difference between renting and buying. There is a difference between owning something and holding a license to use. You don't own your drivers license, but you can drive as much as you want until you have it expire or taken away.
Software is not a pair of Jeans..... Try again.

Cd's are not subscription services..
Passkeys for games aren't what he is talking about.. Sorry one was and he lost it.

lol @ this... 1: Losing something does not condone stealing. I lost the gas in my car so i filled up and drove away because i already paid for it. 2: see 1. 3: Diablo II is still supported by Blizzard. They even patched it this year... 4: It's still stealing, I just want to test drive my car for 3 months before i actually buy. Logic is hard. You can make excuses all you want, stealing is stealing. Even if it is just software, music, art, etc. None of yoru reasons make it right, or acceptable.


Software is not a car. I shouldnt have to replenish my software except if its a subscription based model. At the end of the day im payed for it right? And for your 4th 'argument'; don't you take a test drive before you buy a car?

#pirated_game_user said, "np! I'll carry on with windows 7/8 OR use it till July '16" ... ;)

This is crazy idea if implimented to stop users from using windows plateform. And such a way microsoft cannot increase users as well as sales and thus cannot spy data.

In relation to the updated information in this report, I kind of figured all this huff was in relation to XBox & W10 Apps/Programs. It's not MS's place to babysit every single developer out there and to check every single key and activation code on the planet. They can only try and keep track of their own stuff. If they tried to track everything for everybody, then developers would get sloppy and not bother to keep their programs secure. This would only lead to even more work for MS over time.
Beyond all that, every time some security feature is brought about, several loopholes are created. Serial Keys, Dongles, Activation Codes, and so on.... Someone always finds a way around them.

I think Microsoft really has disabled pirated games...
I tried firing up a game on my laptop running Windows 10 and the game crashed automatically with the error AMD display driver has crashed and recovered successfully... Coincidence that this issue occurred just when this article came or a problem with my driver? Can't say man, Microsoft is wayyyy too full of surprises. Posted via the Windows Central App

I hope this is sarcasm.. Posted via the Windows Central App for Android

No man... Tried launching Watch Dogs (which though was horribly optimized runs quite well on my way too low end laptop) and the display driver crashed. Tried with Assassins Creed Black Flag, same thing, Tomb Raider, same thing, Witcher 3, same thing :( Posted via the Windows Central App

Sounds like you have an issue with... wait for it... your display driver, or perhaps the physical GPU. It could also be something else on the system which is not playing nice with it, but I'd start there.

Yea, if it is a Windows 10 store game, sure but, I am sure it wont disable steam games...

From reading these comments, I'm quite astonished by how many people openly admit to pirating games and, more so, seem to think they have a right to do so. I've heard rumors of piracy being rampant in PC gaming, but, wow, it may be worse than I thought. No wonder publishers release games first for consoles.

You'd be surprised how many people have no issues enslaving others.

How is that surprising exactly. I just pirate movies and games and music but it is more like sharing but rarely games. Even your beloved Minecraft :) *Eats popcorn Posted via the Windows Central App for Android

I'm not surprised. I'm not a serious gamer, in part because I'm not any good at it. But it can be an addiction, and Microsoft knows that they can make money off of gamers this way. No different from how Zynga and King make their money from people that just have to pay to get that next level, because they've failed 50 times straight and they can't take it anymore, lol.

I think it was pretty obvious from the beginning that the Xbox app for Windows 10 was little more than a cover for yet another DRM scheme. PC gamers gain no benefit out of Xbox branding and you would think that Microsoft learned from their previous fiasco to monetize PC games, namely Games For Windows Live.

Is Microsoft trying to kill itself?

Haha all these "honest" people. For me its the same as when you download that game that was cracked for the world to get? Yeah where they add "if you like the game buy it and support the devs" haha. No go read.. " I'm quite astonished by how many people openly admit to pirating games and, more so" ??? Really? Who are you people? You just cant lie to your boss your spouse or kids or beat them. Lie on your taxes or speed and then.. oh but I cant believe all these people are so open about pirating. Dude your cumpaas is so far off. Take APPLE or MICROSOFT...... do you have a clue what they have done to get where they are and you FREELY keep using there hardware/software. ..I just cant hurt any animal .. anyone want more ribs?... Everyone does something....most will not understand but to control you have to do is VERY slowly. To stay rich you HAVE to create debt. LISTEN to how someone sells you something.. you don't need it..man you will be so better off with that.. and then nothing lasts so you HAVE to keep getting the NEXT BEST THINGS. Sheep you dont even know it. Sheep are stupid...yet they find the hole in the fence. Yet if one just READ what they really said..its ALL about THERE software..apps..later SAINTS
Windows Central Newsletter
Thank you for signing up to Windows Central. You will receive a verification email shortly.
There was a problem. Please refresh the page and try again.