Microsoft to celebrate opening of Beachwood, OH store with Kelly Clarkson performance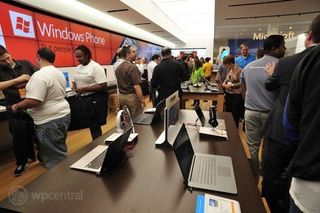 We recently took a look at Microsoft planning to open a store in Salt Lake City with a special performance from Train. The company is looking to carry out a similar opening ceremony in Beachwood with Kelly Clarkson set to head up an appearance. So when's the store opening? Tomorrow, April 13th.
The Clarkson performance will be held near the Microsoft retail store, but how does one get a ticket? Much like the Salt Lake City store opening, the company will be handing out tickets to those who will be queuing up to get into the store and spend some hard-earned dosh, which opens at 10:30am.
The first 100 people will receive two free premier viewing tickets, one grants admission to both the performance and to meet Kelly Clarkson, while the second enables another person to be present at the concert only. The next 1,000 people in line will receive two premier viewing tickets, again for the concert only.
Not entirely sure where to go? Be sure to hit up Bing before heading out.
Source: Microsoft (opens in new tab); thanks, Cornercurve, for the heads up!
Rich Edmonds is Senior Editor of PC hardware at Windows Central, covering everything related to PC components and NAS. He's been involved in technology for more than a decade and knows a thing or two about the magic inside a PC chassis. You can follow him over on Twitter at @RichEdmonds.
Your trying to get people IN the store.....not drive them away like Japanese people running from Godzilla.

Yeah. MSFT does not really grasp the whole promotion concept yet.

Ohhh, by all means...let's put a store in Cleveland and not Columbus. C'mon...seriously, what is with this infatuation with Cleveland; Cleveland just barely has half as many people after all... (Aereo is doing the same thing). We even have young people that aren't smart with their money (OSU)!!!

What about anywhere outside the US?

Are you sure they're not bringing it to Columbus? I believe they're doing the largest city first where it has close proximity to Akron, Youngstown and Sandusky. And Cleveland has CSU as well as Case Western. Not an advocate for the city being I'm from Cincinnati...LOL. I'm sure Columbus will be next.

Don't forget Baldwin Wallace!

I needed to purchase five Surface Pro for our church and since Bestbuys in Columbus sells only the 64gb variant I had to drive to Cincinnati on four different occasions to get these devices. I'm not too sure why they did not choose Columbus looking at its central location and its size but there must be a good reason why MS is choosing Cleveland and Cincinnati over Columbus. Btw I must say here that the guys at the MS Cincinnati Store are just awesome. You can't just resist going back to the store after your first visit.

Actually Cleveland's metropolitan area is the largest in Ohio, and the largest between Detroit and Philadelphia; so it makes much sense.

Everybody knows Cleveland is the real capital of Ohio.


They are bringing Ne-Yo too , i don't remember where or when though !

Yes, this is great! Glad to have a Mircrosoft store nearby :)

It's right around the corner from me....I'll post pictures!

Again, why the hate on Kelly Clarkson? I think she's a pretty fantastic singer. Her music style may not he for everyone, but it is definitely appealing to a significant number of people.

Agreed, I'm not a fan but that doesn't mean there aren't people who are fans. The bigger question is why does Microsoft feel they need to have some unrelated celebrity side-show just to get people to show up?

Are there any promo discounts worth going up for the grand opening for? (eg, something I could use to get a cheaper surface pro?)

I was considering camping out tonight for the Kelly Clarkson meet/greet tickets, but the combination of weather and probably not being able to take in my camera is a buzzkill for that.

Anyone know if they do events for popup store openings? Or just the full retail stores?

Kelly Clarkson is beautiful!

I'm also not understanding why Cleveland would get a store before Columbus. Columbus was just awarded the most techsavy city in America and yes i said Amweria. We have 2 Apple stores within 15 miuntes of each other so you would think this wold be on MS radar not Cleveland.

They're doing it to hit population

Cleveland metro population is actually larger than Columbus.

http://en.wikipedia.org/wiki/United_States_metropolitan_area

I actually wouldn't be suprised if Cincinnati (also a bigger metro population) got one before Columbus based on population and that Columbus is positioned pretty much between the two.

Don't worry...I'm sure Columbus is going to get their store soon enough

Cincinnati already has one. Got it last November.

I stand corrected....Cool for Cincy and Columbus maybe not too far off then

The only reason Columbus looks like it has so many people is because the city annexed its suburbs. If Cleveland annexed its suburbs Cleveland would have almost 3 million people in the city. Its metro area that matters, and in that way Cleveland is almost twice the size of Columbus. Not to mention Beachwood is part of the extremely effluent east side suburbs with a ton of old mansions and old money.

Did you mean to say affluent east side suburbs instead of 'effluent'? Not trying to correct you, just wants to be sure it's not a typo.

I'm from Cleveland. Beachwood is an affluent east side suburb.

Haha yes, I meant affluent

When does the store in St. Louis open?

For the people that are saying Columbus should have gotten one first: did you guys have a holiday store down there?

The same complex that this is in(Beachwood) had a holiday store until now.

I'm guessing the numbers were good enough that they decided to put in a full store. (and there's an Apple store literally across the street)

For those who have been by there recently, is this going to be where Borders used to be?

Ok, I'm guessing that probably has something to do with it then.

And does anyone know if there are special discounts/giveaways for store openings?

I am curious about it, but I'd rather not waste time going up there and getting in the crowd for no good reason. (other than maybe Kelly Clarkson tickets)

Not to mention Cleveland is much more known city than Columbus.

can anyone tell me which laptop brand it is on the table?

I skipped this event, since I'm more interested in tech products than Kelly Clarkson, but I'm going tomorrow on a VIP tour of the store through MeetUp. I'll post something in the forums tomorrow. ☺

This is awesome. I am from the Youngstown area. While I agree about some of this on Columbus being bigger than Cleveland... I think Microsoft needs a store in Columbus YESTERDAY.
Easton Town Cener (Columbus)
Crocker Park on West Side (Cleveland)

Columbus WOULD be a huge mistake to NOT TAP.
Windows Central Newsletter
Thank you for signing up to Windows Central. You will receive a verification email shortly.
There was a problem. Please refresh the page and try again.