Microsoft appears to confirm custom Accent colors, Hubs and native PhotoSynth for Windows Phone 8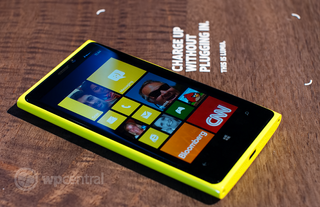 Custom Hubs & Accent colors for Windows Phone 8? Yes, please.
Earlier in the day we reported that Microsoft was going through the User Voice feedback system and signing off on feature requests from end users.
In short, if a feature is being positioned to be included in Windows Phone 8.x, it gets stamped with a generic "Planned" label from the site Admin for Windows Phone. It is then followed by a comment noting "Just a quick update to let the Windows Phone community know that this feature has been announced for Windows Phone 8".
Indeed, many of the features such as Arabic language support, NFC and 720P displays have been publicly confirmed back at the June 20th Summit, making this forum cleanup standard practice.
But out of the 22 "Planned" suggestions, three stuck out...
"Support custom Hubs" – Planned
"Allowing for custom color creation for live tiles and the os rather than only giving a few choices" - I want to design my own colors for live tiles and the OS rather than being limited to a selection – Planned
"Include Photosynth to the Windows Phone" - Microsoft did a amazing great job with Photosynth that is available for iPhone. Include it to the WP OS as nice feature – Planned
Native PhotoSynth seems like an obvious inclusion, especially with the recently announced Lenses feature. In that sense, we'll file that under 'expected' but certainly welcomed to Windows Phone 8.
The other two though, if accurate, appear to be quite huge.
Fan concept of Folders/Hubs for Windows Phone
The support of Custom Hubs would appear to be the solution to 'Folders' that many users have been asking for quite some time. As consumers add more and more apps to their phones, it makes sense to want to group them together. There's already a great Homebrew solution to this that we use for all of our Photo apps and favorite Games and we greatly approve.
In fact, back in April, Nokia was asking customers if that wanted folders to help them organize their apps. Perhaps that data along with our poll, helped to finally influence such an addition.
The other feature is the ability to create custom Accent colors for Tiles and the system UI. We've already reported that Windows Phone 8 has 10 new colors bringing it up to 20 (plus 1 for OEMs or carriers) and users seem to be quite pleased with the selection.
New accent colors in Windows Phone 8 may also see a "custom" feature (Image via 1800PocketPC)
But an easy solution would be the inclusion of a color-selector where you can choose your own choice for a "custom" look.
That feature may finally make it to Windows Phone 8 as that requested has been stamped with "Planned". That's in addition to similar requests for just more color choices, but not custom ones. That specificity perhaps tells us something.
One of the recently added "Planned" features from a user request
Of course we must caution—things can change and conceivably Microsoft is being generous with some interpretations of these requests. Not to mention, we don't know if these features are complete or planned for the first update to Windows Phone 8 later on. For all we know, they may be even including these in Windows Phone 7.8, seeing that earlier request from today.
Either way, we don't think we've seen all there is to Windows Phone 8, which is why Microsoft may still be so hush-hush on finalized customer features.
Source: User Voice; Thanks, reza, for the tip
Daniel Rubino is the Editor-in-chief of Windows Central, head reviewer, podcast co-host, and analyst. He has been here covering Microsoft since 2007 when this site was called WMExperts (and later Windows Phone Central). His interests include Windows, Microsoft Surface, laptops, next-gen computing, and for some reason, watches. Before all this tech stuff, he worked on a Ph.D. in linguistics and ran the projectors at movie theaters, which has done absolutely nothing for his career.
Too bad my contract isn't up until next November.

March 2014, fvck my ball sack. :-)

Then why is your tongue out? :)

My contract isn't up until July 2014. I'm still buying a Lumia 920 as soon as it hits Canada.

Same here, just got Nokia Lumia 900 in April on At&t, no way im gonna wait till upgrade, im getting 920

Maybe wait until MWC 2013 (Feb) to see what Nokia has to announce?

My contract will be done in December but I've already bought two phones since the first and use them. The contract will not get renewed, I'll just buy the 920 outright and sell my unlocked 900 to one of my dad's friends who are a bit "smart phone challenged" shall we say. They will love it.

Agreed! Selling my black Lumia 800 to get the 920 in gray.

Just sell whatever you're using now and use that money towards buying one off-contract or on ebay/craigslist.

Why, too bad? We won't see the new OS until october, and the Lumia lines probably won't launch until November...sounds like a perfect time for your contract to end.

Windows phone 8 is gonna be interesting. Can we skip the rest of this month?

We said the same about nokia

Damn, can use beta users get some of this love.

Very likely they will get it for you. MS does care alot for us. and they will gladly give wp8 features to us wp7 users

I read this yesterday, but I assumed they meant the pre made colors.

Yeah, the requests specific wording of, "rather than only given a few choices" means they could believe they resolved this with the palette of 20 colors rather than just 10.

Agree. SInce even Windows 8 doesn't have that feature and they seem to be designing WP8 to be as similar as possible to Windows 8.

He clearly says "design my own colors rather than..."
I don't think they could get it wrong.

It doesn't really matter if Photosynth is native, does it? It's accessed through Lenses and won't be much different from any other camera app, just that it might be preloaded,

I think that request was made before the app was released. I remember voting for it :-)
Planned doesn't mean native. it should've been changed to Done (since the app was released for wp7 a while back)


"It doesn't really matter if Photosynth is native, does it?"

Um, of course it matters. You have Native Skype, native Skydrive, native Facebook integration with Windows Phone OS. Do their respective 3rd party apps represent the same thing? No. Being built into and around the OS directly can offer many more options and services than just installing an app.

If I remember correctly Joe showed off the Photosynth lens feature on Wednesday briefly.

Yeah that's what I was thinking.

I would like a 1st party Voice Recorder. There are some okay 3rd party ones, but they aren't the best when it comes to transferring to your PC. The mic in OneNote is not good enough for long recordings. I'm surprised one hasn't been in WP7 yet since iOS has had one for quite awhile.

Mini Recorder Free is great and has easy transfer to Skydrive or Dropbox. I had to use it for a job and it worked flawlessly.

Rapid recorder smokes the field, but yes, transferability is an issue

i'm not sure about this but i think WP8 has a native audio recorder as in the specs sheet of lumia 920/820 they have listed recorder , look at the specs of 920 against the 900 at the nokia website

You're right. It does say Recorder for the 920... whether it's by Microsoft or Nokia, it's a good sign. I used to use Pocket Recorder, but that wasn't working very well when trying to get the recordings onto my main computer. I switched to Vivosoft Recorder, which works better, but not the prettiest UI in the world.. sort of plain, but it works. Nimbus Notes seems to have a nice interface, but haven't used it that much. I'm still a little concerned whenever a 3rd party app asks for me to log into SkyDrive. It's probably fine, but better safe than sorry. I just wish there was a way to just transfer the recording to the SkyDrive app without an extra login step. At least, some of these apps allow me to email a link to myself with the recording... but not great if your recordings need more security.

I wonder if we'll see a skydrive API in WP8 that could allow you to give an app permission to access it's own folder in skydrive and nothing else. We can only hope.

Folders!!! I am waiting patiently for WP8

To me this goes against the entire idea of WP.

The beauty is, you dont have to use it if you don't want. More features can almost never be a bad thing.

Somehow it does. However, if you have as many apps as I you would be glad to have a folder.. The amount of scrolling will be totally reduced.. I know that the small tiles would work as well, but still I would rather have a folder with all my casual apps than having 6 small tiles that add scroll to my start screen.

Rather than folders would prefer to see savable tile layouts that you can switch quickly, ie work, travel, social etc.. That was one of the best things about HTC sense for me. Could also assign a specific accent per theme?

Nokia had this on their E73, a "worK' and a "home" profile that you switchbetween. It was a great feature, and maybe something they can do at an OEM level.

That's a pretty cool idea... Almost like a "tabbed" interface

save tile layout would be a great idea

The only announced features that could be referred to here are the smaller tiles or the company hub.
The request was added by the same microsoft account that changed it to planned.

Personally I don't really like the idea of folders, but it's not like it will hurt me to have it on the phone (I don't have to use it)
I'm assuming a 'folder' hub won't be live, which to me is pointless.

No reason it couldn't be live and just cycle/flip through many screens

Is the xbox live hub for games pointless? Or Pictures hub for photo apps? I really don't understand why anyone is against them. I would settle for being able to add groups or tags to the app list, so I can quickly filter to a certain subset of apps without scrolling.

I love the concept of custom hubs. I hope they never take a shortcut and turn Windows Phone icons and folders. Tiles and hubs for the win!

Ditto on the color comment above; I think they are referring to the increase in color choices.
Also, custom hubs could be referring to the enterprise hubs they covered at the first wp8 briefing, and probably to hubs being available to 3rd party app developers.

I met with a MSoft Windows Phone Rep last week who confirmed that a "Folders" feature would be part of WP8. I'm calling that one Confirmed! :-D

I still can't believe that I cannot send a photo to a friend via facebook messages from my phone. This is peanuts to do in iOS and Android.
The web versions of FB don't have the function, the Windows Phone App doesn't have the functions and the Messaging Hub offline Facebook messaging doesn't have it either! :P
Please vote for my suggestion so MS can fix this oversight (because the FB app can't have 3rd party access to upload photos right? -.-): http://windowsphone.uservoice.com/forums/101801-feature-suggestions/suggestions/3143875-msg-hub-attach-picture-and-send-in-facebook-chat

I'd rather not have folders. 1x1 tiles are good enough for me.

Love crimson & sienna in the new palette. I use brown in my WP7 but I'll shift to either of those colors when I get my WP8!

Oh yes, I also like that they're putting in custom hubs into WP8. Hope they bring that to WP7.8 as well since I intend to continue using my WP7 as alternate phone.

People on other os don't know what they're missing..

I spent a looong time making that theme colours image & you dont give me any credit? Poor show WPC, poor show :P

I assume you're referring to the 20 color palette showing off the new choices. I'm sure it was an honest oversight Chris, as they seem to always give credit where credit is due. Either a mistake or they just don't like you. ;) Either way, I thought it was a nice touch.

Ha, Im not really fussed. Im personally fine with any other WindowsPhone news sites using stuff I've made, we're all out there "preaching the word" so to speak ;) Still, I was just a little susprised to see it :P

@CrisRowlands We do link to our previous story which gives your site full credit for that image, but yes, we could have done more. Our apologies. You should consider Watermarking in the future You can easily email me directly next time, my email is very public: daniel at wpcentral dot com I've add more specificity in the image for credit. No harm, no foul

Thank you, I appreciate that. I do feel a bit bad for making a fuss now :P

I got an email today about an idea I voted on for making the internet explorer tabs interface on the task bar instead of hiding it in the menu. I haven't seen any screenshots of the new wp8 ie, so hopefully this means they're improving the ui.

I saw about that in a video a while back. Theyre adding a setting where you can choose what is on the taskbar. You can choose between refresh/stop, tabs & favourites. The two you havent chosen are shown in the menu list. Nice way of doing it methinks. I like choice.

Hm, I agree, I like choice also and I'd rather have the choice than what I currently have, but I still expected something... more elegant maybe. If that's the case though, then tabs are definitely going on the bar.

Yeah, that was shown during the Nokia stuff. IE8 was definitely better, interface-wise. IE9 took a bit of a step backwards. I.e. Hiding tabs in a menu, no find etc

Hmm, I just clicked on "Show previous admin responses" for the "Custom Hubs" feature, and found this message: "Sep 24, 2011 This feature is now available in Windows Phone 7.5!". I just created my wpcentral account to comment about that, and something is very strange about this comment form, it doesn't work properly with Internet Explorer 10, nothing happens when I press enter to separate paragrahps. And the plain text editor doesn't work at all, I can't type in it.

Custom hubs? Yes! All that's needed now is a notification center of some sort...

Can I get some god damn gapless audio playback? My 10 year old iPod does it. Seems like an intern ought to be able get it working in 10 minutes.

Custom hubs is all that I care about out of those three and I hope it will come to WP7.8

Does this mean that we will be able to assign each individual live tile a color? Or is it just Microsoft referring to a wider array of color choices?

It'd be pretty awesome if we could asign different colours to individual tiles. I'd use it to create 'groups' of tiles that are the same colour - like blue for communications notifications including email, text, facebook; green for games; orange for news. Would work so good! I wouldn't even need folders if that were the case (ok probably still would like them, but they'd be less necessary).

photosynth for wp8 is already integraded as a lens app.... did no one notice this?! Watching some hand on videos of the lumia 920 should help haha

That's not the same though as any 3rd party app that you install can do Lenses. The question is NATIVE. Does it tie into the OS at deeper levels e.g. direct photo sharing, etc. Otherwise, by your definition, any 3rd party app with Lenses would qualify as "native", which really waters down what that term means.

Thnak Goodness Microsoft is updating Nokia pohones otherwise Nokia was doomed.
http://technologyfeed.net

Where is the notification center thou?

Remember.. We can't copy IOS.. copy to my HUB is the smartest thing to do...damn I want different colors for each tile and hub.. I want my phone to look like Xmas fucking tree seriously.. Its about time we get a little bit of customization on WP...lets Do this

All the features that are mentioned here need to be on the wp8 by default, I don't know how hard it is to be innovative with a phone OS that is new and unique, lol @ they listened to the public and added more tile colors, NFC, and 720p...THIS ARE NECESSARY TO SURVIVE these days.
Windows Central Newsletter
Thank you for signing up to Windows Central. You will receive a verification email shortly.
There was a problem. Please refresh the page and try again.