Windows Phone 8 accent colors revealed, offering users many more choices this fall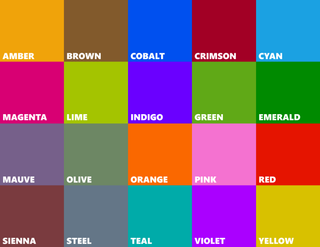 Windows Phone 8 and the Amazing Technicolor Dreamcoat
We knew since the Windows Phone Summit back in June that Windows Phone 8 would offer greater accent color selection in lieu of an actual color selector. While that latter option would be more preferred by our uses, surely having a great choice is better than the current 10+1 choice in Windows Phone 7.
The issue though up until this point is exactly what those color choices would be for consumers. Now thanks to that leaked SDK from July, we have an answer.
Over at 1800PocketPC they created a nice palate of colors presumably available in Windows Phone 8 this fall. We say presumably because that SDK (and OS build) was far from final so colors may have been added or dropped from the final release.
However, this should give users a good idea of what to expect from the 20 accents colors and we think most of you will be pleased.We're assuming that it will also be 20+1 for OEMs or carriers, who are allowed to add one custom color e.g HTC Green or Nokia Blue.
via: WMPU
Windows Central Newsletter
Get the best of Windows Central in in your inbox, every day!
Daniel Rubino is the Editor-in-chief of Windows Central, head reviewer, podcast co-host, and analyst. He has been covering Microsoft since 2007 when this site was called WMExperts (and later Windows Phone Central). His interests include Windows, laptops, next-gen computing, and for some reason, watches. Before all this tech stuff, he worked on a Ph.D. in linguistics, watched people sleep (for medical purposes!), and ran the projectors at movie theaters because it was fun.
i'm really liking the yellow. would look so sweet as an accent color on a nokia device and with all those matching yellow accessories. also, i'm thinking yellow may be the new wp8 color. note that microsoft logo reveal video had each color in the square associated with a product; except yellow (blue = windows / red = office / green = xbox). given all the focus on yellow here, my bet is yellow = wp.

i'm pretty sure it's the 'red' though the shade borders more on a dark orange.. look at the video; out of the four colors in the logo, office is much closer to the red than the forth color (yellow/light orange)..

I guess it's nice. Microsoft is so generous to give us twenty colors to pick from out of the thousands of possibilities.
I guess I don't understand why MS feels like they have to control this aspect of the OS instead of letting users make their own choices.

They should let us type in any hexadecimal color code we want

I'm digging the steel... Will work with no matter what color Lumia 920 I end up with...

Doesn't the steel look similar to the dark blue available on the Nokias? I like that!

In that case, I like both those colors! :)

I think you mean Cobalt...that does look like Nokia Blue a bit.

For some reason I thought the Nokia blue was a bit darker, but you're probably right (I don't own a Lumia, so I'm going purely off memory).

I agree, steel will be my colour of choice.

Steel and olive are the ones FTW!

I would still like to see a color wheel to let the user pick their own color. Is this so hard, MS?

You could always change them in the registry, one good point for the LG Optimus but there were rumours that certain colour choices impacted the battery life.

That was hardly realistic (and in theory, you can change just about everything via a registry, that's the point of it) Adding a registry editor to most Windows Phones was simply not possible.

Actually it was very realistic and if LG could add a registry editor to the phone then there was nothing to stop others.

That "Steel" one might do, but I was kind of hoping for a dark(er) gray. Plus, 'Nokia Blue' to my eye is a better shade than either Cobalt or Cyan shown there. Of course, I'll see how it looks on devices before I judge too much.

+1

Steel will likely be my choice, but I wanted a very dark gray or black

The colors have to be able to work with both white and black. White on white would be bad.

Yay, Crimson! Roll Tide Roll!

On an unrelated note, you guys really had your way with Michigan last Saturday!

At least this one I can say that will comes to WP7.8...

It's ok I think they also need black and white which are very basic colors. I hope somehow you'll be able to add more colors from the market place or something.

I doubt they will ever allow for black or white accent colors since those accents sometimes wouldn't show up depending what background/theme you have on your phone.

In addition to that, since most text is either black or white anyway, it wouldn't be much of an accent.

I see what you're saying but I think they can make it work

All they have to do is make an option for white to appear when you're using the dark background, and make an option for black to appear when you're using the white background....What is really wanted to see is the option for background color's like we see in Windows RT.

Yeah exactly and also individual tiles to have its own color not just 1 solid color

Even if they were to use that workaround, text using the accent color would blend in with the rest of the text on the screen defeating the purpose.

Where are all the more professional darker colors. Really needs a color picker.

That's why I was leaning towards steel and mauve. The more muted colors are easier on my eye and in my opinion more aesthetically pleasing

I agree, I was hoping to see more darker colors. A color picker would also have been ideal.

Hopefully some of the apps that allow you to create your own tiles will be more functional going forward. The great thing about Windows users and developers is that we always find a way.

Agree. If this is all there is, I would most likely choose the Steel, Mauve, and Sienna; possibly Crimson to 'break it up' though.

Charcoal grey would be nice, though. Where is that color wheel, Microsoft?

Themes or skins would be welcomed as well.

Yes a color wheel would resolve all

What now we want a color wheel? With this UI only certain colors display properly and follow guidelines. Allowing a color wheel would break that.

That's not true, otherwise we wouldn't have pictures and graphics as tiles. The want of a color wheel has been from day one.

I was hoping they'd allow us to select our own custom color. Oh well, I'm digging the Crimson! ;)

This is great, however, the yellow appears a little muted in my opinion, not bright enough, I love the olive, orange, steel, green... but I'm still wondering if people actually use brown. I've always found the color very displeasing, although it might just be my bad Optimus 7's screen's fault. I also wonder why there would be Mauve as it is so close to Steel which looks much better in my opinion.

Brown is also my least favorite accent color. But I guess an option for ugly brown is better than no option for brown at all.

I'm the one using brown. :) Seriously, it is time for a color picker.

I have Citrus yellow on my Fujitsu IS12t and it's cool. The downfall to as bright yellow it that it made the white in the tiles unreadable.

I use brown too much more often than any other color

Brown, against a white backdrop, is the color of choice in my WP device - love it!

I'll probably use amber or yellow for that real LCARs flavor.

Cobalt or Cyan for me. I just find blue really soothing for my eyes, its the only colour I can use on my old HTC Titan and Trophy. Let's hope that 7.8 has everything apart from the top games like Nova3 etc... and NFC and that it continues to be used for lower to mid end Windows Phones (at least for a while, anyway) so that its not so much of a waste.

Taupe is a bright/pale shade, maybe too bright for Microsoft; may explain why the Amber is there and Yellow - not quite Taupe though. I think Khaki *may" have* have worked. But, a color wheel would be very nice :)

I think taupe is too light for a tile color. But I think it would be great for background color. I was hoping we would get more than just black and white for background colors.

I like the cobalt and orange. Would have really liked a dark grey(almost black) or white to be in there.

Nice. There will still be custom colors provided by OEMs, no?

I'm not a fan of Cobalt. It looks like the color used for SkyDrive, which doesn't fit in with the rest of the pastel or neon colors.

That's what I was asking why no black and white when they're basic colors

They will never add white or black - with them you can end up with black tiles on black background or white text on white tiles, etc (and while they can workaround this for Microsoft software, third-party software will be broken still). This is the same reason why they don't allow custom colours.

Love the Emerald And Crimison for the bright color,
Sienna, Mauve, Steel, Olive for muted colors
hope 7.8 get's them. I would love the steel or sienna for my flash..

Me too!! That's what I use and I love it!

Which retard decided that we couldn't just pick any colour (yes it has a u in it) we want from the offset with WP7?
I mean, seriously, you're going up against iOS and Android and you only let your customers chose from 2 background colours and a handful of accent colours?
DOH!

If you will change colour of the tiles, you will have to make sure that the colour of the text on tiles is readable, and then ensure that apps work with those colours, etc - this is very difficult to do without introducing bugs.

As for competition - on iOS you cannot change ANY colours.

Purple has gone, I'm not a happy chappy

Damn... All this options are pushing me to buy a new phone.. But damn it.. Life is too short I'm buying one!!! Nokia off course...

I was hoping for a dark grey, damn... I simply don't understand the reason for this limitation. Do we need a 4core CPU to run a color picker for the accent theme? Lol :D

Yay! I'm getting tired of my color

Resistance is futile. Crimson, bitches.

The only reason I would think that we don't have a color picker is to probably optimize battery life and screen life. Some colors will just suck the battery or burn onto the screen.

It would be cool if you can customize each tile with its own color. Instead of making all the tiles the same color.

Yes, it would; especially for those who know how to coordinate colors. Some people don't though, if I gauge by how some people dress :)

So are you allowed to pick colors for individual tiles?

Will these be available on 7.8?

Fujitsu added 2 color I think, Citrus and Grey. I know Citrus is an original color, but not sure about grey

I'm colorblind, wish I got more satisfaction from this.

I like the olive for some reason .

Will these color choices come with WP 7.8 as well??

I pretty much never change my accent color. It's been Verizon red for a year now. I think crimson will be my new color, though steel looks nice.

white tiles with black backgroud would seriously look wicked

How would you tell what tile was which? The icon and text would be white as well...

Sweet cobalt! I don't like the blue that's currently available.

why is indigo purple instead of blue?

Indigo is a blue, but it does tilt towards the purple a bit.

I'm extremely excited for all these color choices. If they are able to release more too (as like updates or something) all the better. I agree with some of the commenters though, we need some smoother, darker/professional colors. I especially like the bottom left four (forming a four tile square) and also Crimson. I feel like they really have a smooth effect.

I allready use all these colors. My favorite is amber with the white background theme.

We need a color picker M$! And Go Blue always and forever!

I've used Nokia Blue since I got the phone

I'll take crimson on black. Much nicer than the current red.

Why can't they have color themes like on RT? And it would be nice if there was a multicolor option where each tile has its own color.

That mauve color is not really mauve. It's more of a periwinkle.

Its boring to have all tiles the same colour you should be able to select colour for each tile.

I will add to the previous four comments made on this - 7.8, please! I cannot reasonable afford a WP8, Surface, and change to my computer's OS all at the end of October. Too close to Christmas.
Who am I kidding.... hello Credit Card!

OMG, I love the Crimson, Mauve, Indigo, and Steel colors! :)

I love brown in white backdrop in my WP7. But looking at crimson and sienna, I love those colors even more! So in WP8, my new color color scheme would be crimson or sienna in white backdrop! Can't wait!!!

What? No Almond Toast or Atomic Tangerine??? For sure I thought Razzle Dazzle Rose would make it... I guess Steel will have to do. :-)

I was hoping for more dark coloured options. I wanted a look similar to the one shown in this article: http://www.wpcentral.com/samsung-trademarks-ativ-s-and-ativ-tab-hints-new-family-brand-windows-phone-8

Hopefully there will be more colours when it releases. I do however like some of the selections available.

so, is windows phone 7.5 can be updated to windows phone 8 directly? or user have to reset the phone?

None of the current Windows Phone 7.5 devices will get a proper Windows Phone 8 upgrade. Existing 7.5 customers only get 7.8
So, you won't have to reset your phone, but you will have to buy a new one.

I feel you missed a trick by not calling it the "Amazing Technicolour Themecoat".
More choice is always good, so I'm very happy about this. One thing, though: indigo is supposed to be a very dark shade of blue, not just a more blue-ish shade of purple as presented here.
Still, it'll be my second choice after amber, which seems to be exceedingly similar to the current "mango" colour on WP7 (my current and fave!).

Glossy White + Steel-colored live tiles = perfect, clean, cool :)
Windows Central Newsletter
Thank you for signing up to Windows Central. You will receive a verification email shortly.
There was a problem. Please refresh the page and try again.