Office 2016 for Windows will launch on September 22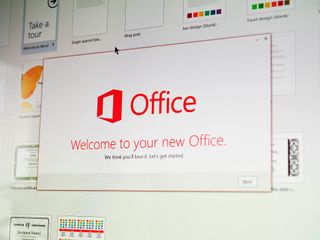 (Image credit: Windows Central)
Confirming previous rumors, Microsoft has officially announced that September 22 will be the launch date for Office 2016 for Windows. Office 365 Personal and Home subscribers can manually download Office 2016 on that date, or they can wait for automatic updates to their apps to begin sometime in October.
Business customers who are signed up for Office 365 ProPlus will have a new update option, Current Branch for Business, that will allow those users to wait a few months for feature updates to be released for Office 2016. Microsoft stated:
Some of the new features in Office 2016 for Windows include the ability to create, edit and save documents in the cloud from the desktop, along with co-authoring in files in real time. Office 2016 also includes the new "Tell Me" search tool for commands in Word, Excel and PowerPoint.
Source: Microsoft (opens in new tab)
Windows Central Newsletter
Get the best of Windows Central in your inbox, every day!
All while I still suffer from not being able to install Office 2013 or 2016 beta on my Windows 10 machine due to the "Error Code 0-1012" that has no any way if solving whatsoever. I'm only able to use the apps for now with limited functionality. :(

Did all types of cleaning ever known. I went into the registry and removed anything that have to do with Office. I restarted my PC a hundred times. Everything is up to date and working. Not a single other issue on the PC. Even after all of this the moment I start the install I get that message.

Did you tried O15CTRRemove.diagcab ? It helped me

Yes, I tried that. I changed it into a ZIP file and unzipped it then ran all the ps1 and vbs files in it. Restarted many times, and still no luck at all.

you don't have to rename it, just click on iy and it will run anyway I'm sure is the same thing

Free if you have an existing license

No, they are not free with an existing licence except with very limited functionality. They are inclusive on small tablets (under 10 inches). Otherwise you need an Office 365 subscription. You can't even buy them separately. An Office 2013 or presumably 2016 licence will not cut it.

They recently updated the preview, I think 3 days ago. I think it's the last preview version.

Will it be as good for touch/pen use as it is on the iPad pro?

Office touch is different from Office 2016.

Why? Why not a working "Continuum"?

Wait you have an iPad Pro? Tim Cook is that you?

This is the full desktop suite. What the iPad has is still Office Mobile.

So on the Surface pro you will have a less good touch/pen experience than on the iPad Pro?

On Surface Pro, you have both available - the full Office suite AND Office Mobile.

so you need to jump between different apps/programs. what happened to the glorious continuum?

Okay so when will pop3 mail be syncing. It absolutely blows my mind that MSFT's outlook still cant do this!

I've used Outlook for POP3 mail for years.... am I missing something your comment?

Actually look into how Pop3 works. You're asking a car manufacturer to fix your buggy whip. Upgrade to a modern email client.

What??? I'm using pop3 and imap email accounts for years with outlook.

Probably not worth the upgrade over 2013, right?

You can donwload the 2016 preview right know and see by yourself if worth the upgrade =) But IMO, for Enterprise/O365 users, yes.

Will 365 University be that day as well?

My question as well... But i guess we should be fine...

The preview 2016 was so slow and so memory hog that it would slow my whole computer only by opening new word document. I hope they really took the effort on optimization and performance improvement.

I couldn't find anything new in office 2016 except the color.

I'm digging the online collaboration and the new help system.

This is a bit confusing.... So home \ personal users get it on September 22nd. ProPlus users need to wait until February. What about regular non-ProPlus business users?

The Current Branch for Business is just an option, there is still the normal Current Branch: "For customers who currently use Office 365 ProPlus, (the subscription version of Office apps for companies and organizations), you can continue to receive monthly feature and security updates just as you have been over the past few years. Moving forward, this always up-to-date approach is called Current Branch and means that you always have the most current Office apps and capabilities deployed. The next Current Branch will release on September 22nd and will have all of the new Office 2016 app updates included."

But not all business subscriptions include ProPlus.

What is the difference between the Mac and Windows version? Just looking for a reason that the Windows version is release so much later than Mac OS X version.

As long as its stable, cool.

Will this be available for Surface RT?

An question: Office 2016 will be free for those who used the preview version?

Maybe someone can help me. After I did the windows 10 pro update end of July my office didn't work. I just deleted thinking I will try it after few updates. But still absolutely useless. It was subscription one year. Ends January 2016. However I did end up using the app mail. But after update yesterday its not working now at all. This gets worse and worse. My surface pro 3 is becoming more useless every time there's an update. And I dont know what to do.

This is the first Office release which my MSDN account does not include (switched MSDN plans) -- so I guess I'll have to get Office 365. Maybe they'll put out another Work & Play bundle.

Hope they come out of their tin foil hats and allow manual Exchange server configuration like it has always been. Outlook 2016 is the only program I'm not able to fully test because of this stupid decision from you know who.

Now all I need is for Google to get off their asses and release a Apps Sync version for Windows 10!

I'm already running it, it leaked out somewhere on the internet

2013 already does the cloud thing, cooperative editing might be worth upgrading to if I can find anyone as updated as me

and i am still using office 2007 which is fast and pleasing to my eyes than Office 2013.

This may sound stupid but I'm upgrading mostly for the dark theme, it's so much easier on the eyes. I've had to put up with 2013's blinding whiteness for too long, lol. ​

So, is Office 2016 going to be free for those who are using Office 2013 now? If not (and I think so) how much will it cost?

Check out Office 365 pricing. It's very favorable especially with the included OneDrive storage deal and you can install it on all of your computers, tablets and phones.