Microsoft deep-sixes Deepfish; IE 6 pics surface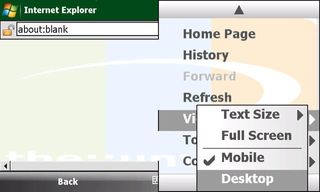 Back before Opera Mobile became an everyday alternative to Internet Explorer, and long before we'd ever heard of Skyfire (go get it now! (opens in new tab)), there lived a little beta named Deepfish.
This little guy was going to swim the deepest, darkest Internet oceans as no mobile browser had before - rendering full Web pages on your Windows Mobile device. That's pretty standard stuff these days with the Opera 9.5 and Skyfire betas, but we were pretty excited (opens in new tab) at the time.
But the number of Deepfish beta testers was pretty limited, and it largely fell off everyone's radar. Witness: Microsoft put the gaff to Deepfish more than a month ago, and we're all just now noticing. [via]
Meanwhile, The Unwired earlier this week took IE 6 for a spin (opens in new tab). (See a pic above.) Again, chances are you'll be completely comfortable with Opera or Skyfire by the time this is released, but it's release is important nonetheless, given that it's supposed to tide us over until the delayed Windows Mobile 7 is launched in the second half of next year.
Get the Windows Central Newsletter
All the latest news, reviews, and guides for Windows and Xbox diehards.
Ya know,,,, I keep trying all the browsers offered every time there is and update or something new comes out but after the trial runs out I find I am very content with PIE.
I know that sounds crazy but I think PIE is the best. Opera Mini occasionally gives errors. Opera Mobile isnt any faster and often isn't any better than PIE. I did like that fact that opera mobile was able to allow me to do homework online on the local colleges website. PIE always gave a java script error and inline frame error. I think the best browser I ever used was thunder hawk. Next to that if I ever needed more I believe I would just settle for logmein on the hh threw the desktop.