MetroTalk gets updated, fixes critical Google Voice connection issue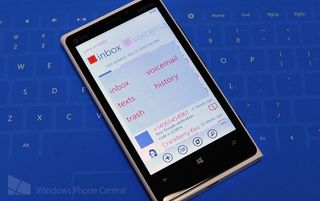 MetroTalk is our go-to app for all things Google Voice, a service which we need due to having so many phones and SIM cards (plus that free text messaging is a nice bonus). Earlier this week we saw Google make some API changes, resulting in a critical login failure for this and other Google Voice clients on Windows Phone.
Version 3.2 just went live in the Store and we can verify that it is indeed up and working just as expected. The new version also has a few bug fixes in there to make it quite a worthy update.
3.2 changelog
Critical: Connectivity errors which had made the app unusable now been resolved
Bug fix: Conversations with the same contact no longer breaks into multiple threads
Bug fix: The background update agent no longer gets disabled randomly
Various other fixes and updates
That third fix is quite vital too as we have seen the app fail to get updates a few times recently (but when combined with the Lumia 920s firmware bug, it was hard to separate).
Google Voice, not to be confused with Google's messenger app Chat, was originally a private service called Grand Central, but was bought by Google in 2007. It's goal was to give one phone number to users that can then call all of their phones—LAN or cell—in one go. In practice that means when we have our three Windows Phones on us (Sprint, T-Mobile, and AT&T), all three devices will ring simultaneously. In addition, users can text message anyone for free since this messages are routed over data, not cellular.
It's also a bit fun since you can make outgoing calls with a different phone number and even pick your locale (ours is D.C.). It's great for protecting privacy as you can always ditch your Google Voice number and protect your real numbers from people you don't trust.
Although Google won't give us any official apps, we're lucky to have MetroTalk as it not only fills the gap, but does it very well too.
Pick up MetroTalk here in the Windows Phone Store. Thanks, Dino F., for the tip!
Daniel Rubino is the Executive Editor of Windows Central, head reviewer, podcast co-host, and analyst. He has been covering Microsoft here since 2007, back when this site was called WMExperts (and later Windows Phone Central). His interests include Windows, Microsoft Surface, laptops, next-gen computing, and arguing with people on the internet.
Just downloaded the "try" version and it crashes on app start. Back to the drawing board then, I suppose.

Weird, loaded up on my 720 just fine, working like a champ.

Lumia 920, unlocked. Rebooting doesn't help. Still can't get into the app.

Lumia 920 ATT works really smooth.

Please try re-installing. If the problem persists, please send us an email for joining the beta, if you are not already a part of it.

Uninstall and retry. Mine works great. Paid version.

Whoa, my tip made it through!
jlink38: setup is a bit detailed set it up carefully and it's great. Free only adds ads.
I actually find that it's faster on my ancient Trophy.

I still had the connectivity errors after updating, but disconnecting my google account and signing in again fixed it. Just FYI if anyone else sees the same issue.

GTK, thanks. Mine was a fresh install, so that makes sense.

Google voice needs MMS... This is 2013.

Thanks for the article guys! Just to be clear: this was a very rushed release, which also includes a significant redesign to how data is handled. I do expect that some issue will be around, and a minor update will definitely be submitted in the next couple of days for addressing those. For anyone having issues, please drop us an email.

Also perhaps not as exciting but the WP7 update includes a lot of other changes as well that had been long overdue. Full changelog here: http://metrotalk.wordpress.com/changelog/

Hey man, good job. Its not easy working around le goog

Yes, great job! Works MUCH more smoothly on my Trophy.

Working great here since upgrading from the older free ad supported version. I moved over from Govoice since it isn't working reliably since Googles change. I purchased the full version to help support development. Thanks for the quick turnaround and status updates on your site.

I've been waiting for an update for a while now.. Glad its finally here..

Updated, still broke on my 920.

Reinstall fixed my issues

Uninstall and reinstall the app. Cleared up connectivity and authentication issues for me.

Daniel, i was wondering if you'd tried Skype to handle this function, I use Skype for my business and have a number (costs about $8 per month) but when someone calls it rings on my phone, desk top and laptop at the same time so I answer which one I prefer. I only have one mobile but would guess it would work on multiple devices as it does with PCs.

I get why some love Google Voice and I get why it leaves more than a few of us frustrated. I love using my Titans on WP7.8 HSPL but I'd be lying if I said they're perfect; they're not! Unlike Android, Skype won't run in background and I'm doing my very best not to be made to go with two cellular carriers given where my wife and I live there is no T-Mobile and where my kids live there is barely an AT&T signal for my Straight Talk service. I'm in no mood to buy a new smart phone either. I don't own a zillion devices and need GV to ring all of them; I need VoIP. To date it is a 2 app solution; Skype to make and receive my phone calls and MetroTalk to to make and receive text messages and GV to log all of them. Despite Skype's limitation on WP; it's $60 a year for my number and my subscription, that's it! I have that relic we call the HD2 and I set it up to run WP7.8 in NAND and Android JB 4.2.2 on NativeSD. It's nicely fits in my Titan's Dock and that serves as our Home phone! Ideally, I would like to see WP move completely away from Google and develop its own VoIP solutions. I realize I will need to update to WP8 but I've yet to see even Skype run flawless on it and I'm sitting on the Nokia Lumia 925 for T-Mobile's Wi-Fi Calling App and pentaband radios with likely a dual sim adapter.
Windows Central Newsletter
Get the best of Windows Central in in your inbox, every day!
Thank you for signing up to Windows Central. You will receive a verification email shortly.
There was a problem. Please refresh the page and try again.