Microsoft designed the Surface Pro 3 pen for greater accuracy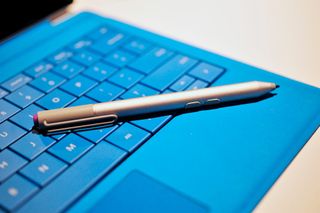 The Surface Pro 3 was announced by Microsoft just two days ago. Microsoft has included a pen with the new tablet like the Surface Pro and Surface Pro 2. Though it's quite a bit different from the pens found with the older generation Pro models. Microsoft has just shared an interesting blog post about the Surface Pro 3 pen and how it was designed for accuracy across the entire canvas. Tons of info after the break.
Microsoft focused on three key areas to deliver a great pen experience with the Surface Pro 3. Accuracy, latency and pressure sensitivity are all areas focused on with the pen.
The Surface team had a robot touch the pen to the display every 2mm on a grid across and up/down. They then track the accuracy as the cursor moves all across the screen. The results show that the pen on the Surface Pro 3 is within 0.5mm 98% of the time. This means much higher accuracy and a decrease in the perceived parallax between the pen tip and cursor.
Microsoft has reduced latency in the pen to further blur the line between writing on paper versus writing on the Surface Pro 3. The time it takes for the digital ink to show up on the display from the time your pen touches has been reduced. Though it'll vary by application, but Microsoft has optimized the inking experience on the Surface Pro 3.
Microsoft hasn't elaborated on why they moved away from Wacom tech to N-trig with the pen, but they are touting the capabilities of the active pen. With the Surface Pro 3 pen you get 256 different levels of pressure sensitivity, something very useful for painting and drawing. Applications like OneNote, Fresh Paint, Photoshop and Sketchbook Express take advantage of the pressure sensitivity of the pen.
Head to the Surface Blog for more details on the new pen. Have any questions about the pen? Sound off below and we'll work on getting some unanswered questions answered.
Source: Surface
Get the Windows Central Newsletter
All the latest news, reviews, and guides for Windows and Xbox diehards.