Microsoft Edge branding now featured in internal Windows 10 builds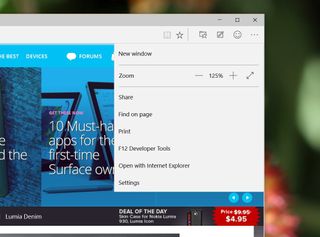 If you are wondering when the new web browser included with Windows 10 will get its Microsoft Edge branding, it looks like it will be coming fairly soon. That change is currently being used in internal builds at Microsoft.
In a message on Twitter, Windows Insider lead Gabriel Aul confirmed:
Based on his statement, it sounds like Microsoft's very next Windows 10 release to Insider members won't have the Edge branding, but the build after that will include it. The company first announced Edge as the official name for the new browser in late April during the Build 2015 conference. However, it has continued to use the old code name "Project Spartan" in the public Windows 10 builds.
Once the branding change happens, Microsoft Edge will get a new logo, which looks similar to the one that's already in use by the old Internet Explorer.
Source: Gabriel Aul (Twitter)
Windows Central Newsletter
Get the best of Windows Central in your inbox, every day!
That's good.
I am looking forward to this browser and I think it will be well received by the public.

They should redesign logo.

Of course, they wanted a new public image. So, they should go for it.

Owh.
I did not understand your comment that well, the first one that is. But I understand the redesign and I think it looks pretty good.

I think the new logo is ok. Everybody who knows anything or really cares about browsers will know that this is completely new. The other half, and a very large portion of computer users, have no idea what a browser is other than it lets them get on the internet. They just use whatever was on the computer when they got it. These people associate the "e" logo with the internet, so any drastic change would only confuse and alienate them.

I think you're right about some people associating the IE logo with the Internet, I'm guessing that's probably why they are making the new one so similar.

That's exactly why they are doing this.

They still have time to change the name of the browser..

But they won't. Give it up.

Actually, it's a bit late for that. Thanks to all the big tech news publications (Verge, Engadget etc.) revealing Edge as the final name, people would think they'd get Edge when they get Windows 10. Changing the name now would confuse a lot of people.

I've noticed Cortana on Windows 10 Mobile has been using the Microsoft Edge logo for a while when you open a website

So has Tweetium. It's weird how only some apps do it.

also searching for "edge" in the search box brings up Spartan.

Sounds like a new build drop is imminent.

Yes will if they want to drop a couple more builds on us then they better get cracking, only a month and a half until RTM! Saying that out loud sound ridiculous!!

I'm trying to keep up with all news about Windows 10, so I hope I haven't missed this, but have they ever mentioned changing the design of legacy apps' window (border and controls)? It's just a little cosmetic change, but I'm starting to be worried about it as the release is approaching and it's still the same (and even worse looking) as in previous Windows. I think there should be the same window design for both legacy and universal/modern apps. Especially when the File Explorer is in fact a legacy app.

All these functionalities might come at a price of high resource usage , i hope not , though . Look at chrome, for example.

Folks heads up my fellow Windows 10 tech Preview users I think we will get maybe 3 more builds and then get the Windows 10 "RTM" version. I hope they give it to us as a ISO download because if you have a DVD disk of the RTM version of Windows !0 if you get an update from Microsoft or else where that makes your computer unuseable you can use the RTM disk to recover repair or if needed format and reinstall the RTM copy all over again and start fresh. that why I like a legal copy of windows OS's on a DVD.

I thought they already made the logo