Microsoft employees can offer feedback on Lumia phones with Trial Agent Lite app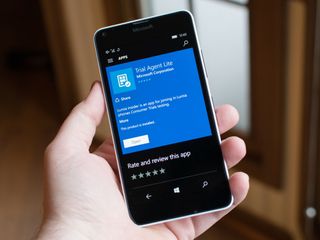 Even though Microsoft has its own Windows Insider program for Windows 10 Mobile, there can never been enough help or feedback. That may be the reason behind a new app in the Windows Store called Trial Agent Lite, which is just for Microsoft's employees.
While the app can only be used by Microsoft workers, the listing is public. It states:
Again, if you are not a Microsoft employee, this app won't actually work on your Lumia phone. However, it's always a good sign to see a company looking to gain as much feedback as they can on their products.
Download Trial Agent Lite from Windows Store (Microsoft employees only) (opens in new tab)
Via: WMPU
Windows Central Newsletter
Get the best of Windows Central in your inbox, every day!
That's a good way to get fired.
(heh heh)

Not really. We're pretty candid on feedback internally. So long as you're respectful and give actual constructive criticism.

I thought that people who paid $600 for their 950 last year were automatically part of the Lumia beta aka Lumia Insider program. Can't leave out paying to get in the Surface Book beta aka the Hardware Insider program too, amirite? Too much snark or what? heh heh

Kind of surprised that this hasn't appeared before...or maybe it has and we didn't know about it previously.

Don't most MS employees use iPhone and Android for daily drivers?

Are you serious? Most Lumias are given to MSFT employees for free.

That doesn't mean they actually USE them...

That can mean loyalty from the employees. Of course they'd own iPhone and droids (probably most of them are used to get inference)

Not true at all. While many Microsoft employees were given the option to get a Windows Phone expense covered a couple years ago, it definitely is *not* common practice that Lumias are handed out for free to Microsoft employees.

To raise up the marketshare and also make that get part of the company and also development of Windows phone,o mobile,

Yep, just like most of the rest of the world.

Nope. You mean Android phones. iPhone is very small compared to Android. Except in the US of course.. And take a couple of EU countries and even Windows phones are more used then iphones. The world is bigger then just the US ;)

You can't convince most of us Yankees of that. It's all about US. (kinda sad really) But my sense of humor in my old age is still intact. So I'm good.

But the world is more than only Europe and united states by the way go to watch the world map , satya nadella should do that because already erased to Argentina, Chile and others countries which are Brazil neighbors

@Spectral Entity
I took your statement as sarcastic humour. It seems others did not. Did i really miss your point?
(ha ha)

"You can join with any Lumia device model currently on the market running WP8 or higher." So, only Lumia 435, 550, 635, 640, 640XL, 950, 950XL?

Devices which are still in market, not just those which are still in production haha

I listed what retailers are selling now. Did I miss any?

Online retailers here (India) still have stock of the 730, 830.....even the 530 haha

Great. Now next year's 660 will have snapdragon S4, 1200mAh battery and 360p resolution screen. Microsoft and their thinking. :/

Currently the reaction of many including myself :\

Windows phone and Windows 10 mobile are a fluid operating systems there is, there's no mistake in saying that. Taking that as an advantage and deducting the hardware range for the current market scenario doesn't feel right.

An app just for Microsoft employees feedback... Taking care of the app gap.... Woot woot

Good to hear. As it happens, I know that MS has invited some consumers to various previews and most recently a consumer feedback group. Got to be a good thing. Wish I could get in on a hardware test.