Microsoft ends support for Windows 10 PC version 1511
By Dan Thorp-Lancaster published
As we draw near the release of the next big Windows 10 update, Microsoft is dropping official support for an older release.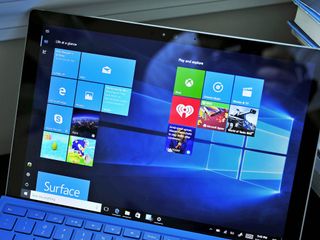 Microsoft ended support for the original release version of Windows 10 in May, and now it's doing the same for the first major update to hit the OS. As of October 10, Windows 10 version 1511 will no longer receive any more security or quality updates from Microsoft. This applies to Windows 10 Home, Windows 10 Pro, Windows 10 Education, and Windows 10 Enterprise editions. Version 1511 was first released to PCs in November 2015.
While Windows 10 version 1511 will continue to run if you have it installed, a lack of security updates will mean leaving yourself open to some potentially nasty threats. The simplest solution, and one Microsoft recommends in a support document (opens in new tab), is to update to the latest release version, the Creators Update. At the very least, moving up to the Anniversary Update should ensure you continue to receive security updates until support for it is dropped in the coming months.
The move is part of a larger "Windows as a Service" (WaaS) push Microsoft undertook with the release of Windows 10. Under this model, new feature releases are pushed out to the general public at a more rapid pace than in previous versions of Windows. As a result, each new major release is only supported for a limited time. As Microsoft explains:
If you need to find out which version of Windows 10 you're running, you can do so by typing "winver" into your taskbar search and opening the "About Windows" box. If your version number is listed as 1511, you'll want to update. You can manually initiate the update by heading to Microsoft's software download page (opens in new tab) and grabbing the Update Assistant. And if you're looking to be on the absolute latest, Microsoft is preparing to release the Fall Creators Update to everyone on October 17.
Dan Thorp-Lancaster is the Editor in Chief for Windows Central. He began working with Windows Central as a news writer in 2014 and is obsessed with tech of all sorts. You can follow Dan on Twitter @DthorpL and Instagram @heyitsdtl. Got a hot tip? Send it to daniel.thorp-lancaster@futurenet.com.
what do you mean? just update!

Windows 10 is what else is new. That's why they're no longer supporting old versions.

my current version is 1703...
can't wait for the fall update, many new features to come.

Go to Settings/Update and Security/Windows Insider Program and click on "Get Started." Then select "Active Development" and "Slow Ring." (Do not select "Fast Ring.") Finish and wait an hour or so and you will get the same version that the public will get on the 17th. After the installation is finished, change your WIP settings again by clicking "Stop receiving previews." Then you will be using the Fall Creators Update public build.

wow, that's cool, thanks.

I love the Preview Program but I'll never join it again. Couldn't play Forza Horizon 3 for nearly 5 months because of the Program.

Good. This should keep computers updated and reduce the load on Microsoft's shoulder. Just update already if you're about to become unsupported.

Is there no "force" update? They should consider this for older builds to prevent fragmentation

I don't think businesses would appreciated that.

Microsoft has the right to force updates after Windows 10 version support has expired. There's a reason why they are so flexible in policy changes for Windows 10.

If Microsoft started to screw with people like that, they would give up on Windows... They already screw with people, why can't we change these updates to manual like on Windows 7, or 8...

I was thinking the same thing. Knowing how new releases can break things and functionality, people will start hating Windows more and more. I already hate it enough to change it for Linux, anyway, Windows is not the best choice in Software Security jobs.

I believe it's because some corporate admin wouldn't want their users to be forced to version in which not entirely tested with their software environment.

Whats a good reason NOT to update anyways?

True, especially for versions soon to be 4 builds old.

Consumers should, businesses that only rely on Office and maybe a couple business-specific systems should. Enterprise? Well, that's where "just upgrade" gets complicated. One doesn't simply upgrade the OS and hope it doesn't cause breaking changes. The amount of predeployment testing required to ensure the business experiences absolutely no update-related interruption is staggering. On the plus side, I am eternally grateful the enterprise I work for is not dependent on iOS. The app used in my department has seen about half the updates since iOS 8.0 cause problems that require a code change, usually UI related. Needless to say we've had enough, and we'll will be retiring the app and the iPads it runs on next year for something running on a more UI-stable platform.

Sounds like you have inept software developers. Quite literally 10's of millions of other developers seem to be able to get their apps to work with iOS8, iOS9, iOS10 & iOS11 without an issue. Why can't yours?

The guy is very good. He catches nearly all the breaking changes and patches things up before the new version of iOS makes it to the end users. Just like all those literally 10s of millions of other developers have to do. But then our guy is dealing with an app that has to operate in a secured corporate environment. So, besides dealing subtle UI changes, there have been a number of security-related changes. IDK why, but end users get cranky when text is suddenly partially chopped off, or that surprise change to the OS's interface to Mobile Device Management interferes with network access.

Those older versions of Windows 10 supported 1GB RAM systems. Newer versions don't support below 2GB, making it impossible to upgrade those lower-end systems. Sadly, that means they are now obsolete and shouldn't be used only due to security concerns. That happens to include a tablet I had bought for my kids. Doesn't directly affect me, because I went ahead and upgraded them to a newer system, but I could see some people being frustrated with such a short support period. I'm not advocating for cheap, 1GB RAM systems in general, but I think because MS had listed those as fully valid Windows 10 systems, they should at least continue to provide security updates (even if no new features) for 4 years from release or provide some other solution for the low RAM systems that seemed to be fully Windows 10 compatible at time of purchase (i.e., there was no indication that they were any more on the verge of becoming obsolete at the OS level than any other hardware).

I'd also add the utter PITA it is to upgrade a system that has less than 64 GB for primary mass storage (a.k.a., drive C:\). My tablet's primary drive has 32GB. The shenanigans required to perform a major OS update is beyond the average user's technical ability. I understand why Microsoft made a big deal about being able to run Windows 8 (many with promise of updating to 10) on devices with as little as 16 GB of storage. But I bet most consumers chucked their 16 & 32 GB tablets after doing one upgrade and bought a Kindle, iPad, or Android tablet.

Devices with 1GB ram do run the latest versions of Windows 10, including version 1709, just fine. The problem isn't with running, the problem is installing with Windows Update. Some Windows Phone users were having this issue so MSFT developed an update method for devices with 1GB ram that enables such devices to be kept up to the latest version. MSFT developed a staged installation method for 1GB devices and enable that method in the Insider Program Slow Ring. I have a 1GB Ematic tablet that stays right up to date. All I had to do was enable the Windows Insider Program on it and select Slow Ring. While it is true that stable preview builds of the next version of Windows are installed as time goes on, the method is the only way to keep a 1GB device current.

@COLIN BARNHORST, that's great to know. Thanks!

@graniteStateColin. Thanks for the info. I was wondering why people were getting bent out of shape to upgrade. Valid concern.

I think this is flipping hilarious. It's the version our military is running on. So typical.

actually thats ok , with the recent security threats ,iam still on anniversary update though 🙂
Windows Central Newsletter
Get the best of Windows Central in in your inbox, every day!
Thank you for signing up to Windows Central. You will receive a verification email shortly.
There was a problem. Please refresh the page and try again.