Microsoft exec hints at new HTC Windows Phone at Computex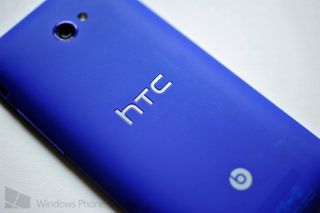 Microsoft is hinting strongly that HTC may finally be ready to launch a new Windows Phone product, after months of Internet rumors that such a device is in the works. Speaking to reporters after Microsoft's Computex 2014 keynote address earlier today, Nick Parker, the company's vice president of OEM partners, answered a question about manufactoring partners with this response:
The hints from Parker come after rumors from Evleaks that claim HTC is working on a new Windows Phone product to be called the HTC W8. He also stated it will be an exclusive for Verizon Wireless when it is released. In a follow up report, he claims that the device will have BoomSound and duo camera.
What do you think about Parker's statements at Computex today and if HTC is really making a new Windows Phone device, are you interested in buying it over Microsoft's Nokia Lumia products?
Source: CNET
Yep. That was a really bad naming choice!

HTC sucks in naming devices these days. Also they are slow in releasing the products and their bad pricing strategy is killing them.
I remember when I had HTC wildfire S. My first android and I was in love with HTC. But they pulled crap after crap after that and that too with unreasonable price. I think that's the reason of this downfall. I hope they sort themselves out and give a better focus to windows phone.

HTC and LG are both coming back and I hope they get that momentum going on WP. However, the rumor that this will be a Verizon exclusive is maddening and will prevent me from picking up the device. Poor move by HTC if it's true.

i think they will change the name after it's launch. It's just a code name

The 8X on Verizon was my second windows phone and first wp8 phone. I absolutely loved the phone at the time, it's design, the camera was good, it was quick and almost on par with "mainstream" phones at the time. Now they solely focus on the One and One M8. Please no One W8...

Too bad the rumoured device is midrange. WP could do with M8/G3 hardware to boost sales beyond what Nokia is doing.

The HTC 8X is a great device. I actually love it more than ever with WP8.1. I have to say that they replaced all the innerts of the phone a few weeks ago because the camera broke. So it's basically a new phone. Still, a great little device.

Well I Carry an HTC 8X as my personal device and I very disappointed with the support HTC has provided. I would not purchase another HTC unless it was up to par with the HTC One. HTC could have also made accessories (Extended battery packs, docks, headset, cases etc) for their WP but chose not too; they could have also made commercials like they did for the One as well but they call it a premier WP but immediately put it on the back burner like Samsung does. If I were microsoft, I wouldn't deal with OEM's like that

The only thing I don't like about the HTC 8X is the soft touch material (I have a California Blue) picks up every speck of dirt on your hand or anything else it touches and discolors the thing after awhile. I used to love the soft touch... Now I'd rather have polycarbonate or a plastic. Not the biggest fan of the aluminum craze right now.

My family has owned the HTC HD7, Titan, TitanII, and the 8X (in addition to all of the models Nokia except 1020, 520 on AT&T). We loved the HTC devices excellent work horses for their time and a good WP7 experience. I am excited when ANY OEM releases WP devices. Options. But HTC isn't exactly a small player even if MIA in recent times. Here is hoping they release a high through low end line of products. Even my company released a WP8 app and we were an iOS shop through and through (hotschedules). Cheers,

Well, there are 2 things which right now are making me move out of android: 1st is the Nokia Lumia 930 (green/orange, don't care, both are great), 2nd is wp 8,1..so no HTC for me..hate that camera

I first thought the same but i decided to wait for a successor of the 920 and not a cripled replacement for it

How exactly is the 930 crippled?

It never comes out. They announced it at the start of March and its still not out. Its just the Icon with different branding and its taken far too long to be released.

it is available in romania

It was announced the same day as BUILD, dude.

I don't think he means the 930 is crippled, he means that the other phones on AT&T that you might consider replacing the 920 with, such as this 'W8', are crippled. Of course, this isn't on AT&T, either. So, where is the next midsized, high-end Windows Phone in AT&T?

and what about the rest of the world? I think is better than a stupid exclusivity with Verizon...

Agree. HTC 8X now, Lumia will Be next.

Downfall to the HTC phones is there apps, they obviously don't care about their in-house apps as they have not changed since launch. So we are missing out on all the Nokia goodness

Not true. The only Nokia apps worth having are available on any Windows Phone. None of the stuff that isn't is worth having.

Some features like glance, double tap to wake etc are exclusive for Nokia. If I ever switch to HTC I'd miss them.

To you. To Lumia owners, we are happy to have them.

What Lumia products? The 930 or 630.. We need a lot more options than those two. They need more options to attract new customers.. Sorry to say but if Nokia/Microsoft don't announce something better soon I'll go for the Yezz Billy.. At least it looks sexy.

Also the 930 is only the international release of the Icon. I think that the WP hardware at the moment might be nice, but it is also boring and expensive in comparison to the Android competition.

Wow, is that the actual name? Yezz Billy?

Yezz Milky, that's the actual name.

Nokia surely won't announced anything until 2016 ;P

They will never again announce a phone, this part of the business belongs to Microsoft now ;-)

I can't get excited at carrier exclusives to VZW this is were MS fails. Posted via Windows Phone Central App

Agreed. This needs to stop.

We all would love simultaneous releases on all carriers and so would Microsoft, however we can't forget that the carriers are fighting for supremacy and WP does not have the market share to lay down the law that each handset will be on all carriers. The iPhone is so popular that all major carriers want it right away. Our hope is that WP will get there eventually but do understand that Microsoft wants multiple carrier release as much as you do but unfortunately they are in no position to dictate it. Rest assured that the lumia/surface phone line will achieve that status eventually.

I'm well aware of that. I'm just stating I can't get excited because it's not coming to ATT. If this was the M8 for WP. I would take this M8 back and resacrifice apps just to own this phone on WP. But since it's rumored VZW I can't get excited. Posted via Windows Phone Central App

Sorry, I was reacting to "MSFT fails". My bad. I'm AT&T as well and I too temper my enthusiasm when the phone is going elsewhere. However I am always prepared to switch carriers for a breakthrough phone.

I'm not. I personally prefer ATT. I can't sacrifice service for phone. This was a problem Android had. MS is just having the same issue. ATT essentially got all the best phones. Hell even Cricket will have the best mid range 1320. Posted via Windows Phone Central App

I can't complain! Its still way better than only having one Windows Phone 7 device!
>the lone HTC Trophy

Lol Posted via Windows Phone Central App

No shame! That was one solid phone, part of me actually misses that device and I was sad to leave it for a Nokia in some respects. However, HTC has simply not impressed me since the HTC Trophy.

M8 isn't the upcoming W8. W8 is supposed to be a midrange.

That, and Apple basically forced them to agree with their rules if they wanted the iPhone in their lineup.

Yeah, estimates put WP adoption at around 4% in the US. You have a carrier exclusive and now you're talking 1-2% of people will consider it. Why would you do that?

HTC design the best phones, aesthetics-wise. The HTC 8X is probably the most gorgeous phone I have ever seen/held. The only problem is, on the 8X at least, not sure about their Android"One" line, the hardware is a little iffy. My phones been alive and kicking for well over a year now, but there's been many random shutdowns and bugs that have scared the living daylights out of me. I sometimes fear the phone will never wake back up. There's that, and then there's the support, or lack thereof. I wont be purchasing another HTC WP if they abandon it and only launch a few token OEM apps. Nokia is hard to beat with all the nifty extras they throw in, but HTC didn't even try. For pure peace of mind, I think I'll go with a Nokia next time. Though I know the W8 will be gorgeous to look at, and will probably be a great phone, HTC have kind of burnt a bridge with me.

I've been running mine for over a year now and I've not had any random shut downs, but some Windows functionality around the storage area has stopped working. So for example it doesn't tell me how much space the apps are consuming. It happened ever since my phone crashed whilst playing a poorly coded game which must've had a memory leak.

Have you done a hard reset since? I would assume that would fix it... I could be wrong of course, but I would be curious.

I've done a soft reset. I've never done a hard reset since I've had the phone which I think is a testament to the stability of Windows Phone 8. Remind me how I do a hard reset and what consequences there are (if any)?

I loved my HTC HD7 and while I only had a 8X for a short time, I liked it. However I really think that you are not wrong. I am not an engineer nor have I seen extensive teardowns of all HTC and competing OEM's devices, however I do have hesitations about HTC's build quality and engineering choices. That said I really like the aesthetic design of the HTC One whether M7 or M8. Supposedly HTC will support the Android version of the HTC One (M8) for two years which I really applaud and think that the entire industry should mimic. However we do not know if HTC will do that for their Windows Phone models. I tend to doubt it.

I like my 8X but I get a little bit of a creaking noise on the rear where the speaker grills are, the polycarbonate could've been weakened by the drilled holes. Another downside is that my phone is refurbished and it has a small gap between the screen and the body on the right-hand side but the gap has been reduced over time. I'm guessing this has something to do with the way they open up the insides to repair it. I had a fault develop with my first 8X where it lost network connectivity permanently which is why I'm rocking a refurbished one. Before this I owned a Titan which was great if a little on the chunky side and before that was a Desire.

Wow. HTC actually remembers that they have Windows Phones.

I went back and looked at the HTC 8X and I remebered how good that phone looked. Please HTC don't make a phablet, make a usable phone with one hand.

Yep, nothing north of 5 inches for me.

I like the attempt, but it just doesn't sound likely.... In reality it would be much more likely nothing SHY of X.

+8788 Too right buddy. People look dumb with those huge squares on their heads when making a call.

Most people dont buy a phone based on how cool they will look when talking on it. People hardly talk on phones anymore anyway. The large phones are not for me, but I know a lot of people who love them due to eyesight and such, and people who like to read a lot. They have their place.

Having a 5 inch now and the 1520. I much rather have something no less than 5.5. 5 is the bare minimum but a big stretch. Talk on a phone? Who does that? Posted via Windows Phone Central App

I have a few friends with the old version of the HTC One and it looks to be almost perfect. Throw on a high quality plastic backing with wireless charging, and WP8.1/9 and I will be sold!

They released a plastic version of m8 so maybe future looks good for you.

Depends on what HTC offers. Nothing can replace a Nokia and Microsoft products will never be real Nokias anyway. So I'm open to see what HTC brings. Though I have to say, design-wise I'd prefer one of the polycarbonate M8s. Just a pity HTC insists on those pathetic excuses of a camera instead of just going ahead and licensing PureView along with a couple of Sony's G lenses.

You may have said before why you think MM devices will not be "real Nokias" but I'd like to hear it again. Personally, unless Nokia's Devices and Services division has lost significant numbers of engineers since the acquisition I am not too concerned. If I remember correctly one of the main designers left, but I am more interested in Nokia's engineering design than their aesthetic sense. I remember seeing a teardown of the HTC One (M8) and seeing the forest of ribbon connectors and thinking Nokia simply would not do that. I must admit though to not having seen very many teardowns of Nokia devices, but the one I saw seemed rather simple in it's design and I view that in VERY favorable terms.

You are daft Posted via Windows Phone Central App

Try using the m8 camera. Posted via Windows Phone Central App

great !! new WP-HTC phone

Verizon only? Wasn't long ago Verizon said they wouldn't carry WP in their lineup

http://www.brighthand.com/default.asp?newsID=18828&news=verizon+wireless... They been behind WP since 2012. The problem just like all the other BS is exclusivity. Posted via Windows Phone Central App

If they want people to have a great relationship with them, they have to continue or actively support their previous devices.

Another Verizon exclusive. Yippy Skippy.

as others have stated the exclusive thing is killing me. Have to wait to for unlocked. I know for sure I'll be considering the HTC W8 however not on verizon.

I've been dreaming of a HTC W8 since the original HTC One came out.. The HTC One and M8 are my favorite hardware! I'd buy it day one, but I'm sad it's Verizon exclusive.. :( I have a while left on my contract. So hopefully by the time my contract is up, it won't be exclusive anymore. Hope Sprint gets it!

You probably missed the original rumors about the W8 because it's nothing like the M8. The W8 isn't high end.

I hope this will be released worldwide

I think ending every single post with a plea to add a comment is a bit pathetic. Don't you get $$ from page views, not from number of comments?

I think commenting about a plea to comment is pathetic.

Unlike the blog posts, or news, the question to comment after the post is so passé. With a little bit of luck, the end sentence "what do you think....?" vanishes. The way I see it, I may have just done wpcentral a humongous favor.

Yeah...i bet the whole 100 WP users in verizon are reallly excited about this...

If you know someone on verizon using 8x and so excited to w8, ask them "will you continue your relationship to your girl even if she cant give sex to you?"

Oooohhh most definitely. If they make an international version, I'm soooo getting it ... (as long as its superior to the 8X) .... I don't mind a Windowsphone version of the One (M8 or E8 either way ... Both of em are beautiful!)

I'm probably one of a handful of people in the universe who does not like the elongated look of the HTC One (M8) so would much rather that HTC patterns the W8 on the HTC One (M7) instead.

I actually own an M8. I hate this phone. I had a couple M7's and they were more "square". I have the 1520 too, but the thing is a beast. I would LOVE a high end WP with 5 - 5.5" screen!

Why only for Verizon? What about Europe?

I'm on Verizon so I can get all these exclusives, but they really need to make an all carrier phone. It lowers confusion and can vastly expand the market. I just don't get it.

Not many specs mentioned to compare... HTC would have to have a built in dishwasher and all, for me to move back!!

It all depends on the camera, I love the nokia cameras, but the phones are way to bulky! if HTC releases an M8 version for windows, with a semi good camera I will definitely get it.

Why on earth why would you buy HTC over Nokia when Nokia has all the advantages, gets all the updates, has the best cameras, better quality and full support from Microsoft?

Because others deserve love too. HTC's windows phones have been amazing so far. I had the HTC Radar and my girlfriend has the HTC 8X. Both are amazing phones. I currently have a Nokia 810 and honestly will consider leaving Nokia when I see what comes this year. Sony can just take my money if they do a windows phone.

I don't understand why they won't go ask for carriers. This is a bad move. Like the last HTC phone. But I hope they keep they fruity design I love color phones. It separates us from metallic looking phones from Apple and android

If everyone stopped buying phones on contract there'd be no such thing as carrier exclusivity! I always buy outright just saying :)

Absolutely no interest. It's exclusive to Verizon.

I currently use an Icon but I have to say that my 8x had far less issues and got more looks than my brothers Lumia 920. If the 8x had 32gb of storage, I doubt that I would have upgraded.

Sucks it's a Verizon exclusive. The 8x was available on quite a few. You know it will be plastered with Verizon branding :-(

I was going to buy it over the Icon but I wasn't willing to wait possibly until Q3 or Q4 if I can already get the best Windows Phone out there now.

What's that thing you have in the U.S. with the exclusive phones. That's so awkward for Europeans...

Really hope AT&T gets the HTC W8 as well or at least announces some new WP flagships really soon. Tired of all these Verizon exclusives lately! And NO, I am not interested in the Icon/930 as a successor to the 920 or 1020. I want something better!!!

Can't buy it if it's not available on my carrier. Sad story of the Windows Phone exclusivity deals. But I would be excited if I was on Verizon. Actually, I'd probably already have the Icon if I was on Verizon. I am excited for new devices nonetheless, despite their limited availability.

American exclusive how stupid

There is no question that HTC can produce a high quality phone. That was not my experience with the one HTC Windows Phone I purchased: the HTC Titan. That phone went to market with KNOWN manufacturing flaws and HTC did absolutely nothing to fix them. So I won't buy another one from them until I see they are fully committed. That was bad to have a crappy phone on contract for two years.

AT&T where you at... What happened to all the WP love... Anyways waiting for them to announce something. Interested in Sammy. Yes, the evil one. But any news of other OEMS is good news to me. Just need to support more is all.

Version exclusive and BoomSound made me gag. Sounds like HTC can't learn anything from the past. I loved my 8X (still have it) and it was replaced by my 925 and I've never looked back.

I have an HTC 8s and since changing to Win 8.1 and adding a 32GB SD card, it is truly awesome. This was my first smart phone and I think it worked out really well.

You guys complaining about the exclusivity, need to contact your own carriers and complain about lack fo newer WP, not just on WPCENTRAL. They could easily ask for a variant of the 930, but haven't. I doubt it's something as simple as MS not wanting to give them new phones. Remember when the 920 came out it was followed by the 928 for Verizon then 925 for Tmobile.

I have an se x1a(a rebrand of the diamond) & i wish i would've traded it in for an Omnia pro(messenger) as i had never received a software update for it since i bought it. That taught me to never buy carrier locked ever again unless theres no choice

Don't worry HTC fans Microsoft got solution for Update problems now you only should bother about Hardware don't worry about update and software stuff even Nokia apps are gonna be avilable for them....What else you need if software on all Windows Phones are the same???

I think that WP. Needs more than just Nokia. Exclusives hurt we need to see some more high end devices on other carriers not just AT&T.

Got a 8x with new contract about 14 months ago but I purchased a 1020 to experience the Lumia brand and use the wonderful camera. After 10 days went back to 8x for daily use and use the 1020 for photos at weekends, family events etc. Really looking forward to new HTC WP. Hope its has the same design as 8x

Great another exclusive phone to 2 carriers who really don't give a crap about WP

Being a Verizon exclusive kills it for me. It needs to be available on all major carriers for any chance of sucess.

Enough fucking exclusives! PLEASE!

It saddens me that it will be burdened with loads and loads of crapware. If o can uninstall ASUS stuff from my laptop I should be able to uninstall Verizon stuff from my phone. I mean Cox is my internet provider but I am not forced to use their crappy email and install bloat on my PC. Just saiyan.

Personally, I prefer Lumias (or whatever they're going to be called in the future) but the One (M8) is a well built phone and feels great in the hand so having another option is always a good thing.

As a very proud and happy HTC 8X owner I was patiently waiting on the Lumia 930 as my next replacement phone. I'll be interested to see what the new phone looks lkke but unless it's as nice in the hand as the 8X and with a top end screen/processor I'm not bothered. I want a premium device to go with the premium OS and while the rest of the Lumia range is lovely (have a 920) it does lack that feel of a more expensive phone. I think if HTC had followed up the 8X with a better device instead of a mid-range handset they would have done a lot better instead of going toe to toe with Samsung and losing.

It's going to be the HTC One M8 with Windows. The specs are the same at minimum.

I've honestly thought of moving to Verizon because they support Qi. But I'm torn because they want to destroy our precious internet. And I don't support that. :(

Shouldn't be that complex a decision. Plug the cable in, save the internet.
Windows Central Newsletter
Get the best of Windows Central in in your inbox, every day!
Thank you for signing up to Windows Central. You will receive a verification email shortly.
There was a problem. Please refresh the page and try again.