Microsoft FY22 Q2 earnings: $51.7 billion in revenue, beating predictions [Updated]
Once again, Microsoft flexes its monetary muscle.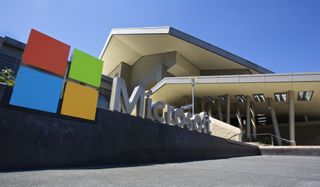 (Image credit: Stephen Brashear/Getty Images for Microsoft)
What you need to know
Microsoft has released its FY22 Q2 earnings report.
The company achieved a haul of $51.7 billion in revenue, a 20% year-over-year (YoY) increase.
Once again, Microsoft Cloud proves to be a financial winner with $22.1 billion in revenue, representing a 32% YoY jump.
Update January 25, 2022, at 6:25 p.m. ET: Comments from Microsoft's FY22 Q2 earnings call have been added to the end of this report.
Microsoft's FY22 Q2 (fiscal year 2022, quarter two) results are in, and, as has become the usual for the tech giant, it made an extraordinarily large sum of money in its latest quarter. It accrued $51.7 billion in revenue, beating out Wall Street estimates for the umpteenth quarter in a row. Here are the big takeaways from the FY22 Q2 report:
Revenue was $51.7 billion and increased 20%
Operating income was $22.2 billion and increased 24%
Net income was $18.8 billion and increased 21%
Diluted earnings per share was $2.48 and increased 22%
"Solid commercial execution, represented by strong bookings growth driven by long-term Azure commitments, increased Microsoft Cloud revenue to $22.1 billion, up 32% year over year," said EVP and CFO of Microsoft Amy Hood, reiterating just how vital Azure is to Microsoft's overall strategy.
Cloud, productivity, and computing gains
Productivity and Business Processes revenue stayed strong with a 19% YoY jump made possible by $15.9 billion in revenue. Individual operations that combined to achieve the aforementioned total include:
Office Commercial products and cloud services revenue increased 14% driven by Office 365 Commercial revenue growth of 19%
Office Consumer products and cloud services revenue increased 15% and Microsoft 365 Consumer subscribers grew to 56.4 million
LinkedIn revenue increased 37% (up 36% in constant currency)
Dynamics products and cloud services revenue increased 29% driven by Dynamics 365 revenue growth of 45% (up 44% in constant currency)
LinkedIn continues to do well despite some troublesome news in October 2021, overcoming obstacles and maintaining growth.
Intelligent Cloud operations brought in $18.3 billion in revenue, a 26% YoY increase. Within that space, cloud services and server products revenue shot up by 29% thanks to Azure.
More Personal Computing also saw growth to the tune of 15% YoY with $17.5 billion. These were the big gains from that sector:
Windows OEM revenue increased 25%
Windows Commercial products and cloud services revenue increased 13% (up 14% in constant currency)
Xbox content and services revenue increased 10%
Search and news advertising revenue excluding traffic acquisition costs increased 32%
Surface revenue increased 8%
As the above figures indicate, Surface and Windows both enjoyed particularly strong figures. Similarly, Xbox content and services saw a healthy 10% uptick, though games specifically grew by 8%. First-party titles and Game Pass were, as expected, key pillars of the growth.
To put this quarter's gains in context, Microsoft managed to beat out not only Wall Street's bets, but also its own expectations as outlined during its FY22 Q1 earnings call. You can see the full FY22 Q2 report via Microsoft's press release (opens in new tab) and accompanying slideshow, which detail more specifics for each individual earnings category.
What's next
After Microsoft releases its quarterly report, it holds an investor call, so stay tuned for that. You can listen to it live at 2:30 p.m. PT / 5:30 p.m. ET via the company's investor portal (opens in new tab). It's not always chock-full of information that's useful to the common tech enthusiast, but once in a while a gold nugget will drop that's not in the earnings report, be it a detail about the state of Xbox operations or an interesting Microsoft Teams figure. If you want to know everything you can about the company's trajectory and forecasts, you'll want to attend the call.
Post-call news
Update: The call has taken place. Here are the key remarks discussed regarding existing milestones and forward-looking statements for FY22 Q3.
Over 90% of Fortune 500 companies use Microsoft Teams, including Walmart which has chosen Teams for its small army of over two million workers. More than 1.4 billion PCs are running on Windows 10 and Windows 11, and Edge market share has grown. Edge has empowered $800 million in savings via its coupons. Microsoft's Nuance acquisition is expected to close in Q3.
As for forward-looking figures, another strong quarter is expected in FY22 Q3. Consumer growth is anticipated to be in the high single digits, Dynamics growth is guesstimated to be somewhere in the mid-twenties (percent) range, and Azure revenue growth should be up sequentially. $15.6-15.85 billion in revenue is expected for productivity business, while Intelligent Cloud is estimated to bring in $18.75-19 billion, driven by Azure. Surface growth is forecast for the "mid-teens," while Windows OEM growth is expected to land in the high single digits. Gaming revenue should grow in the mid-single digits, and consoles will continue to be impacted by supply chain uncertainty (that means Xbox Series X).
Robert Carnevale is the News Editor for Windows Central. He's a big fan of Kinect (it lives on in his heart), Sonic the Hedgehog, and the legendary intersection of those two titans, Sonic Free Riders. He is the author of Cold War 2395. Have a useful tip? Send it to robert.carnevale@futurenet.com.
TLDR: By the time the Activision deal closds they'll have earned more in '22 than they'll have to pay.
So, contrary to some reports, they won't really have to dip into the cash stash.
Instead, they'll have to figure out how to spend next year's $80B profit. 😱
😆

Damn I should have bought in at $80 a share. 😜

Thats money to buy Take Two or something.. (Phil rubbing his hands rn :P)

MSFT had $150 billion in cash. With the Activision purchase they will have $80 billion. However, if you divide the current dividend of $2.48 by 3%, you get a stock value of $83. If you divide by 1% you get a value of $248. Why pay $300? If you assume dividend increase 10% a year, you must wait 14 years for your dividend to reach 3% at a purchase price of $300. That is OK if you in your 20s. I would rather buy Exxon with a dividend of 5% now. I know, Exxon is a doomed company. Doubtful over the next 14 years. What about Big MO. Still hanging around after the Clinton shakedown.

Future growth matters.
So does stability: MS stock started to boom after they went on their subscription services kick. What does Exxon's future look like in an age of electric cars and war on plastic?
They should be investing in SNRs or Lithium mines. Are they?
(Honda is looking to get into rockets and launch services.) If anything, MS stock might be undervalued.
Seriously.
In the Activision announcement they dropped the buzzword "metaverse" once. What if they are serious? Try this: metaverse = community. Other metaverse players are focused on the platform first and *hoping* to buikd communities there. Meanwhile, MS already has the communities and the means to unify them: Gamepass.
Metaverse. The word doesn't mean what the media thinks it means.

I am glad you mentioned growth. I bought MSFT when it was $35 knowing the future growth would push the stock higher. However, at $300 and a PE of 28 ($300 divided by 2 times $5.23--trailing 6 month earnings) implies a need for high growth to maintain current PE. If the growth of MSFT does not remain at 15% plus on revenue, I would assume the PE will retract. You also need to factor in the impact of higher interest rates. If the 10-year treasury moves to its typical long-term rate (4%), then the valuation of many assets would have to fall. There is an ocean of money in private hands flowing around the world looking for good investments. MSFT is a good investment and has many years of strong growth. But if Treasuries rise to 4% they become attractive places to soak up tons of cash used to generate interest to supply income to billions of people. I just don't know how interests will react to Fed Policy. Will the 10-year Treasury rise to 4% in 5 years? The 10-year Treasury was 4% on October 31st 2008. If you look back over the last 13 years, you can clearly see what caused the reduction in rates (financial recession and huge government stimulus). That must come to an end and this cash will have to be absorbed through monetary policy--higher interest rates and lower Fed purchases. Prudence is warranted if you are approaching 50. If you're in your 20s, buy and hold MSFT for the rest of your life. You do not need to worry too much about Fed policy impacting the valuation of MSFT with a 20 plus year investment horizon.

BTW. on 3/31/2010 MSFT was about $30. Its trailing 12 months earnings was $1.93. So, in 2010 the PE ratio was 15. I would rather buy a growth stock at a PE of 15 than a PE of 28. This is why I would be careful committing capital in high PE stocks. We you see a drop in MSFT? Sure, when the market resets to the new higher interest rate environment as we address high inflation.

Sorry to repeat myself. The Empire strikes back.... Always.

They just need to avoid fuzzy arbordal little people.
Windows Central Newsletter
Thank you for signing up to Windows Central. You will receive a verification email shortly.
There was a problem. Please refresh the page and try again.