Microsoft Garage launches three new Windows 8.1 apps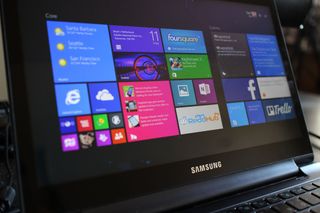 On Wednesday, Microsoft Garage launched a bunch of new apps for Windows Phone and Android and even released a free game for the Xbox One. However, the division has also launched three new apps for Windows 8.1 as well.
One of the three apps is the Windows 8.1 version of Collaborate (opens in new tab), the white boarding app that was launched Wednesday for Windows Phone. The other two apps are exclusive to Windows 8.1. One is AutoTag 'n Search My Photos which uses photos tagged in a user's Facebook account to learn the face models of their friends so it can automatically tag pictures of those friends in places like the OneDrive camera roll. Here is the feature list:
Automatically tags recent photos included in Pictures Library. Photos taken on your Windows phone can get automatically tagged and be searchable by including OneDrive photos in Pictures library!
Automatically learns faces of strong connections in your Facebook graph. You can also selectively learn other friends.
Provides a person centric view of all your photos including your local, OneDrive, and Facebook photos.
Creates a uniquely managed identity for friends who are not on Facebook so that with some initial tagging, the app learns a face model and later automatically tags such "UserCreated" friends.
Allows selective uploading of tagged photo(s) to Facebook.
Provides unidentified photos view clustering faces with similar features for easy tagging.
Allows existing tags generated by other apps to be leveraged by merging them with tags managed by AutoTag 'n Search My Photos.
Gets more accurate as you interact with the app and fix mistags or confirm Autotags.
Download AutoTag 'n Search My Photos from the Windows Store

(opens in new tab)
The other app is Student Planner, and as the title suggest it's been made to help students plan their daily lives. Here is a description:
What do you think of these new apps from Microsoft Garage?
Windows Central Newsletter
Get the best of Windows Central in your inbox, every day!
Bleh, more Facebook crap. Will check out the second one though.

i wouldn't knock auto tag until you have tried it...

AutoTag sounds a lot like Microsofts Photo Gallery (with the addition of facebook). Will try it out though, when I get home

Exactly what I thought. Photo Gallery + facebook. Did you try it out?

I should probably get that student app...

Try MyStudyLife, excellent app

is it free on windows 8?? what about wp?? was looking a good one for wp. im currently just using a 'tiny to do' on wp. which is just a simple to-do list

It is free on Windows 8, in WP, in Web, Android, iOS and think that in chrome extension
It is a great app and by far better that Student Planner

Student planner looks strikingly similar to power planner

What are you trying to say? "Say what you wanna say....I wanna see you be brave"

Instructions unclear; Brave DVD melts in the microwave and catches fire.

What I was trying to say is that it looks similar to power planner.. That's it. Lol.

Off topic but is the live tile not working since the last update?

The have updated the app this morning

Why are you shouting our your name?

Windows Phone Central logo on the pic? I can't remember them :D .

These guys are on a roll!

They are on a roll....keep em coming

Student planner coming to WP. I want that ok my phone. Can't wait. But on the +ve note loving the speed at which these guys are releasing apps

Il have to take student planner for a spin... Seems well though out...

Wicked. MSG is a full auto body shop now.

Microsoft is not playing games .... Keep these apps coming!!!!

Wouldn't OneNote templates make more sense than a specific Student Planner app?

Until Student Planner gets a WP version I can't switch over from Power Planner, the syncing across my phone to surface is a key feature as I usually input homework on my phone and check my assignments off on the computer. But once that happens I think power planner will need some catching up to do with the OneDrive/OneNote integration of Student Planner

Auto-tag is just about the coolest thing i have ever used... its kinda of slow, but its really cool... it is now tagging my photo library of 16k+ photos with names!!!!!

Too bad Autotag seems to be US-only

EVERYTHING from the Garage is USA only.. For some reason the rest of the world doesn't exist for them

Either these guys have been working on these for a long time or they are really sleep deprived. Anyway, the more the merrier.