Microsoft Garage launches a suite of new Windows Phone apps and games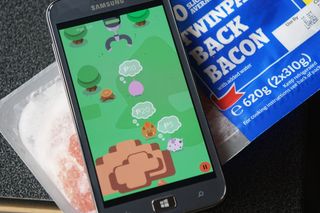 Microsoft has opened the flood gates today and released a bunch of new Windows Phone apps from their Microsoft Garage division. This part of the company allows employees to work on their own projects in their spare time and today Microsoft is allowing some of those internal efforts to be released to the public.
In a blog post, Jeff Ramos, Manager of The Garage, stated, "Now the idea behind The Garage is to connect our engineers and engineering projects with real customers to evaluate how technologies are being received. From a customer's point of view, it's a really great way to get first access to emerging technologies. And from Microsoft's point of view, it's really a great way to get real feedback from real customers on how people are using things."
We have already spotlighted two apps that have been released for Windows Phone devices, Tetra Lockscreen and Collaborate, but there's numerous other apps the company has launched today.
Nova Bacon - Here's a simple game that puts you in charge of a space restaurant that needs pigs for a particular ingredient. Microsoft says:
So you do what any sensible alien would do. Armed with a gigantic claw, you must go down to Earth and fetch a pig while defending yourself from humans that aren't happy about contributing to your business. Experience a variety of pigs while earning money to upgrade the various weapons available to you.
Floatz This is a new social interaction app. Microsoft says:
Join in on any nearby Floatz conversation, or start a new one with a question, idea or image that you share anonymously with people nearby.
Share your team spirit at a sporting event or your awesome picture of the band at a rock concert. Ask the locals where to get a good meal when visiting an unfamiliar neighborhood. Speak your mind, express your feelings, and find out if there are others around you who feel the same way—all from the safety of an anonymous screen name in Floatz.
Lost Turtle - Yet another simple game from the Microsoft Garage division. Here is what this game is all about:
Reach Me - Want to get to a friend but don't know where he or she is? This app may be for you. Microsoft says
Sound Stack - Here's a way to create music quickly from your Windows Phone device. Microsoft says:
Work Item Studio - This app is made specifically for users of Microsoft's Visual Studio Online. It states:
What do you think of this explosion of new Windows Phone apps from Microsoft Garage?
Source: Microsoft Garage
Get the Windows Central Newsletter
All the latest news, reviews, and guides for Windows and Xbox diehards.