Microsoft gets creative - launches four stellar Windows 8.1 apps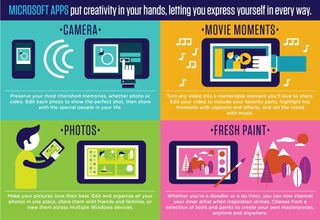 Windows 8.1 is right around the corner, and with Microsoft's latest operating system upgrade comes a plethora of new features and even a few new apps. A collection of new multimedia applications are set to bring out the creative soul in everyone. They cover everything from photographs, to movies, to paint drawings - let's check them out.
Microsoft's powerful team of multimedia power composes four apps – Camera, Movie Moments, Photos, and Fresh Paint.
Camera
The new camera application from Microsoft allows users to capture videos or photos – or both at the same time! Recording a video, but want to snap a picture? No problem. Simply tap anywhere on the screen to take a picture without interrupting your recording.
A new panorama feature built into the application is based on Microsoft's advanced Photosynth technology, which analyzes pixel patterns to line up the perfect shot. If you aren't trying to lineup a shot, but instead trying to capture a fast action moment – the new "photo loop" feature will be your friend. You'll be able to capture a collection of photos one second before and one second after you click the shutter button – don't miss that great smile.
And of course, don't forget that photos taken with the built in Camera will automatically be uploaded to SkyDrive, so say goodbye to worries.
Photos
The new Photo app from Microsoft ties into the Camera application, allowing you to easily snap a shot then auto-fix or tweak it (some Instagram like effects are included). The Photo app is not only an editing tool though, you'll be able to easily organize your photo gallery and ensure what you need is backed up in the cloud.
If those two multimedia applications aren't enough – two more can be downloaded from the Windows 8 app store to complete your experience.
Movie Moments
The new movie maker app, officially called "Movie Moments", will allow users to edit footage easily on their Windows 8 tablets or PCs. Features include the ability to trim the video, add short, captions, infuse music, and more.
Microsoft shows off two videos of the features that Movie Moments can pull off, including freezing a skateboarder's moment of high flying action in time (see the video above) and turning the average family moment into a meme (see the source link below).
Fresh Paint
If you prefer to dig into art, the old fashion way, check out the newly updated (and extremely popular) Fresh Paint app (also found on Windows Phone). If you haven't heard of this awesome replacement from Microsoft's old school Paint application, then you have been living under a rock.
The new version of Fresh Paint will provide even more drawing capabilities including new features such as watercolors, a new graphite pencil set, an interface redesign, and new brushes. Microsoft has also teamed up with CanvasPop, a company that allows you to easily turn your digital art into master canvas prints.
The update for Windows 8.1 is right around the corner and we sure are excited. The above multimedia apps are just one reason to get your hand on the new release.
What is your favorite creative app that Microsoft is showing off for Windows 8.1?
Source: Microsoft
Windows Central Newsletter
Get the best of Windows Central in in your inbox, every day!
I'm confused, are they available now or was this just explaining what they were?

I believe it will be Available when 8.1 is release

Hi Jas, Camera and Photos will come preloaded with Windows 8.1. The new Fresh Paint and Movie Moments will be availble to download from the store for Windows 8.1 machines. (Update your copy of Windows 8 to 8.1 tomorrow and you should get access to all.) -Mike

Question on that: On Microsoft's own site (http://windows.microsoft.com/en-us/windows-8/everywhere?ocid=EVERYWHERE_...), the date has been changed to October 18th. Any idea why that is?

Update begins in New Zealand on the 18th, which is 4am (?) on the 17th on the west coast of the US. Confusing, I know. No idea when it will actually be accessible here (east coast US), but I want it now. 8.1 preview wasn't very stable on either of my systems, but the update got my mouth watering. =\

My guess is that Microsoft has the ability to make 8.1 available on a rolling basis for each time zone or approximation thereof, so you won't get it until the morning of the 18th in your local jurisdiction. I could be wrong of course...


You're very likely right.

According to ABC News (http://abcnews.go.com/Technology/windows-81-coming-free-download-october...): "Windows 8 users should circle October 17 on the calendar. On that day at 7 a.m. ET / 4 a.m. PT Microsoft will release Windows 8.1 as a free upgrade or download through the Windows Store. A day later on October 18, the new version of the operating system will also be available at retail stores and on new devices." So, I think (and hope) we get it on the morning of 17th :)

Thanks Michael, you made me feel like someone important with the way you responded :p

No problem! Enjoy reading WPCentral. :)

I really like the editing interface in the photos app. Very cool stuff.

Can't wait for 8.1. Used the release preview and it is so much more useful. Can't wait!

I am using the 8.1 preview. Wonder what's the difference between this & the final update?

I was surprised when Windows 8 launched and Photos had nowhere near the capabilities of Windows Photo Gallery, so I've still been using that instead. This looks like it will move the core of that functionality over, though, which is definitely a good thing. I've still never quite that one photo management app to rule them all that I'm hoping for.

I know what you mean, these apps are alternative to existing desktop apps made by MS but lack features and look pretty

Yeah. Photo gallery was pretty nice. I have waited for a video editor on my surface rt. I have been caught in a jam and needed to make a video. Live movie is pretty quick and easy... I am not an iphoto fan , but will use that only if I need to. I use adobe premiere other times I hope moments is not too watered down and is a true successor to live movie maker.

I feel exactly the same way but, I'm sad to say, it is not. It has the potential to be great, but the resulting videos are capped to

While these are appreciated I find most apps from Windows Store to be tough to use a lacking in features. I would love to see MS make some updates to existing desktop apps like Windows Live Movie Maker for example.

green is not a creative colour

There's no school like the odd school.

Haha, I actually chuckled - thanks for catching that! Fixed.

Is it wrong to say that I'm majorly turned on by these apps? And totally in love with Microsoft... :) Can't wait to see them all in action!

Fresh Paint is just crazy-good. Such an amazing app.

Movie Moments is a VERY limited app. Downloaded on my Surface RT w/ 8.1 preview.
Can only:
1. Make 60 second movies
2. Add music
3. Add a caption (3 styles)
4. Freeze a frame.
That's it.
Hope this is only a start and they add functionality and features quickly. Maybe this is an attempt to interest other app makers to get involved and offer something better?

Hopefully both. Maybe there are some updates already that will come with the 8.1 release.

So are they "apps" or programs? And what's the difference...? :-/

"Programs" are what old people call them.

I look at programs as being the applications that run on the desktop and "apps" as being the new Windows 8 applications.

Somehow, apps are the applications meant for metro UI. Whereas Programs are applications running on x86 or the older Windows desktop.

In the Windows world, 'application' and 'program' are synonymous. I am a professional application packager and software engineer. For the last 20 years, in both forks of Windows (NT & 95), programs/apps have been storing their compiled and unchanging files under "Program Files" and their configuration files under "Application Data". The term "application packager" is at least 15 years old and is the most common term used to describe someone who scripts the installation of software.
The word 'application' is trendy right now because it nicely abbreviates to 'app'. 'Prog' doesn't sound nearly as cool. Would you rather browse an App Store, or a Prog Store?

Wondering how the Photos app works when I plug in my camera to the USB. With Windows 8, it was pretty awful. I didn't have a way to define the folder that the photos would be downloaded to, like by the month that the picture was taken for example. That's how I like to organize my photos, and Canon's proprietary desktop application lets me do that.

These seam like quite cool applications will install them on windows 8.1 after i spend hours reinstalling everything that's the only pain about not using service packs anymore

Only if you installed the 8.1 preview? If not, you shouldn't have to.

No i didn't use the preview but it was confirmed that only ur files would transfer not applications

That is the case if you are upgrading from Windows 7, but even there is a workaround for that (upgrade to Windows 8 first!). Upgrading from Windows 8 to 8.1, you don't have to reinstall apps or desktop programs. Here's an article on the topic: http://m.winsupersite.com/windows-8/here-comes-windows-81

Well that's good news then as it would take me around 6 hours to re install everything i have alot of stuff lol

I want the camera app on windows phone. Pics while taking a video is a feature I would greatly appreciate.

Yes! I would love that feature. I am sure it will be available in Windows Phone at some point.

The only thing missing is a music production suite. That'd be perfection for my case. Anyway, this is a great addition. Now, let's see these apps coming to WP8.

I agree. Windows needs to include more creative content creation. A GarageBand equivalent would be an obvious inclusion, especially with that special Surface touch cover. They may start to stop any bleeding of folks migrating to Apple, and it would fit right in with the colorful and beautiful OS. As it is, I have friends who have been wanting to switch to a MacBook because of GarageBand and its photo apps.

What!? I was afraid of it being limited... :(

Finally, the photo app is update lol.

Confused as to why the ability to take photos while filming is not a feature on WP8 camera App.

I Hope Windows phone 8.1 also has these features or more.

I want to know if Movie Moments can splice two clips together with transitions.
Windows Central Newsletter
Thank you for signing up to Windows Central. You will receive a verification email shortly.
There was a problem. Please refresh the page and try again.