Microsoft gives away collection of free eBooks - bookworms rejoice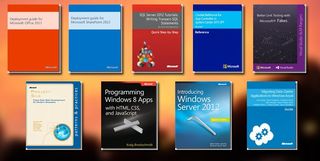 Last summer Microsoft posted a collection of free eBooks and over 1 million copies were downloaded by geeks around the globe. Now, once again, the company is offering up a collection of completely free literature for your consumption in EPUB, MOBI, or PDF formats.
Topics include: Office & Office 365, SharePoint, SQL Server, System Center, Visual Studio, Web Development, Windows, Windows Azure, and Windows Server.
You can head over to Microsoft's Design Network Blog (opens in new tab), to check out the collection of titles.
If you download an eBook, let us know – what is your noggin raring to learn?
Source: MSDN Blog (opens in new tab)
In fact you can get the stuff they offered last year as well if you go to the link in the blog post. Here it is for easier reference if you want:

http://blogs.msdn.com/b/mssmallbiz/archive/2012/07/27/large-collection-o...

Grabbed a couple of SQL Server books for work.

Awesome and great timing for me

I'll probably grab all of them, just because they are there. I have a databases class in the Fall, so I might thumb through the SQL book during the month or so bertween my summer and fall classes.

Not a DBA or a coder, so I skipped most of the Visual Studio, SQL and Azure stuff. I am a sysadmin, so I grabbed just about everything else, and will end up using nearly all of it.

I'm glad you all found the eBooks post(s) helpful. Please share with your peers, colleagues, and friends so they can take advantage of the ones that would most benefit them as well.

Wow that's a lot of good books there... will check'em out soon. Uber thanks Microsoft!

Anything by Stephen King?

So what is the best eReader for Win8 and WP8 ?

I don't know but I use Overdrive. The app lets you borrow books from the library and supports EPUB format.

But I want a free Windows Phone Dev Book.
Windows Central Newsletter
Get the best of Windows Central in in your inbox, every day!
Thank you for signing up to Windows Central. You will receive a verification email shortly.
There was a problem. Please refresh the page and try again.