Microsoft gives a behind the scenes tour of Surface Pro 3 commercial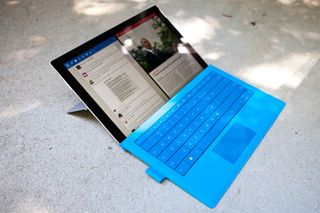 The Microsoft Surface Pro 3 commercial has been lauded for hitting all the right spots and now Microsoft is giving us a behind the scenes look at how it is making the commercial. The video, which was posted on to YouTube, shows how the actors move around from scene to scene with the tablet to get the most out of the Surface Pro 3, a tablet that Microsoft is promoting as good enough to replace your laptop.
Chuong's passion for gadgets began with the humble PDA. Since then, he has covered a range of consumer and enterprise devices, raning from smartphones to tablets, laptops to desktops and everything in between for publications like Pocketnow, Digital Trends, Wareable, Paste Magazine, and TechRadar in the past before joining the awesome team at Windows Central. Based in the San Francisco Bay Area, when not working, he likes exploring the diverse and eclectic food scene, taking short jaunts to wine country, soaking in the sun along California's coast, consuming news, and finding new hiking trails. For news tips or to connect, please message him on the Signal messaging app at +1 (424) 666-7438.
Wow.....they proved the world how bad they are in marketing.....i haven't seen the sp 3 ad yet being the one on 10 hrs of internet daily........

I have been seeing it on cable for the last few days.

I'm seeing this commercial all the time

I see this commercial constantly.

I see this commercial nonstop.

I've seen the commercial and i've bought a Surface Pro 3!

This guy saw the commercial AND bought one!

I've seen it during commercial breaks for FIFA games so many times every day on ESPN ever since FIFA 14 started.

I've seen it and I dont even watch tv at my house!!

I dont know where you live but here in the States it's getting more airtime than any MS product that I have ever known. I took mine to church on Sunday and showed it off when I did the Bible readings on it. I was very surprised, but felt very proud as many people approached me after the service and wanted to know if this is the New Microsoft tablet they see in the commercials. It gave me a fine opportunity to brag and thrashed the iPad in favor of the Surface.

Yeah I see it all the time. Saw it at the Disneyland AMC theaters before my movie today

Do you even lift bro? You sure are brave to say the most ridiculous thing.

Been looking for the making of video. It's a really cool commercial. Although their track record for making commercials isn't great. Remember the old Xbox Live commercial? Anyone who remembers the days of "Optimatch" and how un-socially friendly the original Xbox was will get at least a chuckle from this:
http://www.youtube.com/watch?v=l-VhIMjGh6M

I don't know how anyone hasn't seen this commercial yet. I've probably seen it a hundred times now while watching World Cup coverage on ESPN. I've seen it on many other channels as well.

I hardly watch TV and I've seen it. Nice commerical, though wish the behind the scenes was a little longer, felt more like a commericial about a commercial.

Microsoft... Enough with the commercials about your commercials. It looks desperate.

I have yet to see it on TV, despite watching admittedly too much. Guess I don't watch the "right" channels. I have seen it via web ads, though. BTW, I like the ad. Also liked the dancing ones, which captured my family's attention. Still waiting to hear what they think of this one.

It was on ESPN today during the match.

Saw not only the commercial but also this video when I watched "Edge of Tomorrow" at an AMC theater

That's crazy awesome how they made that ad.

I'm really disappointed in that Daniel Cloud Campos guy and I wish they stopped using him. He doesn't use a Surface in real life and is quite the shill for iPad actually.

Does this really deserves an article?

Yes it does....I would have never believed that was done in a single take. Awesome.

Saw this at the movie theater at HS Football camp. I also snuck out and saw the San Diego Microsoft store. Way better than the San Francisco and Roseville Microsoft stores :)

Well it was one of the first stores that opened, third if I'm not mistaken, back in May of 2010.

Seen the commercial a few times... Did not know it was one scene, wow. Cool!

Thats amazing.. I love the surface pro even though i dont have it. I don't think it'll be available here in the Philippines and not to mention i it's too expensive here probably.

I would have never guessed a single take. Some transitions looked like CGI. Still Honda Cog gets the hands up for the best (almost) single take commercial.

This is the single most annoying commercial running right now, no matter how cool the single-take video may be, and it runs ALL THE TIME on line. I find the voice track particularly obnoxious. Sorry, I don't find any of the charm others apparently see in this commercial. I think the problem is, I bleed Mac.
Windows Central Newsletter
Get the best of Windows Central in in your inbox, every day!
Thank you for signing up to Windows Central. You will receive a verification email shortly.
There was a problem. Please refresh the page and try again.