Microsoft has more workarounds for Windows 10 Anniversary Update freezing issues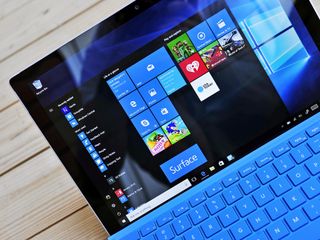 Microsoft has posted up two more workarounds for people who are experiencing freezing issues on their PC after installing the Windows 10 Anniversary Update.
As we previously reported, the company is investigating issues with some users who have a PC that has Windows 10 stored on a SSD, with apps and data stored on a separate drive. It also offered some workarounds to this issue that have been successful for some people. In an updated thread on the Microsoft Community forums (opens in new tab) (via Thurrott.com), the company stated:
The same support thread has links to other forum posts describing more Windows 10 Anniversary Update issues that have been reported. Some of them have their own workarounds. They include getting a blank screen after updating (opens in new tab), freezing midway through its installation (opens in new tab), and having the PC boot up slower than normal after updating (opens in new tab).
More Resources
Windows 10 Tips, Tricks, and How-tos
Windows Central Newsletter
Get the best of Windows Central in in your inbox, every day!
This is a fairly common configuration for new computers. I'm surprised and a little shocked that their test plan didn't include these hybrid configs. Sounds like a sloppy testing dept.

They are clearly stating that only a small set of people are experiencing it

Define "small set of people". 2? 20? 200000?

I am not supporting Microsoft here but even if it is 1 million installs out of 350 million+ installs, the issue might have not been caught during testing.

1 million pcs broken is a lot moron. Thats the kind of thinking that makes companies not build apps for Windows Mobile. "meh its just a few million, why bother building an app for those filthy peasants"

That's one million PCs too many.

Even Microsoft Surface products I have seen many bugs. They need to test them better rather than rushing everything.

I'm getting this at boot on one of my 4 PCs I've updated to AU, and there's a tonne of posts about the issue, so from my current data I assume a quarter of PCs have this? Until MS provide better data, that's what I've got to go on. It is a pretty awful bug. I've tried everything. I can only work around it by turning off fast startup for now, but that is no permanent solution. Hope MS get a patch out soon.

So what's the official solution from Microsoft? Check out Windows Central for a fix? I'm sure gramps and all the other non-techies out there will be right on it.

What are you saying Sloppy Testing Department?? DIdn't Microsoft fire most of the Testing personnell 2 years back.. There is no testing team/department. Insiders are the Testers....

I know you're not being entirely serious, but a QA team does a lot more than just "testing" the software to report if it works or not. A decent tester will seek out problems, provide detailed steps to reproduce the problem or define the frequency if intermittent, identify work-arounds, which versions/editions are affected, what configurations are affected, etc. Microsoft has not eliminated those positions or teams. They've just added millions of additional users for the kind of coarse feedback typical users can provide for late alpha/beta testing.

something like that...Nadella made sure to fire all experienced testers...in his obsession for cost cutting. They dont't give a damn about quality, indian style :))

Thing is I have this exact setup and I've been an insider on Fast Ring from the start, there are plenty of us not having the problem so it's very possible it's affecting a small number of people

I had no issues installing Anniversary update on my PC, downloaded ISO > burn to DVD > clean install. Think it's the best way to avoid all issues when OTA upgrading. As for mobile, thought we'll get direct update from 8.1 to Anniversary but first we need to download 10586 and then after do the Anniversary update and then perform hard reset to fix everything :D

This is specfic to users having hybrid configs (SSD+HDD). I'm one of them. So even clean install doesn't help in case you don't know. I kinda resolved this problem but I would like hear their workarounds for "Internal/External HDD showing as RAW".

In my case I installed Intel RST driver as the stock MS storachi driver (main culprit) is the one that is causing intermittent freezes. Refer Event Viewer for errors in your PC. It will help you pin down the cause.

Nope. I can use the stock MS driver or the AMD driver and I get the same issue. So it's not the MS driver that's bugged, though the Intel driver may not trigger the issue for some reason. Nice theory, but not quite.

Yes, its the MS driver that is bugged atleast for me. Latest AMD chipset driver worked for some users. I could even see in the even viewer which is constantly giving out Error 129 when the freeze occurs. So google this error and you will know that its not a "nice" theory. I resolved my problem by installing Intel RST like other users. Refer this - https://www.reddit.com/r/Windows10/comments/4vufpo/windows_10_fully_free...

Just because the driver falls over and errors, does not mean that is the cause. It may well be a symptom. The driver may not have been coded to handle a situation that should not exist, caused by something else. The fact that a different driver does not fall over in the same unforseen circumstances proves nothing, as that is often the case with emergent and unexpected situations. I have seen the event manager. I have watched the AMD driver error in the same way as the MS driver. This is not as simple as you imagine.

I have a pair of pc with hybrid config but I had no problems during the update.

I did a clean install too (and formatted my drive) and all of my App are in defult location (which is Drive C), but does not work for me. Still I have the freezing issue.

Hope they will fix the issues related to external devices such as Western Digital HDD and selected USB keys...

What's that about USB keys? I'm having problem with one of my flash drives one the one device that I've gotten the update on.

I jst installed today on my mobile.. No issues yet.. Working smoothly.. And clean.. dear ..teams...Thanks for the effort..

It is for PC dude! Me too faced same issue. I reverted the storage location to OS drive. Now it is fine.

Turning off fast startup fixed all Win 10 Anniversary Update related issues on my Surface Book.

You mean 'worked around' not 'fixed'. They are not the same thing, and turning off fast startup is no permanent solution.

After updating to windows 10 my lumia 730 camera quality is worst one?is there any solution for it.

i too have found similar problems!!! Even my Settings is missing!!!!

This freezing happened to me. I had fully wiped all of my drives and clean installed thinking it was going to help but it didn't :(
Luckily I had an older ISO file on another computer Posted via the Windows Central App for Android

I have a single SDD and one optical drive in my desktop and there are freezing issues!

I have been having this problem. My OS is on an SSD and I have a backup mechanical hard drive. I also get slow freezing internet. This was a horrible update. I don't think it's as small of an issue as they make it out to be. Most people probably don't have the technical know how or put in the effort to post on windows forums. They don't have the best outlet for consumer feedback beyond the most dedicated insiders.

I have 2 laptops with Dual SSD/HDD hard-drives from HP. One with a 256 SSD/1 TB HDD and other with a 512 SSD/1 TB HDD. Both of the laptops have Applications (Binaries) on the SSD and Data on the HDD. They both were updated with the Anniversary update without any issues. I have a couple of friends with similar HW & SW configuration using Dell's and MSI laptops using the downloaded Anniversary Update with no issue. I am wondering what is the differences? Is it a Desktop only issue?

For people having the freezing issue, are any of you also Insiders? If so, is this problem new with the Annivesary build, or did this also occur with the pre-release builds you saw? I have not had any problems, so curious if we know when this problem started. I used to have the hardware config described -- SSD boot C: drive, HD data + programs as D: drive. When I moved to Windows 10 on my main computer, I also switched to a 3 drive RAID5 SSD all as one C: drive (and of course only 1 drive in my convertible laptop), so I no longer have the at-risk configuration.

Yes I was experiencing the issue a while back. I reinstalled a clean 10586, and updated to rs1 from there a few times. No joy. Used 10586 from there on with no issues, until the AU was released and I updated, now it's back

Hey guys, has anyone had WiFi issues after the anniversary update? My PC works fine for sometime but after a while WiFi gets disconnected. I'll have to restart it and the same cycle repeats... Works for sometime and then gone. Has anyone else had this issue?

sounds like you wifi adapter goes to sleep. You can easily change that, find the wifi adapter in the control panel, right click and don't allow it to go to sleep :)

Thanks a lot mate! Seems like this was the issue, haven't had a wifi drop since making the change.

The only workaround that work for me is choosing "Disable early launch Anti-malware protection" from startup options (troubleshooting)

I had this exact same issue on my SSD/RAID configuration when clean-installing Windows 10 Anniversary Update. I was able to fix it by doing a few things to the SSD:
- Turn off the write-cache buffer flushing in Device Manager on the SSD
- Disable SuperFetch and Prefetch in Services. These really aren't needed on an SSD drive anyway.
- Disable System Restore. This ensures less read/write to/from the SSD, which resolved my issue. Hope this helps!

Its sad. With all the telemetry and insider data MS is collecting, they can't find and fix this problem in a timely manner.

they can't because they don't care about quality...welcome to the new and worse Vista.

My HP Sleekbook has 16 gig of ram and only ONE SSD with apps sys and all data on it - frooze solid - unusable and rolled back. Split SSD/HDD is NOT the only config that the Anniv Update affected. PC works great on 1507.

MS morons! one big update and they failed! what a bad joke...

I had this very same problem with my system and yes my pc freezed after installing the Anniversary Update. I also had OS on SSD and files on the HDD (file location set to HDD). My problem was solved by updating the Storage Controller drivers. In my case i downloaded new ones from ASUS and the freezing issue is gone now. I have studied this issue and im not sure if the cause is really the SSD and HDD combination where files and system are on separate fysical disks but rather the outdated storage controller drivers on the various systems are causing this issue.

hi. one question a need to ask,my research about it don´t bring any results yet: the freezing problem may happen with another ssd instead of a HDD? i mean, with the OS in one SSD and the files in another SSD. in your opinion, the problem is caused by the separation files/OS or just because the diferences between HDD and SSD? thanks in advance

MS made such a big event out of this AU, and now it seems that they have managed to disappoint again! every update comes full of bugs, every update is nothing but another beta crap, ever since windows 10 started. Windows XP had issues, 7 too, 8 too but for f#$%g sake not like this! Wake up people! This is a publicly used OS!! there are no such things as preview only or insider only access anymore! Normal people have it, non tech users have it, and how does it perform?? How far is gonna go MS with this lack of care and crap quality? Windows as a Service does not mean delivering broken beta updates!! because this is how this AU looks like! An untested, broken, beta update! As an OS deployment responsible, I will put windows 10 deployment on hold at my workplace! I cannot risk the productivity of all computers with this garbage OS! Windows 7 will do just fine for a long time, until MS wakes up from the Nadella nightmare and actually starts to deliver quality products again!

Hey! I am using MS 950 XL in UAE What is going on yaar.. I have beed updating Apps since from the morning.. All they times I was proud to say to my friends I got MS phone, but since yesterday (after AU) they laugh at me. The kind of updating process was really irritatting. My GOD! Please learn from Apple & Android.. disgusting..

I am a Lumia 730 Windows Phone user. I have recently updated my phone to 10.0.14393.67 (Anniversary update) when i was asked to do so to get my phone work EVEN BETTER!!!!!! Here is the list of feactures that i have received after new update: 1. Settings option is MISSING!!!!!! (I dont know how the hell i could even change my theme colour now) 2. Edge browser is not opening up 3. Cant able to install a single app from store!!! (store is completely useless now!!!) 4. I think Cortana DIED!!!! please recommend a possible solution for all these problems. Regards Arun Xavier
Windows Central Newsletter
Thank you for signing up to Windows Central. You will receive a verification email shortly.
There was a problem. Please refresh the page and try again.