A National Geographic photographer has a few tips for shooting underwater with your Lumia 950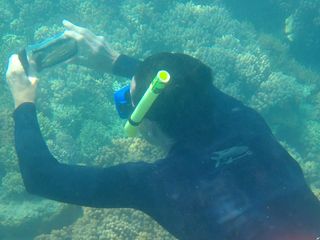 The Lumia 950 smartphone includes a great 20MP PureView rear camera, so a National Geographic photographer grabbed one for taking a few shots of one of our planet's great natural wonders: Australia's Great Barrier Reef... underwater. Microsoft spoke with that photographer, Stephen Alvarez, on how to use the Windows 10 Mobile device on your own excursions under the sea.
The Lumia 950 is, understandably, not waterproof, so Alvarez had to put the smartphone in a waterproof bag that included an optical plexiglass for the phone's viewfinder and lens to take it underwater (Microsoft notes that you can purchase your own waterproof bag or learn how to make one yourself by searching on the Internet).
Once that's in place, Alvarez says there are a number of tips to take the best underwater pictures with the smartphone. One is to shoot close to the water's surface so you can have the best light for your pictures. Another is to set the camera's controls to automatic instead of manually checking and changing the lens settings.
Photos should be taken in RAW DNG image support so users can have more options for correcting images afterwards, according to Alvarez. Some photos might need an object in place to show some scale, and Alvarez says to get as close to your intended object as you can. Finally, taking a lot of photos is recommended, and the Lumia 950's Burst mode will help capture images that might be missed otherwise.
Check out more tips for getting the best photographs underwater
Buy the Lumia 950 at the Microsoft Store (opens in new tab)
I am definitely going to make a waterproof glass for me now...

This again proves that Lumias have the best smartphone cameras.

They do these stunts with many phones. That is, hire a pro to demo the capabilities.

Like LG for G4. Beautiful pictures btw

G4 camera does look good. Unfortunately runs Android.

Yesterday my 950 camera was being really dumb. I was trying to take a picture of a lit Christmas tree, and for some reason it would never focus. I guess the lights on the tree were messing it up, but I was still pretty disappointed.

That will be the same for most smart phones. Not just the 950. The key is to do manual focus or focu on something else in the area.

how about he just say what case he used ....

It's a custom made waterproof case. "Most of the Great Barrier Reef lies underwater, forcing Stephen to create and build a custom waterproof housing for the Lumia 950 (pictured above). This housing (not available for sale) kept the phone dry as he snapped amazing aquatic photos underwater." https://blogs.windows.com/devices/2015/12/08/exploring-the-great-barrier...

That's very good, i'm gonna check it on my vacations.

Lumia 950 not water proof and "understandably" so? I don't think. Why?

Fanboyism is the only reason.

Lol, 'Fanboy' is a very popular word around here: "Aren't these just buzzwords that dumb people use to sound important? Not that I'm accusing you of anything like that."

It's simply my opinion, dumbass.

Uh they are understandably not waterproof because the whole back comes off??? It's a design choice to get removable battery. That said I would rather have waterproof.

I thought the galaxy S5 was both waterproof and had a removable back?

"waterproof" phones are only safe from splashes and brief periods under a few inches of water. They can't withstand the water pressures that exist even a few feet below the surface. For underwater photography like this article is about, a case would be required even for so called "waterproof" phones.

I did underwear with my Icon. Just used a zip lock bag.

He shot "those" moments with rich capture.

A zip lock bag wouldn't hide much...

Please please please point out the phone is not Waterproof! You know it's going to happen :)

2nd paragraph, 1st sentence.

Yeah but it needs to be Headline size, Underlined and in Arial Bold for some of WC's clientel... ;)

Step one: Get yourself a Ziploc bag.

Nice. Need to make one for myself

Absolutely incredible.... Helpful tips for amateur photographers like us.

I did exactly the same thing with my Lumia 925 last year. Check out my video of the sea turtles taken with my lumia phone https://www.flickr.com/photos/kelvinfloresphotography/23549997021/in/datetaken/
Windows Central Newsletter
Thank you for signing up to Windows Central. You will receive a verification email shortly.
There was a problem. Please refresh the page and try again.