Microsoft helps to launch free web-based version of Catan board game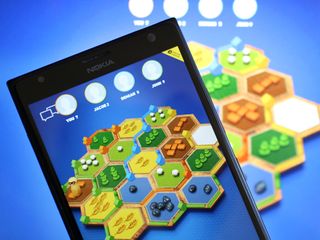 Microsoft's Internet Explorer team has announced it has helped to launch a free web-based version of the classic board game Settlers of Catan called Catan Anytime. The game was made in collaboration with Catan, Mayfair Games and Bontom Games.
Microsoft states the game was made using the latest HTML5 web coding standards combined with built-in chat and access to Microsoft's own Skype messenger along with Twitter: It added:
The game requires four friends to play, which puts them in the roles of settlers who must gather resources to build roads and towns. Catan Anytime uses turn-based asynchronous gameplay, along with auto-trade and auto-roll. If you leave a game, you can stay connected via email notifications.
Microsoft plans to release the entire Catan Anytime ruleset during GamesCon in August so the rules are the same as the classic Settlers of Catan. What do you think of Microsoft bringing this classic game to the web in this way?
Source: Microsoft
Windows Central Newsletter
Get the best of Windows Central in your inbox, every day!
Is this a joke? It says Internet Explorer in the corner, but doesnt work on my 1320 ! Can't sign up (fields stay empty)

Please enter a password lol
EDIT : it worked, i had to re tap the email, and the password was there
i'm now signed in

Works on my Lumia 925 but I could not read the dialog text very well. No way to pinch zoom.

hmmm will see how it works on my 1520

This is freaking awesome! Online Catan from all my devices against all my friends (regardless of platform)!!! やった!

You didn't do it; they did it. So, technically you shouldn't use yatta.

Are you kidding you need friends for this? Who the f has friends nowadays

Asobrain never required friends...but of course those jerks have had everyone locked out for years now unless you had played some games right before they booted people and locked it down

Awesome! I've had an itch to play Catan for quite some time!!
... Should I have a doctor check that out?

I hope that this is coming to WP8, 360 and the One with achievements.

Facebook beta updates... It's seems faster nd not resuming in start up

Tried typing a password on my 1520...the characters get dotted out as I type, but it gets picked up by my phone's keyboard word suggestions =/

Who wants wood? IYKWIM :P

"a game that simply works on the web without bias of what device, OS or browser players' choose to use". Why not restrict it to IE only? That would make a lot more sense: start turning IE into a gaming platform: don't limit it by OS but at least require them to use IE. Now imagine if they had integrated Xbox achievements into this game!

Restricting it to IE is, by definition, limiting it by OS.

Nope. IE isn't an OS. It's a web browser. Web browsers run in operating systems. If you're referring to the fact that IE isn't available on all operating systems, that's a valid point: they should make that happen.

IE for Mac and IE for UNIX were discontinued long ago. I doubt they'll be revived. I think it is safe to say that most people who don't use Windows don't feel like they're missing out by not having IE available.

Did they test this on their mobile OS? It's wonky, to say the least. Text disappears from textboxes when you tab out of them. Made it interesting to sign up. I'll stick to playing on the computer I guess.