Microsoft to hand out the first Windows Developer Awards at Build 2017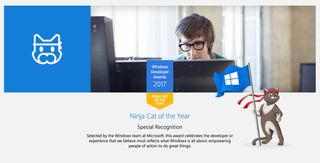 In an effort to highlight standouts in the developer community, Microsoft has announced it will host the first-ever Windows Developer Awards during Build 2017. The awards will highlight developers who have built and published exceptional UWP apps in the Windows Store over the past year.
To split up the competition a bit, Microsoft says it will give out awards for four main categories. Here's a look:
App Creator of the Year – This award recognizes an app leveraging the latest Windows 10 capabilities. Some developers are pioneers, the first to explore and integrate the latest features in Windows 10 releases. This award honors those who made use of features like Ink, Dial, Cortana, and other features in creative ways.
Game Creator of the Year – This award recognizes a game by a first-time publisher in Windows Store. Windows is the best gaming platform–and it's easy to see why. From Xbox to PCs to mixed reality, developers are creating the next generation of gaming experiences. This award recognizes developers who went above and beyond to publish innovative, engaging and magical games to the Windows Store over the last year.
Reality Mixer of the Year – This award recognizes the app demonstrating a unique mixed reality experience. Windows Mixed Reality lets developers create experiences that transcend the traditional view of reality. This award celebrates those who choose to mix their own view of the world by blending digital and real-world content in creative ways.
Core Maker of the Year – This award recognizes a maker project powered by Windows. Some devs talk about the cool stuff they could build–others just do it. This award applauds those who go beyond the traditional software interface to integrate Windows in drones, PIs, gardens, and robots to get stuff done.
On top of the above, a special Ninja Cat of the Year award will be given out by the Windows team to a developer or experience that it believes "most reflects what Windows is all about, empowering people of action to do great things."
So how does it work? Microsoft is tapping the developer community to vote for the winners of each category at the Windows Developer Awards site (opens in new tab) ahead of Build. Voting will close on April 27, so you'll want to make sure you move quickly to tell Microsoft who you think should win.
Windows Central Newsletter
Get the best of Windows Central in your inbox, every day!
Dan Thorp-Lancaster is the former Editor-in-Chief of Windows Central. He began working with Windows Central, Android Central, and iMore as a news writer in 2014 and is obsessed with tech of all sorts. You can follow Dan on Twitter @DthorpL and Instagram @heyitsdtl.
Now, that's what I'm talking about...

No one to give it out to, am I right?
jk, jk people.

I was wondering who their going to give it to as well, after all, it's supposed to be one Windows, but the mobile version isn't getting anything from developed. Oh wait, they're going to give it to garage group for their work an Android & Apple!

Do you know the word "developer"?

i was going to say its a participation award for the 4 developers that actually develop for windows.

You actually think there are fewer developers for Windows than for Android/Ios/OSX combined?

YOU ACTUALLY THINK THERE ARE MORE? WOW....fanboy dilusion runs high in you!

Uh, of course there are. You know how many millions upon millions of software suites there are for Windows? Don't be delusional.

Pass that weed over here man

Nasznjoka, Giddora is on more than weed....he's on low quality LSD.

Dude stop smoking that gentically enhanced weed. We are talking abt apps on store n not legacy software

No, we are not. Who are you to define what others are talking about?

Read the very first paragraph of the article

UH- YES WE ARE......AWARDS FOR UWP APP DEVELOPEMENT....Diddora...you are so blinded by the dilusional fanboy syndrom you can't even read correctly....The fanboy reality distortion field is HIGH with you...."facepalm"

They should have done this early! Even now, it's not too late. If they value developers, Microsoft need to give them incentive for developing for Windows. Hopefully this becomes a success.

Awards are NOT want developers want....Revenue is. MS charges more, takes more, and has less user base...Yeah yeah....500 million computers etc...but desktop is not what uses apps etc. So, couple less revenues with low user turnout...you have NO Developers!

So excited & honored to see my app Diarium nominated! I am counting on your votes :P

Are you the creator of that app? Awesome app man! I am using it for a month and I wonder there is no need of Hardprint Diary anymore. I like especially the Voice to Text input and photo integration with OneDrive :)

Yes, I am. Very happy to hear you enjoy the app :)

Hey well done, I have your app, it is really good, I found nothing else that comes close,

Congratulations! I didn't know about your app before, but I'm trying it out now. Seems really good, and thanks for including a trial!

Should be a short list! LMFAO!!!

No, this is not Android-abandonware.

Funny, my android 4.0.1 devices still can use ALL of the apps in the play store....Where as my windows 10 devices have F*@K all apps to begin with....abandonware would be microsoft and their app catalog....take off the ******* blinders....

Windows 10 has apps AND programs. About half of the android apps in the stor is abandonware, if not more.

And 90 percent of the crap in the windows store is half baked crap....and useless! nice comparison.! All the good first party apps for banking, travel, etc are all still on my 4 year old note 1. can't say the same for the windows phone apps from the same time period can we!

Personally I think this is cool. Been working on my own UWP app. Won't be ready by the 27. :( But I wish the winners well!

Voting only.open to.developers? Maybe an article on how to nominate and vote next?

Just login with a Microsoft ID

All 3 nominees must be thrilled.

Lemme guess: you're a phone user and not say, Windows 10 on PC or Surface.

Use Windows Phone, correct. But also have 4 laptops and a desktop running W10. Also have a Surface Pro 4. And just ordered a Surface Studio. Plus I dabble in making witty (or not-so-witty) comments on the Interweb's. :-)

You failed miserably. Your jokes were around 8 years ago when Android still had no market share and was being crushed by Ios...

Well, considering from how long UWP has been here, it shouldn't have mattered which windows device he was using! Your answer just shows that UWP has been a total failure.

Been here for 3+ years now.

And the winner is....Snapch....oh, wait, still not in the store....nevermind

Wow such a clever joke dude

Thanks, I was up all night "developing" it....BABOOM!!! I'm here all week folks 😀

Snapchat is still around?

myTube Dev should be awarded. He made such a great work with this App, available on PC, Mobile and Xbox showing UWP capabilities.

Haven't tried any of these apps.

and the winner is........ drum roll... Microsoft Garage. the only developer left on the windows platform. lol

What? Garage isn't a Developer.

It's good to see Microsoft doing this. I just registered and looked at the nominated apps and games. I see some I didn't know about, but I'm going to check them out. I hope Microsoft does some sort of wider promotion for these apps - at least a category front and center on the storefront after Build.

Finally something that should help push some momentum.

There's close to no momentum left to push.

Nah, only 400-450 million users that still don't know about the store. Or were you trying to be funny?

@Giddora, yup plenty of people still don't know. There are so many people who are afraid of clicking shortcuts or removing redundant software such as toolbars....

400-450 million users dont CARE about the store...they use x86 software on their desktop/laptop devices. vision is supremely clouded in giddora..

That is not correct at all haha. The store had a billion downloads in just a few months. Where are your fantasies coming from?

I have no idea, mine are facts yours are dilusional Low quality MS LSD fantasies.

Your numbers are fanboy dilusons there Giddora...there has been 1 billion VISITS to the 10 store since it was launched....NOT 1 billion downloads in a couple of months. I myself have visited the store probably thousands of times looking to see whats new.....so facts not wacked out fanboy dilusions bud

And that was after how many months?

Try over 2 years dummy! Stop trying to fabricate stuff to make it sound like windows store and apps are thriving. its the farthest thing from the truth...

U hv been claiming thus from month. Care to back it up ? MS would be dancing if what u say were true.

@Cryio, momentum can be created.

At least don't give the awards to developers of other platform!

Great! Next year can we celebrate the best Android, Chromebook iOS and Mac developers? Sorry, I feel crappy saying that here, especially in light of the positives, but I've been catching up articles, and I saw the article about the "Microsoft Edition" GS8 really not having any Windows 10 specific features other than having store rep preinstalling Microsoft apps from the Google Play Store. WTF? Go back to the days of the late 90s and Apple at death's door. Could you imagine them selling "Apple edition" Windows PCs? When Jobs came back to Apple, he not only cleared out the old CEO, but he wiped the board clean as well. Microsoft desperately needs the same.

What are you talking about? Microsoft is heading straight up and has doubled in value in the last three years plus gone up 20.000 employees during the same time. You need to get your reality in check with the real reality.

HA HA....says the person so out of touch with reality!

Says someone who has no clue and isn't even in the ecosystem.

Wrong again. fanboy dilusion syndrom is strong in you is'nt it. you have no clue....just a blind fanboy!

Okay, care to give ONE single source for once? I guess not, since you go for personal attacks already you already know you've been caught in a web of lies.

HOW about you give us the source of ONE BILLION DOWNLOADS from the windows store in 2 months fanboy. You are out of your ******* mind.....go sniff nutellas panties some more there buttercup. So please....source? Give me one min and I will provide my source of one billion VISITS to the store in 2.7 years since it was opened....that might even include the windows 8 store as well....im giving the benifit of the doubt...back soon fanboy....hope the MS crack is good!

Thought so!!!!! gone quiet when proven incorrect! ANYWAYS fanboy.......Here are the REAL STATS.... WIndows store: Via ZDNET Article 700k apps (most third party JUNK) 6.5 Billion visits since windows 10. Android Play store 1.2 Million Apps (every first party app available) 65 BILLION DOWNLOADS....not visits....DOWNLOADS! IOS app store 1.4 Million apps (all first party apps available). 300 Million visits PER WEEK! Do tha math fanboy. 75 BILLION DOWNLOADS....not visits DOWNLOADS... So...please give your sources where the windows app situation is not dire. Its tanked, None of the first party app developers give 2 sweet ***** about windows store because 1. NO MOBILE USERS...2. NO one on desktop uses UWP apps. They prefer website and x86 programs. Again fanboy, clean the **** out of your eyes and stop spewing garbage. Realize the app situation for Windows is in trouble....BIG trouble. Hence the reason windows mobile has what....a .03% market share now? hell even BB10 has a bigger market share.

Love how when the fanboys try to call you out and you prove what you said, they go silent....typical!

Umm, I feel very embarassed about my post above. It really was out of place in the context of this particular article, because here Microsoft is celebrating developers, and the negativity I posted didn't belong in the comments to this article. In my (poor) defense, I had been sampling some local brews with a buddy of mine, and then our wives had us test a "spiked" sangria that was way stronger than it tasted. So when they left, I was pretty toasted. Never a good time to be posting. There is some "in vino veritas" to what I wrote, but in no way does that belong here.

They're doing this like ... 7 years too late, lol.

Lol they managed the find four whole apps. No doubt about the quality, but they are all pretty niche and for that reason not exactly popular. People are either gonna vote because the developer asked them to, out of buyers remorse (That DJ App is 50 bucks!) or because that niche market happens to be very vocal. I can imagine that many voters have not tried any of the apps before. They have no use for a Hue app, they are not going to pay that much for an DJ App, and they might not have any use for a collaboration or diary tool, but at least one of them it is perceived as free. The game category is a complete joke. Three of them are ports of games that can be found on other consoles, distribution channels or even different operating systems. Astroneer is kind-of Microsoft-exclusive (only on Xbox and Windows) for now, but it also has a normal version on Steam that is not crippled by UWP. It's good that they try to appeal to developers some more, but after closing incentives like DVLUP and Dev Center Benefits and now this lame line-up, it's hard to take it serious anymore.

About a month ago MS invited active developers - via Dev Center Benefits - to submit their apps to win a free ticket to Build. Winners would be selected based off the top quality apps, and three developers would receive a ticket. I imagine this app voting thing is somehow related to that. Anyway, I cannot agree more with you on the closing of DVLUP. Dev Center Benefits is somehow alive, though it's not what it used to be.

that and the Hue app is not by Phillips....and does not do everything the OFFICAL APP does.

If I had this community around my products, I would abandon the market and go for the business market. They should raise the price of Windows for private usage and also add a monthly cost and push people to trying to get Linux to work as it should. Just like with Android which almost always sucks.

My app hueDynamic has been nominated in the App Creator Of The Year category. I was amazed to receive the notice from Microsoft but I'd be really appeciative of your support by voting for my app. I think this would be a really great incentive for the few UWP developers there are out like myself! Cheers guys :)

baiscally...any app will be nominated since there is so little developement for Windows.

I say nate monster on games O_

Lol.. Award for windows developer?????? Ha ha ha ha ha ... Windows developer are piece of ****.... Instead give award for windows fans who uses windows mobile even knowing that windows phone Is a crap ...

Windows phone is a useless phone. It doesn't support volte in India.

It's a useless phone anyways...does not have SUPPORT from any true app developers....makes it a hugely overpriced feature phone.