Microsoft Ignite 2019: The sessions you should watch
Check out our recommendations for sessions you should watch out of Microsoft Ignite 2019.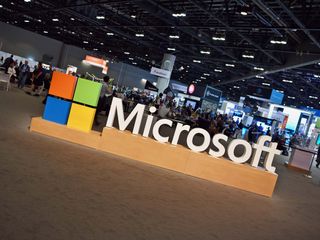 (Image credit: Windows Central)
Microsoft Ignite 2019 is over, and there were hundreds of announcements ranging from Microsoft 365 to Power Apps. Many announcements and deep-dives happened in breakout sessions, and you've likely not had a chance to see them all. So, we've collected what we think are the best and most interesting sessions that are worth watching now that Ignite is done for another year.
The future of Microsoft OneNote: Notes unleashed
If you're a fan of OneNote, this is the session for you. Microsoft details its plans and roadmap for OneNote, including the decision to bring back the Win32 client from the dead, and how it will continue to develop both the Win32 and UWP apps going forward. Also learn about new features coming soon to the Win32 app to bring it up to scratch with the UWP app.
Speakers: Benjamin Hodes, Tricia Van Hollebeke
Description: Come gaze into the crystal ball and discover the future of OneNote! Over the past year, the OneNote team has made huge strides with improved navigation creating a unified and familiar experience across devices. With improvements like an even faster, more robust and reliable sync engine and fan favorite features like Dark Mode, OneNote is the go-to for all modern organization and note taking. But, what's coming next is still going to blow you away. Be the first to know what the OneNote team has in store for this year and beyond!
Watch this session (opens in new tab)
State of the browser: Microsoft Edge
This session breaks down all the announcements around Microsoft Edge made at Ignite 2019, including plans for rollout in January and how the new Microsoft Edge will be ready for businesses to deploy. If you've been following development of the new Microsoft Edge, this is a session you should watch to bring you up to speed with everything going on in this area.
Speakers: Sean Lyndersay, Colleen Williams
Description: Microsoft Edge is on a mission to create the best browser for enterprises: rock-solid fundamentals, intelligent security, the most productive and secure end-user experience, flexible manageability; and deep integration with M365. The next version of Microsoft Edge is ready for business. We'll share the history and roadmap for the next version of Microsoft Edge.
Watch this session (opens in new tab)
Windows App Development Roadmap: Making Sense of WinUI, UWP, Win32, .NET
Wondering about which app platform you should use to build your next Windows 10 app? Microsoft has a session breaking down Win32, UWP, .NET, and WinUI to give you a better idea of where Microsoft is headed with app platforms and how many modern application components are being decoupled from the OS so that legacy applications can take advantage of UWP advances without a total rewrite.
Speakers: Paul Gusmorino, James Clarke
Description: Join James Clarke and Paul Gusmorino to learn how you can make the most of client development on Windows now and in the future. Learn how the Windows platform is evolving with new capabilities and greater interoperability. Gain critical insights that will shape your desktop app development strategy, so you can build experiences that will continue to shine on the latest devices. We'll explore what's coming in the Windows presentation platform, WinUI 3.0, and open source. Join us whether you're just starting off on a new project, or modernizing a sophisticated desktop workload; whether you're a .NET or JavaScript or C++ developer.
Watch this session (opens in new tab)
Give a modern look and feel to your Windows desktop applications with UWP and XAML Islands
This session dives deeper into how developers can update their existing, legacy Win32 applications with a modern look and feel using WinUI and UWP. If you're a developer who can't or doesn't want to rewrite your entire app as a UWP, perhaps you should consider updating the UI layer with modern technologies so that these applications look and feel at home with new user experiences introduced with Windows 10 and soon, Windows 10X.
Speakers: Luis Henrique Demetrio
Description: Windows 10 has introduced new ways to build great user experiences: fluid animations, effects, support for new input paradigms like pen and inking, and great accessibility support are just a few examples. In this session, see an overview of these features and how you can enable them in your Windows applications, no matter if they're built using the Universal Windows Platform or if they're classic desktop applications. Thanks to XAML Islands and WinUI, in fact, you'll be able to bring new and shiny XAML controls in your existing Win32 applications, without having to rewrite them from scratch.
Watch this session (opens in new tab)
Get ahead with Outlook mobile: Intelligent technology that helps you stay on top of your day
Learn about what's new in Outlook for iOS and Android, including new Cortana integrations, daily briefings, and how AI is helping you stay more productive when checking email on the go.
Speakers: Tali Roth, Micharl Palermiti
Description: From integration with Microsoft Teams to AI driven ways to engage with your inbox, come learn about the brand-new capabilities only available with Outlook for iOS and Android and get a sneak peek into what's next.
Watch this session (opens in new tab)
There is a new Outlook on the web: See what's new, fresh, and exciting
Check out what's new and coming soon with the Outlook website, including new features, performance improvements, and how Microsoft is positioning the Outlook web client as a premiere emaile experience that rivals Gmail online, with Cortana integrations that help you stay productive throughout the day.
Speakers: David Meyers
Description: We've been very busy the last year,and we want you to learn all about the new Outlook on the web. Come and learn how the intelligence we've built into Outlook on the web can help manage your mailbox better than ever before. We also share details about new and upcoming security updates and features that can help you keep your users and their data safe and secure.
Watch this session (opens in new tab)
Windows 10: The developer platform, and modern application development
Learn more about the Windows 10 developer story, and how you can use different languages and app platforms to create your ideal app experiences for customers. This session taps into everything from Win32, XAML, PWA, and the Windows Subsystem for Linux.
Speakers: Pete Brown
Description: How do you build modern applications on Windows 10? What are some of the Windows 10 features that can make applications even better for users, and how can developers take advantage of these features from existing desktop applications? In this demo-focused and info-packed session, we cover the modern technologies for building applications on or for Windows, the different app models, how to take advantage of platform tools and features, and more. We use Win32/.NET apps, XAML, Progressive Web Apps (PWA) using JavaScript, Edge, packaging with MSIX, the modern command line, the Windows Subsystem for Linux, and more.
Watch this session (opens in new tab)
Microsoft Surface engineering deep dive: Behind the scenes of hardware innovation
Check out the internal process Microsoft goes through when building new Surface hardware, listening to feedback from customers, and innovating devices to make users more productive.
Speakers: Brandon Records, Hral Modi
Description: Explore how Surface brings new technologies and capabilities to light while maintaining a consistent delivery of premium, quality products. Learn how the Surface engineering process can help your organization deliver better experiences and empower your users. Dive into the details of how devices are designed and built from the ground up for stability, security, and performance.
Watch this session (opens in new tab)
Enabling everyone to digitize apps and processes with Power Apps and the Power Platform
Power Apps was all the craze at Microsoft Ignite 2019. This is the platform that allows anyone, from beginner to expert developers, to code automated processes for all kinds of scenarios, sometimes without having to write actual code. Learn about how that all works in this session.
Speakers: Clay Wesener
Developers: Learn how Microsoft Power Apps and the Power Platform enable everyone in your organization to modernize and digitize apps and processes. Discover how your organization, IT pros, and every developer within it can benefit from our low-code platform for rapid application development and process automation. This includes a fast-paced overview of pro-developer extensibility and DevOps, IT pro governance and security, as well as powerful capabilities to build intelligent web and mobile apps and portals.
Watch this session (opens in new tab)
Exploring the future of Windows with the Insider Program
Find out more about the Windows Insider Program and meet the team behind releasing new preview builds of Windows 10 for Insiders to test. Discover the process involved with selecting a build, determining whether or not it's good enough to release for testing, and how Microsoft ensures that updates aren't going to ruin your setup.
Speakers: Dona Sarkar
Description: "Where is the roadmap for new Windows and Office features?!?" -askes every IT professional and Enterprise Dev ever. Well, wish no more! In this session, you'll hear from senior engineers working on Windows what is coming next and how you can use the Windows Insider Programs so your organization is prepared for it. We'll show you how to get a head start on that next update and be ready to take advantage of all the new features at Ignite the day they're available.
Watch this session (opens in new tab)
Microsoft 365 experiences + devices
Finally, this session is a quick deep dive into what Microsoft 365 is all about. It's Windows 10, Office, and device experiences coming together to make users more productive.
Speakers: Mary Sheppard
Description: Microsoft 365 is the world's productivity cloud. Together with Microsoft Surface, it's unlocking new forms of productivity to help you transform your business. From the latest Microsoft Teams features to an AI-powered presentation coach and devices that enable a new world of creativity, this session offers an in-depth look at the intelligent product innovations that are changing the way we work.
Watch this session (opens in new tab)
Windows Central Newsletter
Get the best of Windows Central in your inbox, every day!
Zac Bowden is a Senior Editor at Windows Central. Bringing you exclusive coverage into the world of Windows on PCs, tablets, phones, and more. Also an avid collector of rare Microsoft prototype devices! Keep in touch on Twitter: @zacbowden.