Microsoft India helps women in distress by launching Guardian SOS app for Windows Phone 8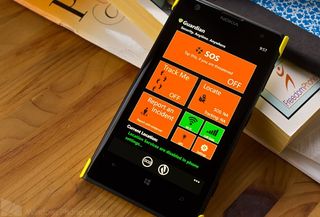 Microsoft India has released a safety app for Windows Phone users that could come in handy in times of emergency. Guardian uses Microsoft Windows Azure cloud solution and the Bing Maps API to let selected parties track your movements and alert them in times of danger.
Guardian is the product of Microsoft India employees over a period of six months through the Microsoft Garage, an initiative to allow Microsoft employees to explore app development ideas.
Guardian's Main Page and Settings Preferences
The app allows you to add multiple buddies who will be alerted in emergency situations, has one-touch video activation to start recording footage that could be used as evidence, track your movements, and has Live Tile support for quick access to the SOS button.
You will need to register the app with your Windows Phone Live ID and from there you can add specific individuals or Facebook groups as your buddies. The Guardian app is an easy to use Windows Phone solution when you need to reach out to friends when you are in trouble.
The Guardian app is a free app, available for Windows Phone 8 devices. You can find your copy here (opens in new tab) in the Windows Phone Store. Please note that while some sources are showing the Guardian app as an exclusive for Windows Phone users in India, we have been able to install and use the app in other regions.
Source: Tech2; Thanks, everyone, for the tips!
Windows Central Newsletter
Get the best of Windows Central in in your inbox, every day!
George is the Reviews Editor at Windows Central, concentrating on Windows 10 PC and Mobile apps. He's been a supporter of the platform since the days of Windows CE and uses his current Windows 10 Mobile phone daily to keep up with life and enjoy a game during down time.
Hijacking your comment, sorry. My fucking app wishing sence is getting more and more affective... i suggested this as an app to my friend like 2 months ago... This shit is getting creepy... Any wishes for 8.1 you need me to wish?

The language is a bit unnecessary

More than a bit. WPC needs a report button on article comments.

Nice. I would expect no less from this platform.

Awesome. Have influenced many in my family to buy windows phones. Definitely telling them about this app. Go windows!

@Issu: You need not to worry about this app, there are far better apps like Guardian for Apple or Android. Citizen COP ( citizencop.org ) is such an app that helps you to send SOS messages and report the incedent directly to police.

Being from Canada, I had NO IDEA whatsoever that there is a need for such an app. So you have really piqued my curiosity... is violence against women a huge issue in India or something? Educate those of us who have no idea. I'm not being judgmental, I am just very interested in international issues.

Rape incident always happen in India i think, so they make protection women program

always happen in India is an incorrect statement... it happens everywhere..freaks are everywhere.. but the problem in India is judiciary system is broken.. if you are rich you can just walk off easily... and the punishment is not severe for the onces accused... so nothing is deterring these psychos from doing it... having said that yes.. it is a big problem in India..and i dont let me gf travel late an night alone ..

I would love to find a job in Canada.Awesome country but makes shitty artists like Justin beiber!

Violence against women happens across the globe... This app will be helpful just in case. This app need not be used by women alone; any one who is threatened or found themselves in a wrong place, aged people, children, etc will find this app helpful.

Yeah.. Violence against wommen is a major issue in India. 10+ incidents are reported each day in each state. Many such incidents remain unreported to avoid social stigma. And due to lack of tecnology and infrastructure, it's difficult for the already lazy cops to do anything about it.. Until the media steps in and takes it up. But this furore dies in about a week... India's not a bad place. It's just inhabited with bad people who know they can get away with the crazy things they do! :( So this app should be a welcome for women all over!

This violence against women in India is really sickening. Are there really that many Neanderthals?
Just sickening...

This topic is well covered in European news also, really not in Canada? Go google and you will find a lot of footage.

It is a serious issue in India. Over 40 cases are reported per day and in the last calendar year, of the 700+ cases filed, there was only one conviction! All this without taking into account marital rape, unreported cases and other instances of sexual harassment like eve-teasing which is fairly common. There are very few cities, like Mumbai, which are safe for women at night.

hahahaha, you win the joke of the year award. Mumbai is safe for women in the night.....right! There is no place in India that is safe for women in the night, especially not any of the big cities.

Its shameful that here in India, women aren't respected enough. I guess u need to watch some news. Else it'll be totally off topic.

8 blokes got sentenced to death for a bus rape recently. It's always happening in India. Women are second class citizens.

Nope! Dont judge India because of some isolated incidents.Rapes and sexual harrasment occur all over the world.We, here respect women like no other country.

i rather hear that from an Indian woman :),
here in the Arab world, men think that they dont really mess treat women much, its mostly true, but they do limit their freedom in so many ways. i can give tons of example, but men wouldnt notice unless u tell them about the very small details, them details on their own arent much to talk about, but piled together, they do make life harder for most women , harder than it should be atleast :) you can limit someone's freedom while still looking respectful btw..

A question for you! Dont you think that punishment in arab countries are out of ethics! No one deserve to die like that IMHO.

I see lots of comments here about violence in India, but nowhere do I see where it says this app is only for use in India. It was released by MS India, but that doesn't mean it's only for those in India. I see it in the US store. I think this is a good idea for anyone, anywhere. Unfortunately, I can't log into my Microsoft account because it has a +91 prefix on the phone number and I never get a code. They should make it work with the Authenticator app for those of us with two-factor authentication turned on.

"+91" is the ISD code of india.

I downloaded and installed the app from Australia, but can't activate it due to it requiring an Indian mobile number. Hopefully this requirement will be removed soon as this app could become one of the most widely used worldwide.

I can see this app being very popular all over the world. This should be standard in Kid's Corner.

Kudos to ms for getting an app like this out - but what a shame the world has need if an app like this.

Interesting. Great app, I guess I don't see why it's just for women.

It's not. The article's headline is somewhat suspect I imagine. Nowhere in the body of the article does it say that this app is for women alone. I'm guessing it was written that way to draw readers in as violence against women is a gender issue that's still pretty much....well, an issue.

Well done. This could be useful globally ... To many psychos around that think they can get away with everything.

Me too, downloaded and installed but can't change the country code. Let us have access to the app instead only in India.

Is it possible that the "Guardian" is really a Trojan Horse? That its real purpose is to steal all of your account info?

This is an AWESOME app! I think this should be bundled with every smart phone regardless of the platform or country. I hate to say that we have come to this, but as someone who has seen violence around the world, this isn't just an "India" issue. It could be used anywhere by ANYONE, not just women.
Windows Central Newsletter
Thank you for signing up to Windows Central. You will receive a verification email shortly.
There was a problem. Please refresh the page and try again.